SGTraDex
A common data infrastructure connecting supply chain ecosystems
SGTraDex
A common data infrastructure connecting supply chain ecosystems
Overview of landscape
Trade disruptions, geopolitical tensions and the prolonged impact of Covid-19 has impacted international trade patterns, accelerating shifts in trade flows and supply chains around the world. This has resulted in countries and companies seeking solutions to fortify their supply chains, by enhancing connectivity and efficiency.
The digitalisation of trade and trade finance has been gaining momentum for several years now. However, many present-day digital infrastructure and solutions are fragmented and operate in silos, resulting in inefficient information flows across supply chains globally.
About SGTraDex
SGTraDex which stands for Singapore Trade Data Exchange, is a common data infrastructure facilitating the sharing of trusted and secure data between industry players.
Borne out of efforts from the Singapore Together Alliance for Action (AfA) on Supply Chain Digitalisation, SGTraDex enables transparent and real-time physical, information and financial flows across supply chains, fostering greater trust among participants in the ecosystem.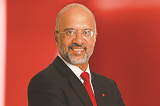 "Digitalisation will continue to drive the evolution of trade in unprecedented ways. The current pandemic has forced us to focus on digitalising our supply chains and I believe that in the near future, global trade will look markedly different. It is therefore imperative for Singapore as a global trade hub to be future-ready. Several initiatives to digitalise onshore trade services have been pursued over the years within Singapore, but the absence of an end-to-end horizontal view has come in the way of both effectiveness and efficiency. Likewise, global efforts to digitalise supply chains have existed for several years, but faced challenges in terms of driving usage at scale and gaining consensus on platforms. This is where we hope SGTraDex will be a gamechanger by solving for in-country workflows and processes, catalysing a different approach for cross border collaboration at scale. Together, the SGTraDex and SG FinDex infrastructures will help showcase Singapore as a truly data driven country, providing the infrastructural highways for the new economy."
– Piyush Gupta, CEO of DBS Group
DBS x SGTraDex
DBS played a crucial part in the conceptualisation of SGTraDex as the Technology Lead on the Alliance for Action (AfA) on Supply Chain Digitalisation.
The common data infrastructure prototype was developed and tested through three use cases focused on:
Strengthening trade finance and converging efficiencies
Container flow node decongestion
Bunker optimisation 
SGTraDex successfully went live with its digital data highway, aimed at tackling supply chain inefficiencies that hamper international trade flows, on 29 April 2022 and officially launched on 1 June 2022. DBS has since completed its first live transaction on SGTraDex, in collaboration with leading bunker player Kenoil Marine Services, by way of a digital bunker delivery note.
To find out more about how SGTraDex has enabled Kenoil Marine Services and Trafigura to simplify trade workflows and attain efficiency, and how you can be a part of SGTraDex with DBS, read the press release here and view the following video.

Partner us to digitalise your inventory and bunker related supply chain needs today!