COVID-19: Tips to keep your kitchen well-stocked
2020 has been an unexpected year thus far. Where we used to make our way to the office and then meet with friends and family after work, we now work from home and catch up with our loved ones virtually. As far as possible, we've also been asked to stay home as it is one of the most effective ways of preventing the virus' transmission.
During this period, thankfully, hawker centres, eateries, supermarkets and wet markets remain open. As Singapore's call to stay home period continues, it may become hard to secure delivery slots for groceries. Even when you do get the chance to head out, it is not always possible to get the exact items you need.
We feel your anxiety as all of us are in the same shoes. Here's a list of fruit, vegetable, seafood and meat suppliers we have compiled that you could tap on for your grocery needs during this period.
SEA THE POSSIBILITIES: Fresh seafood at your doorstep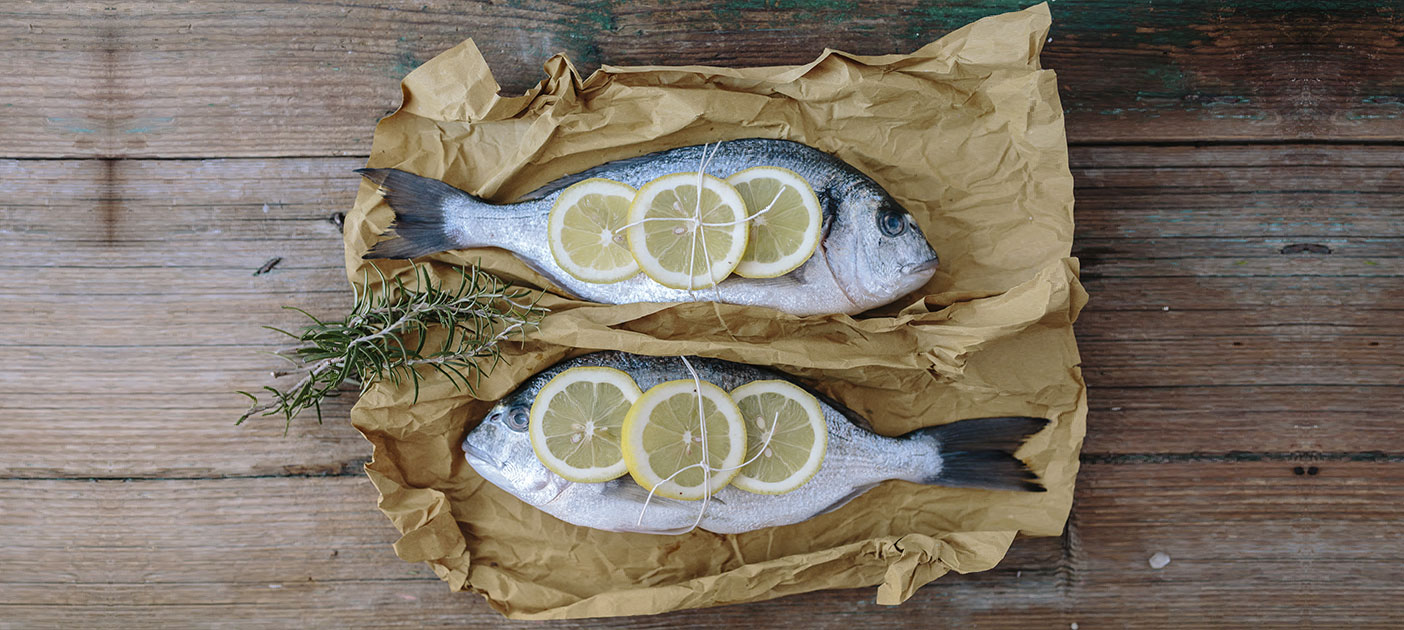 9s seafood
Seafood supplier 9s seafood started out decades ago as a roadside stall in Chinatown, and has since grown to sell both fresh and frozen seafood. Get vacuum-packed slices of toman - perfect for a comforting bowl of fish soup, prawn paste with ebiko - a wonderful accompaniment for hotpot meals at home, and succulent prawns delivered right to your doorstep, complete with either an insulated bag or styrofoam box to keep it as fresh as if you caught it yourself.
Check out their full selection here.
Song Fish
Established in 1975, Song Fish has now become a household name - especially after its brightly-lit stores started popping up in neighbourhood malls. Even Teochews - who are known for turning their noses at unfresh seafood - frequent Song Fish, which is a testament to the quality of their products.
During this period, Song Fish will also be enforcing contactless delivery. Their riders will ring your doorbell once your delivery arrives, and will stand 1 metre away to ensure the items are picked up as they are highly perishable. They also offer free delivery with purchases above S$100.
P.S. When you shop online with your DBS Visa Card or DBS UnionPay Platinum Debit Card, you could get up to 4% cashback for your purchases.
The Fish Prince
If life is about creating win-win situations, then it must be possible to stay home and support your local fishmonger at the same time. The Fish Prince is a stall in Ang Mo Kio that also offers delivery services to Central, East and Northeast estates in Singapore. They only sell the freshest catch of the day, and offers bundles for those who would like a variety of seafood too.
Check out their Facebook page to see what's on offer each day, and if you have any special requests regarding packaging and cleaning, the stallholder is willing to oblige.
Karios Food Resources
If you're thinking of stocking up or continuing with meal prep during the "circuit breaker" period, consider Karios Food Resources' deal. Typically a supplier to restaurants and hotels, they are now offering special prices to consumers as well. A slab of Chilean salmon is going for S$18.50/kg, a fraction of the price you'd find at major supermarkets. Just drop a message on WhatsApp to 9001 9483.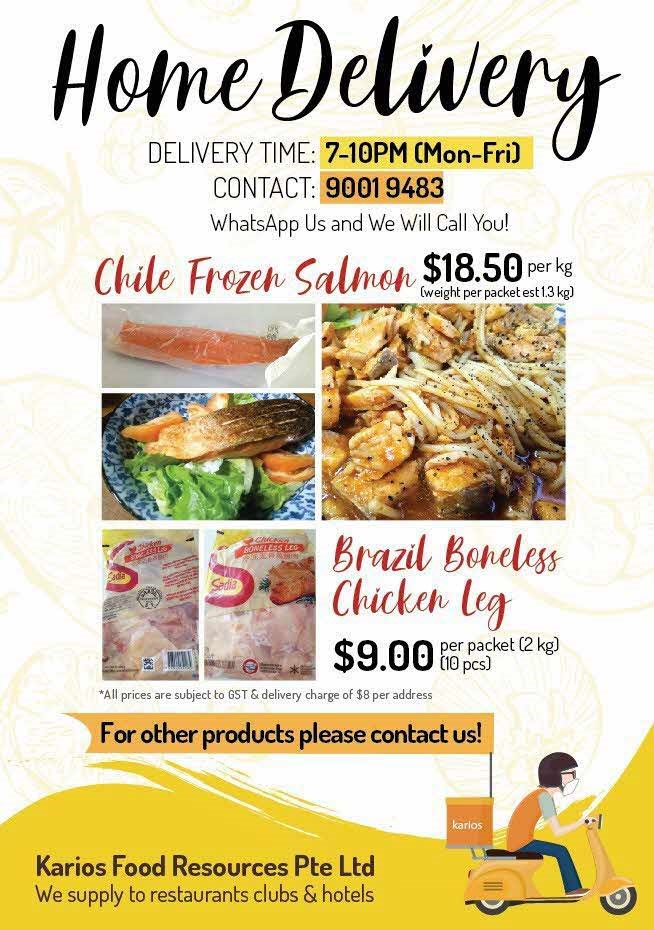 NICE TO MEAT YOU: For the meat lovers who need their fix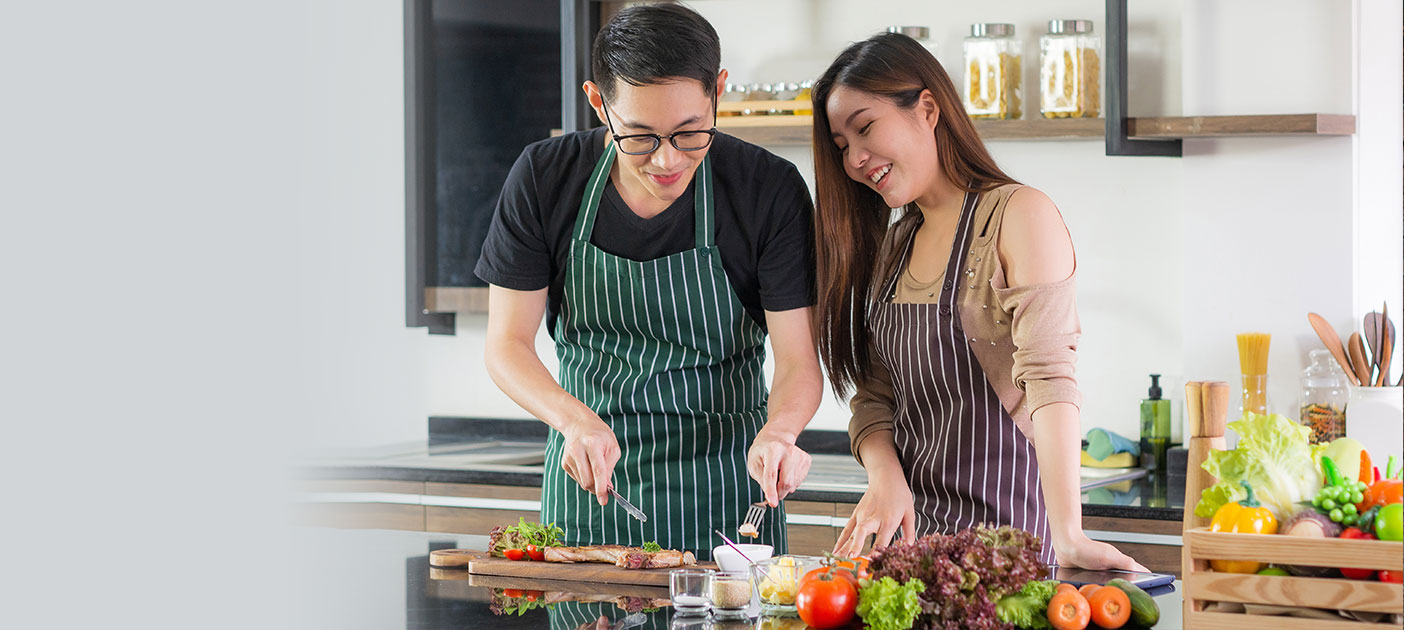 Meat Pride
Whether you're planning to stock up on chicken breasts or planning a decadent steak meal, check out Meat Pride for their list of meat options. From beautifully marbled beef shabu shabu slices to chicken mid-joint wings, they have a wide variety to choose from. You can either choose to pool orders with your neighbours and get them delivered to your estate, or delivery is free with orders of S$80 and above.
Meat Men
One would not expect to find a specialty butcher under a block of HDB flats - but Meat Men has been quietly serving the Farrer Road community for a number of years now with grass fed beef airflown from New Zealand, Prime Grade steak from the United States and much more. You can quickly check out their full product list by sending them a message on WhatsApp. Delivery can be arranged over WhatsApp too.
Ryan's Grocery
If you are looking for organic meats, look no further than Ryan's Grocery and Butchery. Their meats are sourced from certified organic and free-range farms. They advocate a farm-to-table movement and therefore ensure the produce they offer are treated humanely.
In addition to meats, those who need to adhere to a gluten-free diet or need to avoid other allergens can also check out their selection of groceries.
Huber's
Need a good quality steak at a price that won't break the bank? Huber's is known for bringing that to reality. In light of the current surge in demand, they are only able to deliver meat products and not other groceries - but that also means you can satisfy that steak or lamb craving. They also stock Italian and German sausages - perfect for pairing with a glass of beer at home.
DON'T LEAF THE VEGETABLE LOVERS BEHIND: Where to get your dose of fibre and vitamin C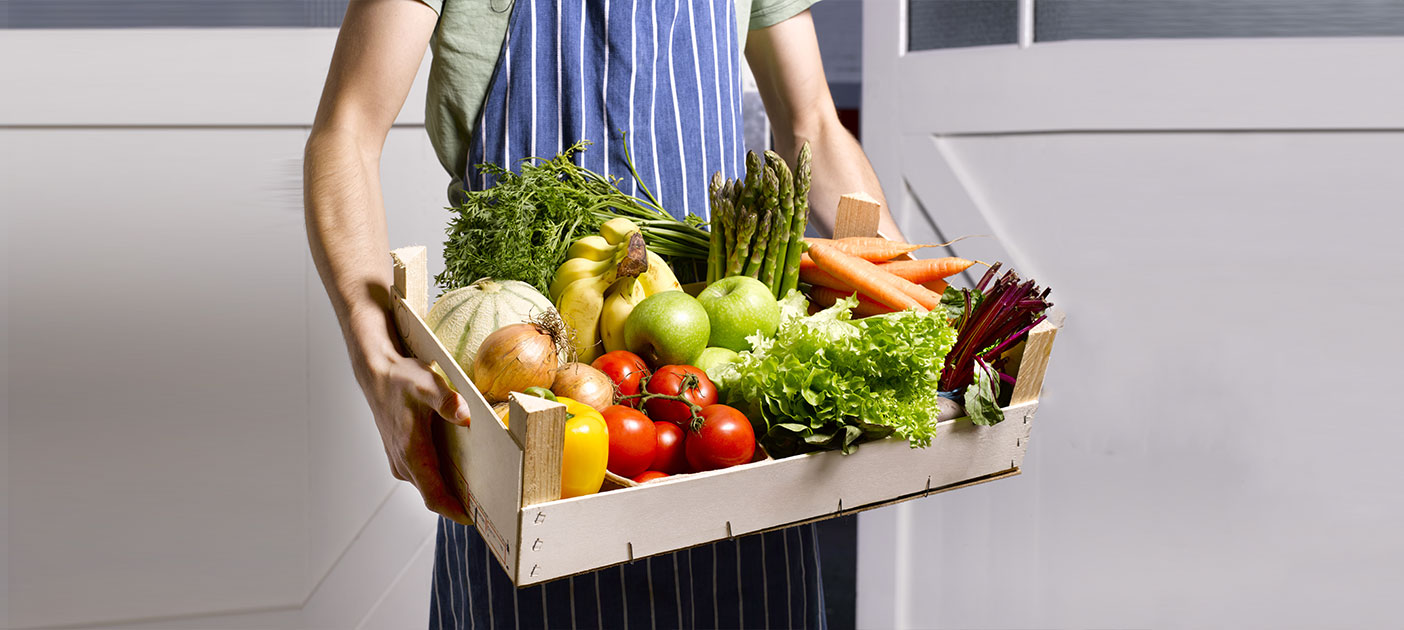 H&Z
Fruit supplier H&Z brings fresh fruit from near and far to us here in Singapore. Typically, each estate pools their orders but to reduce the risk during this period, they are offering free home delivery with a minimum order of S$40. This season, their product list includes Australian grapes, papayas from the Philippines, fresh kangkong and more. Find out more at their Facebook page.
Super Group Buy
Super Group Buy brings freshly harvested local vegetables such as sweet potato leaves, lettuce and xiao bai cai to consumers. They also constantly add new imported products to the list, such as vine cherry tomatoes, Taiwanese cauliflower and organic pea shoots. During this period, deliveries take place every Wednesday and Saturday. Place an order via their online form, or join their WhatsApp group for more information.
For your everyday essentials, there's always Singapore Deli and Grocer, Redmart, NTUC, Sheng Siong and Cold Storage. It may be a little more difficult to secure a delivery slot with increased demand, so do try at different times of the day.
Even though authorities have asked us to prepare for a disruption to our food supplies, there is no need to stock up beyond what you normally eat . By buying a normal amount of groceries, those who do not have the ability to buy a large amount of food will be able to get their hands on what they need. Stores will also be better able to estimate demand.
Together, we can stay safe, healthy and have a productive month at home! #SGUnited