Plan your finances entirely online with DBS NAV Planner

If you've only got a minute:
Enjoy personalised financial advisory at your fingertips - get curated investment picks, plan for your protection needs and make better, informed financial decisions as you go through life – with DBS NAV planner
We've put together a compilation of online reads to help you better understand basic financial planning topics
Everything in this article can be done right now, wherever you are, entirely online

Your personal finance journey begins with a single step, but we understand it can be difficult to even take this very first step.
That's why we have created this compilation for you. Everything is made easier with DBS NAV planner. From learning the basics of money management to choosing a financial product that best suits your needs, we've got you covered.
The best of it all? You can do everything on this list entirely online right here, right now, when inertia is out of the way!
1. Connect all your financial data with ease
Forget about spreadsheets. DBS NAV Planner redefines financial planning by connecting all the pieces of your financial puzzle – from your income, cash, Central Depository (CDP) account under Singapore Exchange (SGX), CPF savings, property and investments to your expenses and loans. Get a complete overview of your financial wellness. All in just a few taps. It's that effortless.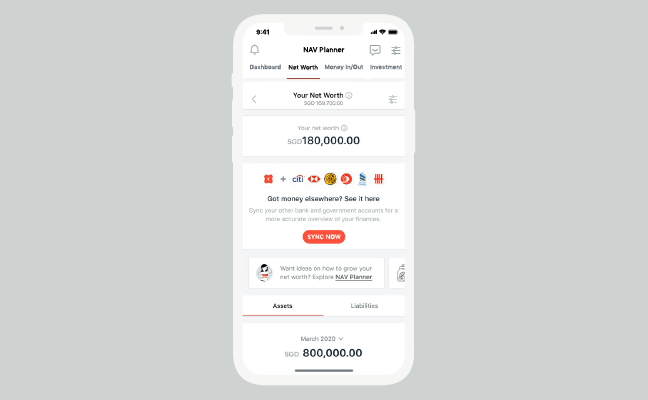 With all your money in one place, DBS NAV planner gives you a holistic view of your financial wellness, even the parts that are not with DBS, and empowers you with personalised insights and tips so you can make better, informed financial decisions as you go through life
2. Master budgeting with DBS NAV Planner
Now we know where you stand financially. What's next? In order to grow your money, you have to make sure you don't spend more than you earn
Budgeting is fundamental to managing your personal finances. That's because you need to start with some savings – and have your emergency fund in order – before taking your personal finance game plan to the next level.
All you have to do is set up a realistic budget based on your income and general expenses and let DBS NAV Planner do its job. From automatically tracking your expenses to sorting out your cashflow into categories like transportation, shopping, and so on, DBS NAV Planner will help you remove the stress out of budgeting and give you an overview of your finances at a touch of a button. Over time, you will be able to better discern between your needs and wants and save better.
Online reads to help you understand budgeting and saving:
Additional digital tools and products to consider:
3. Build a financial safety net
With a clear view of your finances and budget, everything seems pretty much on track towards achieving your financial goals. Wouldn't it be a shame if some unforeseen circumstances were to come along one day and take it all away.
Having a safety net in place is crucial for your personal finance. It helps to protect you and your loved ones against the downside of an unexpected event that can be financially damaging, such as the loss of income due to health issues.
Personalised based on your dependants, income and cashflow needs, the DBS NAV Planner helps you plan with certainty by taking into consideration what you currently have, prioritising and calculating the coverage you need to see if you have a protection gap to bridge.
If you prefer a more personalised human touch, go with our TeleAdvisory option and speak to our Wealth Planning Managers to understand your coverage needs, from wherever you are. Simply make an appointment with us.
Online reads to help you get the right protection for a peace of mind:
Additional digital tools and products to consider:
Obtain instant personal accident protection for your entire family, from the young ones to the seniors. It covers you and your family if you're hospitalised due to dengue fever, food poisoning, and hand, foot and mouth disease (HFMD).
4. Grow your wealth with digital investment options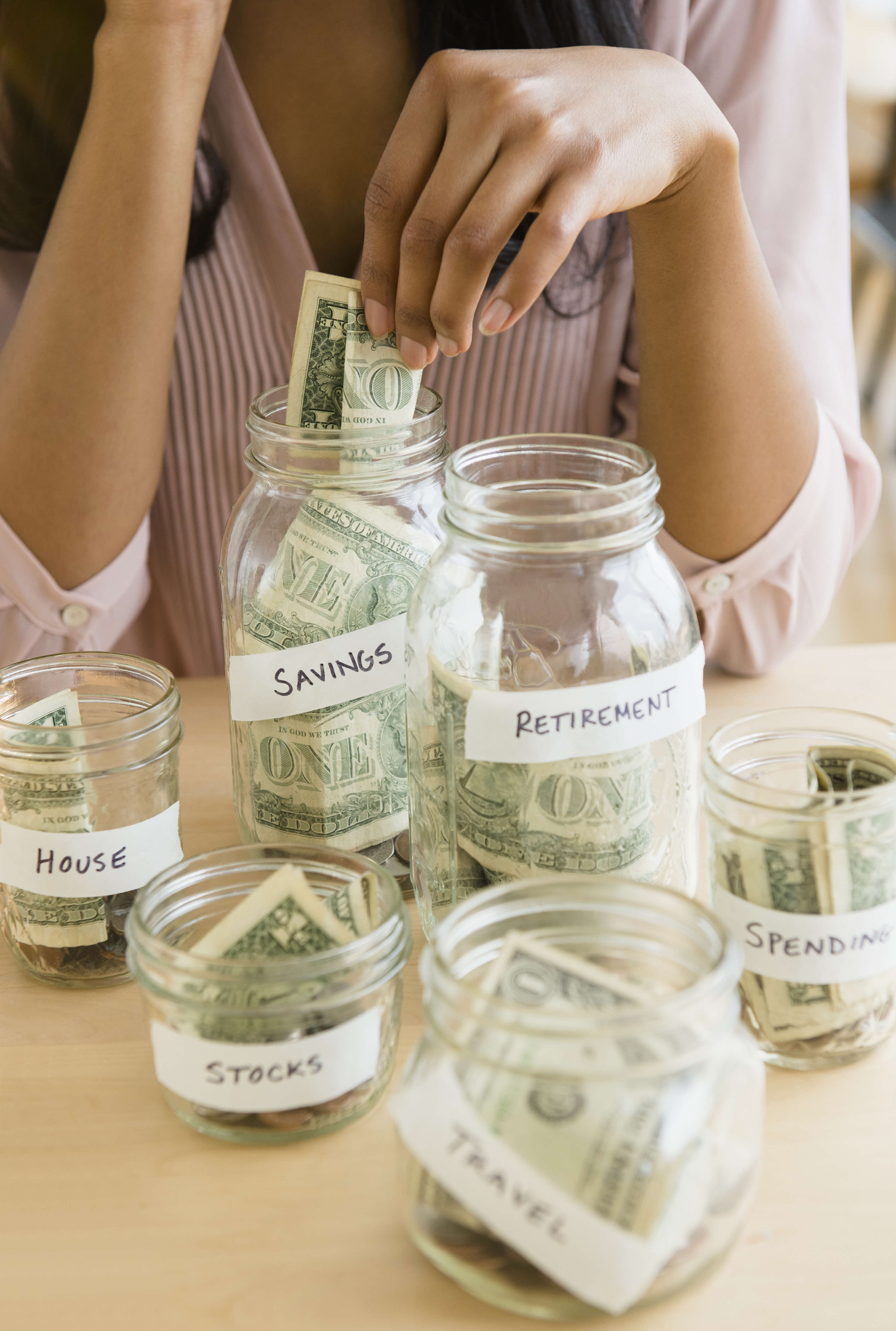 You're making good progress - kudos to you for reaching this stage! The next thing to look at is growing your wealth so your money doesn't sit in the bank and dwindle due to inflation. Your goals are unique, so should your investment strategy.
DBS NAV Planner's Make Your Money Work Harder feature will find you the right investments to grow your money. All backed by DBS investments experts. Just answer a few questions and let DBS NAV Planner do the rest. This is how investing should be.
Start small, with robo-investing on digiPortfolio for example. Enjoy personalised insights, tips, advice and options to grow your money that match your needs. Be mentally prepared and have a good understanding of your risk profile before you start!
If you're already a seasoned investor, it will offer you bird's eye view of all your existing investments at a glance, even if they're not with DBS. With the market price feed feature, you will also be kept up to date on how your investments are performing, so you can simply check in now and then to track, review or adjust them over time.
Online reads to help you get the right protection for a peace of mind:
Additional digital tools and products to consider:
5. Chart your course to financial freedom with ease
Are you on track to meet your goals and retire well? Peek into your future with DBS NAV Planner's Map Your Money feature. It helps you work towards your aspirations and desired retirement lifestyle by visualising your future cashflow and identifying gaps you need to fill. It's like a money forecast, but for the years ahead.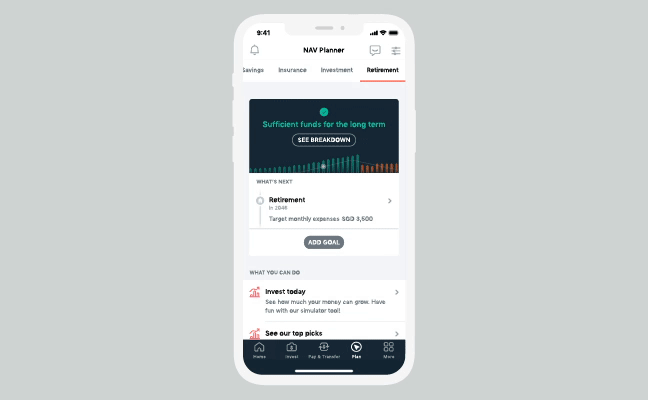 Learn how to get ready to retire from our online resources and tools, or speak to our Wealth Planning Managers through our TeleAdvisory service to understand your needs, from wherever you are.
Online reads to help you get the right protection for a peace of mind:
Additional digital tools and products to consider:
See the big picture with NAV Planner to find out how well you're tracking towards your retirement plan
The best time to start was yesterday…
… but the next best time to start would be today.
Regardless of where you are on your financial planning journey, it's never too late to start. With this compilation of digital resources which helps you get a good understanding before taking action, you're ready to take that first step right where you are and plan for your finances - entirely online!
Ready to start?
Speak to the Wealth Planning Manager today for a financial health check and how you can better plan your finances.
Alternatively, check out NAV Planner to analyse your real-time financial health. The best part is, it's fuss-free – we automatically work out your money flows and provide money tips.
Disclaimers and Important Notice
This article is meant for information only and should not be relied upon as financial advice. Before making any decision to buy, sell or hold any investment or insurance product, you should seek advice from a financial adviser regarding its suitability.
Keep Reading