Costs of investing in ETFs

If you've only got a minute:
Most fees associated with investing in ETFs are similar to that of equities, like commission, trading, clearing fees and GST.
With ETFs, you also incur management, trustee, and custodian fees, which are deducted from a fund's net asset value at the end of a year.
The TER reflects the total costs incurred by the ETF as a percentage of its total assets.

In our daily lives, we make decisions by weighing whether the cost to us is worth the benefit we stand to gain from it, and whether there are lower cost alternatives available to us. It goes without saying then, that in investment decisions too, cost is an important factor to consider.
Though unavoidable, knowing what they are and how they impact your potential profits will help you to make an informed choice on which investments are worth your while. As with equities, the same considerations apply when deciding which exchange-traded funds (ETFs) to invest in.
ETFs are pooled investment funds that seek to track the performance of a market index like the S&P500 or Straits Times Index. They are often viewed as a more affordable option compared to buying stocks individually, as they provide individuals with the opportunity to invest in a basket of companies according to their risk profiles.
Since they can be purchased or sold on a stock exchange, the front-end and back-end costs incurred are similar to that of equities and Real Estate Investment Trusts (Reits). Front-end costs are charged at the initial point of investment while back-end costs are incurred when you sell or close out your position.
These costs include commission, clearing, trading fees as well as the prevailing goods and services tax (GST). In addition, there are other costs to investing in ETFs that are not applicable to direct equities.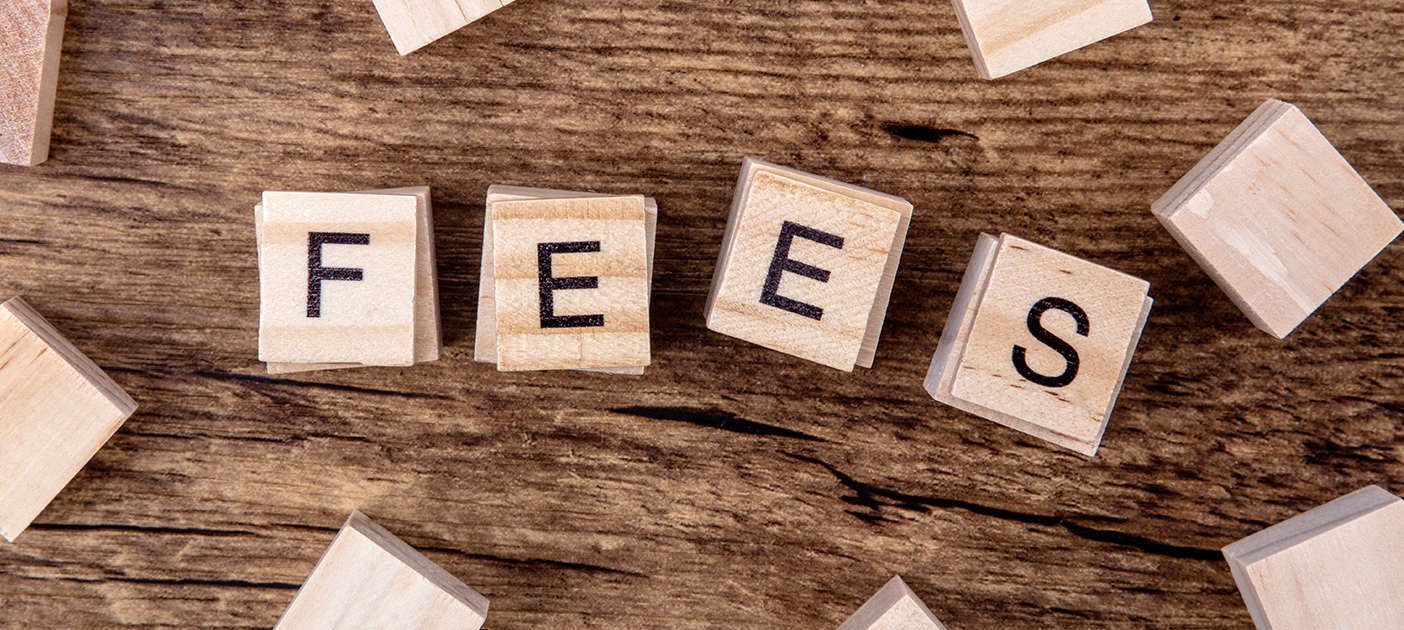 Commission, clearing, trading fees and GST
Assuming an investor wants to purchase 10,000 units of ETF X at $2.615, the front-load fees are listed below: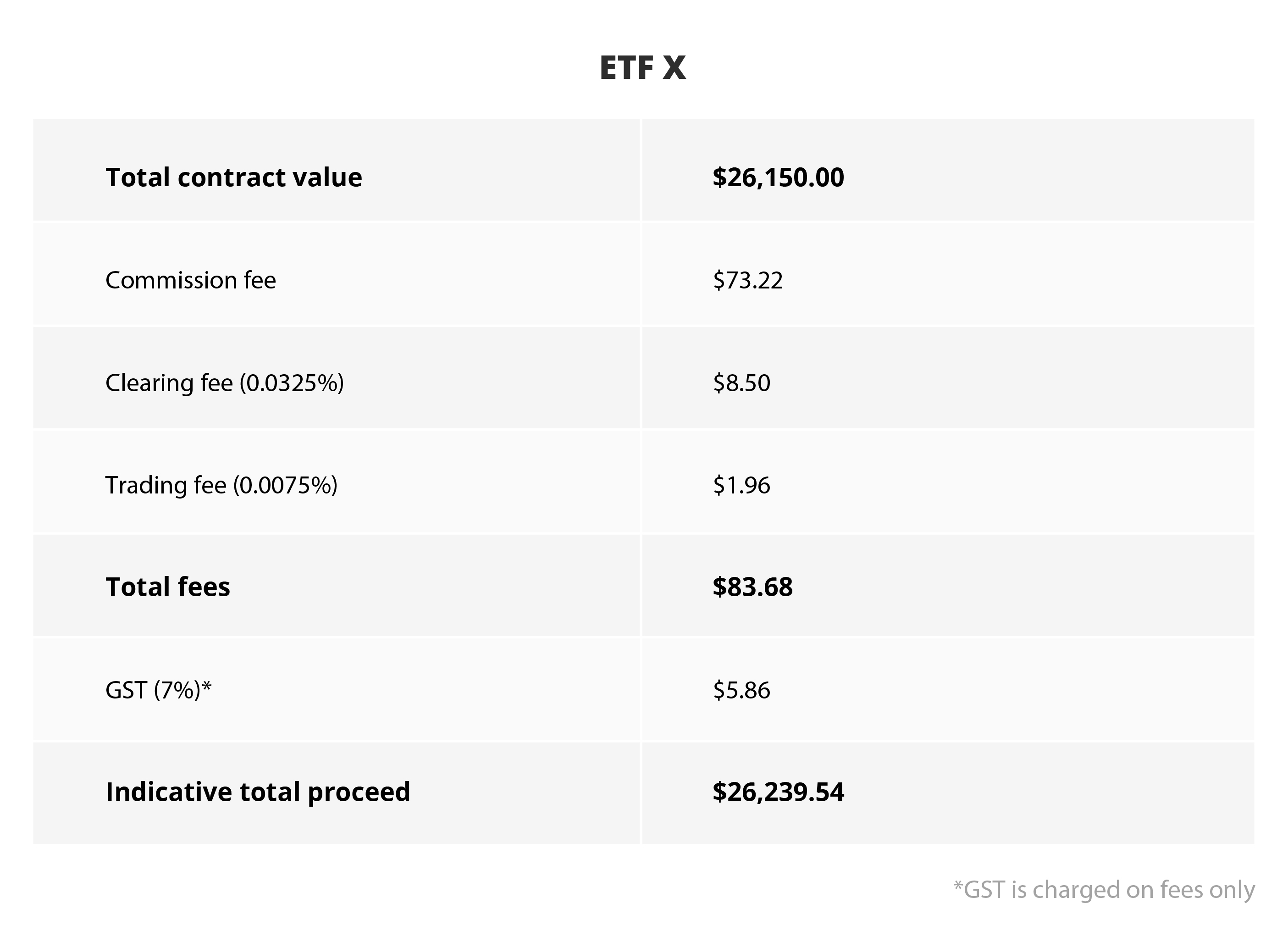 When making an investment worth $26,150, the investor will have to incur an additional $83.68 in the form of commission, clearing, trading fees and GST.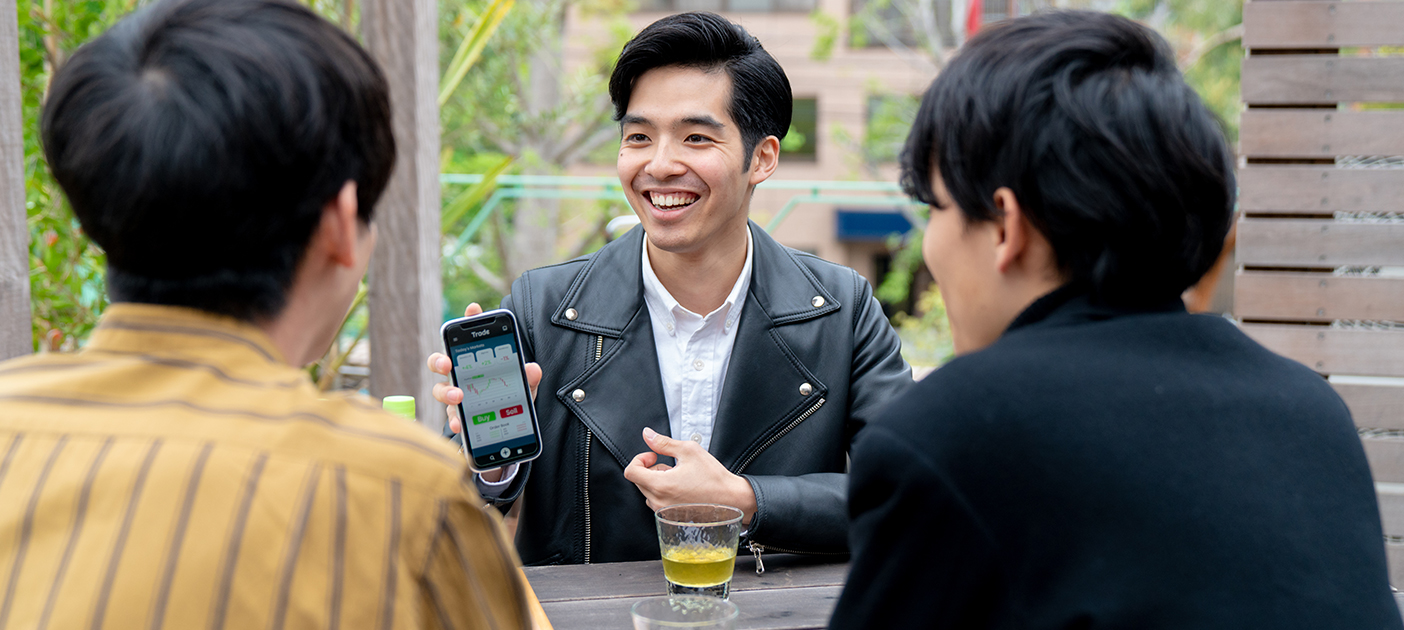 Additional fees and charges
On top of those fees and GST, investors also face other fees when purchasing ETFs. These include management fees, administrative fees, operating costs, trading costs and other costs which may be specific to the individual ETF. As these costs are deducted from the net asset value (NAV) of the ETF and not paid by the investor directly, they are easily overlooked. However, they still have an impact on the overall returns and are important to take note of.

The sum of these costs expressed as a percentage of its total assets, is known as the total expense ratio (TER). This reflects the costs of managing and operating the fund. Generally, passively managed funds have a lower TER than actively managed funds as they tend to be less time and labour intensive.
In 2019, ETFs across the globe had an average TER of 0.44% per annum (p.a.). This means that for every $1,000 invested in an ETF, unitholders will incur an annual fee of $4.40.

In general, the TER of ETFs vary. Taking the example of Singapore-focused ETFs, the SPDR STI ETF and Nikko STI ETF each have an expense ratio of 0.3% p.a. Meanwhile, the ABF Singapore Bond Index Fund, which tracks Singapore government bonds has an expense ratio of 0.25% p.a. while the Lion-Phillip S-REIT ETF is a little more costly at 0.6% p.a.
Rounding back to the example of an investor purchasing 10,000 shares in ETF X for a total contract value of $26,150.00, what are the estimated returns over a 5-year period if the fund has a TER of 0.3% or 0.5%?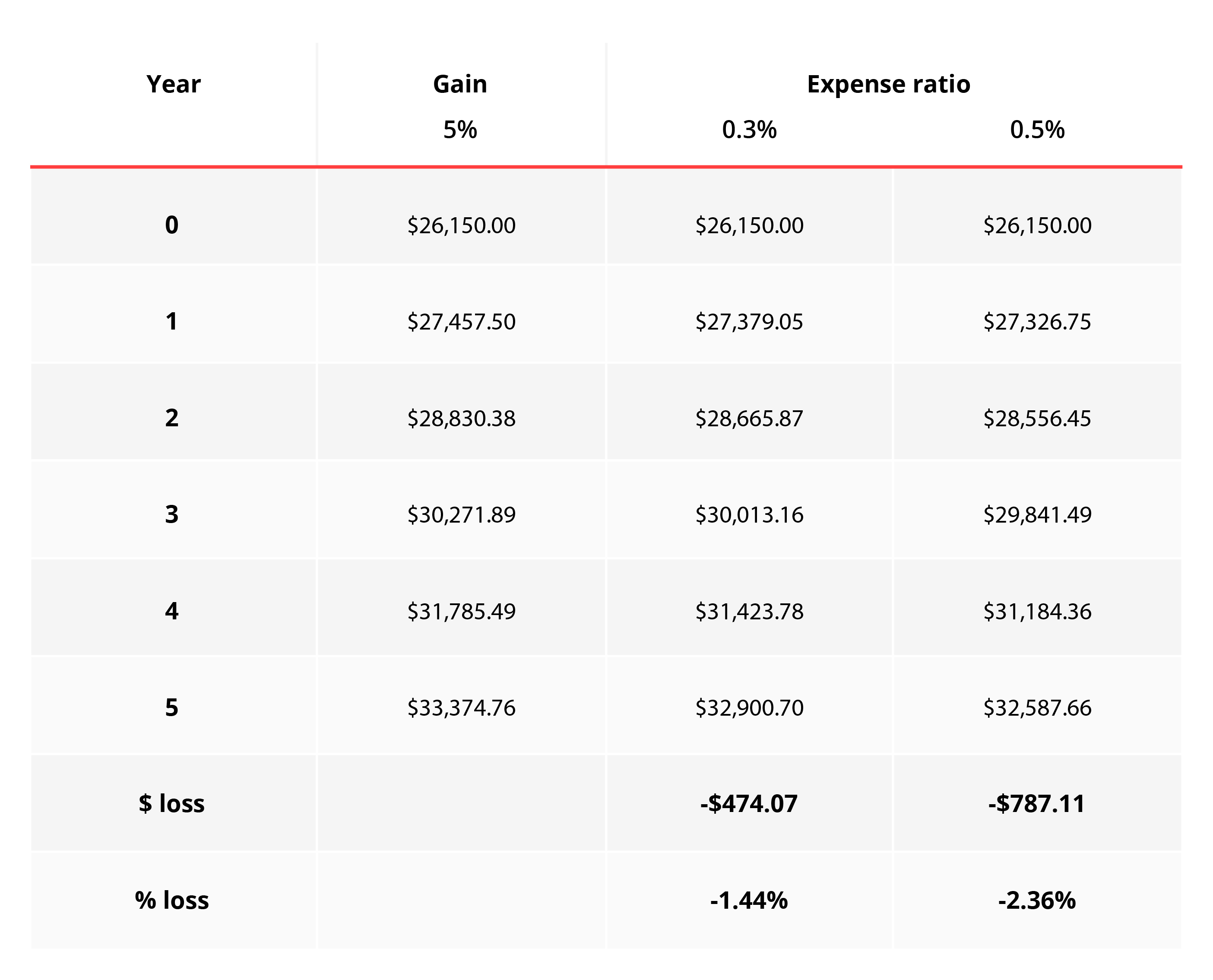 Assuming ETF X has an annual return of 5% and is an expense-free fund, the investor's initial investment would be worth $33,374.76 after 5 years. If the TER of ETF X is 0.3%, the returns from the investment would be 1.4% lower than if it was expense-free.

Now, consider the TER of ETF X as 0.5%. This will lead to a 2.4% decrease in return, thus, showing how a slight difference in expense ratios can affect returns over a period.
While it may seem logical to assume that a fund with lower TER is always the better option, that may not always be the case. Sometimes costlier funds which are actively managed may result in better performance thus accounting for the higher TER. It is important to use the TER hand-in-hand with other metrics and considerations in determining whether a particular fund is an appropriate investment for you.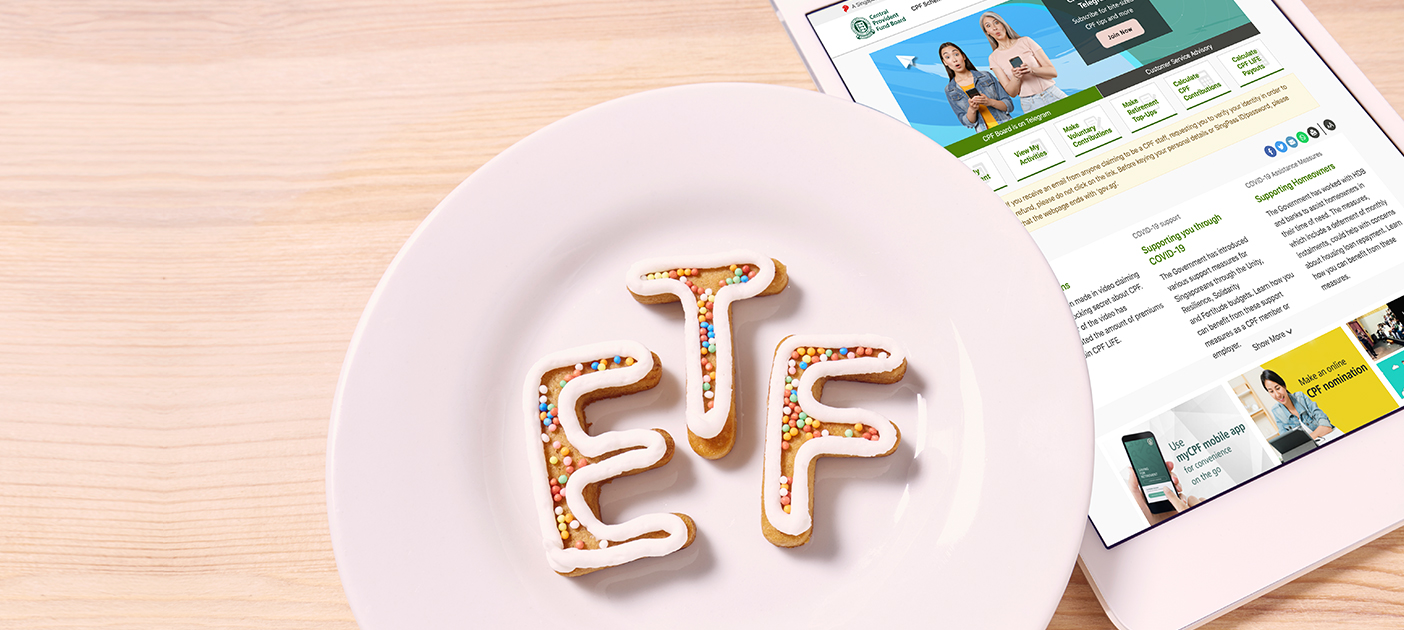 Other (not so) hidden costs
Some ETFs make their investments through other funds. In such scenarios, hidden costs could exist in the form of costs levied by the underlying funds. For example, an ETF which invests in Reits will incur the embedded costs charged by the ETF, as well as the ones charged by the Reit. While uncommon, it is still important to note if you are considering investing into such a product.
Investing in ETFs using CPF balances
Investors are also able to purchase selected ETFs through the CPF Investment Scheme using CPF Ordinary Account (OA) and Special Account savings. To invest your CPF OA savings in shares, open a CPF Investment Account with an approved CPF Investment Scheme (CPFIS) agent like DBS Bank.

Using your CPF funds to pay for investments will incur additional costs on top of the ones discussed so far. This includes a CDP settlement fee of 35 cents per transaction, which the CPFIS agent will collect on behalf of CDP.

Further upfront costs include agents charging up to $2.50 per 1,000 shares or units, with a maximum charge of $25 per transaction.

Recurring costs include a $2 fee per ETF holding per quarter, with a minimum charge of up to $5.



This article covers the cost of investing in exchange-traded funds and is one of four related articles on common investment fees. The other articles can be found here:
Costs of investing in equities
Costs of investing in unit trusts

Ready to start?
Speak to the Wealth Planning Manager today for a financial health check and how you can better plan your finances.
Need help selecting an investment? Try 'Make Your Money Work Harder' on DBS NAV Planner to receive specific investment picks based on your objectives, risk profile and preferences.
Disclaimers and Important Notice
This article is meant for information only and should not be relied upon as financial advice. Before making any decision to buy, sell or hold any investment or insurance product, you should seek advice from a financial adviser regarding its suitability.

All investments come with risks and you can lose money on your investment. Invest only if you understand and can monitor your investment. Diversify your investments and avoid investing a large portion of your money in a single product issuer.
Disclaimer for Investment and Life Insurance Products
You might be interested in