Buying a home is getting expensive – what can you do?

If you've only got a minute:
With the latest cooling measures, cash will continue to play a significant role for home payments.
Consider factors such as location, size and proximity to public transport carefully as they can add a premium to the cost of your home.
Make use of DBS MyHome to help you on your home purchase journey.

Property prices in Singapore has risen significantly, prompting a round of cooling measures in December 2021, September 2022 and the latest measures in April 2023, to curb prices from heading further north.
For the whole of 2021, private home prices jumped by 10.6%, which is the highest annual growth recorded since 2010. In 2020, prices gained just 2.2%.
The HDB resale market ended 2021 on a fresh high as well, with prices climbing 12.7%, the steepest full year climb since 2010. Additionally, a total of 259 HDB resale flats changed hands for at least $1 million last year, the highest number of such flats on record so far. This number is about three times the 82 units in 2020.
In order to promote housing affordability and prevent borrowers from being in a vulnerable position due to rising interest rates, the government has introduced 2 rounds of cooling measures within a year, the latest being in September 2022.
While the measures could potentially temper prices, it may result in higher out-of-pocket expenses for home buyers. Additionally, rising interest rates due to Fed rate hikes will increase mortgage loan costs. So being able to afford these costs is key.
If you are planning to buy a property, here are 5 points to consider:
1. Affordability
No one can deny that buying a property in Singapore involves a significant amount of savings. With the recently implemented cooling measures, home buyers will need to set aside extra funds.
For those getting a HDB flat and are looking to take out a HDB home loan, the loan-to-value ratio was recently adjusted to 80% from 85%. This means the maximum loan amount is capped at 80% of the market value of the house. For example, if a particular HDB flat that you are interested to buy is valued at $600,000, you can borrow up to $480,000 instead of $510,000 prior to the announcement of the latest spate of cooling measures. The lower LTV reduces the maximum amount potential homebuyers can borrow from HDB.
The LTV limit for home loans obtained from financial institutions like DBS Bank remains unchanged at 75%. To get a clear view on home loans and insights on how the principal and interest components will amortize throughout the life of the home loan, you can use the DBS Home Loan Savings Calculator to help you.
For those looking to buy an investment property, the changes in Additional Buyer's Stamp Duty (ABSD) will affect you. Singapore citizens will now pay an ABSD rate of 20% for their second residential property, and 30% for their third and subsequent residential property. This is up from the previous rates of 17% and 25% respectively.
The ABSD rates for permanent residents buying a second or a third and subsequent residential property has been increased to 30% and 35%, up from 25% and 30% respectively.
Foreigners and entities will also incur more ABSD when purchasing any residential property.
Thus, whether you are buying a HDB flat or an investment property, be prepared to set aside more cash.
2. Types of home loans
The HDB loan will appear more attractive to home buyers who can only afford a smaller down payment. It is also flexible in that you can make partial or full repayment early without any penalty, during the loan tenure.
With interest rates on the rise, a fixed rate loan will allow you to lock in the interest rates so that you have more control and certainty over your monthly repayments.
As for bank loans, do your homework on which type of home loan will be suitable for your needs. For instance, a fixed interest rate mortgage offers fixed rates for a specified period of time, of say 3 years. They usually cost more than a floating interest rate home loan and there is a locked-in period during which loan redemptions may result in a penalty. However, some prefer to have this peace of mind, and it makes managing cash flows easier.
It was recently reported that mortgage rates in Singapore could be raised 3 times in 2022 by 25 basis points each time (or a total of 0.75%), no thanks to the likely move by US to rein in inflation. It is no wonder some mortgage advisers are recommending fixed rate home loan packages to hedge against rate increases.
3. Prioritise needs and wants of your future home
First-time home buyers are likely to focus on what they want for their homes instead of working with a budget. Do bear in mind that location, floor area, facilities, and the proximity to public transport/MRT stations are all factors that add a premium to the purchase price.
So, take the time to consider carefully which of these factors are truly important and which of these you can live without in exchange for a lower price point.
4. Planning of cashflows is essential
DBS introduced a NEW Two-In-One Home Loan with Fixed, Floating Options. With interest rates on the rise, the Two-In-One Home Loan allows you to enjoy the best of both worlds - assurance of a fixed rate home loan and the benefits of a floating rate to take advantage of potentially lower rates in the future.
As a property purchase involves the payment of large sums of money, it is essential to know the timeline of the various payments you need to make to manage your cashflow.
During a property purchase, some common payments include the following:
Upfront payments
• Option fee
• Down payment
• Buyer's Stamp Duty (BSD)
• ABSD (for a second and subsequent property if you're a Singapore Citizen)
• Legal costs, including stamp fees
• Agent's commission and fees
• Other miscellaneous costs (insurance, valuation fee)
Recurring payments
• Maintenance fees, conservancy charges and utilities
• Property tax
• Mortgage insurance and other home-related insurance
Perhaps one of the biggest cash outlay you need to prepare for is the down payment of your property. Here's a look at the amount of down payment you'd need to set aside for either a HDB flat or a private condominium:
Down payment for Property Purchase
| Property type | Type of loan | Down payment | Mode of payment |
| --- | --- | --- | --- |
| HDB Flat | HDB Loan | 20% of purchase price | CPF or cash |
| HDB Flat | Bank Loan | 25% of purchase price or property value, whichever is lower | 5% cash, 20% with CPF or cash |
| Private condominium | Bank Loan | 25% of purchase price or property value, whichever is lower | 5% cash, 20% with CPF or cash |
Taking a HDB loan allows you to borrow up to 80% of the property value, this means that the minimum down payment is 20%.
On the other hand, bank loans only allow you to borrow up to 75% of the property value or purchase price, whichever is lower.
HDB Flat Example:
Let's say you are buying an HDB resale flat at $500,000. If you take an 80% loan from HDB, the down payment will be 20%, or $100,000. If you have sufficient funds, you can pay your entire down payment using your CPF savings if you wish. If you opt for a bank loan instead and borrow 75% of the sales price, then your down payment will be $125,000, of which $25,000 must be paid in cash.
Based on this example, clearly the upfront down payment cost for an HDB loan is lower.
Private property example:
Let us assume that you are buying a condominium valued at $1 million, and you're paying $1.2 million. If you are taking a bank loan, the valuation of $1 million (lower of the two) will be used to calculate how much you can borrow.
Assuming you take the maximum 75% loan, your down payment will be $250,000 + the $200,000 cash over valuation (CoV). For the down payment, you can choose to pay 5% ($50,000) in cash and $200,000 with your CPF. The CoV component must be in cash. This means that the total cash outlay will be $250,000, and $200,000 may be taken from your CPF Ordinary Account.
Do note that borrowing the maximum amount you can has financial implications – you'd need to pay more interest in the long term.
You can make use of DBS's MyHome Planner to work out your property budget and map out the cash inflows from your sale of property and outflows for the purchase of your next property.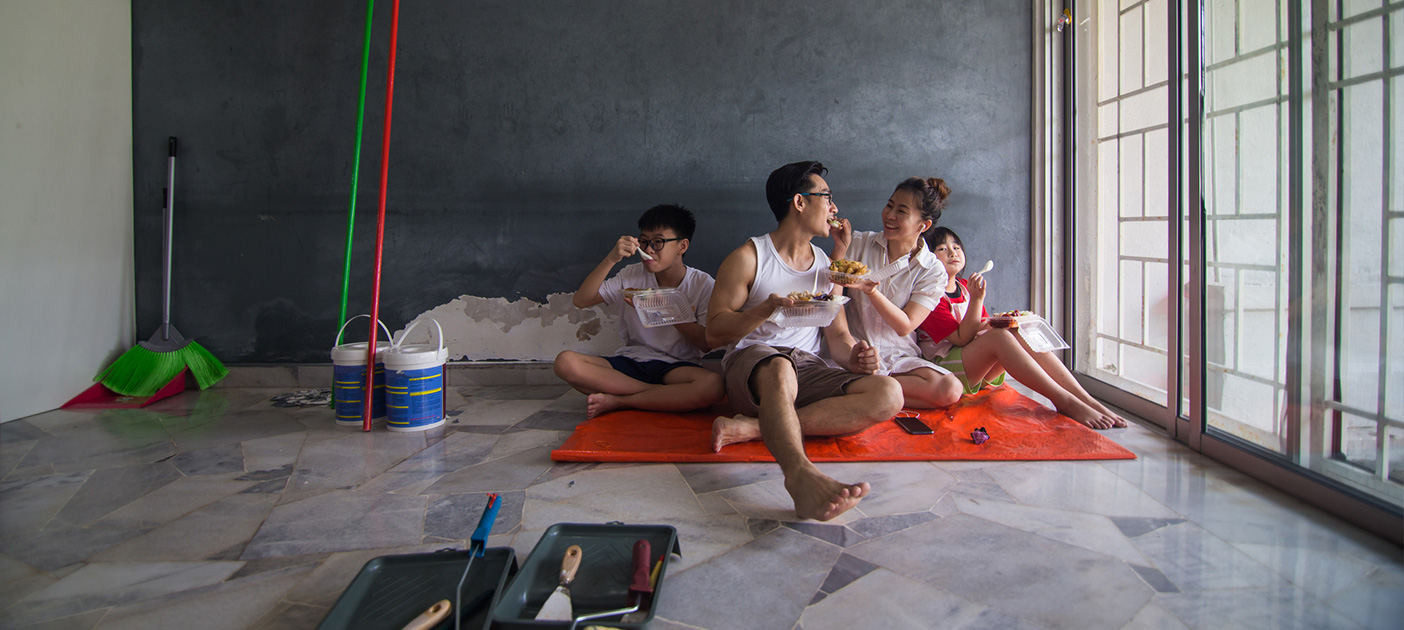 5. Renovation costs and timeframe
Renovation costs can run up to a large amount, especially for those buying an older property that requires extensive renovation works. If you are tight on cash, you can always do the essential renovations first and work on the aesthetics later. If need be, a renovation loan can help to bridge the cashflow gap.
Sometimes, it can be difficult to match the timing of you taking over your new home with the time you need to move out of your current place. Do take into consideration the extra cost if you need to rent a place in between moving homes.
That said, owning your dream home can be an enjoyable process but it needs to be well planned. Not sure where to start? Make use of DBS MyHome planning tools to help you on your journey to making your home purchase!
Start Planning Now
Check out DBS MyHome to work out the sums and find a home that meets your budget and preferences. The best part – it cuts out the guesswork.
Alternatively, prepare yourself with an In-Principle Approval (IPA), so you have certainty on how much you could borrow for your home, allowing you to know your budget accurately.
You might be interested in