5 tips for first-time home buyers in Singapore
Buying your first home is a milestone of adulthood in Singapore. It means (finally) moving out from your parents' home, and into a place you can call your own. But how do you go about doing this? We've summarised the key criteria and answers for you, whether you're looking at a BTO, resale flat, or private property.
1. Understand what you're eligible to buy
Properties in Singapore fall into one of these 3 types:
Public housing: HDB flats
Hybrid of public-private housing: Executive condominiums (ECs)
Private property: private condominiums, apartments, landed housing
Your eligibility depends on a few things, including your age and whether you're purchasing the flat with someone else.
Type of housing
At what age can you buy a house in Singapore
Public housing
Same criteria whether you buy a new or resale HDB flat:

At least 21 years old, if you're purchasing the HDB flat with your:

Spouse and/or children
Parents and siblings
Children under your legal custody (if you're widowed or divorced)

At least 21 years old, if you're widowed or orphaned
At least 35 years old, if you're single (unmarried) or divorced (no kids)

Hybrid of public-private housing
If you purchase a new EC:

At least 21 years old, if you're purchasing with your family members, are widowed, or orphaned
At least 35 years old, if you're single (unmarried) or divorced (no kids)
At least 21 years old

If you purchase an EC from the open market (resale EC):
Private property
2. Plan your budget wisely by working out the math
A house is a huge financial commitment. There is the downpayment, and 360 monthly repayments if you get a 30-year loan like most other Singaporeans do. Here's how to figure out how much you can afford comfortably
The math of working out your budget
One quick way is to get an estimate of the loan that HDB or the banks will grant to you. This amount is based on yours (and your spouse's) savings, current income, and age.
The best time to get this estimate is before your search begins. It helps you filter for the properties that you can afford, which saves you from spending unnecessary time searching among properties that are beyond your budget.
Then, get in-principle approval (IPA), which is a guarantee that the lender will lend you S$X amount when you need it.
Armed with these, you can browse the catalogue of HDB and private properties, confident that you can pay for what you choose.
Tip: If you can raise sufficient cash, consider using that instead of your CPF, as your CPF monies earn higher interest rates of 2.5% each year.
Government subsidies and grants
If you're interested in a HDB property, there are government subsidies and grants that can make a property more affordable. There are schemes for:
Or you might be most interested in the investment potential of a private property. If so, be prepared to have a bigger budget because they are more expensive due to:
Couples,
Singles, and
If you stay within 4km of your parents' or in-law's place.
Investment potential
Or you might be most interested in the investment potential of a private property. If so, be prepared to have a bigger budget because they are more expensive due to:
No 5-year minimum occupancy period (MOP)
No resale levy
No ethnic quota
Presence of facilities such as swimming pool, gym, BBQ pits in the condominiums
Can be sold to non-Singaporeans/PRs – better marketability
Did you know? The MyHome planning tool allows you to assess your property budget and affordability, and potential changes to your monthly cashflow.
You can work out your property budget in different ways:
Property Price in mind for your future home
Monthly Instalment you are prepared to pay
Down payment amount you have set aside for your property
Maximum loan amount based on your income and financial commitments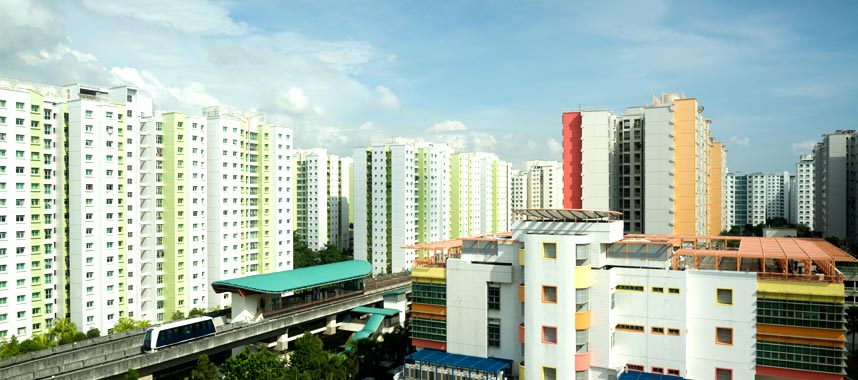 3. Consider your priorities before deciding where should your first home be
Location is the biggest factor in choosing a house. These are some considerations that'll help you pinpoint the areas that you'd be happy to call home.
Distance from your workplace: Choose somewhere that isn't too far you're your workplace. Singapore is a small city, but the commute between Ang Mo Kio and Changi Business Park can still take up to 2 hours. And adding just 20 minutes to your daily commute feels as bad as if you'd received a 19% pay cut1.
Distance from the MRT station: Buying a house near an MRT station saves time, but properties within walking distance cost more. Also note that a house along the East-West line is typically more expensive than along the North-South line (e.g. Tiong Bahru vs Ang Mo Kio), because of its proximity to the CBD.
Distance from your parents: Staying within 4km of your parents qualifies you for the Proximity Housing Grant (PHG). But chances are, our parents stay in mature estates – where new BTOs and resale flats could be pricier.
Here's how some first-time homeowners have gotten the most out of the accessibility vs affordability trade-off:
Buy smaller units, and then upgrade as their family expands
Purchase properties in non-mature estates. Based on the May 2019 BTO sales launch, you would have paid at least S$387,000 for a 3-room BTO in a mature estate, and S$165,000-S$192,000 for one in a non-mature estate.
Did you know? Property Marketplace allows you to browse resale properties:
By price range
In specific neighbourhoods
Near specific MRTs
Near specific schools
That have a desired number of bedrooms
Spacious enough for you
4. Watch out for the hidden costs
One thing that often slips buyers' minds is the whole range of fees and charges that apply. If you're getting a BTO or flat directly from HDB, watch out for these:
Property valuation reports,
Buyer stamp duty fees,
Property taxes,
Home or fire insurance fees.
And if you're thinking about resale flats, add these to your list of costs:
Property agent commissions,
Fee to process the option to purchase (OTP)
Higher renovation costs.
5. HDB loans vs bank loans
HDB pegs their interest rates at 0.1% above the CPF interest rate, which means paying a fixed 2.6% p.a. of interest each year.
Bank loan interest rates fluctuate, so depending on the current interestrates, a bank loan can be higher or lower than HDB loan's 2.6%.
Here are some distinct differences to note before deciding between the 2 types of loans.
The loan to value limit (LTV) for HDB is higher compared to a bank, which means you can borrow more for a HDB loan(85%) than a bank loan (75%).
Lower downpayment for HDB loan – 15%, and higher downpayment for bank loan – 25%.
HDB loans allow you to pay for your downpayment fully with CPF monies, whereas for bank loans, 5% of the downpayment must be paid in cash, and the remaining 20% with cash or CPF.
There is no early repayment penalty for HDB loans, but a 1.5% with a bank loan if it is within the locked-in period.
Given the differences, it could make sense for someone on a tight cashflow to go with a HDB loan since the cash outlay for downpayment is lower.
On the other hand, a bank loan could offer a lower interest rate compared to a HDB loan, potentially helping you save thousands of dollars over the long term. (When doing your research, don't forget to check for current promos too!)
Interest rates alone should not be your only criteria when looking at a home loan package. Here's what else you should look out for when comparing the loan packages:
Differences in fees
Charges for early repayment
Interest rate type (Fixed rate or floating rate)
Loan tenure
Extras such as free legal and valuation subsidies, and in-built home loan insurance
Start Planning Now
Check out DBS MyHome to work out the sums and find a home that meets your budget and preferences. The best part – it cuts out the guesswork.
Alternatively, prepare yourself with an In-Principle Approval (IPA), so you have certainty on how much you could borrow for your home, allowing you to know your budget accurately.
Sources:
1 Business Insider US. 'Adding 20 minutes to your commute time could lead to dangerous consequences' by Tanza Loudenback. Published 23 October 2017.
https://www.businessinsider.sg/commuting-work-job-satisfaction-2017-10/
Looking for a property?