Pros and cons of buying a Prime Area BTO
By Lynette Tan

If you've only got a minute:
Prime Area BTOs are Build-To-Order (BTO) flats located in matured estates.
In view of higher costs in prime areas, the government will provide additional subsidies for Prime Location Public Housing (PLH) flats but there will be a clawback condition upon resale.
The PLH Model is put in place to prevent buyers of Prime Area BTOs from purchasing flats for investment purposes and benefitting from the lottery effect.

Planning to buy a Build-To-Order (BTO) flat in the prime area? This could be the dream – staying in subsidised housing in the middle of town. If the higher pricing does not deter you, you might also want to consider the other restrictions put in place under the Prime Location Public Housing (PLH) model to make an informed decision.
Note that Prime Area BTOs built before the new PLH model was put in place will not be affected by the new policy.
What is a Prime Area BTO?
Prime Area BTOs are BTO flats located in matured estates. These locations usually come with established amenities such as shopping malls, proximity to MRT Stations and bus interchanges or they could be near popular schools.
Why choose a Prime Area BTO?
Flats are built in prime locations
These flats will be built in the city centre and the future Southern Greater Waterfront. PLH flats built in the city centre would be in places such as Tanjong Pagar, Rochor, and City Hall.
Flats are priced with additional subsidies
Flats located in prime areas generally have a higher price point due to the location and proximity to amenities. Therefore, to keep prices affordable for Singaporeans, there are additional subsidies for PLH flats. The additional subsidies provided will be on top of the existing subsidies provided for BTO flats today. However, the amount of subsidy provided varies for each PLH project.
Downside to buying a Prime Area BTO
10 Year Minimum Occupation Period
The minimum occupation period (MOP) is the time length in which the owner will have to hold the property before selling it. In contrast to regular HDBs that have an MOP of 5 years, owners of PLH flats will have to fulfil an MOP of 10 years. This is to deter speculators from purchasing PLH flats for "flipping" them shortly after the purchase of the flat. Instead, the government wishes to emphasize on property owner-occupation. The 10-year MOP will apply to subsequent buyers as well.
Subsidy recovery
To level the playing field with those who choose to purchase non-prime flats, there will be a clawback on additional subsidies provided by the government upon the first sale of the flat. This means that they will have to pay back a percentage of the resale price. For the highly anticipated Rochor BTO project – River Peaks I and II – which is the first to come under the new PLH model that imposes stricter buying and selling conditions on HDB flat owners, there is a 6% subsidy clawback upon resale.
The subsidy recovery behaves as a safeguard to prevent sellers from adding the subsidy recovery amount to their base selling price in hopes of maximising gains. Nonetheless, it will be made known to the public at the launch of each PLH project.
Fewer flats may be set aside for the Married Child Priority Scheme
The Married Child Priority Scheme (MCPS) refers to a married child and parents living with or near each other for mutual care and support. Under the existing scheme, up to 30% of BTO/SBF units will be allocated to first-timer families. At the same time, up to 15% of BTO units and up to 3% of SBF will be allocated to second-timer families.
However, fewer PLH flats may be set aside for those who are eligible for this scheme. The exact percentage for those eligible for this scheme has not been made known to the public yet.
Stricter eligibility conditions
As compared to typical HDB flats, stricter measures will be placed for those who are interested to purchase a PLH flat from HDB or PLH resale flats. This is to ensure that PLH flats remain inclusive and accessible to subsequent buyers who wish to purchase these flats.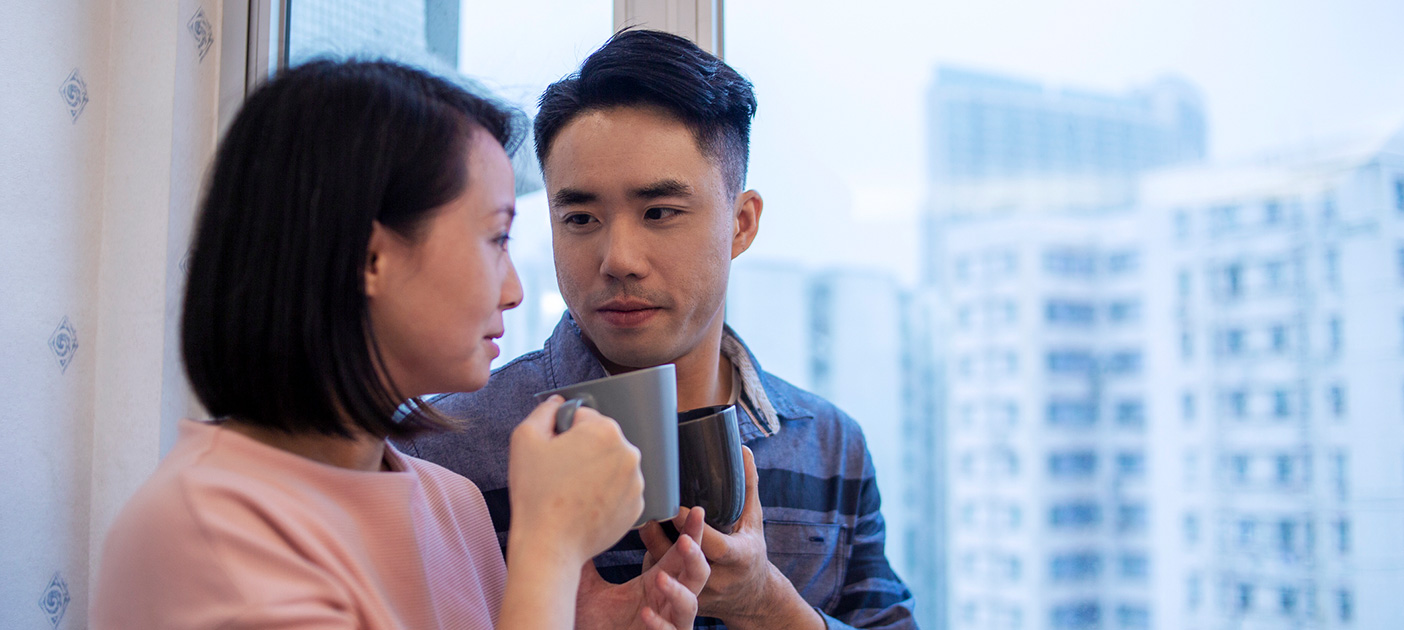 Specifically, there will be an income ceiling of $14,000 for PLH flats as compared to typical resale flats. Also, in comparison to the typical resale flats which allow singles aged 35 and above to purchase them, singles will not be able to purchase PLH flats.
The table below shows the key eligibility conditions for purchase (3-room and larger Flats):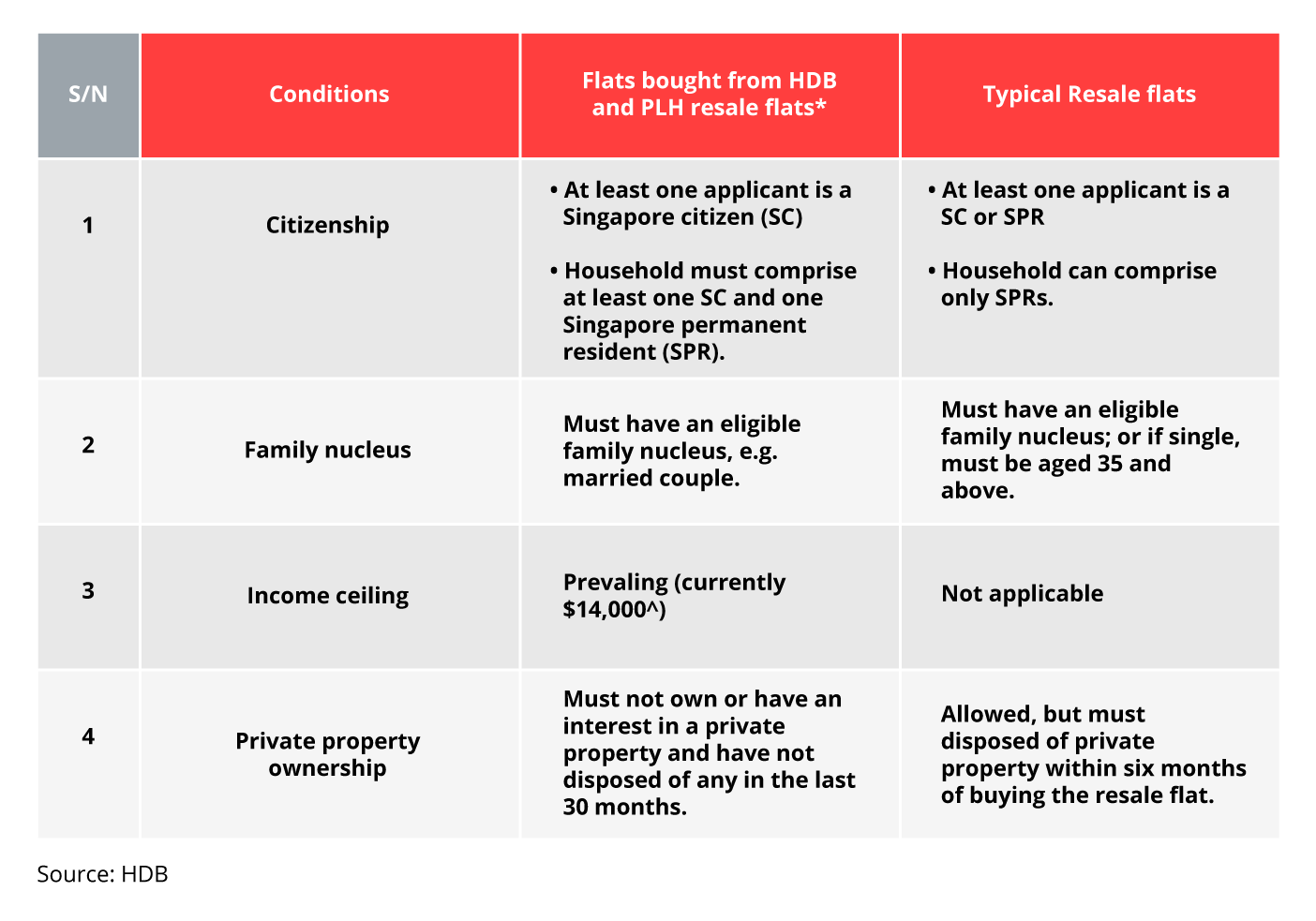 Rental of the whole flat is not allowed at any point in time
To further prevent buyers from purchasing a PLH flat for investment purposes, the government has decided that owners of PLH flats will not be able to rent out the whole flat at any point in time. Nonetheless, owners will still be able to rent out rooms if they wish to.

The table below shows the ownership conditions for BTO model versus PLH model: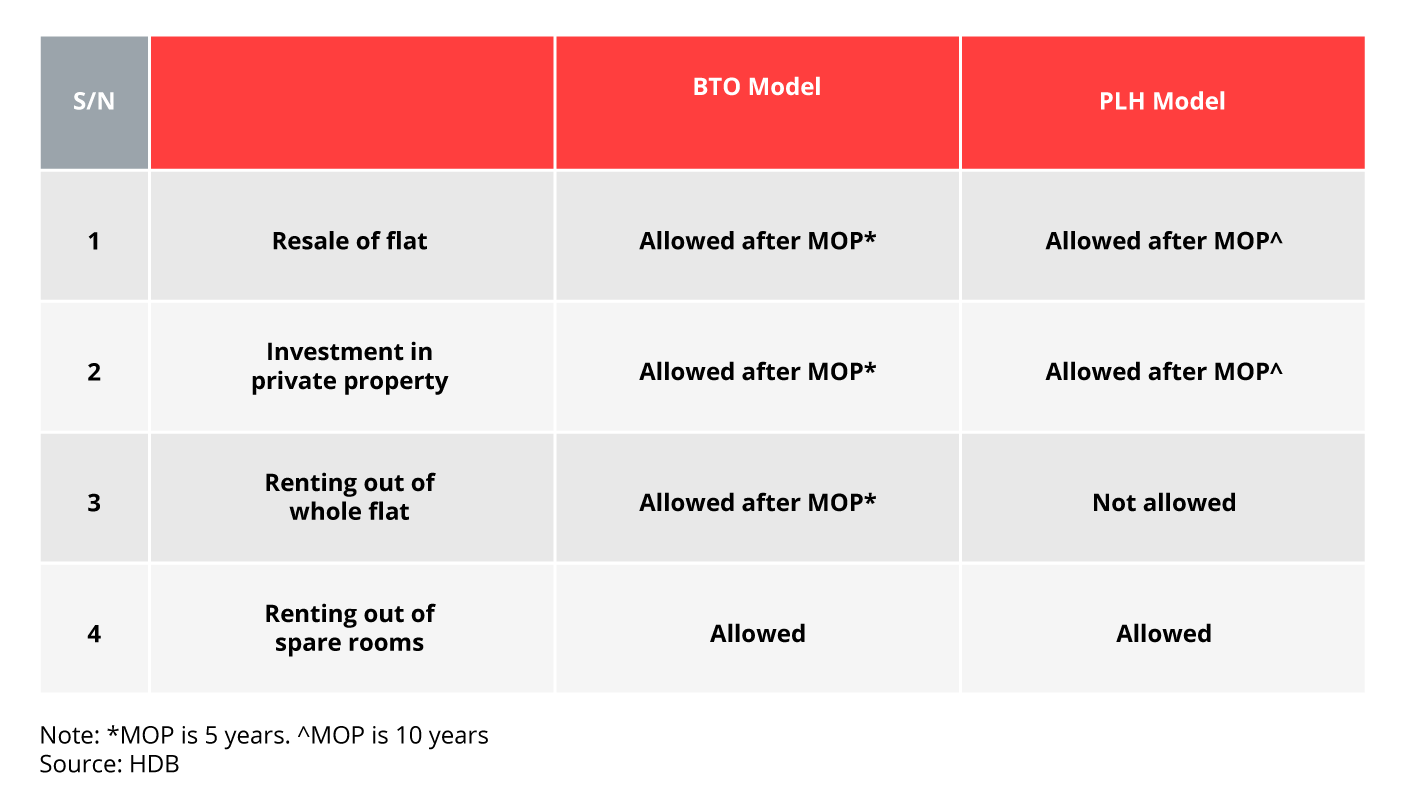 Living in a prime area is no doubt desirable if short commutes and well-established amenities are your priorities. What makes it attractive is that these flats come with additional subsidies which lowers the entry barrier. With that, the government wishes to emphasise on owner-occupation instead of buying flats for the purpose of striking a windfall. Thus, keeping flats in prime areas affordable for Singaporeans is a key priority in housing policies.
Purchasing a home is a long-term commitment so it's best to be prudent to ensure that the cost is affordable for the long run. Consider your objectives of getting a flat in the prime area and do weigh the pros and cons!
Start Planning Now
Check out DBS MyHome to work out the sums and find a home that meets your budget and preferences. The best part – it cuts out the guesswork.
Alternatively, prepare yourself with an In-Principle Approval (IPA), so you have certainty on how much you could borrow for your home, allowing you to know your budget accurately.