ElderShield and CareShield Life

If you don't have time to read through the whole article, you can check out our short version below.

MOH provides long-term care insurance schemes that offer basic financial protection for Singaporeans and PRs. It's targeted at severe disability.
Severe disability is determined by the inability to perform at least three of the six Activities of Daily Living (ADL).
Those born in 1979 or earlier are covered under ElderShield, while those born in 1980 or later will automatically be enrolled into CareShield Life, which replaces ElderShield.
Those covered under ElderShield can choose to remain on ElderShield, switch to CareShield Life, or opt out completely.
After tapping on MediSave, you can pay your remaining medical bill with the Flexi-MediSave scheme.
If you choose to switch from ElderShield to CareShield Life, you will need to top up your premiums.

Long-term care insurance
One of the top concerns of Singaporeans is the rising healthcare costs. As we face the reality of living longer lives, people are increasingly concerned about paying for care when they can no longer look after themselves. In 2017, the Ministry of Health stated that half of Singaporeans who are healthy at age 65 face risks of developing a long-term disability later.
ElderShield was introduced in 2002 as a basic long-term care insurance scheme targeted at severe disability, especially during old age. It is a severe disability insurance scheme that provides basic financial protection. In the event of severe disability, ElderShield will provide monthly cash payouts for a specified period.
Singaporeans and Permanent Residents (PRs) aged 40 and above who are not already severely disabled and are automatically enrolled into ElderShield, can pay fully by using MediSave funds unless they choose to opt out of ElderShield.
If you are already covered by ElderShield, you should be under one of the two basic ElderShield plans.

To be considered severely disabled, you must prove that you have the inability to perform at least three of the six Activities of Daily Living (ADL). To certify your status, you will need to get a doctor, nurse, physiotherapist or occupational therapist and this involves a fee which you will need to pay.
| | | |
| --- | --- | --- |
| | | |
| Eating | Bathing | Dressing |
| | | |
| Toileting | Transferring | Mobility |
In 2020, ElderShield will be replaced by CareShield Life. ElderShield will no longer be available to new cohorts turning 40 from 2020 onwards (those born in 1980 or later) but will continue to operate for existing cohorts who are already enrolled, if you choose to continue the ElderShield plan.
CareShield Life will be universal and mandatory for all Singaporeans and PRs born in 1980 or later. This is to ensure that everyone will have access to basic protection for long-term care needs.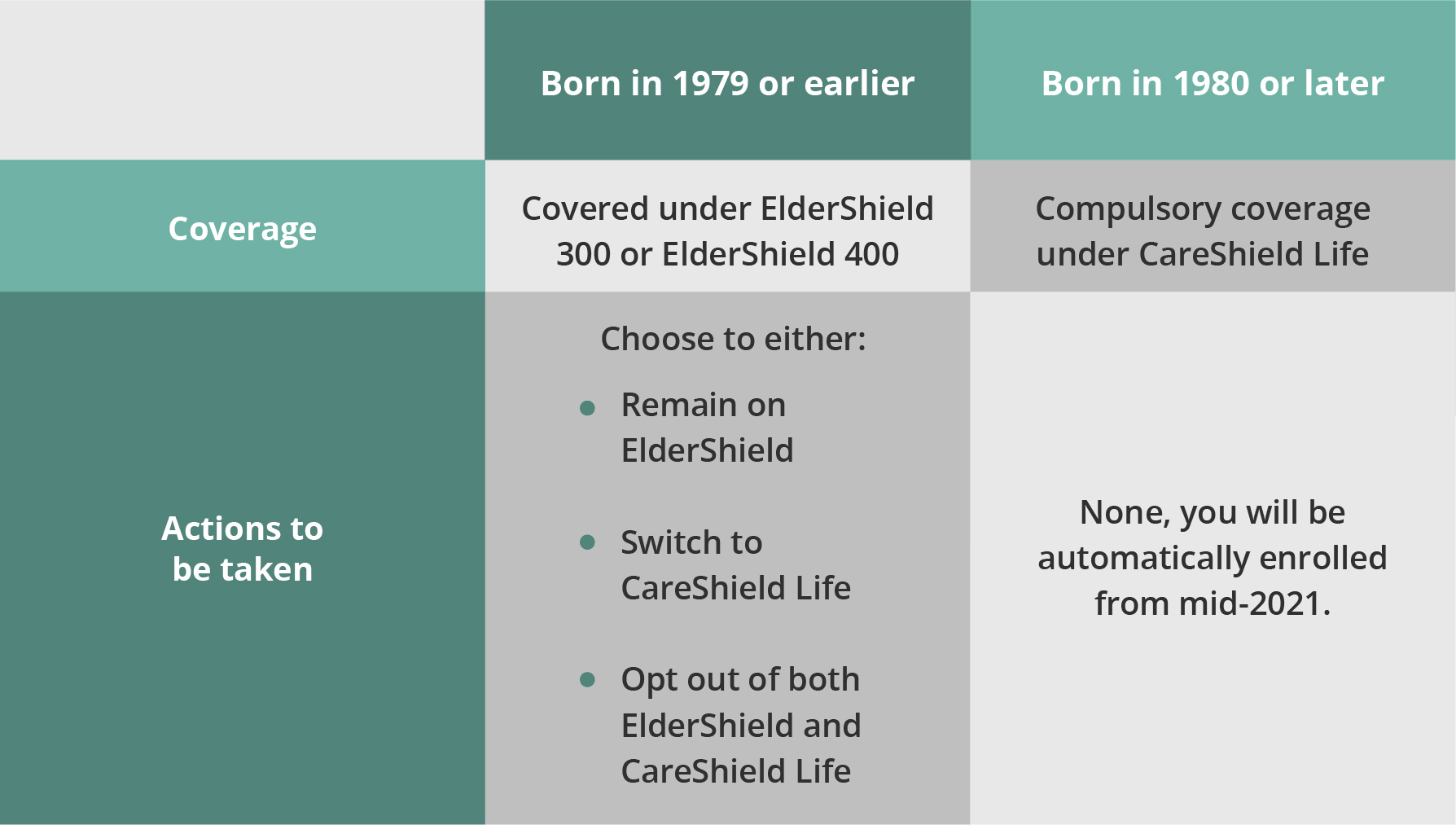 If you choose to remain as an ElderShield policyholder, you will continue to enjoy the benefits of it.
If you choose to switch to CareShield Life, you will need to top up your premiums to replace your old ElderShield plan. Do note that if you are already severely disabled, you will not be able to join CareShield Life.
If you want to opt out of both ElderShield and CareShield Life, you have to do so by 31 December 2023. An alternative way to support your long-term needs is to tap on other schemes such as MediSave withdrawals of up to $200 per month.
What happens if you don't make a decision? To make joining CareShield Life more convenient, Singapore Citizens and Permanent Residents born in 1970 to 1979 will be auto enrolled in CareShield Life from mid-2021. That is, if they:
Are already insured under the ElderShield 400 scheme
Are not severely disabled at the point of auto-enrolment
Can't decide to stay on ElderShield or switch to the new CareShield Life?
Let's first understand the differences between the two and then decide which would suit you better.
ElderShield 400
CareShield Life
Payout per month
S$400
S$600
Payout Increment
Payout remains the same
Payout increases until age 67 or when a claim is made, whichever is earlier
Payout duration
6 years after your first claim
Covered for life, even when you stop paying premiums
Who are covered?
Excludes individuals with pre-existing disabilites
Complusory for all, includes inviduals with pre-existing disabilities
Annual Premium amount*
S$175 (men)
S$218 (women)
S$206 (men)
S$253 (women)
This amount will increase over the years. Depends on your circumstances. Click here for more information
Premium payment starts
Age 40
Age 30
Premium payment ends
Until age 65
Until age 67
Premium payment methods
Fully payable by MediSave
Fully payable by MediSave
Government Subsidy
No
Yes
Disability check up fee
S$50 - S$150
First assessment is free
Administrator
Aviva / Great Eastern / NTUC Income
Singapore Government

*Assumes you start at age 40 for ElderShield and 30 for CareShield Life.

If you have three ADLs before you start paying CareShield Life premiums (at the age of 30), you can start collecting the payouts once you have paid the first premium. You will no longer need to pay any subsequent premiums.
DBS has partnered with major insurers in Singapore to make health insurance easily accessible online for purchase. You can now independently learn, compare and buy a plan most suited to your own needs. Find out more on DBS Health Marketplace.
Ready to start?
Speak to the Wealth Planning Manager today for a financial health check and how you can better plan your finances.
Alternatively, check out NAV Planner to analyse your real-time financial health. The best part is, it's fuss-free – we automatically work out your money flows and provide money tips.