A Simple Way to Start Your First Insurance Journey

If you've only got a minute,
If you are not sure what insurance to get, you can consider getting a bundled coverage plan that offers some basic coverage at affordable premiums.
Insurance doesn't have to be a big-ticket item. Always start with coverage that you need and can afford.
Do review your insurance needs regularly, especially when there is a change in your life circumstances so that your protection shortfalls are adequately addressed.

Embarking on your first journey into adulthood comes with mixed feelings of uncertainty, anxiety and excitement. As you enter adulthood, you will experience more about life and learn to make adulting decisions. One of those will be making your first insurance purchase.

Here's a simple guide on how you can get yourself protected with ease while avoiding common pain points in your first insurance journey.
Common Pain Points When Starting Your First Insurance Journey
1. Understanding The Complexity Of Insurance
You may find it daunting to read through insurance policy contracts. It is almost as if you are reading through an encyclopedia of technical jargons. But there's a good reason for that. Insurance policy contracts are legal documents stating the conditions to qualify for claims. If the terms used are defined loosely or have vague meaning, they may end up creating unwanted disputes in the event of a claim.
Because of the complexity of insurance and the (over)use of technical jargons, you may be tempted to avoid insurance as a whole, although that will not be advisable.
But nowadays, innovative digital insurances help to make the insurance purchase experience simpler. For example, ProtectFirst, distributed by DBS Bank and underwritten by Manulife, covers you for big 5 critical illnesses (including early stage), life protection and serious accidents.
2. Not Sure What Coverage You Need
You may understand that you need some form of insurance coverage to help you in times of need. But knowing the type of insurance to get and the amount of coverage you need might not be your forte if you are not a financial advisor.
How can you then, solve this problem if you wish to DIY? Wouldn't it be great if there is an insurance starter pack that offers some of the basic coverage you need so that your protection gaps can be adequately addressed?
ProtectFirst is a digital insurance plan that provides coverage for big 5 critical illnesses (including early stage), life protection and serious accidents. It is a bite-sized protection plan to help you kickstart your protection journey. Simply choose from one out of the three plan types which best describe your lifestyle needs, with each plan providing a different level of coverage for the respective benefits.
3. Too Many Needs but Not Enough Budget
When it comes to buying insurance, affordability plays a part. We know that insurance is important, but sometimes, there are other financial goals that we want to pursue concurrently.
For instance, you may be saving for your next holiday or saving for the down payment of your first home. Moreover, some insurance plans tend to take up a significant proportion of your income, especially if you want to have high coverage. As such, buying insurance can sometimes be seen as an opportunity cost to your other financial goals.
With ProtectFirst, you can enjoy some form of protection at affordable premiums while kickstarting your insurance planning. You can also add cover by buying another ProtectFirst plan to accumulatively increase your coverage for big 5 critical illnesses (including early stage), life protection and serious accidents, whenever you need it or when you have the budget. The affordable premium of ProtectFirst helps you to stay insured even if you can only set aside a small budget. However, it is important to review your insurance needs regularly and increase your coverage when you have the budget or when your life circumstances change, to ensure that your protection gaps are adequately addressed.
4. Too Many Hoops to Jump Through
In today's digital age, everything is simplified with the click of a button on the internet. Think about the last e-commerce purchase you made and how long it took for you to bid goodbye to your money. Now, think about how that applies to insurance.
While some selected insurance plans may have moved from an offline to online model, there are still some plans that require you to meet your financial advisor for a needs analysis first. And even for those that are made available online, you (still) have to complete some documentation with personal details before you can make your purchase.
Fortunately, ProtectFirst offers true convenience by reducing the number of steps you need to buy an insurance plan. All you need to do is choose one out of three plans (Advocate, Adventurer and Defender) that suits your lifestyle, enter your preferred budget for the premiums and answer three medical questions and you are ready to purchase the plan.
Plus, if you are already a DBS customer, you can breeze through the process of filling up your personal particulars when buying ProtectFirst online.
Buying ProtectFirst Is Quick, Easy and Convenient
If you are looking at ProtectFirst for a budget-friendly first insurance plan, here's how you can get yours today.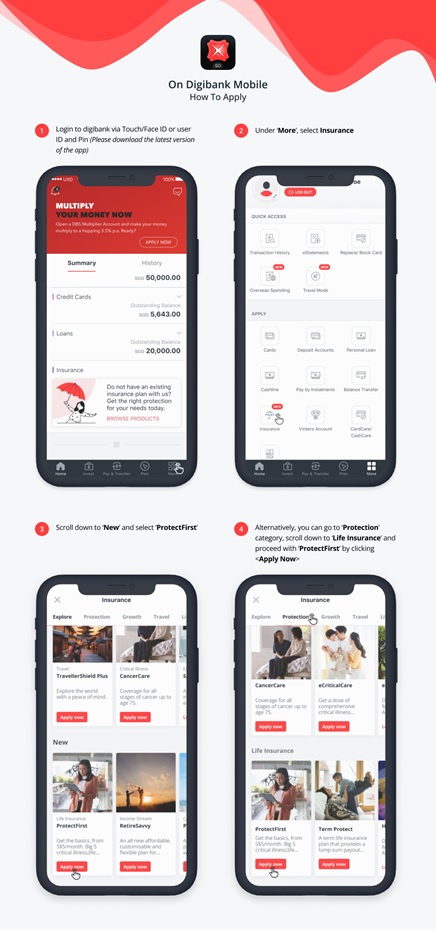 As an online insurance plan, buying ProtectFirst is just like buying any other product online. It's quick, simple and convenient. It was designed to ensure that anyone can start with just S$5/month to enjoy basic insurance coverage for the big 5 critical illnesses (including early stage), life protection and serious accidents.
Simply visit this page to apply for your first bite-size and convenient insurance plan to get yourself protected today.
In Collaboration with Manulife
ProtectFirst is issued and underwritten by Manulife (Singapore) Pte. Ltd. ("Manulife") (Reg. No. 198002116D) and distributed by DBS Bank Ltd ("DBS").
Ready to start?
Speak to the Wealth Planning Manager today for a financial health check and how you can better plan your finances.
Alternatively, check out Plan & Invest tab in digibank to analyse your real-time financial health. The best part is, it's fuss-free – we automatically work out your money flows and provide money tips.
Disclaimers and Important Notice
This advertisement has not been reviewed by the Monetary Authority of Singapore.
This article is meant for information only and should not be relied upon as financial advice. Before making any decision to buy, sell or hold any investment or insurance product, you should seek advice from a financial adviser regarding its suitability. All investments come with risks, and you can lose money on your investment. Invest only if you understand and can monitor your investment. Diversify your investments and avoid investing a large portion of your money in a single product issuer.
Disclaimer for Investment and Life Insurance Products
You might be interested in