Best-kept secrets to power your sunny getaway in Sentosa
Now that we can all head out (while practising social distancing), going on holidays doesn't seem like we're building sandcastles in the air anymore.
If you're looking to spend some time away from the noise of the city, make time for a holiday and spend a leisure day or two at Singapore's southernmost beach.
This islet has an area of five square-kilometres—but it is packed to the brim with activities for everyone. Also, the great thing about this short getaway is that you can probably fit all your travel necessities into one backpack!
Read on to find out more of our secret deals and hidden offers to power your sun-kissed getaway in Sentosa!
Where to stay in Sentosa?
First, let's sort out your lodging.

From villa-style resorts to heritage abodes, you will surely be treated to a luxurious and comfortable stay on the island.
Amara Sanctuary Resort Sentosa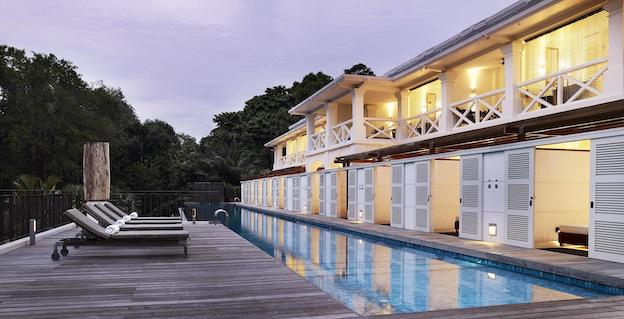 Image credit: Amara Sanctuary Resort Sentosa
Spend your sojourn in this resort-style hotel which is just minutes away by foot from here is Palawan Beach. Relax in the outdoor lap pools, infinity pools, or your suite's private jacuzzi. Then snuggle up in the plush bedding in your suite when you're ready to call it a day.
Learn more
The Outpost Hotel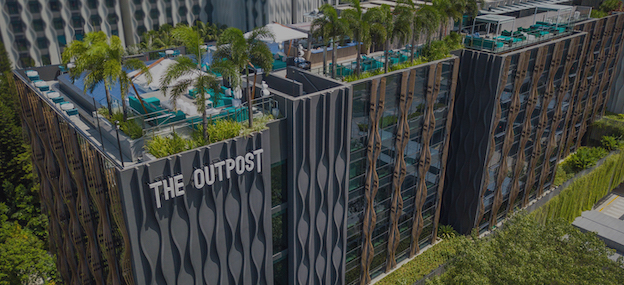 Image credit: The Outpost Hotel
Situated right in the heart of Sentosa, this stylish hotel gives you an idyllic getaway from the hustle and bustle of city life. Check out the hotel's rooftop restaurant and pool which offer a stunning view of the South China Sea coastline.
Learn more
Equarius Hotel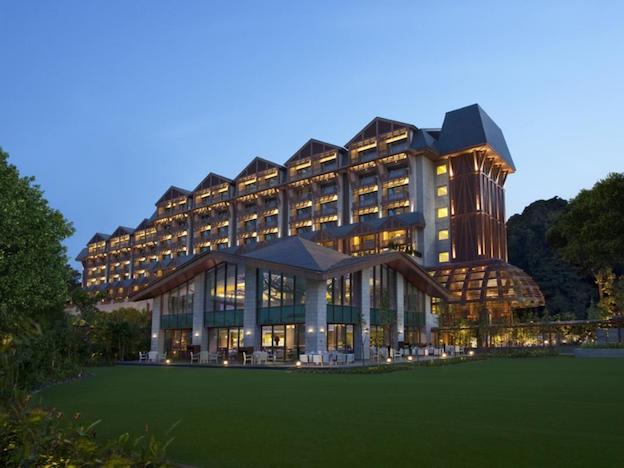 Image credit: Agoda
A world-class stay in one of the island's best hotels. This haven for nature lovers is where you'll enjoy stunning panoramic views from the balconies of spacious and breezy rooms. Situated just a few minutes away from Universal Studios Singapore, S.E.A. Aquarium and a smorgasbord of dining establishments plus other attractions, Equarius Hotel is the top choice for couples and families.
Learn more
Sofitel Singapore Sentosa Resort & Spa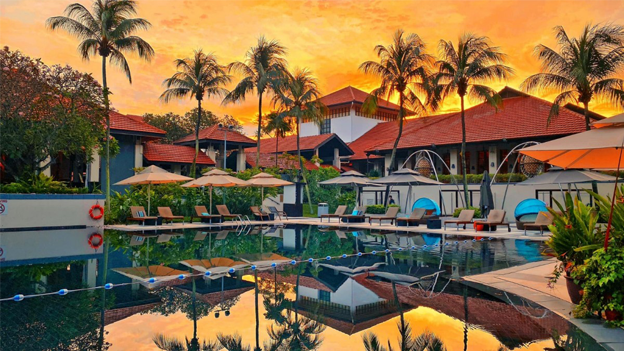 Image credit: Sofitel Singapore Sentosa Resort & Spa
If what you want is peace and tranquility in your getaway, then look no further. The hotel's two wings are literally called Peace and Tranquil, and you will find yourself drunk with serenity during your stay. The rooms are spacious—and so are the palatial beds. You will be treated to a pampering weekend of lounging on the daybeds by the pool and gorgeous sunsets in the evening.
Learn more
Did you know? You can enjoy up to 75% off hotels booked on DBS Travel Marketplace with best price guarantee! Your DBS Points/Daily$ are also worth 2x more when you use them to offset your DBS Travel Marketplace bookings. Plus, you can split your purchase amount into 0% interest monthly installments!
All DBS Cardmembers also get to enjoy promotions across Agoda, Expedia, and Booking.com upon logging in to DBS Travel Marketplace. Click on the respective links for more details!
With your accommodation settled, we can now head over to the fun part—the activities!
What to do in Sentosa?
Sentosa's Beaches
A view of Siloso Beach / Image credit: Sentosa
A beach getaway is not complete without a visit to, well, the beach.
There are three beaches on the island: Siloso Beach, Palawan Beach, and Tanjong Beach. To get to either of these beaches, check with your hotel reception if they offer any shuttle services, or hop on the nearest Sentosa Express or Beach Shuttle to get there.
Learn more
Find a spot to lay your mat and bask in the morning's rays, or take a dip in the sea! If you've brought a volleyball, you can use any of the Beach Courts for free located at any of the beaches.
Before heading to any of Sentosa's beaches, remember to reserve your entry here. This applies to Beach Courts as well.
Learn more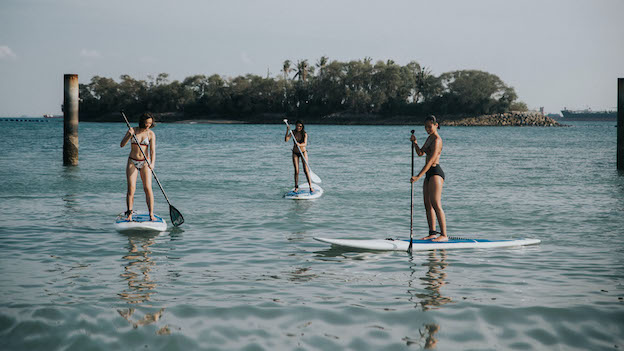 Stand-up paddleboarding / Image credit: Ola Beach Club
At Ola Beach Club on Siloso Beach, you can try out various water activities, such as stand-up paddleboarding, kayaking, or a Banana Boat ride for the action-seeker!

Learn more

You can also make a dash for it at HydroDash, Singapore's very first floating aqua park at Palawan Beach.
Learn more
Play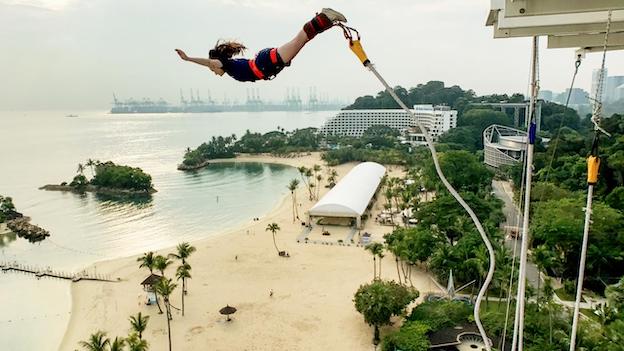 AJ Hackett Sentosa Bungy Jump / Image credit:AJ Hackett Singapore
If you're a thrill-seeker seeking that adrenaline rush, take a trip to the Sky Park by AJ Hackett Sentosa and try out the bungy jump—which will surely get you screaming your lungs out when you take that 50 metre plunge. Don't worry, if you prefer to stay dry throughout, you can choose to not do the water touch option.
Learn more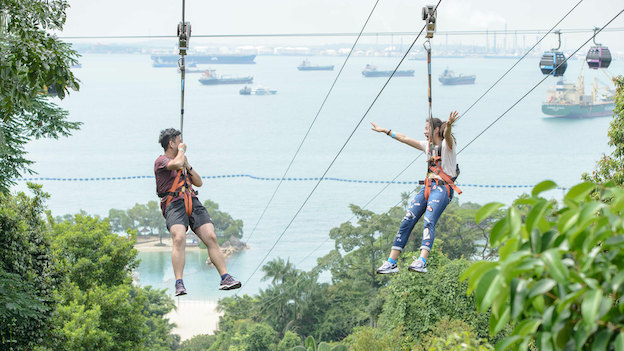 Image credit: Sentosa
For something adventurous, yet just a notch less nerve-wracking, the Mega Adventure Park is just for you! The attraction offers a scenic adventure course for the brave at heart. Take in gorgeous views of the island as you test your courage through the various activities. We recommend soaring like an eagle down the 450-metre long MegaZip.
Learn more
Want something specifically for the kids? Head over to Nestopia, a playground set in utopia. It is an open-air space with two long slides and 17 play sections fitted out with challenging obstacle courses. Did we mention that it has two long slides? DBS/POSB Cardmembers also get 15% off an hour's worth of playtime on weekdays.
Learn more
Grab your little ones and catch their favourite characters at the family favourite Universal Studios Singapore (USS)! Featuring 24 rides, shows and attractions in seven themed zones, there's definitely something for everyone.
Learn more
If the rides are not for you, head over to
Madame Tussauds Singapore
and meet your favourite wax celebrities for a larger-than-life moment you won't forget! DBS/POSB Cardmembers get to enjoy
up to 40% off ticket purchases
at Madame Tussauds Singapore!
Learn more
Explore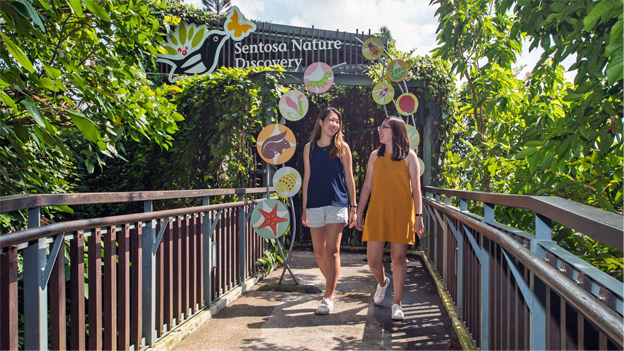 Image credit: Sentosa
For a fuller expedition of the island, check out the Imbiah Trail.

Learn more

Or Sentosa Nature Discovery Gallery where you can learn about the flora and fauna on the island!

Learn more

You can also make a pit stop at the Butterfly Park & Insect Kingdom and hang out with the beautiful, free-flying butterflies.
Learn more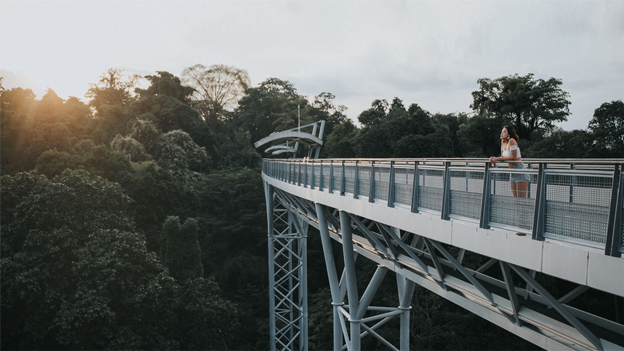 Image credit: Sentosa
Enjoy the scenic views of the island at the Fort Siloso Skywalk, a towering 11-storey structure that is 181-metres long
Learn more
You can then make your way to the historic Fort Siloso.
Learn more
All that exploration in the outdoors is going to give you a good workout. If getting sweaty is not part of your plans, you can take a, literally, much cooler tour around the S.E.A. Aquarium! Get up close with the predators of the sea and the creatures of the trench, or just float along idly with the invertebrates.
Learn more
What to eat in Sentosa?
Breakfast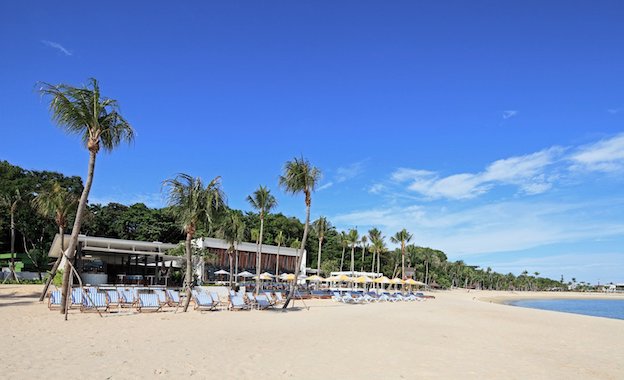 Lounge on daybeds while enjoying your breakfast at Tanjong Beach Club/ Image credit: Tanjong Beach Club
Tanjong Beach Club might just be your favourite place to hang out all-day. The pristine white beach is the perfect place to catch some sun while lounging on their daybeds and enjoying a delicious brunch.
Learn more
Coastes is another beach-side brunch spot that Sentosa-goers love. They serve hearty meals that families love. Kids can enjoy playing in the sand, whilst adults can supervise and knock back a cocktail or two.
Learn more
Want a more hands-on experience to delight the kids? Slappy Cakes lets you and your little ones make your own pancakes on a griddle like they do in the USA. They also serve pastas and other mains too!
Learn more
Maybe you're not a breakfast person but you are feeling peckish in the morning. Head over to Krispy Kreme to get your beautifully-glazed all-American donut fix. If those sweet rings are not quite up your alley, you can grab a fluffy red bean pancake, or any of their savoury offerings, at Mr Bean and round it up with a warm cup of soya bean milk.
Lunch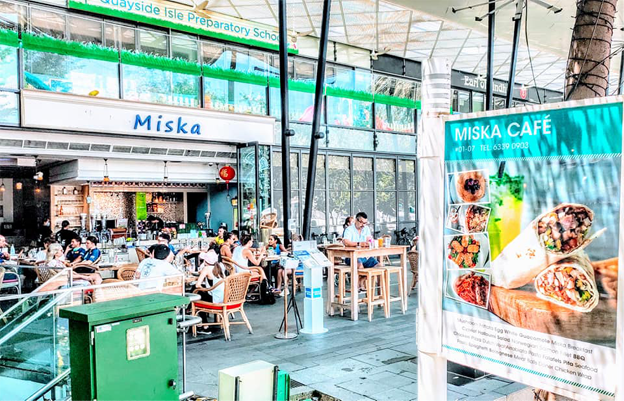 Image credit: Miska Cafe
Check out Miska Cafe at Sentosa Cove. They serve delectable Mediterranean wraps and grill, and offer a beautiful view of the bay. Handmade pizzas, freshly-baked pita breads, and carefully-grilled meats will adorn your table, leaving you with a happy, full belly.
Learn more
Feeling something more Asian?
Central Hong Kong Café
serves up some delicious Hong Kong fare. From rice to noodles, to Western-inspired dishes that will really fill you up. Round up your lunch with a cup of milky milk tea and
bolo bao
(pineapple bun).
Learn more
Dinner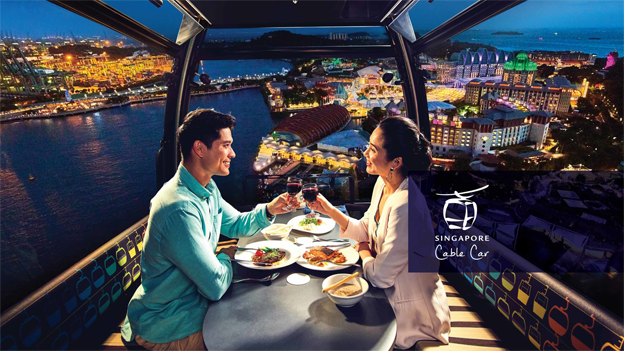 Image credit: One Faber Group
As the day comes to a close, why not take a romantic cable car ride from Sentosa to Faber Peak, and back with Cable Car Sky Dining? Sip on a glass of bubbly and luxuriate in a special four-course meal in the Stardust Cabin while taking in the starlit views of the harbour and the island. By the way, DBS/POSB Cardmembers enjoy 10% off Cable Car Sky Dining; find out more here.
Learn more
It's East Asian meets Western cooking techniques at TungLok Heen, as you tuck into Head Chef Susur Lee's gastronomic creations that will make your taste buds dance in delight. Enjoy an opulent East Asian meal in a Mediterranean and Zen-inspired interior.
Learn more
Over at the classy Quentin's Bar and Restaurant, dishes here use food we are all familiar with such as roasted pork belly slices, cod fish, and curry. Tuck in and enjoy a meal of decadence.
Learn more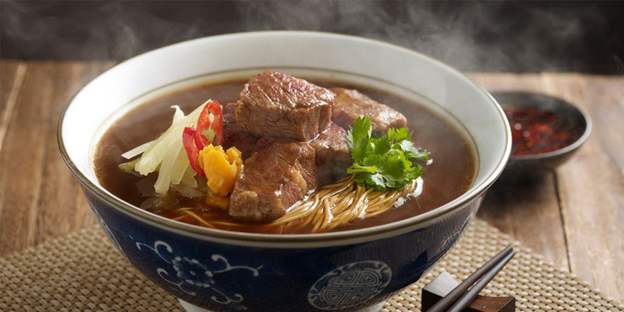 Image credit: Paradise Group
For something much more casual but just as indulging in terms of the quality of food, LeNu serves rich and belly-warming beef noodles. Your belly will definitely be satisfied with the springy yet chewy handmade noodles that swim in its flavourful, thick beef broth.
Learn more
For selected dining options mentioned here, you can get up to $17 bonus cashback in this
ShopBack GO promotion exclusive
to DBS/POSB Cardmembers! All you have to do is spend in-store with your DBS/POSB cards at any participating ShopBack GO brands. More information can be found
here
.
Plan your next escapade to Sentosa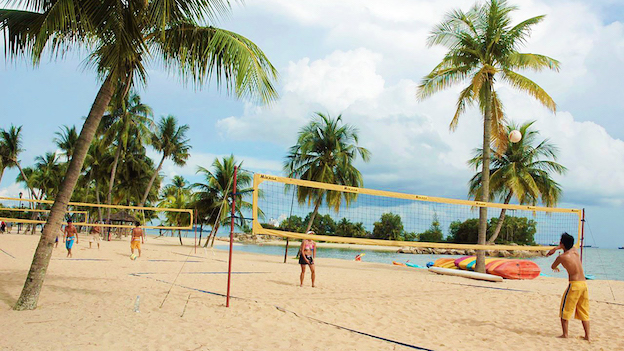 Image credit: Sentosa
Take this time to rediscover what our little island-city has to offer and check out the deals and discounts available to power your short getaway in Sentosa.

For more information on how to get rebates, cashback, exclusive rates for hotels, and more benefits with your DBS/ POSB Card, visit the DBS website here!
Power 8% more savings with DBS/POSB Cards
Besides the exclusive deals in this article, you can also stack up additional savings when you use your DBS/POSB Card.

From now till 31 Jan '21, be one of the first 30,000 Cardmembers to register for 'The Power The Things You Love' Promotion. Then shop 'n' dine your way to an 8% cashback when you hit your personalised goal. Learn more about this 8% cash reward promotion here.
Power your goal victory while you save with DBS/POSB Deals
Check out more DBS/POSB Card deals from Lazada, ZALORA, Shopee, Taobao, Sephora, Amazon.sg, foodpanda, Chope, ShopBack Go to WhyQ
here
.
Not a DBS/POSB Cardmember?
Apply now and get up to S$200 cashback or up to 48,000 miles!