Heading to Tokyo, Osaka or Hokkaido? Here're some tips.
Food. Mount Fuji. Tokyo Disneyland. Universal Studios Japan. There are so many reasons why the land of the rising sun continues to be a popular travel destination.
If it's been on your bucket list for awhile, here are some ways to make the most of your trip - without needing to shell out an enormous amount of money or tearing your hair out during the planning process.
Where to go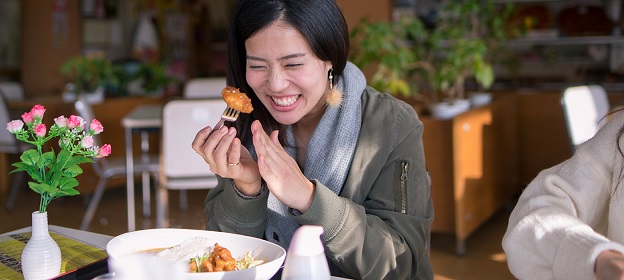 If this is your first trip to Japan, you'll first need to know that a lot of walking is required - but the food will more than make up for it.
Tokyo is great for those who like city life but still long for the sights. Mount Fuji is just a short Shinkansen ride away, and Tokyo Disneyland is well within reach as well.
If you love street food, shopping and taking in a big city, Osaka is your kind of destination. Indulge in the best takoyaki, have ramen for breakfast and then shop till you drop in Dotonbori. Of course, there is also Universal Studios Japan in Osaka. Don't forget your camera!
Love a bit of history? You'll want to visit Kyoto, home to Gion, arguably the country's most famous Geisha district. There's also Nijo castle, the Kyoto residence of the first Shogun in the Edo period (1603-1867). Don't forget to drop by Nishiki Market for some of the freshest seafood. Pro-tip: Take it away and walk to nearby Kamo River for a nice picnic!
We haven't forgotten Hokkaido, of course. It's best explored on your own, so do think about renting a car and mapping out what you'd like to see.
Ready for your Japanese adventure? Here's where you need to go before comparing flight prices and stressing out about where to stay - DBS Travel Marketplace.
What is DBS Travel Marketplace?
It's a one-stop shop - where you get to book flights and hotels all on one platform. You get to save both time and money as you get to use DBS points to offset your travel expenses. And you won't have to worry about travel insurance, because it's complimentary when you make bookings via DBS Travel Marketplace.
It's the place to go before you go places to make planning your trip so much easier.
Here's how to get started:
STEP 1: Use DBS Travel Marketplace to search for flights & hotel stays at your favourite destinations.
STEP 2: Once decided, log in with your digibank Online User ID & PIN and complete your booking.
Where to stay
In Japan, it's highly recommended that you stay near major train stations so it's easy to get around. Thankfully, most train stations are well-equipped with lifts and ramps, so if you are travelling with young children or those with other needs, there is little to worry about.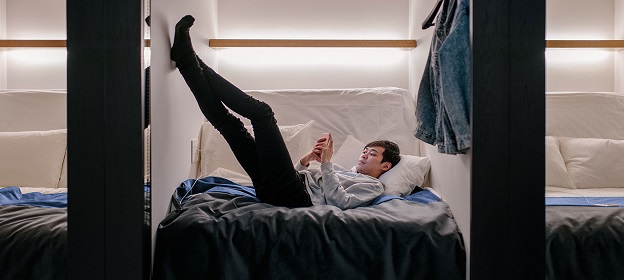 Our other tips:
Check hotel reviews from other families. Those travelling as a family have different needs and expectations from solo travellers, or couples. While researching your accommodation options on aggregators, filter the traveller-type reviews by 'Family' to see what other families said about a certain hotel.
Private, but not separated. If you are travelling in a multi-generation group with your parents and your children, check with your hotel if they have connecting rooms so that the family can stay together yet have some privacy. Bonus – most grandparents will love to have the chance to baby-sit, so you might even have some time to slip away for an evening out.
If you have the DBS Altitude card, you may be able to stretch your dollar. Perhaps it may be the push you need to splash out on something more comfortable for you and your loved ones. S$1 is equivalent to 6 miles for flight and hotel transactions on Expedia, while you'll be given 10 miles for every S$1 spent on hotel transactions on Kaligo. Plus, your miles never expire. Find out more here.
Getting there, getting around
The very first travel hack every traveller to Japan needs to know: Everyone in the group needs a pair of comfortable walking shoes, preferably waterproof. You'll thank us later.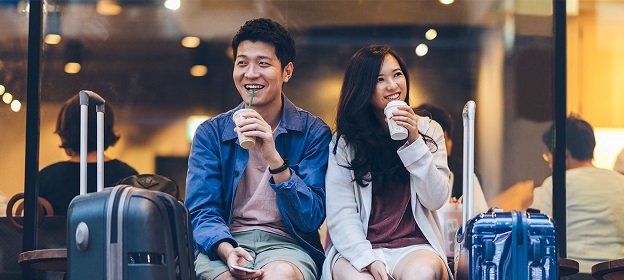 But of course before you get there, here are a few ways to make your journey easier - so you can hit the ground running when you arrive!
Book early and choose your seats. If you are travelling with a baby or toddler, be sure to book your flights early to reserve an infant bassinet or window seat. If flying budget, purchase your preferred seats beforehand to ensure your family sits together. If your kids are prone to feeling nauseous on flights, the seats nearer the plane's wings are the most stable.
Prep for the flight. While some kids are old enough to handle flights like a champ, the younger ones might need a bit of prepping. Prepare snacks for the flight duration and get your children to chew on gummy bears to deal with the uncomfortable ear popping during take-offs and landings. Be sure to have toys on hand to entertain your child. And if your child needs special medication, be sure to bring some onboard, with sufficient quantities to last through the entire trip.
Board me first. Let your airline know beforehand that you're travelling with young children as most airlines will prioritise families during boarding.
Leverage the sharing economy. These days you can Uber or Grab in hundreds of cities, with the option of choosing a bigger car to fit the whole family in. The best part? You don't have to lug around cash for payment. Just charge it to your credit card – some credit cards let you earn more points for overseas spend.
Upon arrival, do look out for transport deals – there are some that get you a subway pass plus airport transfers in Tokyo.
Additionally, when planning your trip, it may be worth using a free tool such as Google Trips to list down where you'd like to visit - so you don't inadvertently miss out on a great place because it slipped your mind!
And of course you will need cash for food and souvenirs. If carrying multiple currencies is a hassle, there are accounts that can help you purchase foreign currencies when the rate is favourable.
What to do there
There's plenty to do in Japan for every traveller. Prefer to take in the sights? Take a hike or head to one of Japan's many temples. Need to kick back and relax? Japan is home to great cafes and chill out spots. However, do remember - there is such a thing as too much of a good thing.
Don't pack it in. Have a plan, but don't over plan either. Leave some gaps around your timetable for unexpected discoveries along the trip. This is where those walking shoes will come in handy - you never know what's around the corner!
Eyes off the screen, and on the scene. Encourage everyone in your group to be present in the moment. If work is urgent, assign "mobile time" where everyone gets to use their devices for a certain duration each day. Remember, you're on holiday! It's important to update your Instagram feed, but don't let that steal the little moments you'll want to look back on.
Kid's eye view. If you're travelling with young children, get them to start a travel journal or scrapbook-diary, and have them to write or draw the highlight each day. For extra special memories, give them a small digital or disposable camera for them to take their own photos. They will want to look back at these keepsakes as they grow older.
The world is your classroom. Find activity kits, available at larger museums or galleries, and encourage your kids to ask questions about the local culture, sights and sounds. Let the kids relax, have fun, and learn, all at the same time.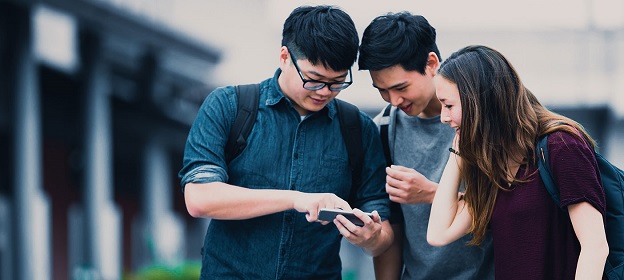 When the planning is all said and done, don't forget to protect your vacation with travel insurance for your family before you go. This will save you time, money and trouble when unexpected events, such as plane delays and lost suitcases, happen. If you've already booked flights and hotels using DBS Travel Marketplace, travel insurance is complimentary - so you may want to skip this step.
Before you go on the trip of a lifetime, do download the DBS Lifestyle mobile app if you haven't already done so. One of its many perks is auto-activation so you can use your cards overseas - and automatic deactivation when you are home.
Check these out before you travel