Overview

Notice of Change:
Effective June 2019, we will credit the additional 2% p.a. bonus interest under this promotion to your DBS or POSB salary credit account instead of your DBS PayLah! wallet. All terms and conditions on the qualifying criteria to enjoy the bonus interest remain unchanged.
Registration for BYOB has ended on 31 October 2017.
---
It's a simple idea. Before you start spending your paycheck, stash some cash in a savings account. That way, you're free to enjoy the rest, knowing your savings are covered. It's called paying yourself first. And now, saving like a boss is easier than ever.
Be Your Own Boss in 2 Simple Steps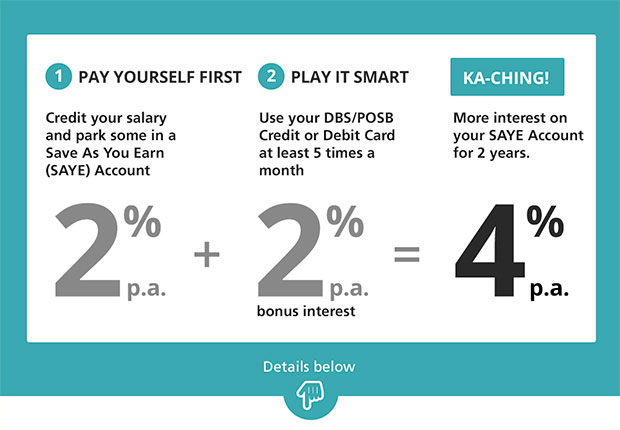 Get $88 cash gift

To earn $88, first register before 31 October, then credit your salary with us and open your SAYE account before 31 Dec 2017.

You must be a working adult of 18 to 30 years of age at the point of registration and with no salary crediting arrangement with DBS/POSB between 01 September 2016 and 28 February 2017.
Credit your monthly salary via GIRO, with transaction reference codes "SAL" or "PAY", into a DBS/POSB account and select it as the debiting account for the monthly savings contribution into your SAYE Account.
You can save between S$50 and S$3,000 (in multiples of S$10) to your SAYE Account. Changed your mind? Just adjust the amount anytime via DBS digibank online.
You can set the savings date from the 1st to 25th of the month. Pro tip: Set the date as soon as possible after payday so you're not tempted to spend it.
To avoid any failed deduction, ensure that there are sufficient funds in your debiting account by 7pm, one day before your designated monthly savings date.
You'll earn 4% p.a. interest on your SAYE Account for the first 2 years.
Additional 2% p.a. interest earned by Month 12 will be credited in Month 13. Additional 2% p.a. interest earned by Month 24 will be credited in Month 25.
Non-eligible POSB SAYE Accounts will not be credited with 4% p.a. interest.
See how much you can earn here.
Find out how interest is calculated here.

Terms and conditions apply.

Tips to ace that first job
You've worked hard to land the job! Be sure to set off on the right foot from Day One. Here's everything you need to know from asking the right questions to building your office network.
Best things to do with your first paycheck
Congratulations! Your first paycheck marks the first step towards financial independence. Before you run off to celebrate, here are some ideas of how you can put it to better use.