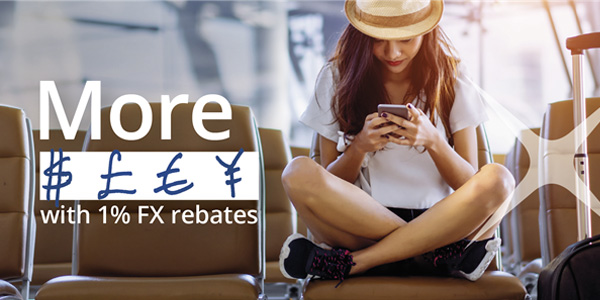 Enjoy 1% FX rebate when you top-up and spend with your travel wallet from now till 31 Jan 2020. This will effectively give you better FX rates this season, comparable to what's out there.
Three Simple Steps to Better FX Rates:
This is for the first 10,000 customers only.
The rebate is capped at S$20. Other terms and conditions apply. Read more here.
Here's an illustration of how much you get with your rebate:
Required Foreign Currency

Effective FX Rate

FX Rebate

Amount of SGD needed

Before

USD1,000.00

1.3712

NA

S$1,371.20

After 1% FX rebate

1.3612

S$10

S$1,361.20
S$1,371.20 - S$10 =
S$1,361.20
Above is shown for illustration purpose and assistive calculation only. DBS rates extracted for reference only, as at 13 Nov 2019, 5.55pm. Log in to digibank for real-time rates or visit this link.
Travel with the Best!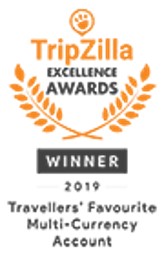 DBS Multi-Currency Account was voted the best multi-currency account by Tripzilla. Find out what your multi-currency wallet can do for you when paired with the ultimate trip card; DBS Visa Debit Card. Did you know? All Multiplier Accounts have multi-currency capabilities as well. You can earn higher interest and enjoy FX rewards!
*Promotion is valid for the recipient of this notice only. 1% FX rebate is for the first 10,000 customers and rebate is capped at S$20 from now till 31 Jan 2020. Other Terms and Conditions apply.
# Primary linking your debit card to your MCA/ Multiplier Account means you are allowing funds to be deducted from the main account should you have multiple accounts.

Deposit Insurance Scheme
Singapore dollar deposits of non-bank depositors and monies and deposits denominated in Singapore dollars under the Supplementary Retirement Scheme are insured by the Singapore Deposit Insurance Corporation, for up to S$75,000 in aggregate per depositor per Scheme member by law. Monies and deposits denominated in Singapore dollars under the CPF Investment Scheme and CPF Retirement Sum Scheme are aggregated and separately insured up to S$75,000 for each depositor per Scheme member. Foreign currency deposits, dual currency investments, structured deposits and other investment products are not insured.

Conversions between currencies involve fluctuations and are subject to exchange controls. If you are converting from another currency to place the deposit and intend to convert it to the original currency, exchange rate fluctuations could cause the converted amount to be less than your original amount.