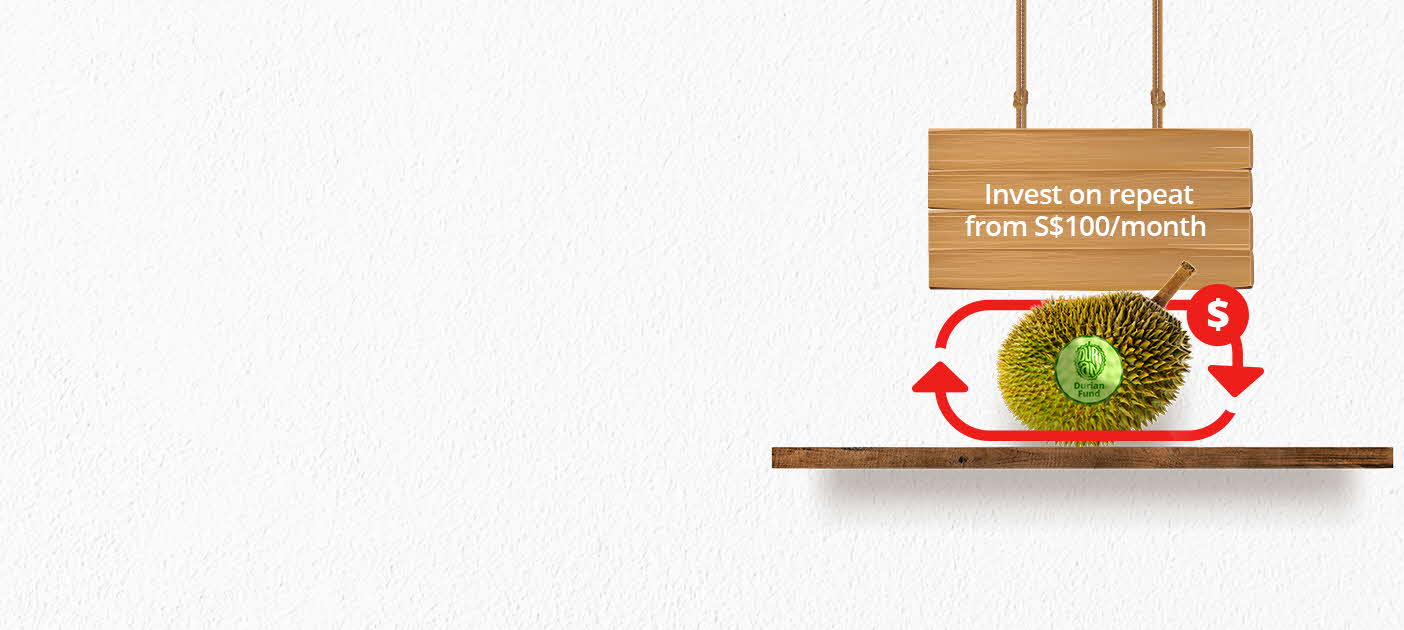 About Invest-Saver
A Regular Savings Plan (RSP) that lets you invest a fixed sum, from S$100 monthly, on a repeat mode. The dollars are deducted from your designated DBS account on the 15th of every month (or the next business day if the 15th is a Sunday or Public Holiday) and invested into your choice of Exchange Traded Funds (ETFs) or Unit Trusts (UTs), helping you accumulate units of fund steadily and progressively.
 
Dollar-cost Averaging
This strategy where you invest a fixed sum regularly into the same choice of investment over a period, is known as dollar-cost averaging.
The investment takes place regardless of market conditions, so you buy more units when prices are low and lesser units when prices are high. Over time, the average cost of your investment could potentially be lower versus one-time, lump sum investment. It lets you hedge against market volatility by eliminating the need for speculating and timing the marketing.
Here's an illustration of how an Invest-Saver (ETF) plan works:
Monthly investment amount S$300 - Sales Charge (of 0.82%) S$2.46
= Monthly nett investable amount S$297.54
| | ETF Unit Price (as of 15th of the month) | ETF Units Purchased* | Total Invested Amount (incl sales charge) | Uninvested Amount* |
| --- | --- | --- | --- | --- |
| January | $3.27 | 90 | $296.76 | S$3.24 |
| February | $3.37 | 88 | S$299.02 | S$0.98 |
| March | $3.47 | 85 | S$297.41 | S$2.59 |
| April | $3.57 | 83 | S$298.77 | S$1.23 |
| May | $3.67 | 81 | S$299.73 | S$0.27 |
| Total | | 427 | S$1,491.69 | S$8.31 |
| Average Unit Cost | | | S$3.49 | |
Figures are for illustration purposes only.
* Uninvested amount will be credited to your designated DBS account within 3 business days. Applies to ETF only, which is not traded in fractional units.
 
Exchange Traded Funds or Unit Trusts
Both ETFs and UTs are funds that invest in a basket of assets such as stocks and bonds, making them a popular choice for diversification.
The key difference is how these funds are managed. ETFs are passively managed because they are designed to replicate the performance of an index, whereas UTs are professionally managed by fund managers who actively manage the assets within the funds with the aim to outperform the market.
Exchange Traded Funds
Unit Trusts

Take your pick from these 4 ETFs, each with different underlying assets:

Singapore Equity ETF
1. Nikko AM Singapore STI ETF

SGD Fixed Income ETFs
2. ABF Singapore Bond Index Fund
3. Nikko AM SGD Investment Grade Corporate Bond ETF

REIT ETF
4. Nikko AM-StraitsTrading Asia ex Japan REIT ETF

With Invest-Saver, you can choose an ETF or UT depending on your investment goal, style and risk appetite.

You can check out our extensive list of funds available for RSP subscription, depending on the type of exposure you want- Local, Regional or Global.

Examples include

Schroder Asian Income
Goldman Sachs Emerging Markets Corporate Bond Portfolio
JPMorgan Global Income Fund

These are also Focus Funds, which are DBS' top picks on positively-rated funds every quarter.

0.50% per transaction
ABF Singapore Bond Index Fund, or Nikko AM SGD Investment Grade Corporate Bond ETF

0.82% per transaction
Nikko AM Singapore STI ETF, or Nikko AM-StraitsTrading Asia ex Japan REIT ETF

Monthly Sales Charge

0.82% per transaction
across all funds
 
One Sales Charge
Zero platform fees and management fees. Instead a sales charge of 0.50% or 0.82% is deducted from your monthly investment amount – to buy, to process corporate actions and to safekeep the funds for you.
 
Accessible 24/7
Your Invest-Saver portfolio is accessible 24/7 on digibank. Enjoy the flexibility of topping up your investment amount for example when there is a bonus payout, terminating your plan or simply redeeming your holdings.
 
Easy Set Up
Set up your Invest-Saver plan in 5 easy steps, on digibank today.
You will receive an email confirmation upon successful set up, and notification of every subsequent transaction by mail or eAdvice.
Your ETF or UT units purchased via Invest-Saver will be held in the custody of DBS Bank.
 
Multiply Your Money
Enjoy up to 3.8% p.a. on your DBS Multiplier Account
Simply credit your salary into any DBS/POSB deposit account and make any investment amount in Invest-Saver!
Find out more here
 
FAQs
Setting up, managing and redeeming Invest-Saver
About Exchange Traded Funds
Dividends
Monies from coupons, dividends, cash offers, rights issue, and other corporate actions will be credited into your designated DBS/POSB debiting account.
 
Important information
In all other jurisdictions where the DBS/POSB iBanking website(s) is/are accessible by its residents or entities, it is intended for use by corporate, institutional, professional, wholesale and other qualified investors in accordance with the laws and regulations of such jurisdictions.
The material and information contained herein is for general circulation only and does not have regard to specific objectives, financial situation and particular needs of any specific investor individual and/or entity (collectively referred to as investor), wherever situated. The material and information contained herein does not constitute an offer, invitation, recommendation or solicitation of any action based upon it and should not be viewed as identifying or suggesting all risks, direct or indirect, that may be associated with any investment decision. Prospective investors should seek advice from a financial adviser regarding the suitability of the product before making a commitment to purchase the product. In the event that the prospective investor chooses not to seek such advice, he/she/they should carefully consider whether an investment in the said securities is suitable for them in light of their own circumstances, financial resources and entire investment programme.
This advertisement has not been reviewed by the Monetary Authority of Singapore.
Disclaimer for Investment and Life Insurance Products
Thank you. Your feedback will help us serve you better.
Was this information useful?
That's great to hear. Anything you'd like to add?
We're sorry to hear that. How can we do better?
Enter only letters, numbers or @!$&-/()',.