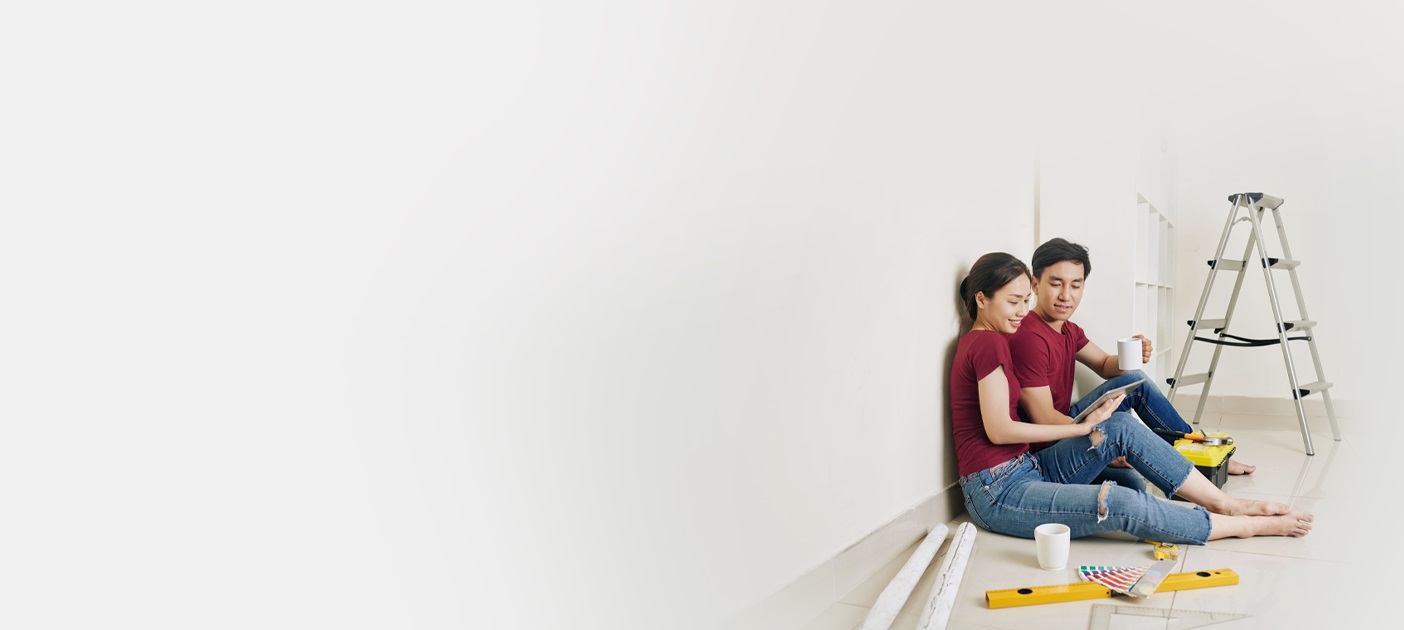 Why take a DBS Renovation Loan?

Hassle-free online applicationNEW
You can now submit your application online, fully-assisted by our digibot
*Effective Interest Rate (EIR) – 4.62% and 4.42% respectively based on 60-months loan tenure and inclusive of 1% handling fee and 1% insurance premium
 
Exclusively for DBS HDB Loan customers

Enjoy 0% interest in your first year when you apply for DBS Renovation Loan online!

Click here to find out more!
 
DBS Green Renovation Loan
Achieving a green home is now more effortless and wallet-friendly with DBS Green Renovation Loan. With an attractive interest rate at 3.68% p.a (EIR 4.42%*), it's time to give your home a sustainable makeover.
To qualify:
Submit your renovation loan application online
Under the "Green Renovation Checklist" section in the application form, select at least 3 out of the 10 items that are applicable to you.
*Effective Interest Rate (EIR) – 4.42% based on 60-months loan tenure and inclusive of 1% handling fee and 1% insurance premium
Terms and conditions apply.
 
Loan Eligibility
Who can apply
Singapore Citizen or Permanent Resident
21 - 65 years of age
The property owner or related family member (parent, spouse, child or sibling) who has the owner's consent
Single Application
Joint Application

Minimum income of S$24,000 per annum

Borrow up to 6 times of your monthly income or S$30,000, whichever lower

For example:
If your monthly income is S$4000, you could borrow up to maximum of S$24,000 (S$4000 x 6)

Main applicant

Minimum income of S$24,000 per annum


Joint applicants

Minimum Income of S$12,000 per annum, and is the main applicant's parent, spouse, child or sibling

Borrow up to 6 x 2 times the lower monthly income of the two applicants or $30,000, whichever is lower

For example:
If your monthly income is S$4000 and the joint applicant's monthly income is S$1500. You could borrow up to a maximum of S$18,000 (S$1500 x 6 x 2 borrowers)
Your Renovation Loan can be used for:
Installation of Solar PanelsNEW
Electrical and wiring works
Built-in cabinets
Painting and redecorating works (e.g. wallpaper)
Structural alterations
External works within compound of the house
Flooring and tiling
Basic bathroom fittings
Please note that the Renovation Loan cannot be used to pay for furnishings or for any other purpose besides renovation. If you need help to finance your home furnishings, get ready cash with DBS Cashline.
Things to note:
Document Checklist
Completed Application Form
Scanned / Digital invoice or quotation signed by contractor and applicant(s)
Income Documents
Copy of front & back of NRIC (only required for mail-in or branch applications)
Proof of Ownership (for non DBS/POSB home loan customers)
HDB or MCST Renovation Permit (where applicable)
Applicants renovating their own home
For applicants who are owners of the appointed contractor or interior designer, i.e. renovating your own house, a HDB or MCST Renovation Permit will be required.
 
Fees and Loan Disbursement
The following fees are payable and deducted from the approved loan amount:
Handling Fee: 1% of approved loan amount
Insurance Premium: 1% of approved loan amount. In the event of death or total permanent disability, Manulife will pay off your outstanding renovation loan balance
Here's an illustration of the disbursed loan amount nett of the fees:
Approved loan amount:
Fees payable:
Disbursed loan amount:
S$10,000
Handling Fee
(1% of S$10,000) = S$100
Insurance Premium
(1% of S$10,000) = S$100
S$9,800
(S$10,000 – S$100 – S$100)
The approved loan amount nett off the handling and insurance fees will be disbursed to the contractors via cashier's order(s). You can request for a maximum of 4 Cashier's Orders to be issued to the renovation contractor. Charges for the first Cashier's Order will be waived. A fee of S$5 will be chargeable for each subsequent Cashier's Order and these charges will be deducted from your designated loan servicing account.
Other fees:
Cancellation Fee: 1% of approved loan amount
Pre-payment Fee: 1% of outstanding loan amount
Late Payment Fee: S$35 for each month or part thereof during which any instalment and/or interest is not paid
Post-Disbursement
Site visits will be conducted post-disbursement to ensure that the loan proceeds are used for the stated renovation works as listed in the quotation.
Full terms & conditions can be found here.
 
How To Apply
You will need a DBS / POSB deposit account to service your loan. If you do not have an existing DBS / POSB account, click here to apply before submitting your Renovation Loan application.
Single Applicants
(via digibot)
Step 1

Download and fill up the editable PDF form for Single Applicants. To have the best experience please complete the form using Adobe Acrobat Reader on your Personal Computer.

Step 2

Check that all required documents in the checklist are in order.

Please note that maximum 5 files are allowed to be uploaded. You may find a guide on how to prepare your documents here.

Step 3

Submit your application online seamlessly and fully assisted by our digibot. You will need to authenticate yourself via:

Your Digibank User ID and PIN, OR
ATM, Debit or Credit Card number and PIN

Please wait a few seconds for the digibot to be activated and it will guide you through your application.

Click here for a detailed guide on the application process.
For Joint Applicants / Non-owner Borrowers
Download the application form and send it to us with the required documents to:
DBS Bank Ltd (CP No. AH0025)
Orchard P.O. Box 360
Singapore 912312
 
Geneco's Green Energy Solutions

Enjoy up to S$1,000 electricity bill rebate when you sign up for solar panel installation with Geneco's Power Eco Total Home Solution.

Note:

The rebate will be 3% of the total contract value of the Agreement signed, subjected to a maximum cap of S$1,000.
To be eligible for the rebate, you must be an existing Geneco customer at the time of signing the Agreement.
 
Merchant Deals
| | |
| --- | --- |
| | Enjoy exclusive electronics and furnishing deals with your DBS/POSB Cards. |
Thank you. Your feedback will help us serve you better.
Was this information useful?
That's great to hear. Anything you'd like to add?
We're sorry to hear that. How can we do better?
Enter only letters, numbers or @!$-(),.