Renovating your new home?
Congratulations! You've just got the keys to your new home and it's now time to renovate the space.
As all #adulting matters go, renovation is a big decision as it involves a lot of money, planning and effort - and if you're not the sole owner of the apartment, a collective agreement from all homeowners involved (it's a team project, okay?).
Even before you jump to what colour to paint the walls, when you can finally move in, or what bedsheets you want to buy, there are some key things before dressing your new home up… and making it a place that is truly yours.
Here are 5 important considerations to think about, so that you can plan your renovation better:
1. How do you envision using your newfound space?
You may be eyeing a trending interior design, but let's face it, most homes in Singapore are small, so it's always best to prioritise the effective use of your newfound space. In addition, if you suddenly have a Eureka moment halfway through renovation, any unplanned modifications will certainly add to the final bill.
Here are some thought-starters:
What activities will your new home be designed for?
i.e. Hosting and cooking for friends, Netflix and chillax, yoga all day every day.
Who/what will be sharing the space with you?
i.e. Pets, plants or future children; maybe a mini museum of your whiskey/shoe collection; or living with your elderly mother-in-law.
Some tips and tricks
These considerations could also influence the overall design vibe of your home.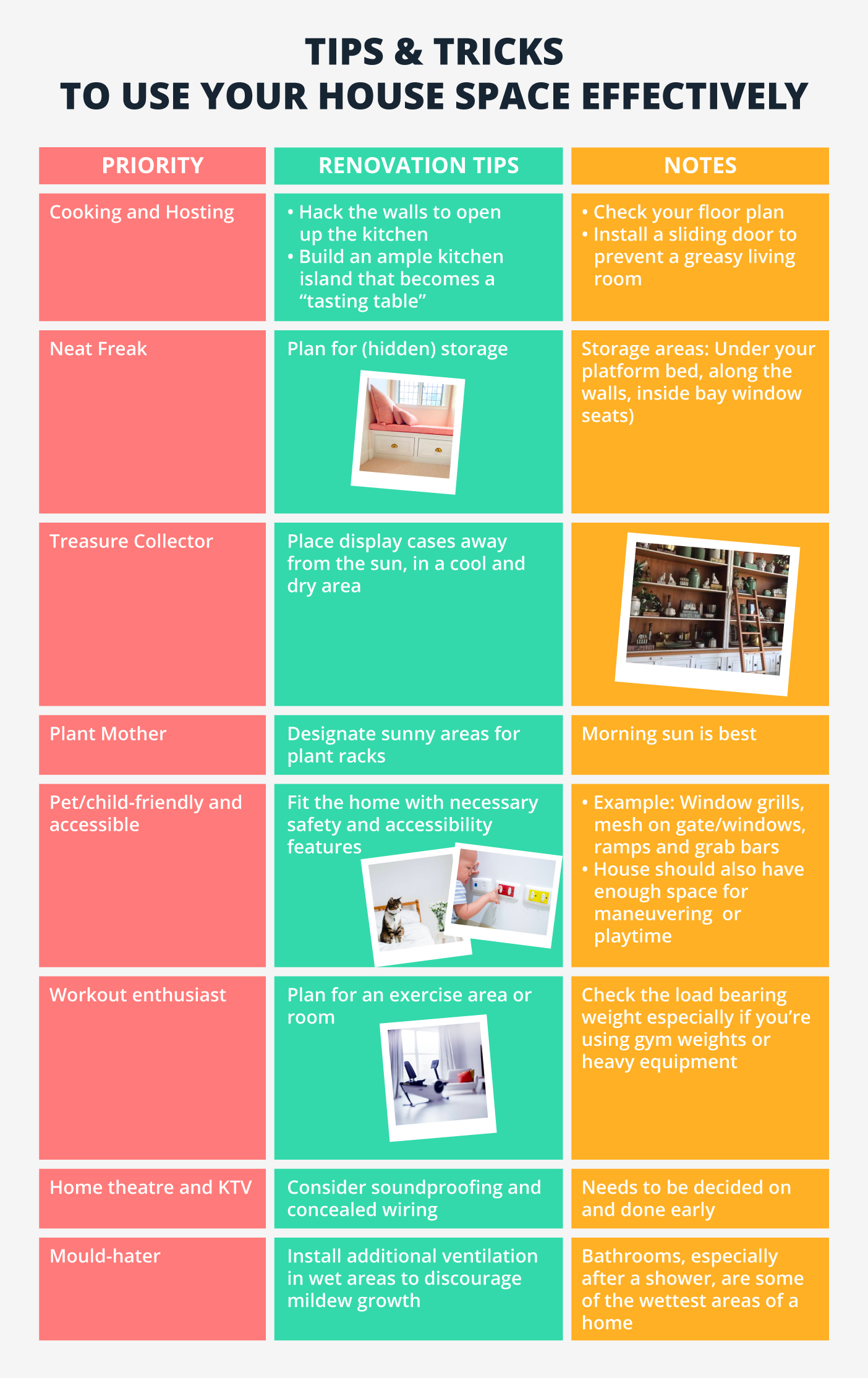 2. How hands-on do you want to be?
How involved do you want to be in your renovation? Are you savvy about renovation matters? How much time do you have to spare?
There is a whole spectrum of people - some need to have total control, others just want to trust someone to handle the job, and some are a little bit of both.
Your chosen level of how hands-on you can be with your renovation could eventually determine if you'll go for individual contractors, engage a design-and-build company, or a top-notch interior design firm.
Individual contractors (you manage your renovation project)
Those previously from the interior design line or who have specific contractors in mind might want to go for the first option as it could be the most wallet-friendly. You're able to do exactly what you need, without any frills, and without going through a middleman (the interior designer). However, be forewarned: "You don't know what you don't know". If you have zero knowledge, you will not know if the contractor is installing your kitchen cabinet wrong or overcharging for a simple job.
Design-and-build company
These days, many contractors are also working like interior designers - they help to manage your renovation project, but at a rate slightly lower than those with top-notch design experience. It's good if you want something tried-and-tested, with tons of reference photos available online. If you're a designer yourself, this collaboration works really well. While this is potentially the middle-ground for your wallet, expensive materials and complicated works could also drive up the total cost.
Interior design firm
Those with more cash to splash and/or zilch time on their hands might favour this option. Engaging an interior designer (ID) with fantastic ideas could really help your humble home stand out from the rest, where every nook and cranny is an Instagram moment. While an ID tends to be pricier, you pay for what you get. A no-name (but competent) ID would probably deliver something that a design-and-build could do, while a highly-sought after designer could create a stunner (for both your wallet and your guests).
Discover inspiring interior home design ideas and get matched with trusted local interior firms from our partners on DBS Home & Living Marketplace today. Plus, Get free quotations now!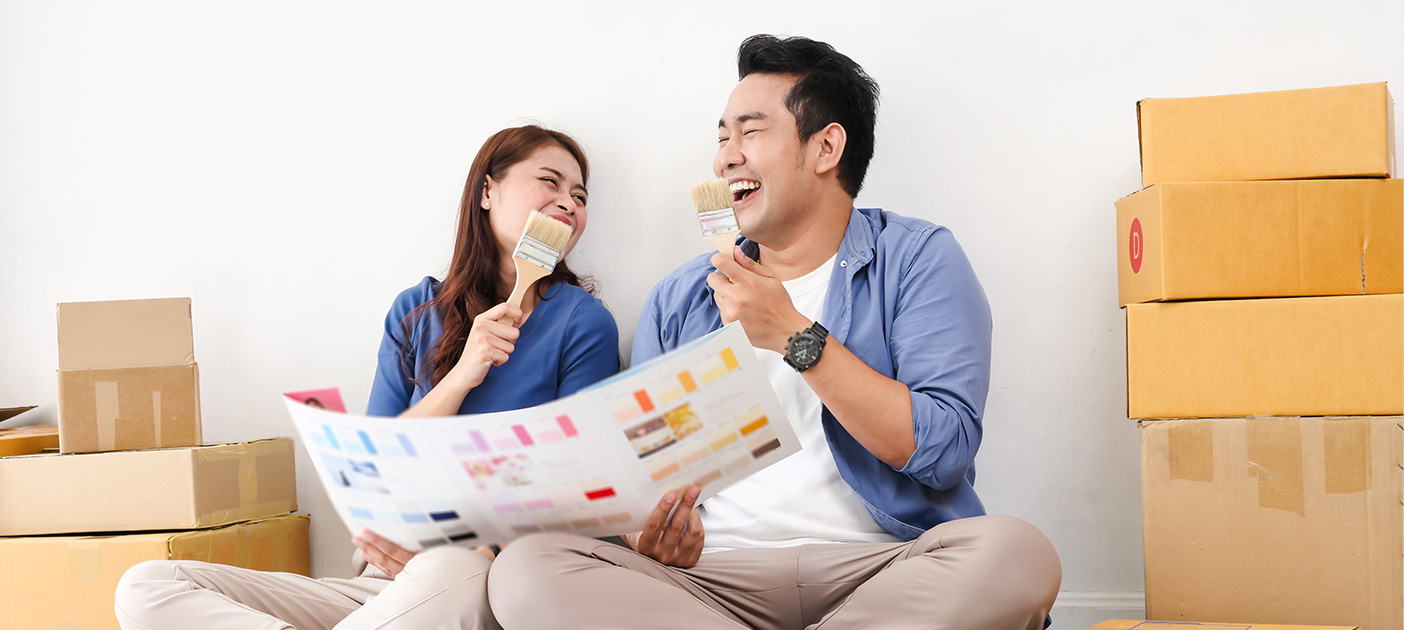 3. Will this be your Forever Home, or not?
People buy property for various reasons: To live in, as an investment, or even as a stepping stone to a better property. In short, how long do you intend to stay in this home? It could influence your renovation plans greatly.
Planning to sell/upgrade to a private property?
If you plan to sell after the minimum occupancy period, a simple renovation would do (because the new homeowner is likely to hack away everything and do their own renovation anyway). In addition, hacking works are expensive and might restrict your future buyer's design and budget (so the apartment might be harder to sell).
For income/investment
If you're planning to earn rental on the property, a generic, neutral design might be best to suit any future tenants' tastes. For example, if your home has a look that is too edgy or quirky, that might be too niche and could narrow your list of potential tenants.
It's your Forever Home
When something is intended to be yours for a long time, you're more likely to put more care when renovating it, incorporating all of your personal touches to the design. Maybe you'll even express your quirky personality via the design? While renovation can be costly, if you're planning to live here for a few decades, why not go all out and design something that truly suits you and your fellow occupants?
Another consideration: You're going to be living in the same house for a long time. Gear renovation works towards features that are easy to clean/maintain, are durable and can stand wear-and-tear. It doesn't make sense to have a beautiful home that always seems to be falling apart.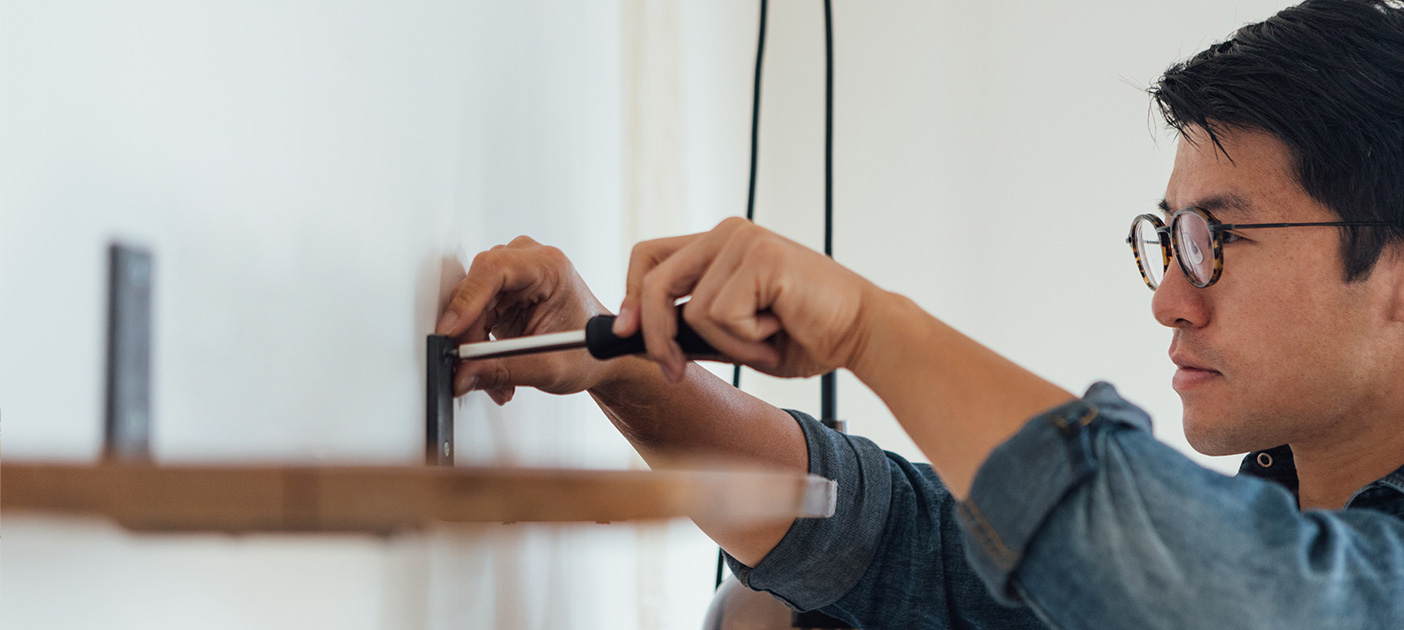 4. What budget are you working with?
Your budget could be the biggest limiting factor on all of your interior design dreams. If there's a limited budget to work with, you might not be able to execute renovation plans that infuse your character into your home.
The more elaborate the work, the more you'll need to pay. Better materials, fittings and furnishings also cost more; hacking works to open up spaces are pricey; design input from the most creative ID firms tend to cost a pretty penny.
For example, you want the luxurious look of marble flooring; maybe you've been eyeing a leather sofa from Italy or a high-end kitchen appliances brand from Germany. You want the glamorous feel of a hotel toilet with a soaking tub, a gold-rimmed vanity, alcoves for shampoo and a concealed cistern. These all tend to be expensive.
Maybe you're a big Japan-ophile, having amassed numerous souvenirs from the country. You want your home to look like a ryokan (traditional Japanese guest house), but with the amount of carpentry needed, your bill could shoot through the roof!
Privacy also has its own price tag. Building concealed doors to segment the living room from the inner bedrooms costs money; as does soundproofing walls and investing in sturdier bedroom doors or even bass traps (to reduce low-frequencies, vibration and even traffic/construction noise).
How to stretch your dollar?
Thankfully, there are some ways to keep your grand renovation plans within budget - to a certain extent.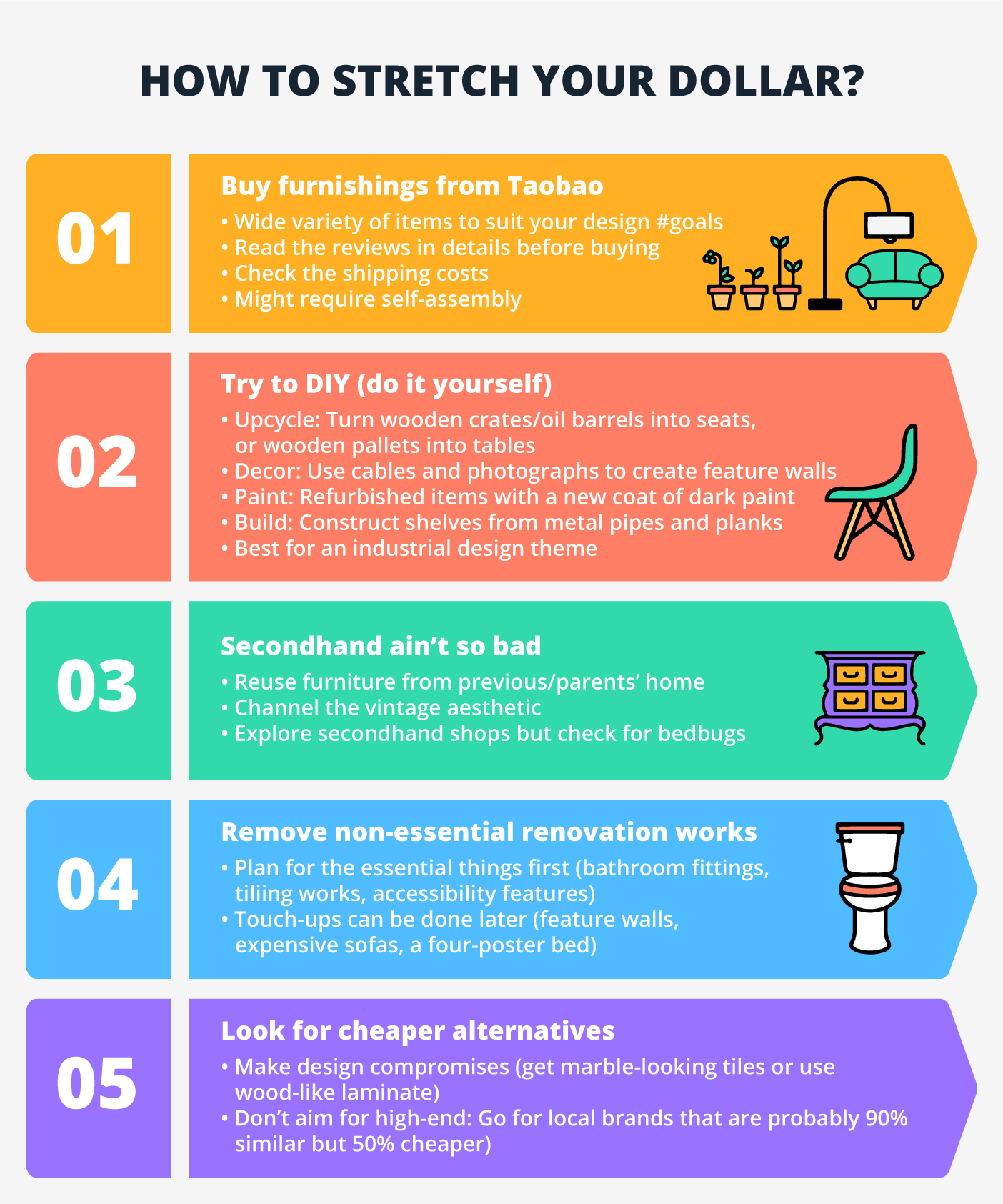 5. How will you finance the renovation?
There are many ways to finance your renovation. Let's look at what they are, along with some pros and cons.
Cold, hard cash
Would this be the best way? For some people, yes. You may have already saved up a lump sum in preparation for this very day, and that can be smart, because it means you'll be debt-free. However, by using a big chunk of money at one go, this means less liquidity for you. It might even affect future cash flow; and what if an unexpected financial emergency crops up?
Bank renovation loan
Most homeowners take up a renovation loan with a bank, even if they have the cash, as it means more liquidity. The super savvy ones will do their calculations - by investing the amount needed for the renovation loan (cash) in a product that generates higher returns than the interest payable for the renovation loan.
If you're not a financial whizz, no problem. Just look for a bank that offers a good rate on its renovation loan, along with perks such as preferential rates and/or synergy with the bank's other products.
For example, you can enjoy attractive interest rates from 3.88% p.a. (usual 4.18% p.a.) when you are building a green home with the DBS Green Renovation Loan. To qualify, all you need to do is to select at least 3 out of the 10 items that are applicable to you under the "Green Renovation Checklist" in the application form.
Mix of cash and renovation loan
Not everything can be covered by the renovation loan. As long as something is not included in the ID/contractor's quote, it's likely not covered and you will need to fork out the cash. Furnishings, which can cost up to or more than your renovation amount, is not included in the renovation loan.
In addition, bank renovation loans typically set a limit on how much money can be disbursed, usually up to 6 times the borrower's monthly salary or $30,000, whichever is lower. While this could potentially be doubled to $60,000 if you have a co-owner, if you're renovating a resale flat, it might not be enough.
For these scenarios, a personal loan like POSB Cashline can help.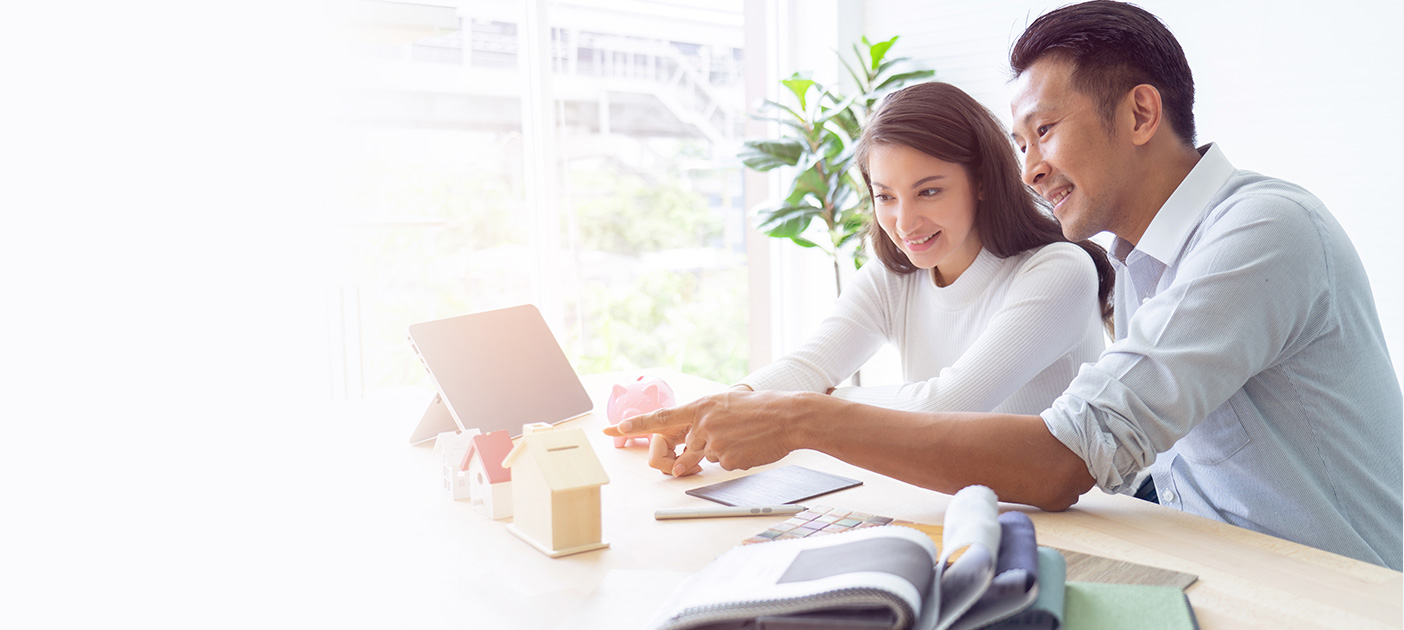 Check before you leap
As always, before making a major life or financial decision, make sure you do all your calculations and planning before taking the plunge. Most importantly, remember to keep an open mind. Renovation works, like all major projects, could have hiccups here and there.
If you're still looking for a home, use tools like DBS MyHome Planner to easily check your affordability, cashflow timeline and search for a suitable unit.
Find out the monthly repayment for your renovation loan
How to apply
For Single Applicants (Online Application)
Step 1

Prepare the required documents for your renovation loan application:

Scanned / Digital invoice or quotation signed by contractor and applicant(s)
Income Documents
Proof of Ownership (Waived if renovation is for property under DBS/POSB Home Loan)
HDB or MCST Renovation Permit (for applicants who are owners of the appointed contractor)

Please note that each file size should not exceed 5MB and acceptable formats are PDF, JPG or JPEG. The file name should not contain spaces or special characters.

You may find a guide on how to prepare your documents here.

Step 2

Launch the online Renovation Loan Application Form and submit your application with the required documents.

You will need to authenticate yourself via:

Your Digibank User ID and PIN, OR
ATM, Debit or Credit Card number and PIN

Click here for a detailed guide on the application process.
For Joint Applicants / Non-owner Borrowers
Download the application form and send it to us with the required documents to

DBS Bank Ltd (CP No. AH0025)
Orchard P.O. Box 360
Singapore 912312
Tell us if you will consider using our financial planning tips

You might be interested in