Buying REITs? Here are 3 things to watch for

NAV TL;DR

If you don't have time to read through the whole article, you can check out our short version below:

Picking a good REIT is as easy as P.I.E.



Portfolio: quality of the properties in the REIT

Income: how does its income compare to dividend-paying stocks and bonds?

Economy: the state of the economy has an impact on REITs




Singaporeans are united by a few things: good food, good grades, good house. It's almost as though we are hard-wired to hunt for good.

One of these three dovetails nicely into good financial advice. This is because financial advisors often recommend "property" as part of a diversified portfolio. They mean it in a very broad way, which includes both physical property and real estate investment trusts (REITs).

REITs are a very common – and cost-effective – way of investing in property. It already took a whole lot of planning and saving to buy your first property. To buy a second property, it'll take even more.

So how do you tell what is a good REIT? Get your checklist here.



REITs are investment trusts that own or operate real estate properties on behalf of its shareholders. They are traded on the stock exchange.

In Singapore, REITs typically invest in shopping malls, residential properties, offices, industrial facilities, hospitality and healthcare properties.
These are how you can get returns by investing in REITs (vs. being a landlord):
Dividend income: rental income and any earnings from sales of real estate assets
Professional landlord expertise: the day-to-day management is left to professional property managers
Capital gains: when the REIT is sold at a higher price than the purchase price

Investors typically buy REITs for the dividend income they pay. The sustainability of that income depends largely on the quality of the REIT's property portfolio, and the economy also plays a part.

Some factors of quality are already taken care of by SGX listing regulations.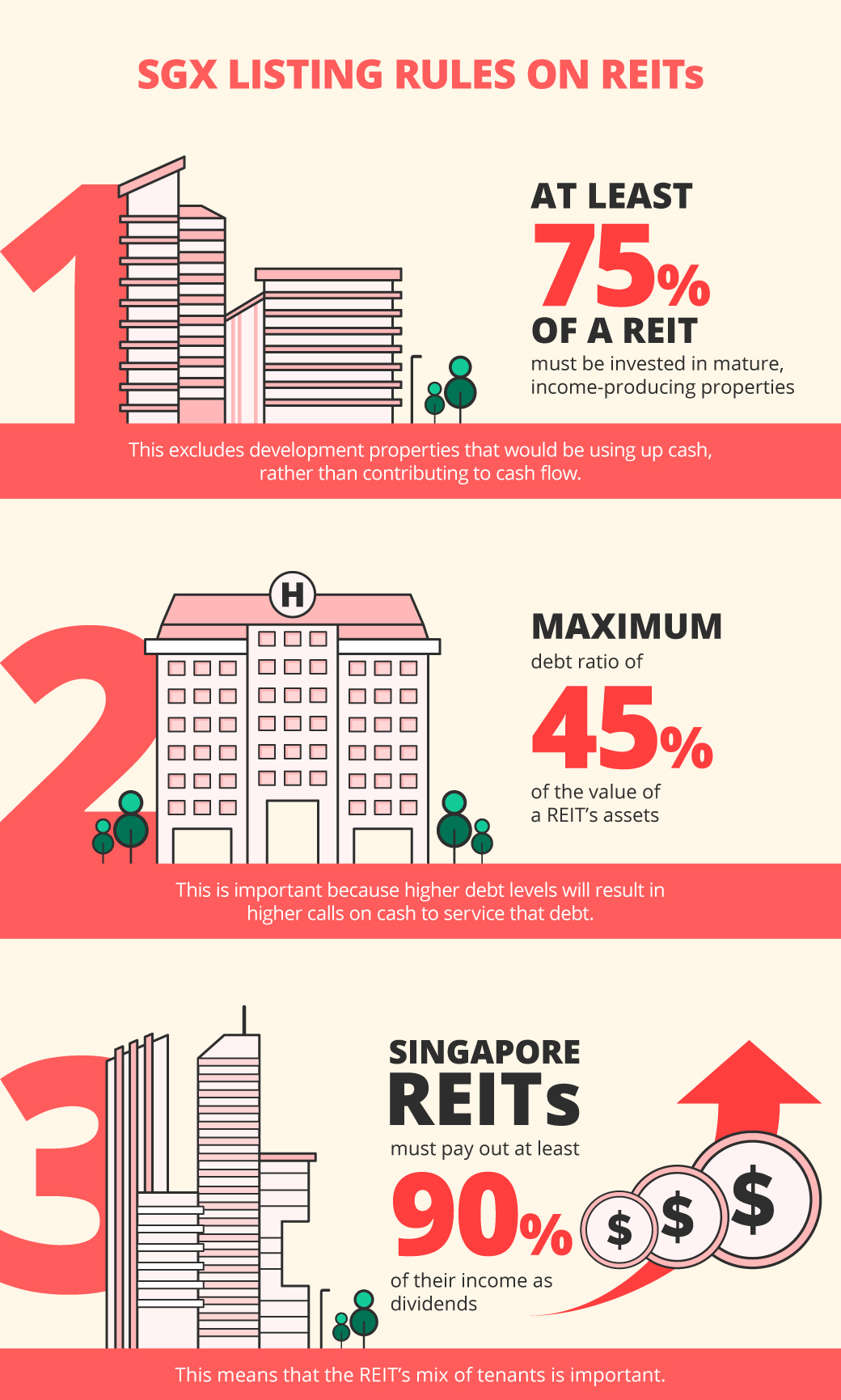 This leaves us with the P.I.E. of the quality of the REITs' property portfolios, income characteristics, and economic conditions.



Some questions that will help you:
To establish how secure the current income stream is, ask "What is the average term of the leases?"
To discover the demand for a REIT's properties, ask "What is the quality of the properties?", and "Are the properties in a high growing sector and location, or vice versa?"
To check out the competition, ask "What is the supply outlook for competing properties?"



REITs are a significant component of "income investing" – along with high dividend paying stocks and bonds.

This is because dividend yields from REITs are usually significantly higher than the general stock market average, and term deposit rates. At the time of writing, S-REIT yields were around 6%. This compares to 3.8% for the Straits Times Index (STI)1, 2.1% for 10-year bonds, and 1% for term deposits (non-promotional rates).

The state of the economy has an impact on REITs. Stronger economic growth is generally a good thing. But because REITs are typically focused on a particular sector, the growth outlook for that sector also matters.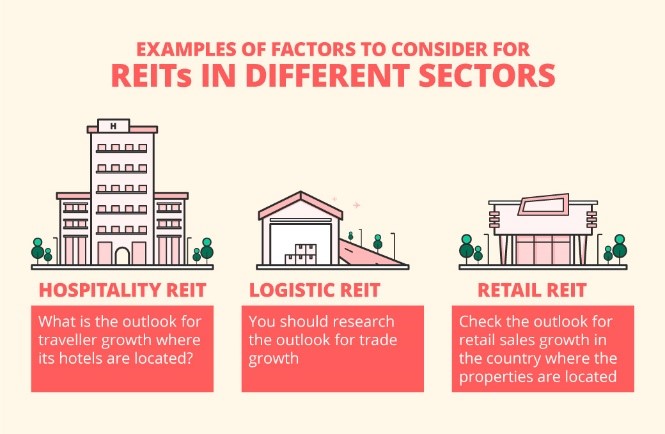 As for interest rates, the general rule of thumb is that rising interest rates make bonds, income stocks and REITs less attractive. Similarly, falling interest rates typically support the prices of these instruments. But there is a caveat: if interest rates are falling because of a coming recession, they won't help the prices of dividend-paying stock or REITs.
Footnote
1 From DBS Group Research report dated 11 Feb 2019. Singapore REITs: Riding on macro tailwinds.



Hello, we're NAV.
Inspired by the word "navigate", NAV is an initiative by DBS & POSB created to help you navigate your finances, your way. Whatever your financial goals are in life, no matter what situation you are in, we're here to help you on your financial journey.


Ready to start?
Speak to the Wealth Planning Manager today for a financial health check and how you can better plan your finances.
Alternatively, check out NAV Planner to analyse your real-time financial health. The best part is, it's fuss-free – we automatically work out your money flows and provide money tips.

Keep reading