Specially curated for First Jobbers and PMETs
At DBS, we take great interest in being a key source and guide for your financial planning journey. We recognise your need to deep dive into financial literacy content and strategies across financial planning issues ranging from budgeting, insurance, investment, retirement and estate-planning.

As such, we've prepared 10 articles, specially curated for first-jobbers and PMETs to better understand financial planning topics that resonate best with them. The articles cover:
A beginner's guide to constructing an investment portfolio
How to top up your CPF funds
Budgeting for your first home
How to prioritise insurance needs
Registration is open till 26th November 2021 and is only available to the first 500 customers!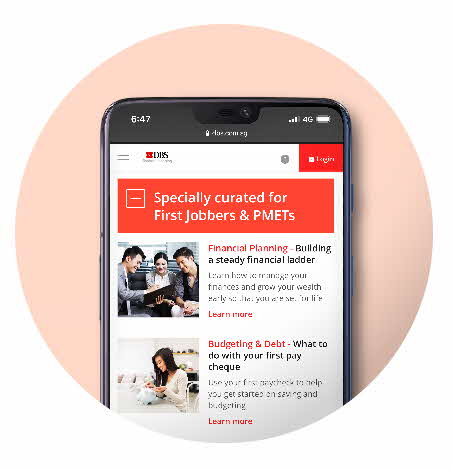 Gain access to these 10 specially curated articles until 31st December 2021,
for a one-time fee of $4.90.
Sign up in just 3 easy steps
Step 1
Step 2
Make a payment of S$4.90 via the QR code.
Step 3
You will receive a confirmation email with a link to our curated set of articles by 30th November 2021.
Please read the Terms and Conditions governing DBS NAV Premium Content for First Jobbers and PMETs carefully.