When should you start investing?
NAV TL;DR

If you don't have time to read through the whole article, you can check out our short version below.

Start early and start small so you can yield the best returns from compound interests.

Keep track of your spending and establish budgets for your expenses, savings, and investments.

Start small: Invest on ETFs or Unit Trusts from just S$100/month.

If you haven't already started, the general rule is 'the sooner, the better', barring any major turbulence in the market. It is better to start early and start small when it comes to building up your investment portfolio as the power of compounding over a period of time will yield significant returns

Want to know how much you can grow your money? If you start now, your investment of S$100 per month for 30 years at 3.9% per annum rate of return* could make you S$17,540 richer than starting 5 years later!.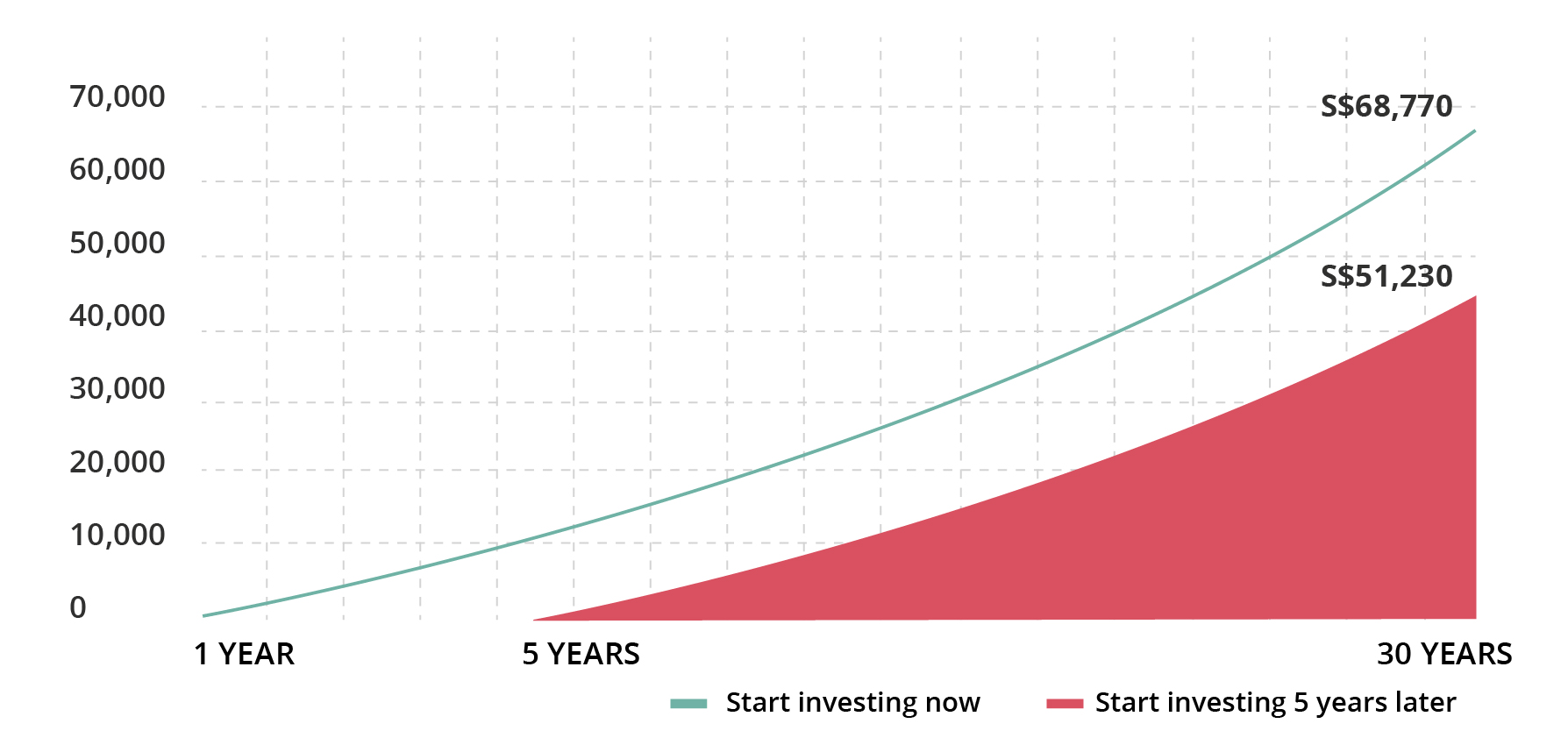 * Based on the Straits Times Index (STI) from 2001 to 2016. The STI is the benchmark for the Singapore stock market and tracks the performance of the top 30 companies listed on the Singapore stock exchange. Do note that past performance is not necessarily indicative of future performance.

Establish a budget for your monthly expenses, an amount for an emergency fund, long term savings and investments.
Keep track of your spending. Any reduction in spending can go towards investing.
Complete a financial profile exercise and set up an investment account.

Set up a monthly Regular Savings Plan (RSP) for ETFs or Unit Trusts with just S$100 per month.
Invest in Singapore Savings Bond with as little as S$500.
Set up a standing instruction to save regularly each month until you have enough to do a lump sum investment, which can start from S$1,000.

Hello, we're NAV.
Inspired by the word "navigate", NAV is an initiative by DBS & POSB created to help you navigate your finances, your way. Whatever your financial goals are in life, no matter what situation you are in, we're here to help you on your financial journey.


Ready to start?
Speak to the Wealth Planning Manager today for a financial health check and how you can better plan your finances.
Alternatively, check out Nav Planner to analyse your real-time financial health. The best part is, it's fuss-free – we automatically work out your money flows and provide money tips.