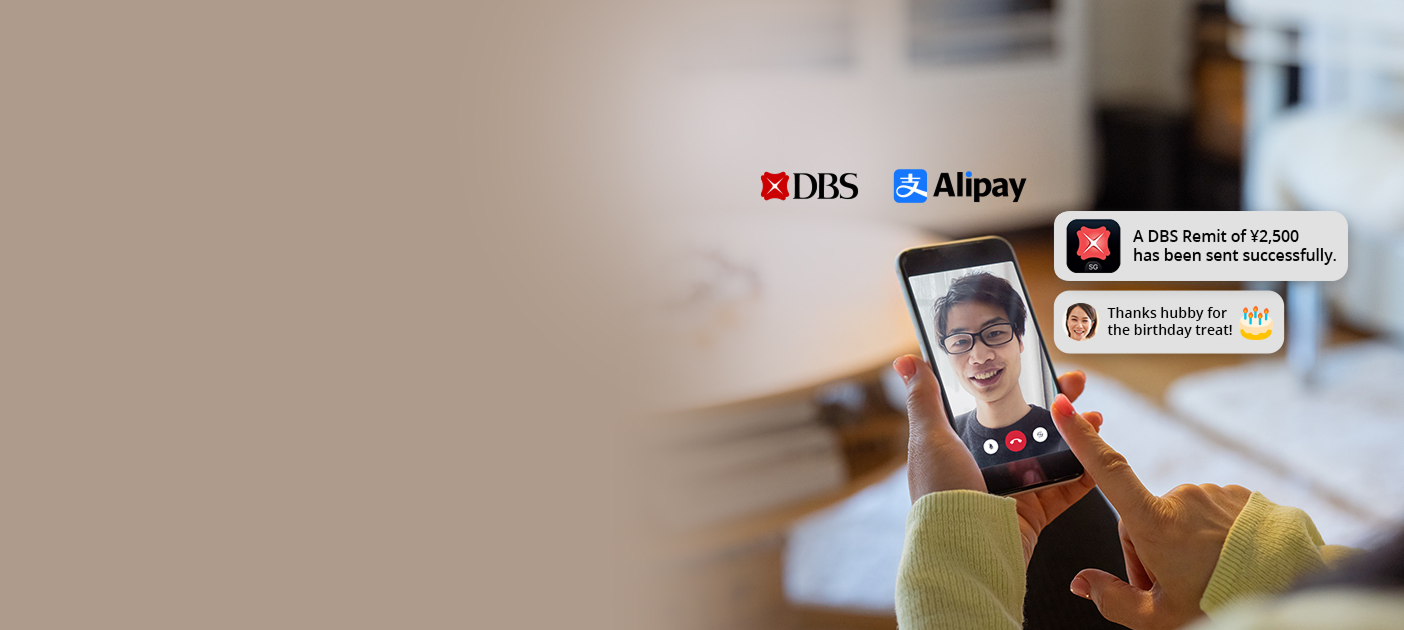 Good news, DBS Remit have partnered with Alipay to make overseas transfers to China even easier for you!
Whether it's sending money to family or making an online purchase, simply select Alipay and enter your recipient's mobile number to enjoy same-day transfers to China at S$0 fees! Available via DBS Remit on your digibank app.
S$12 Cashback Welcome Reward - Exclusive to new DBS Remit customers
New to DBS Remit? Receive S$12 cashback when you remit at least S$300 within the same calendar month.

Enter promo code NEWREMIT before making a transfer. Promotion ends 30 June 2023.

For Full T&Cs, please visit DBS Remit Welcome Reward.
Win a Tesla Model 3 - For all DBS Remit customers
From 3 January to 31 March 2023, earn chances to win a brand-new Tesla Model 3 in the DBS Cashless Lucky Draw1! All you have to do is go cash-free and transact digitally. Earn your lucky draw chances by making a DBS Remit2 transaction and gain 50 extra chances each calendar month when you make no cash withdrawals3 in the month.
Oh, and we're doubling the HUAT for Multiplier customers to earn 2X the chances because it literally pays to have a Multiplier account in the Year of the Bunny!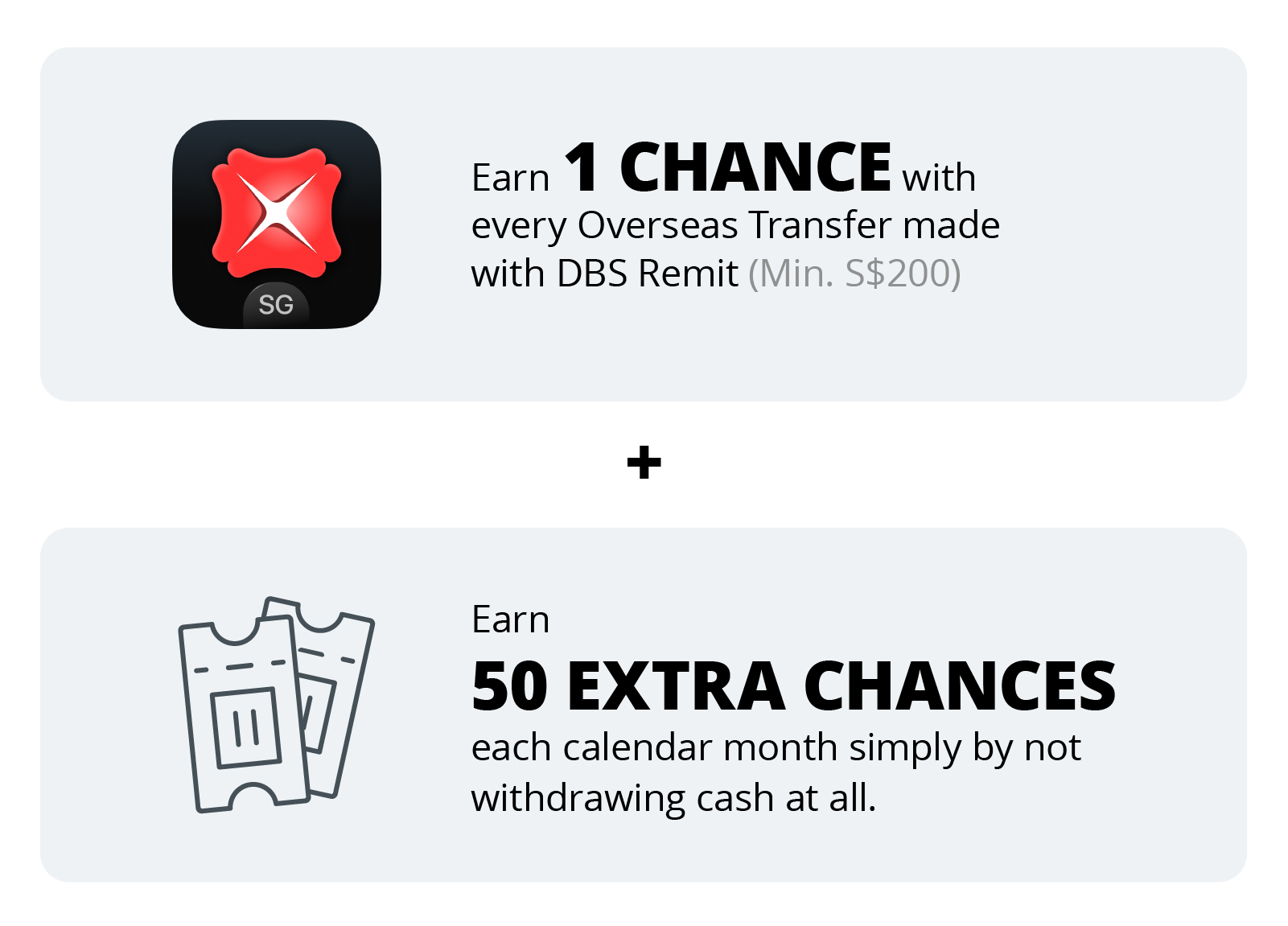 For Full T&Cs, please visit DBS Cashless Lucky Draw.
Quick and hassle-free transfers with the World's Best Digital Bank:

Make a transfer in 3 steps:
Tap Overseas Transfer
Enter amount and recipient
Review transfer details and tap Transfer Now to send money to Alipay users in China at S$0 fees
Need help adding an overseas funds transfer recipient? Follow this step-by-step guide.
Find out more about DBS Remit!
New to DBS? Get started.
Open an account and start digibanking for branchless, paperless and waitless banking experience that's intuitive, invisible and intelligent.
Simply download the digibank mobile app and sign up with MyInfo to get access to My Account, DBS Visa Debit Card and more.
For foreigners, please prepare these required documents to open an account.
Ant Group, its affiliates and the Alipay Brand (collectively, "Alipay") are not providing you this remittance services in Singapore. Alipay partners with DBS Bank which is licensed to conduct remittances in this market, to facilitate the receipt of the remittances in the receiving market powered by Alipay's technology
好消息!DBS Remit 与支付宝携手,让您轻轻松松从海外汇款至支付宝中国账户。
无论是汇款给亲友还是网上购物,只要选择支付宝并输入收款人的手机号码,即可免手续费当日转账至支付宝中国账户。登录 digibank 应用程序并使用 Overseas Transfer 功能,轻松享受 DBS Remit 服务。
世界领先电子银行助您实现快速无忧的海外汇款

海外汇款只需三个简单步骤:
点击"Overseas Transfer"
输入金额和收款人
确认转账信息并点击"Transfer Now",即可免手续费转账至支付宝中国账户
添加海外汇款收款人时遇到问题?请查阅 分步指南。
进一步了解 DBS Remit。
还未拥有 DBS 账户吗?
使用MyInfo,轻松通过DBS digibank应用程序注册账户。现在就立即下载!
蚂蚁集团、其关联公司和支付宝品牌 (统称为 "支付宝") 未获得在新加坡提供汇款服务的许可。支付宝与被许可在该市场开展汇款业务的星展銀行合作,以方便在支付宝技术支持的收款市场接收汇款。
Explore more
Thank you. Your feedback will help us serve you better.
Was this information useful?
That's great to hear. Anything you'd like to add?
We're sorry to hear that. How can we do better?
Enter only letters, numbers or @!$-(),.