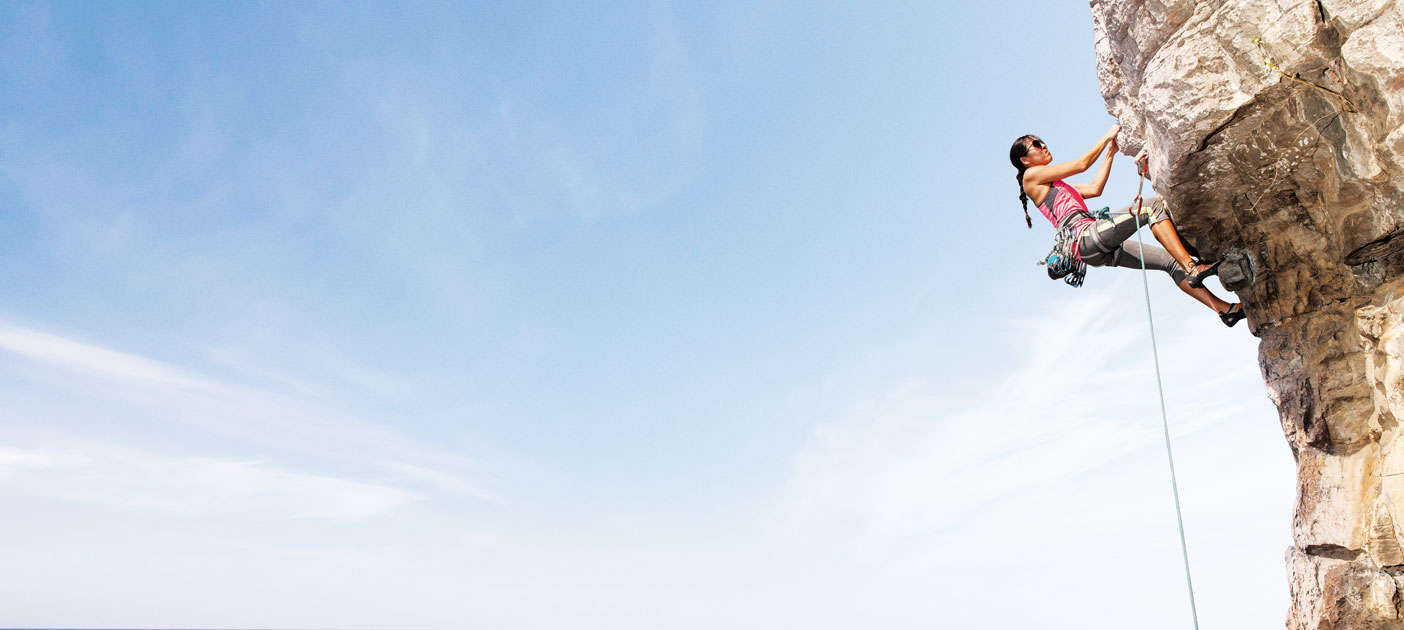 At a Glance
Nothing compares to having the freedom to retire the way you want. That's why, Manulife SmartRetire lets you diversify your portfolio for greater potential returns and the flexibility to set your Target Income Goal1 to help you achieve your desired retirement lifestyle.
It is an investment-linked insurance plan that gives you a choice of professionally-managed funds. So you can tailor your portfolio towards achieving your retirement lifestyle goals.
By investing a fixed amount regularly, it takes advantage of dollar-cost averaging to manage market movements and takes away the need to constantly watch the market.
That's not all, Manulife SmartRetire provides life coverage. In other words, you enjoy the benefits of both protection and investment opportunities.
 
Features & Benefits
Flexibility
Choice of Premium Payment Term – For 5, 10, 15 or 20 years
Choice of Retirement Age – At 55, 60, 65 or 70 years old
Choice of Retirement Period – For 10, 15, 20, 25 or 30 years
Choice of desired Target Income Goal1
Choice of professionally-managed funds
Choice to receive a desired Target Monthly Income1 or stay invested up to age 99
Choice of withdrawal options:

Withdrawal2 by fixed dollar amount from the fund(s) over a period of time set by you
Partial3 withdrawal by selling some of the fund(s) units when the need arises
Peace of mind
Premium waiver4 upon occurrence of Total and Permanent Disability (TPD) or Critical Illness (CI)
Provides coverage for Death4
Guaranteed issuance with no medical check-up required
Getting your investment to work harder
100% of premiums paid will be used to purchase fund(s) units to maximise your investment
Enjoy a head-start with a Welcome Bonus5 of additional fund(s) units
Be rewarded with a Loyalty Bonus5 of additional fund(s) units every 3 years
Unlimited free fund switches
Optional riders
Enhanced Death Benefit Rider5 – provides a Death Benefit that is at least equivalent to the Target Income Goal1
Loss of Independence (LOI)6 Benefit Rider – receive an additional monthly payout that is 50% of Target Monthly Income1 if the Life Insured meets the LOI6 definition at any time during the Target Retirement Period. LOI6 occurs when a customer becomes unable to perform at least 3 of the following 6 activities of daily living:

Washing
Dressing
Transferring
Mobility
Toileting
Feeding
 
How Manulife SmartRetire can help you in wealth accumulation and retirement
Jason, age 35, non-smoker, plans to retire at age 65 and would like to receive a Target Monthly Income1 of S$2,000 for 20 years up to age 85. He purchases a Manulife SmartRetire policy and chooses to pay his premiums annually for 10 years.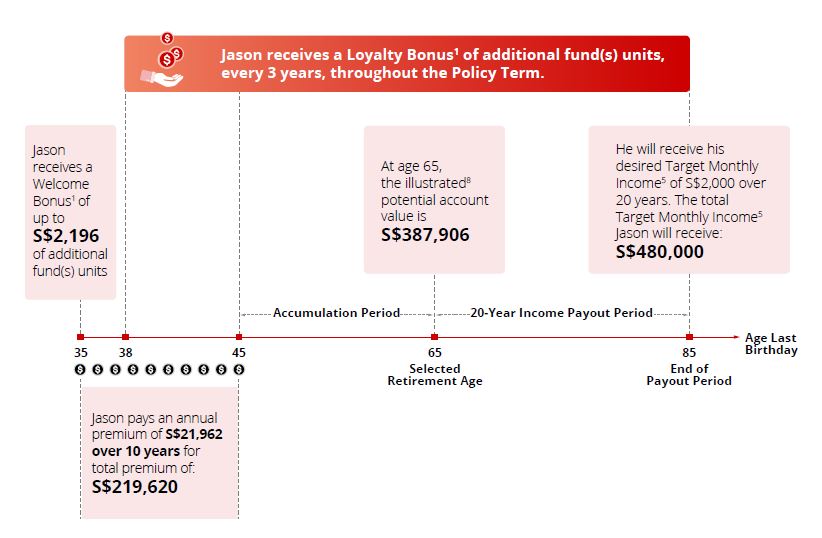 Note: The above is only for illustrative purposes. The projected7 figures are not indicative of the likely or future performance of the Manulife SmartRetire fund(s) selected.
Wealth Accumulation
To help Jason achieve his investment goals faster, he will receive up to S$2,196 of additional fund(s) units as his Welcome Bonus5. Every 3 years, he will also receive his Loyalty Bonus5 of additional fund(s) units.
At the end of 10 years, at age 45, his premium payment term ends. His projected7 account value at age 65 is S$387,906.
Income Stream for Retirement
At his selected Target Retirement Age of 65, he starts to receive a Target Monthly Income1 of S$2,000 from his policy to fund his retirement passion. Alternatively, if he is not in need of the Target Monthly Income1, he may also stay invested in the fund(s).
Protection
He is covered in the event of Death over the policy term.
This plan can help you with these possible needs:
Basic:
Supplementary:
1 At the point of application, the policy requires you to select your Target Income Goal, which is the sum of Target Monthly Income you aim to receive over the target retirement period starting from your Target Retirement Age. Changes made to Target Income Goal after policy inception will not affect any basic or supplementary benefits of the policy. The policy does not offer any guarantee that your selected Target Income Goal will be achieved. Target Monthly Income is dependent on the actual fund(s) performances meeting the illustrated rate of return.
2 You can choose to withdraw a fixed dollar amount from the funds on a monthly, quarterly, semi-annually or annually basis. You may exercise this option after the premium payment term.
If this option is activated before the Target Retirement Age, the regular income drawdown will cease at the Target Retirement Age.
3 You are not allowed to partially withdraw units from the Policy in the first 2 policy years. The minimum amount that can be withdrawn each time is S$500, subject to a minimum balance of S$1,000 in the Account. After 2nd policy year, surrender charge will be imposed on the partially withdrawn amount, if the partial withdrawal request takes place during the premium payment term. Please refer to the Product Summary for the surrender charge table for more details.
4 Please see the Product Summary and Policy Contract for details of the Death Benefit and waiver of premium on Critical Illness (CI) and/or Total and Permanent Disability Benefit.
5 Please see the Product Summary and Policy Contract for details of the Welcome Bonus, Loyalty Bonus and Enhanced Death Benefit Rider.
6 Diagnosis of the Loss Of Independence (LOI) must be confirmed and certified by a medical examiner. Manulife will pay the LOI income as long as you meet the LOI definition. You cannot leave the LOI income due under this benefit with Manulife. This benefit ends immediately on the date you recovers and is no longer in the state of LOI. If you have recovered but losses your independence again, you are entitled to this benefit again as long as you continue to meet the LOI definition.
7 The benefit illustration is based on fund management charge of 1.25% per annum on projected investment returns of 4% per annum. The rate of return is used purely for illustrative purposes but it is a Life Insurance Association of Singapore (LIA) prescribed rate of return for benefit illustration – the actual rate may be higher or lower. The actual benefits payable will depend on the actual performance of the Manulife SmartRetire fund(s) selected.
The performance of the Manulife SmartRetire fund(s) is not guaranteed and the account value may be less than the principal invested. No guarantee is given, express or implied, that you will receive any amount invested.
Information correct as at 24 October 2016.
Click here for important notes.