Fixed Deposit Premature Withdrawal
Learn how to make a premature withdrawal from your Multi-currency Fixed Deposit Account via digibank Online.
Important information
For premature withdrawals, interest pay-out is not guaranteed. You may earn less or no interest than originally contracted. An early withdrawal fee may also be imposed.
We encourage you to place a shorter tenor fixed deposit if you foresee the use of the fixed deposit funds to avoid any early withdrawal fee or reduction/loss of interest earned.
For SGD Fixed Deposit, you will be able to check the interest received upon premature withdrawal will be shown during your withdrawal request via digibank.
Withdrawal of SGD and/or Foreign Currency Fixed Deposit placement is not allowed on the day of maturity or 1 day before maturity date.
How to withdraw a SGD Fixed Deposit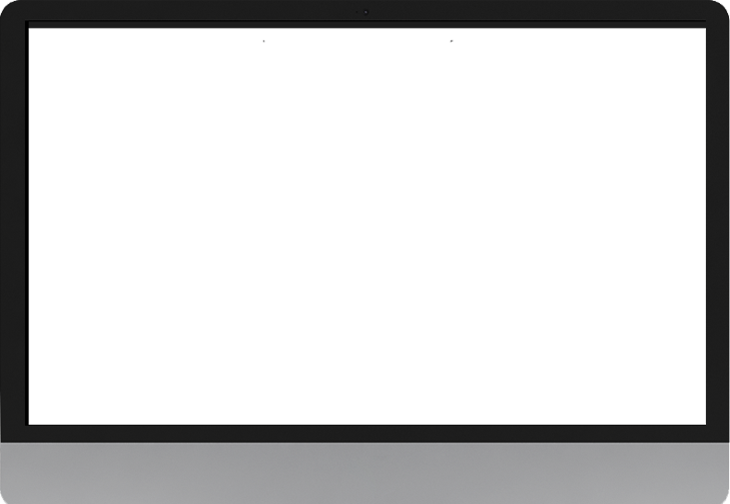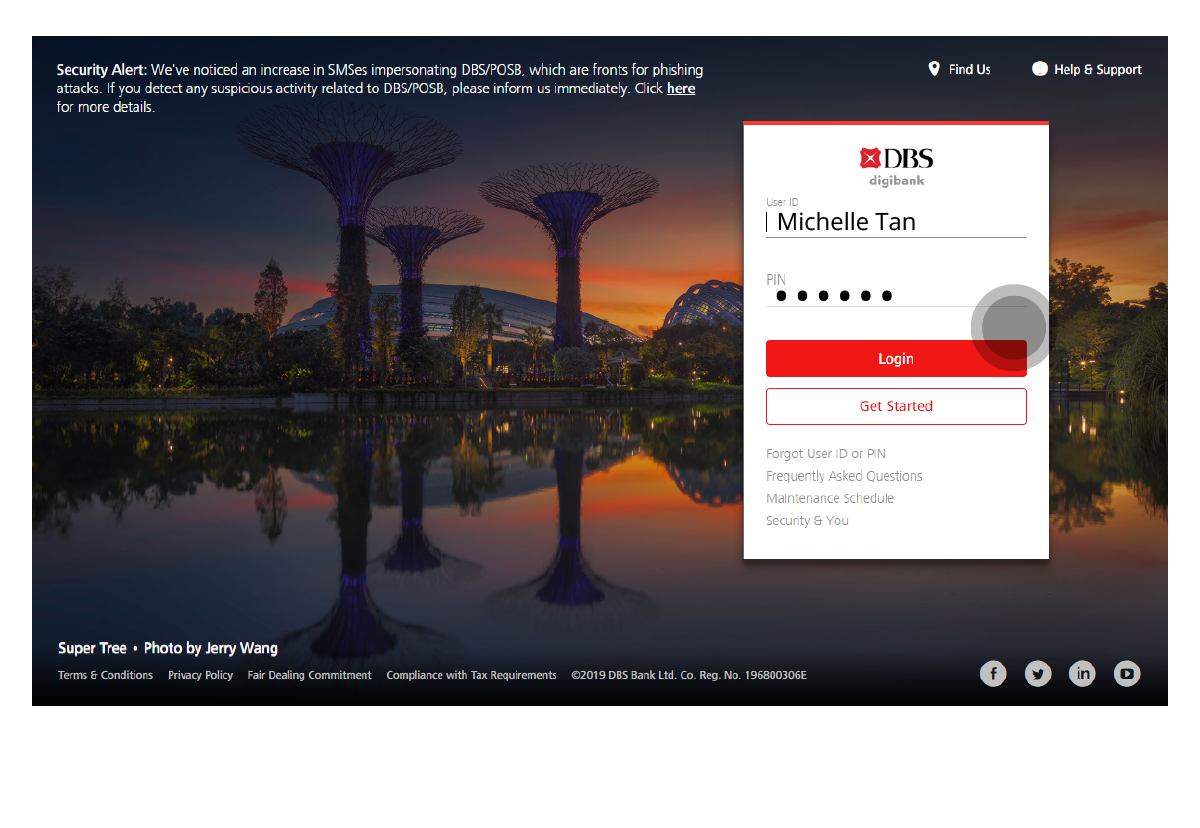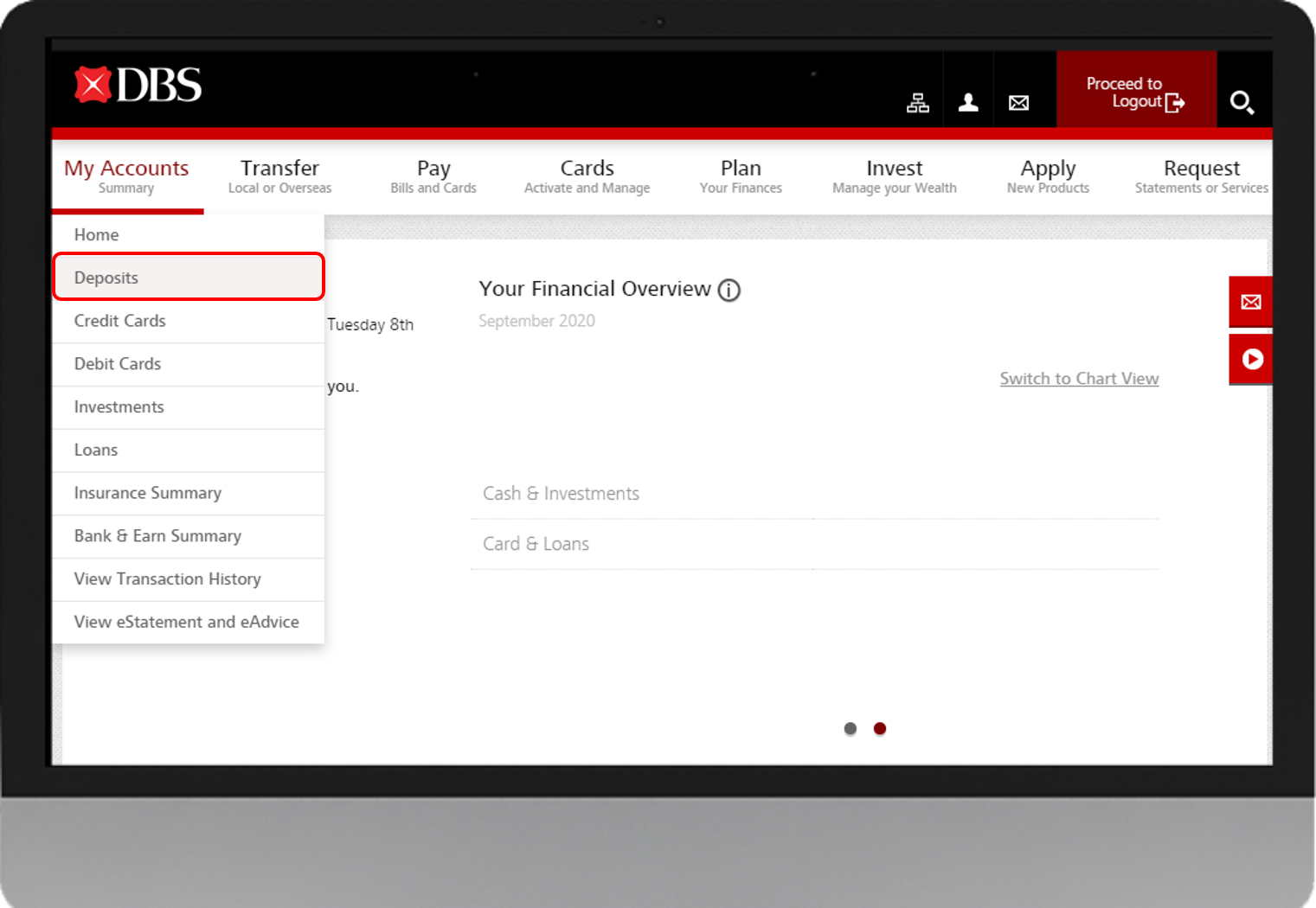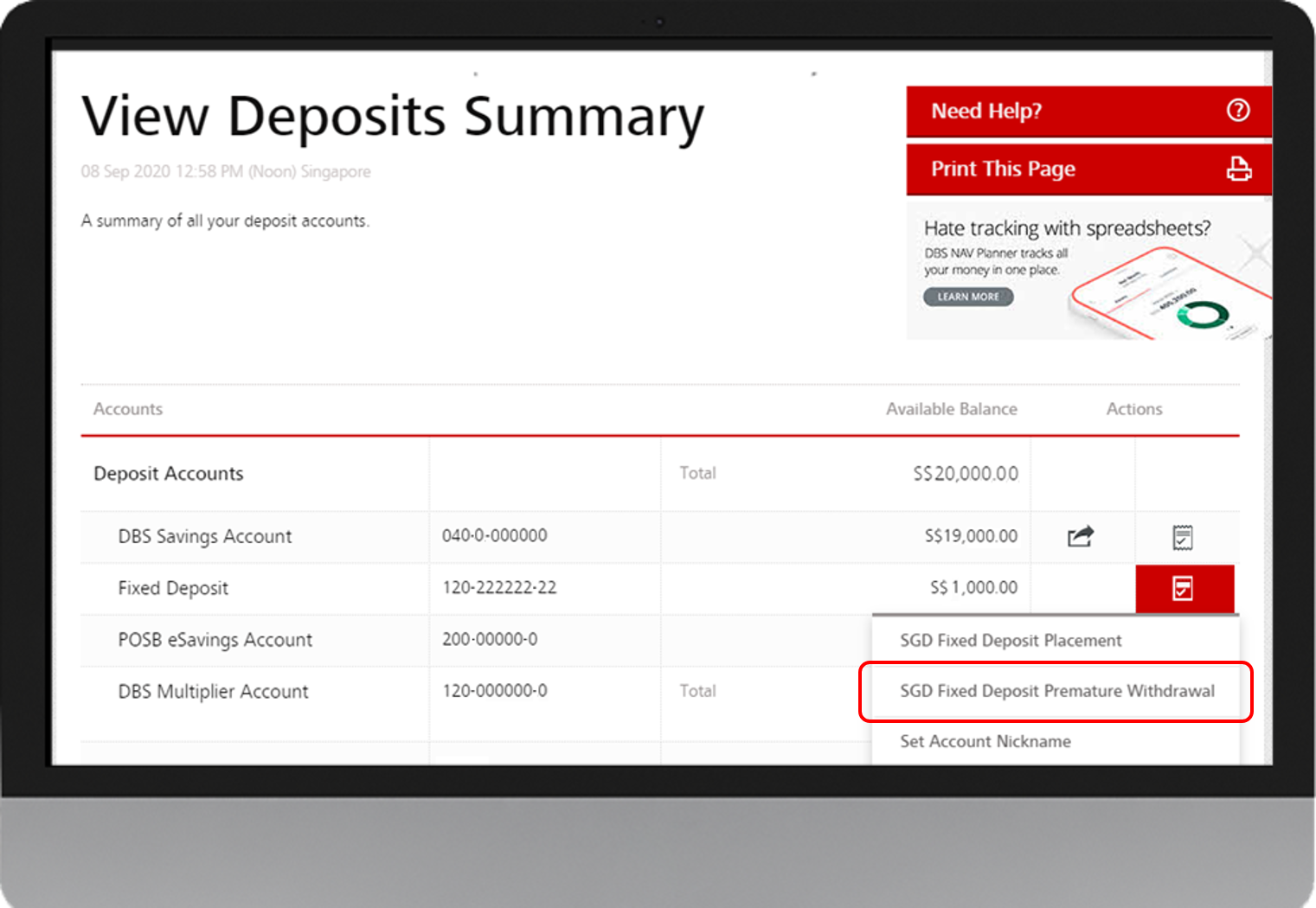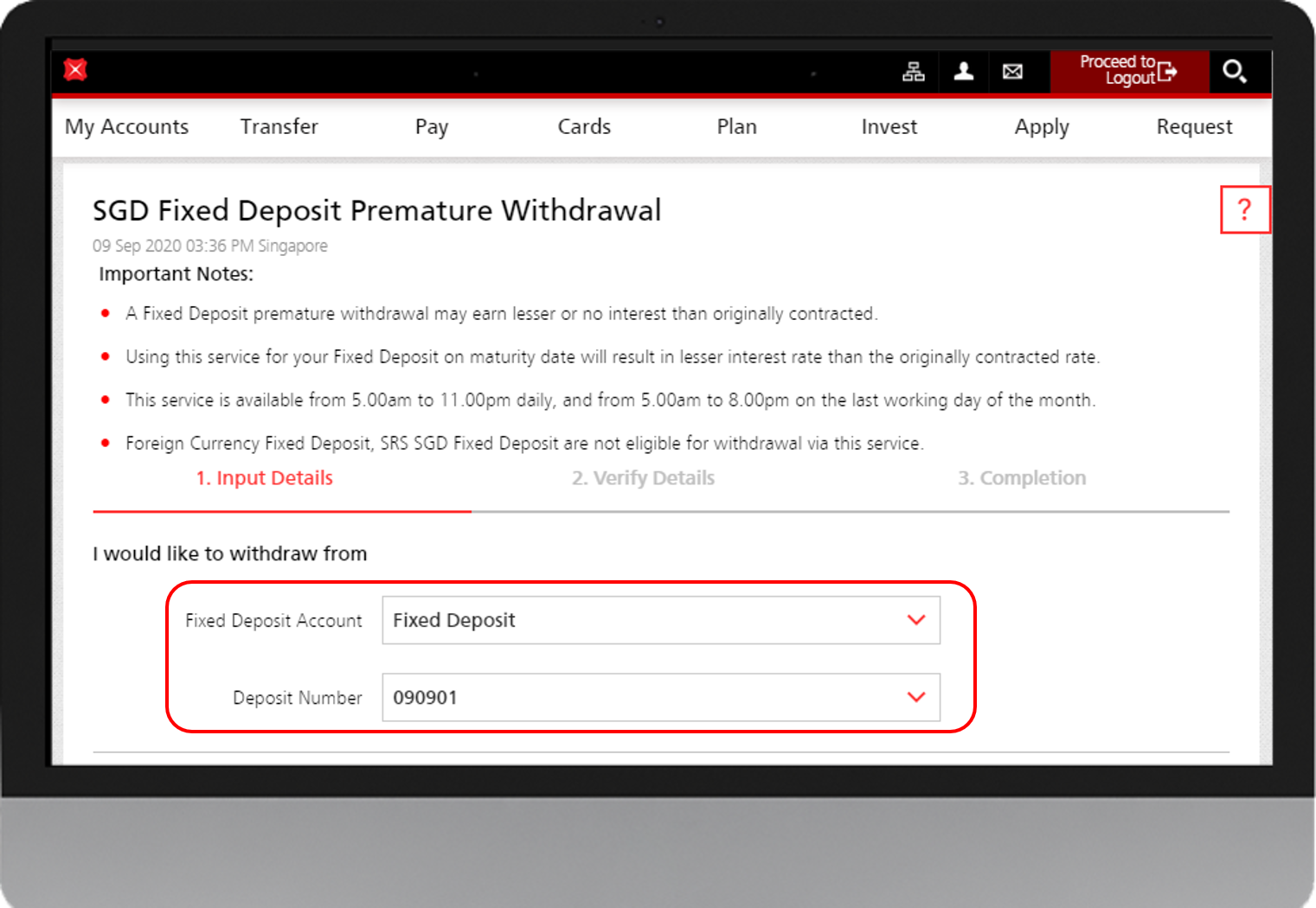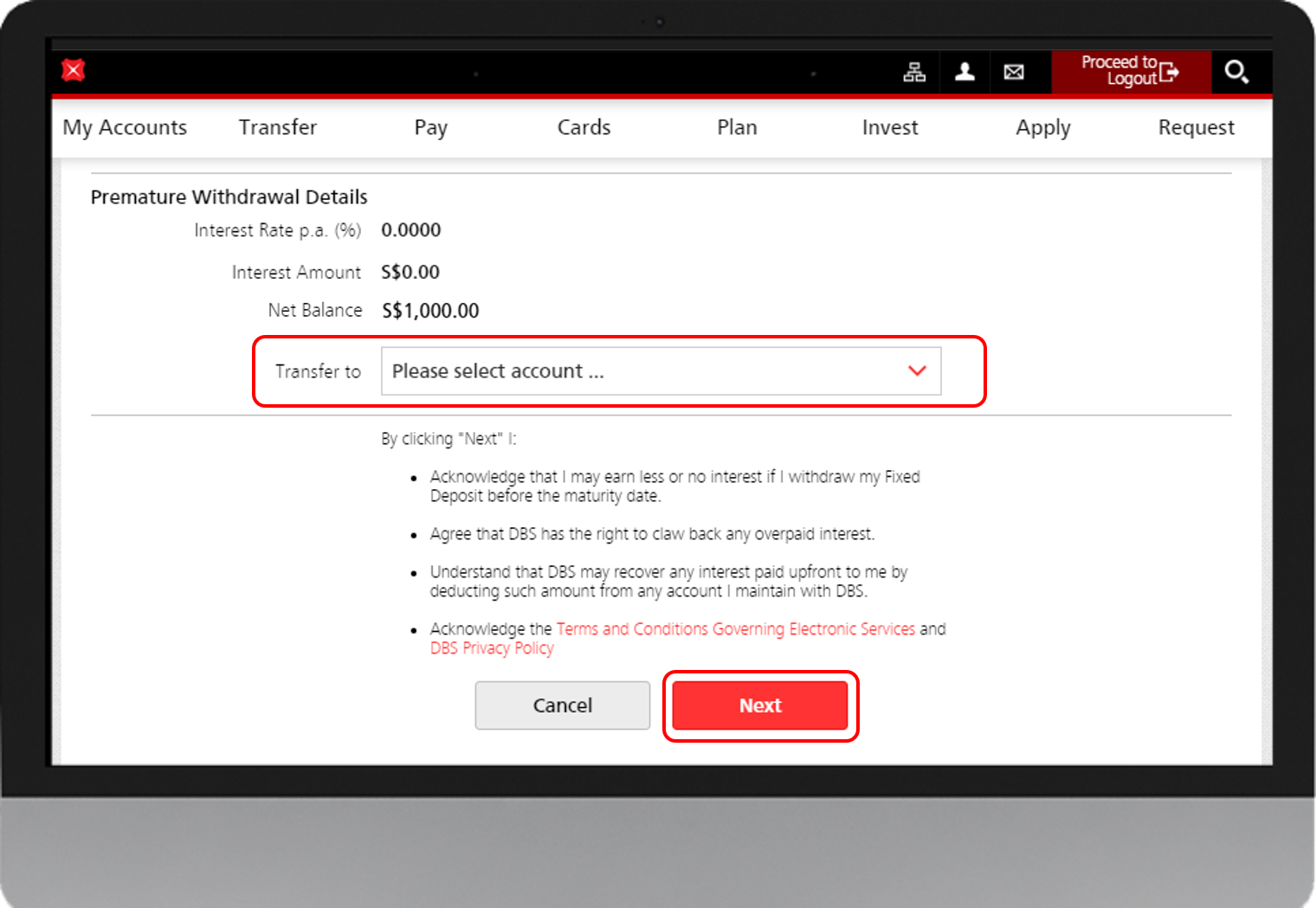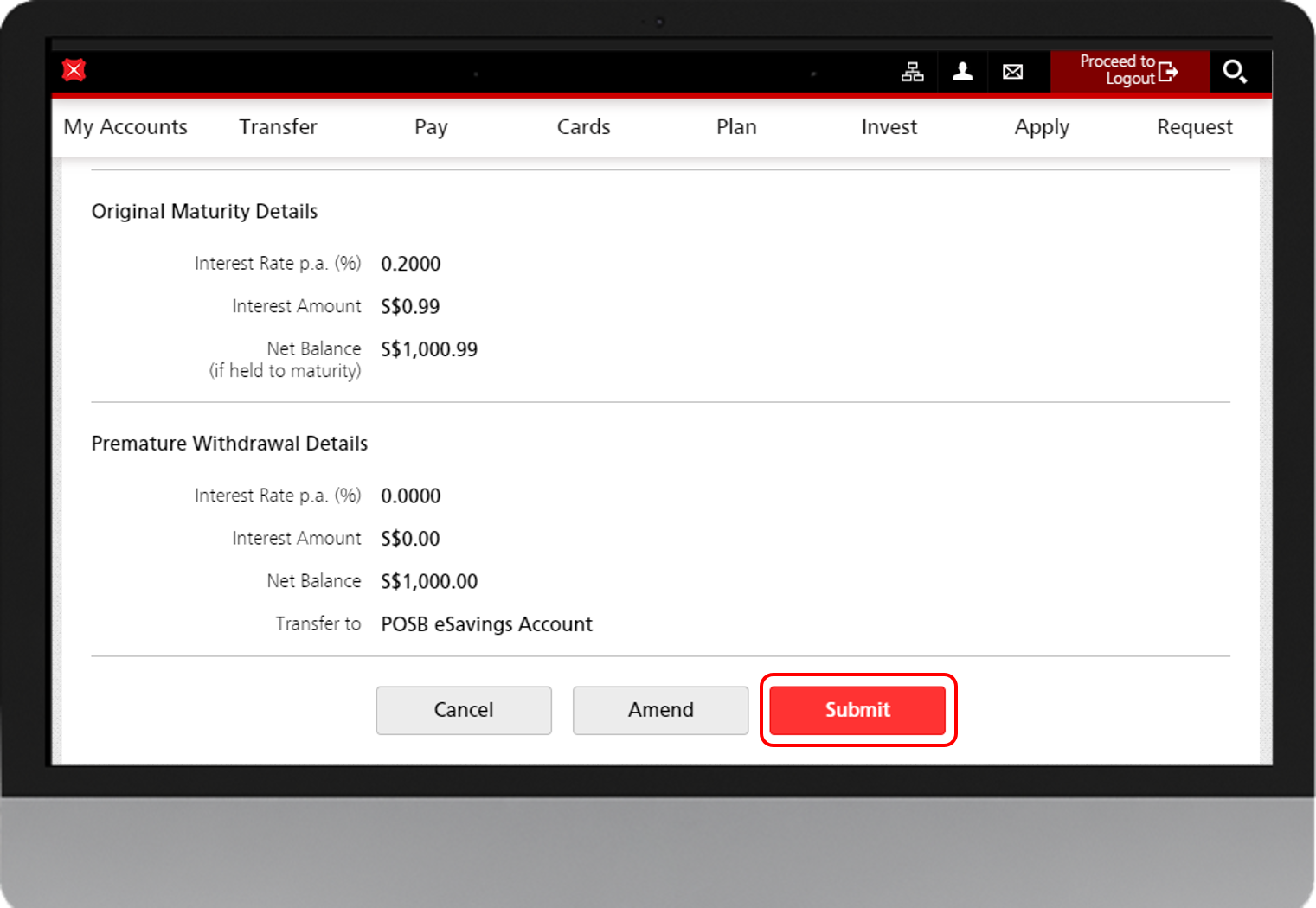 Withdraw via digibank Online
6 steps to withdraw your fixed deposit
Click on the numbers to view screens.
Under My Accounts, select Deposits and complete the Authentication Process.
Click on the Fixed Deposit Action Button and select Fixed Deposit Premature Withdrawal.
Select your Fixed Deposit Account and Deposit Number you wish to withdraw from.
Your Premature Withdrawal Details will be shown. Select the Account you wish to transfer to, click Next.
Ensure that the details are correct, and click Submit to complete your withdrawal.
How to withdraw a Foreign Currency Fixed Deposit
Premature withdrawal is not allowed via digibank. For withdrawal of your placements, please visit any DBS/POSB Branch during the branch operating hours.
Withdrawal of Foreign Currency Fixed Deposit is not allowed on the day of maturity (except for GBP and USD placements) and instructions need to be provided at least 2 calendar days before maturity date.
More information
This service may be unavailable from 11.00pm to 5.00am daily, and on the last working day of the month from 8.00pm to 5.00am.
SRS SGD Fixed Deposit and SGD Structured Deposit accounts are not eligible for withdrawal via this service.
---
Was this article helpful?
Thanks for your feedback!
We'll continue to work towards serving you better.
---