Leaving a Legacy
After a lifetime of work, you have built up a great deal of wealth and you will want to protect everything you have achieved for your next generation while thinking of retirement.
With the right legacy planning, and the right suite of solutions, you can protect, enhance and distribute your wealth as you wish.
Paving the way for future generations
The illustrations below shows how the right succession planning can balance your needs.
Scenario 1
The estate assets of Mr. and Mrs. Client are worth S$10 million. They have two children and the couple will leave them S$3 million each. The remaining S$4 million could be their retirement plan.

Scenario 2
Mr. and Mrs. Client purchase a Universal Life insurance policy on the life of either Mr. or Mrs. Client for S$5 million, assuming that the single premium is S$1 million. After putting aside S$1 million for their children, Mr. and Mrs. Client could have S$8 million to spend, twice the amount in Scenario 1. If this amount is not spent by Mr. and Mrs. Client, more will be left for their children or a charity of their choice.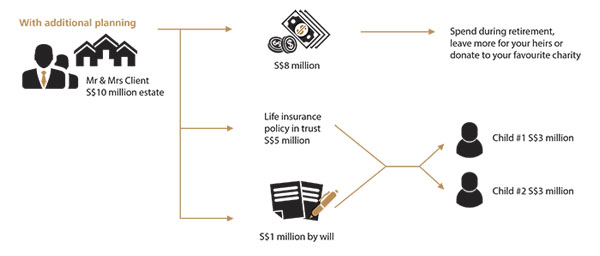 The life insurance policy can be owned by a trust. Trust beneficiaries can receive many of the benefits of owning assets without the burdens that come with outright ownership.
Inheriting assets as a trust beneficiary can have several advantages such as professional management, protection from creditors, and protection in divorce.
What is a Universal Life Insurance
More than a life protection plan, it's a powerful yet flexible plan that can help you build, preserve and share your legacy in your retirement years.
It's designed to enhance and protect your current financial assets, while enabling the transfer of wealth according to your wishes. It also provides you with extended benefits, beyond that of a traditional life policy, such as:
Tax deferment or exemption (depending on your nationality and taxation rules of your domicile country)
Control over how you want to distribute your assets to the future generation
Protection of your beneficiaries' death benefits against market fluctuations
We can work closely with you to tailor a plan that will address your needs. Through effective financial planning with Universal Life insurance, we can help you preserve and transfer your wealth smoothly to your family. Empowering your future generations to achieve the level of success that you enjoy today.
To find out more about Universal Life, make an appointment with us or contact your DBS Treasures Private Client Relationship Manager.
To find out more