Access to the best people.
It's a given.
Our Leadership
In an environment that's as complex as Asia, you can always be assured that there's a complete team of experts here for you.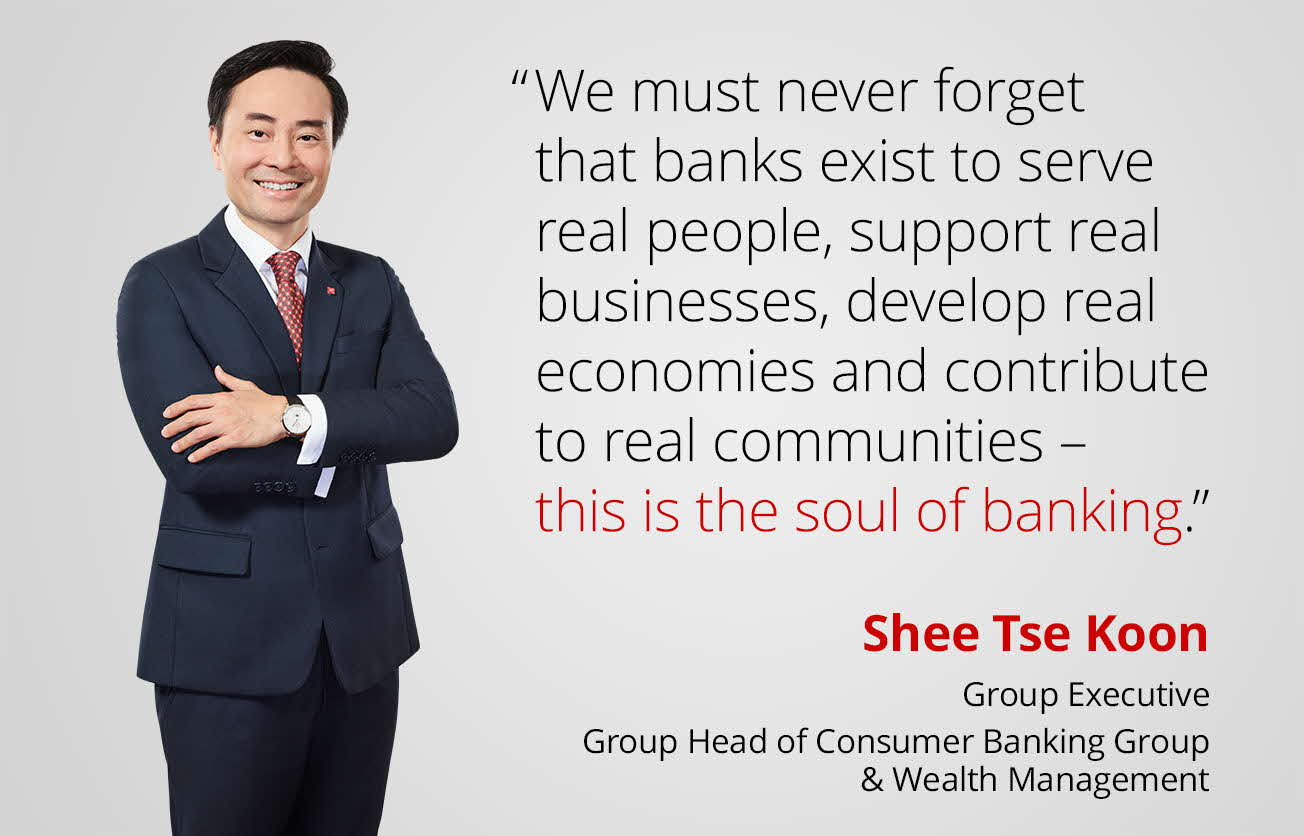 As a teenager, Tse Koon wanted to be a doctor. Until he discovered economics.
It opened his mind to a different way to make a meaningful difference to society, not just saving lives in a medical sense but enriching livelihoods in a purposeful and meaningful manner. That sense of purpose has led him to grow from strength to strength in his banking career.
Today, as Group Executive and Group Head of Consumer Banking Group and Wealth Management, this sense of purpose continues to be his North star. He firmly believes banking has a soul, that is, its fundamental purpose is noble, promotes the healthy functioning and development of economies, which in turn improve the lives of people.
In his last role as Country Head of DBS Singapore, he led the bank through the pandemic, helping SMEs, communities and families stay economically resilient with digital, credit and insurance initiatives. He has also helmed key management roles in Standard Chartered previously, including CEO of StanChart Indonesia, Head of Governance (Europe, Middle East, Africa & Americas), Chief Information Officer (Singapore), Head of Technology & Operations (Singapore) and Regional Head of Trade.
In 2021, Tse Koon was conferred the Institute of Banking & Finance (IBF) Distinguished Fellow Award (Corporate Banking). The following year, he received the Medal of Commendation (Star) by the National Trade Union Congress (NTUC) for his leadership in creating a future-ready workforce at DBS.
Currently on the Board of Directors of NETS Pte Ltd and the Chairman of the Association of Banks in Singapore's (ABS) Culture and Conduct Steering Group, Tse Koon also sits on the Board of Governors for the Singapore International Foundation (SIF) and Nanyang Polytechnic. Tse Koon champions gender diversity and is a mentor with BoardAgender by Singapore Council of Women's Organisation.
Besides banking, his other great love is swimming. He swears it is the secret to his energetic youthfulness.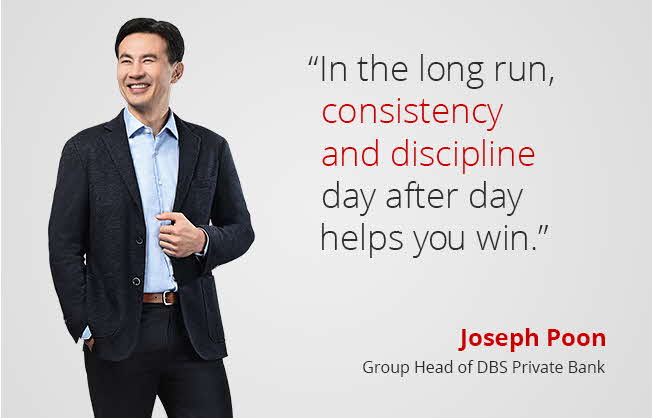 Managing Director and Group Head of DBS Private Bank, Joseph Poon starts his day at 4am, training for marathons. He sees the parallel between running a race and running the Private Bank business in the consistency and discipline needed for both.
Joseph is also Head of DBS Treasures Private Client in Singapore and Hong Kong, a responsibility he took up to after his role as Region Head of Southeast Asia.
He brings to DBS over 20 years of banking experience, most recently from his role in UBS. As Southeast Asia Head of the Ultra High Net Worth segment and Head of Global Family Office, Southeast Asia, he drove the strategic growth for UBS' highest valued clients by delivering bespoke solutions across the bank's Investment Banking, Asset Management and Wealth Management segments.
At Julius Baer, he was the Head of Co-Investments & Private Equity and a member of the Asia Management Committee. Before that, Joseph was the Asia Head of Macquarie's Private Wealth business, which he had established. Prior to that, he led JPMorgan Private Bank, Southeast Asia.
Joseph holds a B.C.A. and a B.A. from Victoria University of Wellington, New Zealand. He is a CFA charter holder and a board member of the CFA Association Singapore for 16 years.
 
As the Chief Investment Officer, Hou Wey Fook invests the way he golfs – every shot carefully calculated for risk and reward. It's a discipline he attributes to his training as an engineer, which means listening to the math even if it goes against human nature.
Wey Fook joined DBS in September 2017, and is responsible for investment strategies in DBS, which include global strategic and tactical asset allocations for our clients.
With over 30 years of fund management experience, Wey Fook was most recently at Bank of Singapore where he held various senior management roles, including Chief Investment Officer, and Head of Discretionary Portfolio Management (DPM) and Funds.
Starting his career at Government of Singapore Investment Corp (GIC), Wey Fook joined OCBC Asset Management, and subsequently ING Asia Private Bank (later renamed Bank of Singapore). He holds a B.E. from the National University of Singapore, and is also a CFA charter holder.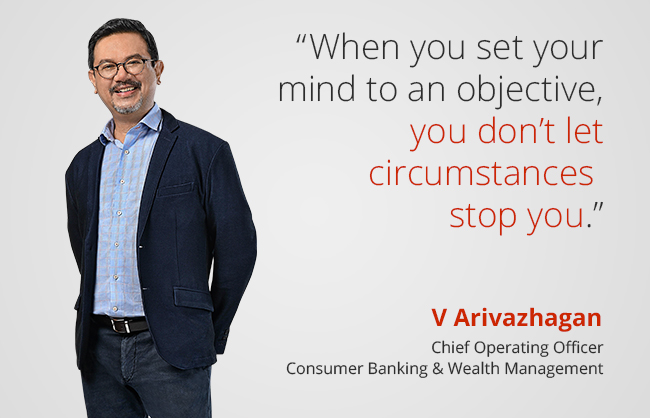 Clarity of thought and perfection in execution defines Ari's style.
In the complex operations of a multi-market and highly-regulated world, this clarity and discipline in Wealth Management practices ensures our operations work smoothly and seamlessly for our clients. As Chief Operating Officer, he most recently led the acquisition and integration of Société Générale private banking business in Singapore and Hong Kong, and ANZ's wealth and retail banking across 5 countries.
Beginning his career with DBS Bank in 1998 advising on Treasury and Markets solutions, Ari quickly progressed to a leadership role in DBS Private Bank in Hong Kong, before returning to Singapore as Head of Regional Investment and Treasury Products.
Ari holds a BA in Business Administration from National University of Singapore and an MBA from London Business School.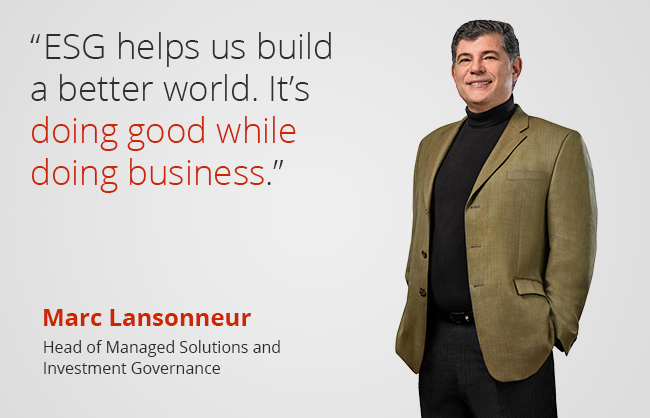 When he's not seeking out investment opportunities for clients, Marc coaches rugby for underprivileged kids. At the heart of it is his belief in creating a positive change to people and to society.
He brings this philosophy to work, where he sees ESG as a way to both help clients do well, and do good at the same time.
Joining DBS from Société Générale in October 2014, Marc leads the Wealth Managed Solutions and Investment Governance group. His team of specialists cover managed products such as Funds (Unit Trusts, Private Equity, Hedge Funds), Funds Selection and Discretionary Portfolios.
It should come as no surprise that Marc is a member of DBS Group Sustainability Council.
At Société Générale, he held various positions in Private Banking, Corporate and Investment Banking in Asia, Europe and America. He has more than 20 years of experience in the financial industry.
A French national, Marc holds a Master in Business Administration from ESSEC in Paris, France.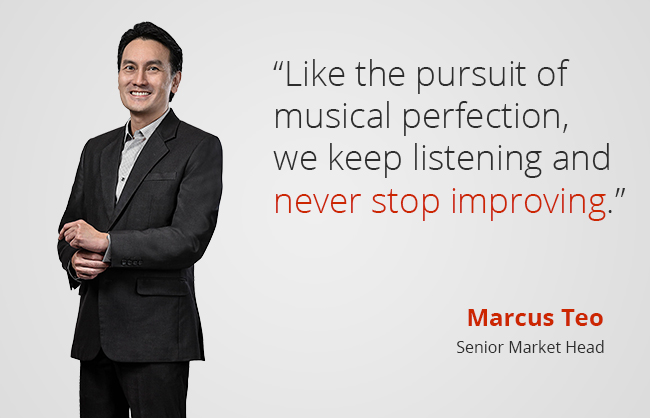 Marcus has a mantra for life: To always be over-prepared, and aim for the highest standards. Something he has achieved through discipline, determination, perseverance, and with honesty and passion.
In his teens, this led to him becoming principal trombonist with the Singapore Youth Orchestra. A perfectionist, the proficiency he attained even led to performing in 2 concerts with the Singapore Symphony Orchestra. Today, it has brought him success in his banking career. Beginning at Citi, he moved to Standard Chartered Bank in 1997. Roles in Branch Banking, Wealth Management, International and SME Banking gained him recognition for team performance, as well as a product innovation award with his Wealth Management team.
In 2006, Marcus joined ABN Amro as its Head of Sales for its International Wealth Management division managing both Relationship Managers and Business Development teams. Leading the business to strong growth, he was part of the regional wealth team, and implemented productivity initiatives across Asia. When ABN was later immersed into Royal Bank of Scotland's operations, some of these best practices were shared with other divisions in RBS, including Coutts in the UK.
Marcus joined HSBC in 2009 as Head of their Premier Offshore Banking Centre. He later assumed additional responsibilities in Branch Banking and Onshore Premier Banking. As Head of its high net worth channel, he held the responsibilities of setting up the top-tier segment within Premier Banking and managing the Wealth Advisory Specialist teams.
Joining DBS Bank in 2013, Marcus manages an ever-expanding TPC segment serving clients based in Singapore with his own brand of humble confidence. Marcus holds a Masters of Science in Finance from City University of New York and a Bachelor's degree in Management from the University of London.