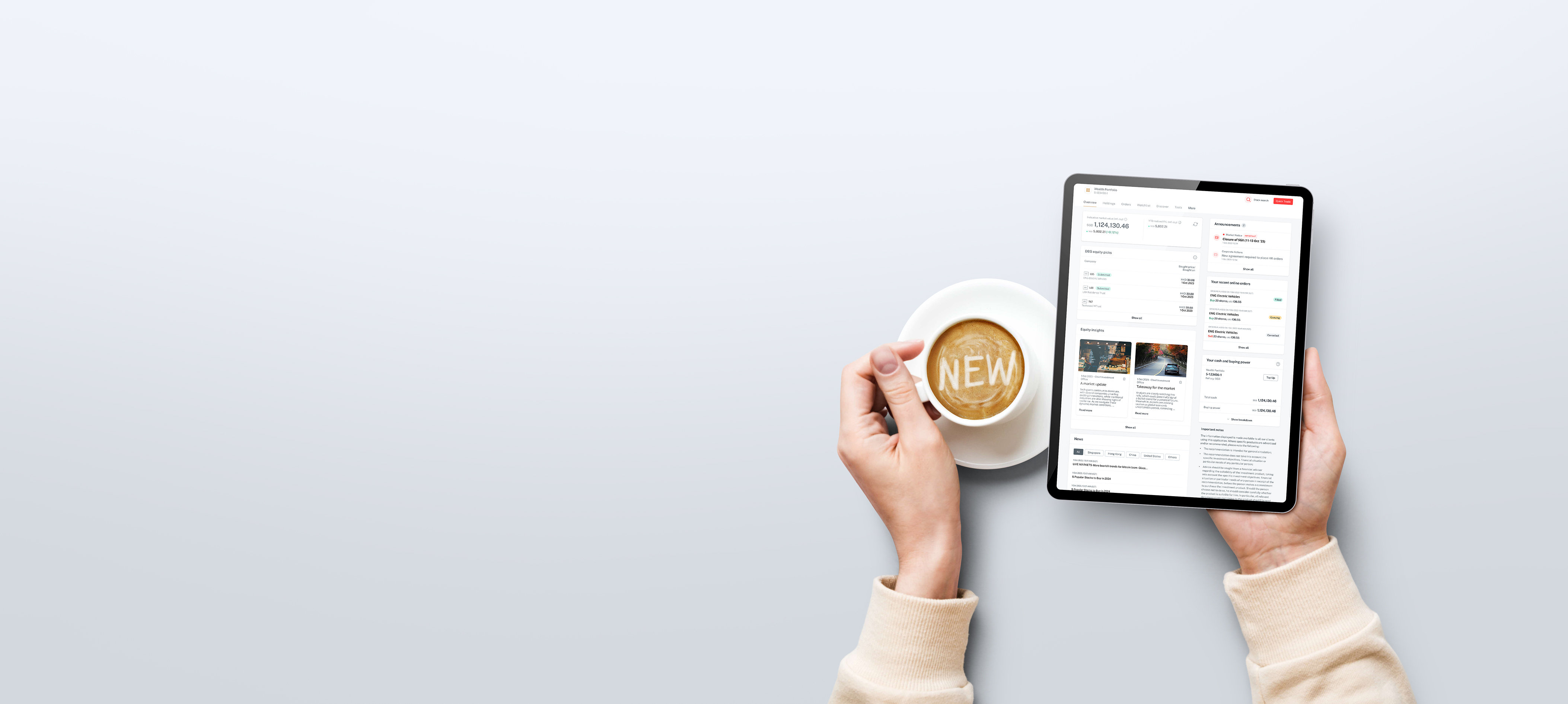 DBS Online Equity Trading
 
In the Singapore Budget 2022, the Minister for Finance announced that the GST rate will increase from 8% to 9% with effect from 1 January 2024. Learn more
At a Glance

Track and analyse your portfolio effortlessly
Get a clear picture of your holdings with thoughtfully designed features and powerful tools.

Get personalised, actionable investment ideas
Stay on top of the market with timely digital alerts and​ stock suggestions personalised to your portfolio.

Capture opportunities in 7 markets, anywhere
Trade in Singapore, Hong Kong, USA, Canada, Australia, Japan and the UK, and enjoy competitive fees.
DBS Online Equity Trading is made for investors. We've designed it to let you go from trade to trade with ease and confidence. And loaded up on intelligent features and tools to let you manage and grow your equity portfolio anytime, anywhere.
 
Track your holdings effortlessly
However you grow and diversify your equity portfolio, we've made tracking every stock quick, simple and clear.
 
Analyse your stocks in detail
Tap on powerful tools to look at stocks from every angle. See in-depth data in your own way. And get an expert take on an equity with the DBS House View.
Deep dive into a stock
Quickly view key statistics, price performance data, DBS ratings and more.​
Supplement your decisions with a charting tool
View an array of data points, evaluate technical signals and trends, and personalise it all to your preference.
Get more insights with Advanced Market Data​
View Trade Distribution and the Time and Sales of individual stocks. And see up to 20 levels of Bid-Ask data.
Get the expert view with CLOVERS score
Assess and compare stocks the way an analyst would, using data across a consistent set of key company metrics. Presented in an easy-to-understand visualisation.
What's in the CLOVERS model?
---
---
---
---
---
---
 
Get personalised investment ideas
Too busy to research? We've done the groundwork and legwork — to give you investment ideas and timely alerts you can act on immediately.​
 
Capture opportunities in 7 markets​
Trade and monitor shares online in seven major markets: Singapore, Hong Kong, USA, Canada, Australia, Japan and the UK. And enjoy competitive fees when you trade.​
 
Eligibility & Fees
Market
Online Rate*
Minimum Charge
(Inclusive of GST)
Singapore
0.12%
No minimum
United States
0.15%
USD 19.44
Hong Kong
0.15%
HKD 86.40
Canada
0.25%
CAD 21.60
United Kingdom
0.25%
GBP 21.60
Australia
0.25%
AUD 21.60
Japan
0.25%
JPY 2,160
* Where "*" is indicated, the fee or charge will be subjected to GST at the prevailing rate, where applicable.
To view the full list of online brokerage and market charges, please refer DBS Online Equity Trading Fees & Charges.
Important note: For HKEX, effective from 22 November 2023, the name of the Financial Reporting Council (FRC) has been changed to Accounting and Financial Reporting Council (AFRC). Consequently, the FRC Transaction Levy that is applied on all HKEX trades will now be renamed as AFRC Transaction Levy. As we are in the midst of updating the system to reflect this name change, please take note that you may still see FRC being used in our trading platform, statements, contract notes and advices. There are also no changes to the Transaction Levy rate.
For other prevailing fees such as custody fee, please refer to our DBS Treasures Private Client fee schedule.
 
How to Invest
On the DBS Online Equity Trading platform
 
Apply now
Be our DBS Treasures Private Client.
Important information
In all other jurisdictions where the DBS/POSB digibank Online website(s) is/are accessible by its residents or entities, it is intended for use by corporate, institutional, professional, wholesale and other qualified investors in accordance with the laws and regulations of such jurisdictions.
The material and information contained herein is for general circulation only and does not have regard to specific objectives, financial situation and particular needs of any specific investor individual and/or entity (collectively referred to as investor), wherever situated. The material and information contained herein does not constitute an offer, invitation, recommendation or solicitation of any action based upon it and should not be viewed as identifying or suggesting all risks, direct or indirect, that may be associated with any investment decision. Prospective investors should seek advice from a financial adviser regarding the suitability of the product before making a commitment to purchase the product. In the event that the prospective investor chooses not to seek such advice, he/she/they should carefully consider whether an investment in the said securities is suitable for them in light of their own circumstances, financial resources and entire investment programme.
Thank you. Your feedback will help us serve you better.
Was this information useful?
That's great to hear. Anything you'd like to add?
We're sorry to hear that. How can we do better?
Enter only letters, numbers or @!$-(),.