Painting out your parents' golden years
Now that you're building your own family and the focus is on your own home, time spent with your parents will inevitably be lesser. On the other hand, your parents will be living it up with their new-found freedom.
But you will definitely think about them and want to make sure that they can paint out their golden years in the way they want to, as everybody dreams of a beautiful one.
Think of their retirement as a blank canvas – they will have dreams they would like to capture on it. To understand how and what you will need to help them create their masterpiece, there are two key aspects you need to evaluate: how much money they have and how protected they are.

A simple indicator to gauge how financially prepared your parents are, is to use an Income Replacement Rate (IRR) of 70 per cent. This means that if your parents are earning $10,000 a month, a comfortable post-retirement income would be about $7,000 per month.
You can check if they hit the IRR of 70% by doing an inventory of their assets using a retirement calculator, taking into account these factors:

Calculate outstanding debt and put a plan in place to clear it within a reasonable timeframe to avoid paying interest.

Do a full assessment of all assets under their names. This will include liquid assets such as cash holdings or soon-to-mature fixed deposits as well as illiquid assets such as property which may be downsized to release some cash if necessary.

Get details of income sources that will continue after retirement. This may include annuities, monthly payouts from CPF, pensions and bonds.

As Asians are more reserved, you will need to have a frank discussion with your parents to understand what they would need on a monthly basis for their desired lifestyle and also estimate what would be needed.
A clearer understanding of their existing finances will give you a better idea of whether you will need to lend a hand to realize their retirement dreams. It also enables you to explore how they can continue investing their money prudently.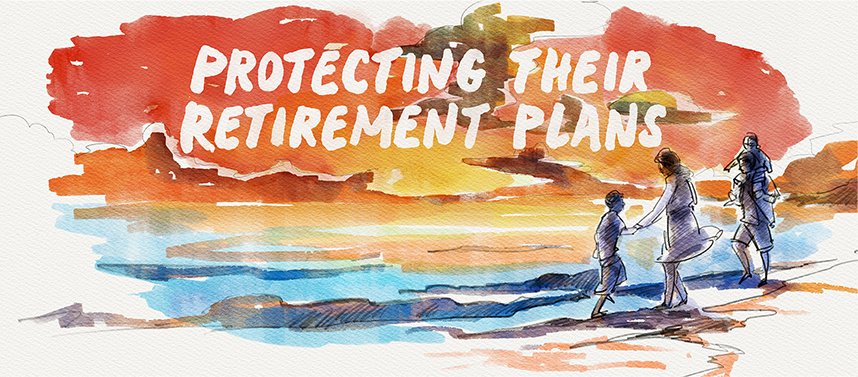 However, knowing the amount of money they have at hand is not enough. It's equally important to protect their finances against unforeseen circumstances – especially with regards to health matters.
While Singapore has one of the best healthcare systems in the region, healthcare costs have been rising steadily. Whilst it's taboo to talk about in Asian culture, this is an important consideration for your parents because unexpected healthcare emergencies could be quite a hefty sum.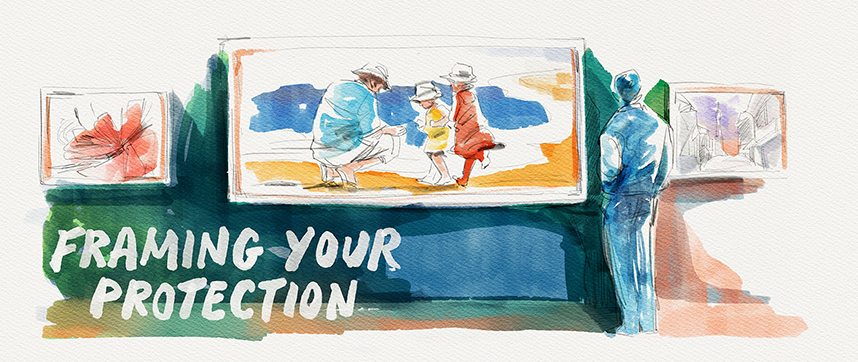 Most Singaporeans have the basics covered through a range of government schemes. If your parents are part of the pioneer generation, their coverage is actually more extensive. Take some time to understand the what they cover so that you can assess if it is lacking in what you need.
MediSave
MediShield Life
ElderShield
CPF Life
Pioneer CHAS

Who qualifies?

All Singapore citizens and permanent residents

All Singapore citizens and permanent residents

All Singapore citizens and permanent residents

All Singapore citizens and permanent residents

All Singapore citizens:

Born on or before 31 December 1949
Aged 65 and above in 2014
Obtained Singapore citizenship on or before 31 December 1986.

When does the scheme kick in?

When you start working. Contributions from your CPF and employers.

When you start working. Premiums can be covered by your Medisave.

Automatic enrolment at 40.
Premiums can be covered by your Medisave.

When you reach your payout eligibility age.

Automatic enrolment if you fall under the qualifying group.

How do you apply for it?

Auto Inclusion

Auto Inclusion

Auto Inclusion

Have at least $60,000 in your Retirement Account six months before you reach your payout eligibility age.

Auto Inclusion

What it covers

General medical needs

Hospitalisation costs and selected outpatient treatments

Payouts for long-term disabilities

Monthly payouts for daily expenses

Subsidies at general practitioners, dental clinics and specialist outpatient clinics
What are they and what does it mean for me
This is a national medical savings scheme implemented for all Singaporeans by the government to set aside money for your own medical treatment (or for your immediate family members'). The pot grows through regular contributions from you and employers throughout your working life, and the money in the account earns an interest rate of 4% per annum (until 31 December 2018). The Government also provides annual Medisave top-ups for the elderly via GST Vouchers. This money can only be used for medical treatments and cannot be withdrawn.
This is a basic hospitalisation insurance plan which helps pay for large hospitalisation bills and selected costly outpatient treatments. Enhanced from 1 November 2015 from the previous MediShield scheme, MediShield Life covers a larger portion of your hospital bill, so that you will pay lesser. However, a yearly claim limit still exists, even though it has increased from S$70,000 to S$100,000.
Introduced in 2002, this is a basic long-term care scheme in the case of severe disability, especially during old age, and does not cover hospital expenses or outpatient treatments. Premiums can be fully paid by Medisave (yours or your family members'). Although premium payment is until 65 years old, you are covered for life. ElderShield will then give you a monthly cash payout.
The enhanced version, CareShield Life will be effective in 2020.
To cover the longer lifespan of Singaporeans, this life annuity scheme was introduced in 2009, to provide a stream of payouts for life, with the intention of ensuring that we do not outlive our CPF savings. It provides a monthly payout of up to $2,000 for as long as you live. You will automatically be placed on CPF Life as a Singapore Citizen or Permanent Resident, if you have at least $60,000 in your Retirement Account six months before their payout eligibility age.
PIONEER CHAS (Community Health Assist Scheme)
A scheme that allows pioneer citizens to enjoy subsidized referrals to Specialist Outpatient Clinics located at public hospitals as well as subsidies at participating general practitioners (GP) and dental clinics. CHAS also subsidises treatment of chronic conditions, including Diabetic Retinal Photography, Diabetic Foot Screening, nurse counseling, dietetics and physiotherapy.

Although Singaporeans have most of the basics covered through government schemes, the protection is often not enough. Healthcare in old age can be more complicated and basic coverage does not include specialist treatment. Private shield plans should then be considered to enhance your parents' coverage to mitigate sudden large medical sums.
For hospitalisation & surgical needs
For premium healthcare options, your parents' MediShield policies can be supplemented to ensure they get the best care. Enhancing MediShield will ensure access to higher class and private wards, as well as treatment in private hospitals. Shield policies also extend your post-hospitalisation treatment coverage for up to 180 days.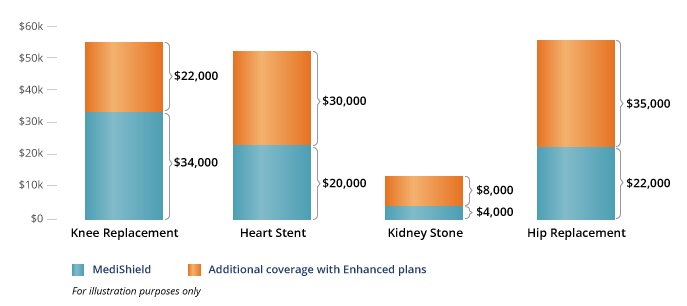 For long-term care needs
Certain age-related illnesses such as diabetes or stroke usually and unfortunately ends up being a long-drawn battle that results in recurring bills.
Look to enhance your parent's ElderShield so that they covered to claim disability benefits if necessary. Payouts in such situations are dependent on the loss of ability to perform Activities of Daily Living (ADL). This includes washing, dressing, feeding, toileting, mobility and transfer.
| | Eldershield | Private Integrated Shield Plans |
| --- | --- | --- |
| LENGTH OF PAYOUT | Maximum pay-out duration of up to six years. | Unlimited lifetime pay-out, or up to 12 years. |
| AMOUNT OF PAYOUT | Pay-out of up to $400 per month | Minimum of $600 or up to $5,000 per month, inclusive of Eldershield pay-out. |
| REQUIREMENTS | Must meet three of the six ADL to receive pay-outs. | Must meet two of the six ADL to receive pay-outs. |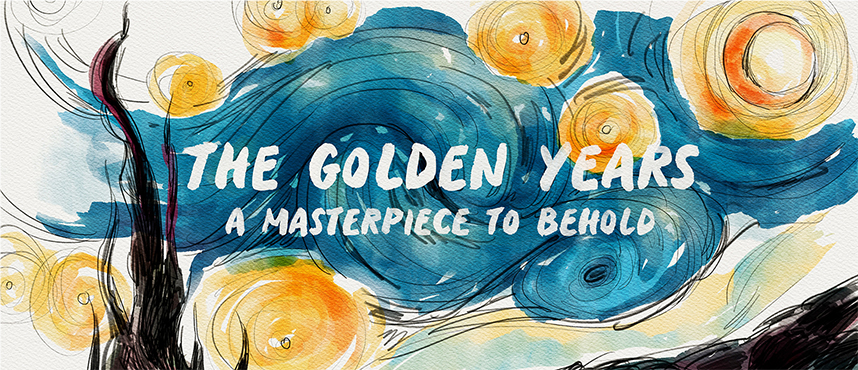 Making sure your parents are able to paint out their retirement masterpiece can be achieved with some foresight and ample planning. Identifying the right strokes will give you the ability to add the finishing touch and ensure their golden years are one of the most beautiful.
Disclaimers and Important Notices
This article is meant for information only and should not be relied upon as financial advice. Before making any decision to buy, sell or hold any investment or insurance product, you should seek advice from a financial adviser regarding its suitability.
Keep reading