Battery storage turbocharges a renewable future
Finding the most cost-efficient and resilient ways of storage is crucial to driving the development of clean energy projects and affordable carbon-neutral electricity supply. In this Business Insights article, Rajiv Vishwanathan, SVP, Project Finance (South and Southeast Asia), Jern Siew, SVP, Project Finance (Australia), and Suvro Sarkar, SVP, Group Research, from DBS, share how economies in Asia and energy firms globally are exploring battery-based storage to tackle pressing energy issues.
The world is moving to cleaner energy and reduced reliance on high-polluting fossil fuels, making them more attractive landing spots for renewables investments.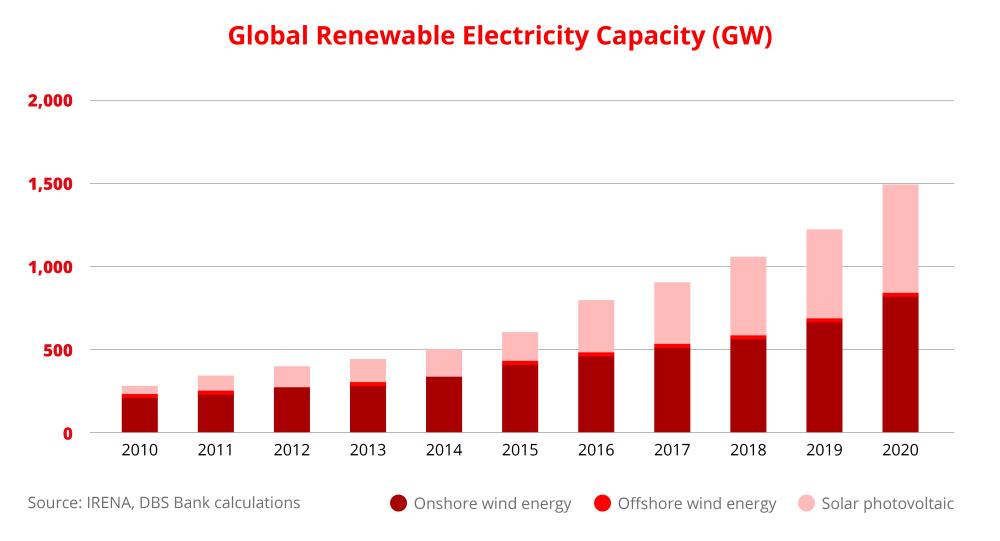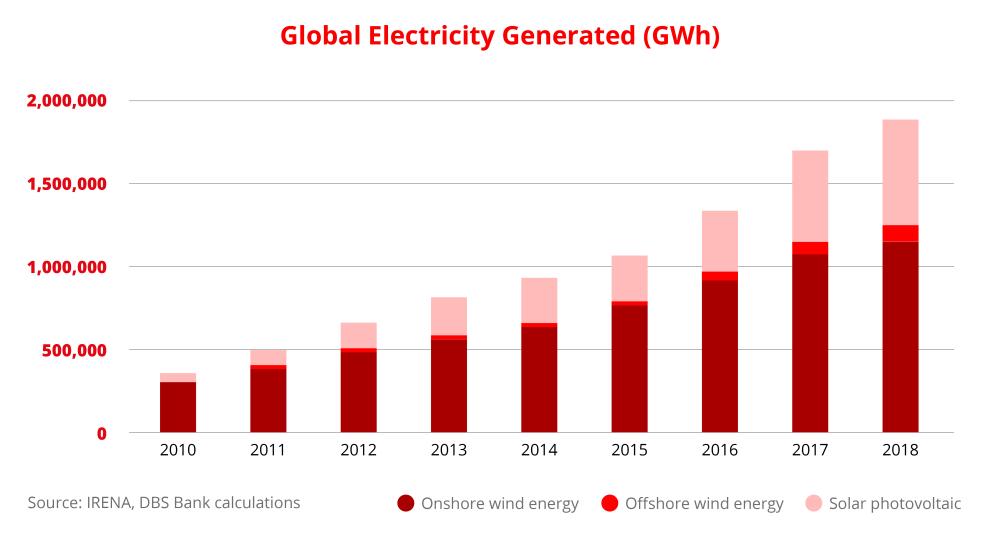 Wind and solar power is among the cheapest sources of electricity in several countries. Falling manufacturing costs for solar panels and technological advances in wind power have helped increase electricity output, thereby pushing down the cost per MW of both wind and power.

Today, renewable technology is significantly more affordable than coal and gas in major countries, the World Energy Outlook 2020 report by the International Energy Agency found1. 

Vagaries of weather and the climate can make renewable energy unreliable 

However, renewable energy power comes with its challenges—the biggest among them is intermittency. 

"Wind and solar energy is cheaper now, but it can be challenging for the grid to manage," explains Suvro. "The power source should be able to supply to the grid as needed rather than when the source is generating power. And the grid must be able to support such an intermittent operation."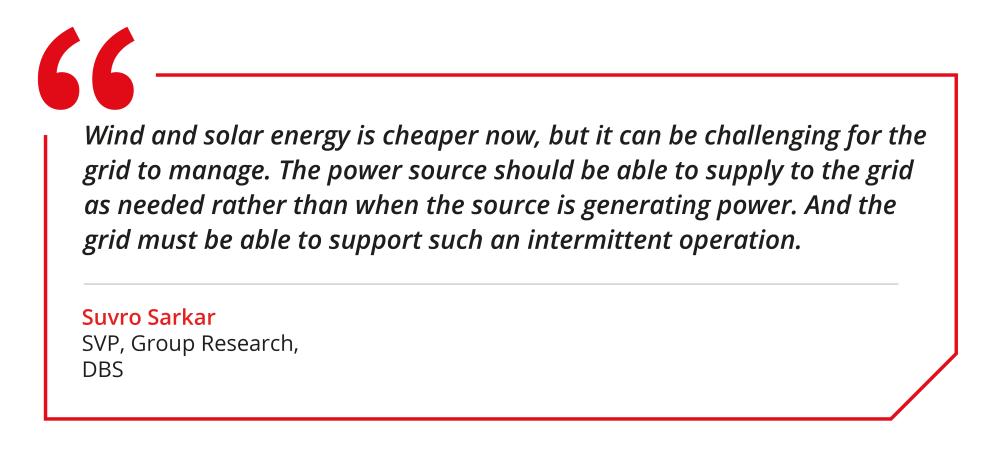 The intermittent nature of renewables has long challenged the large-scale adoption of renewable energy.

Energy output from renewable sources is mainly dependent on time of the day and seasonal patterns, leading to problems such as the imbalance of electric supply and demand. Solutions that can level these weather-induced fluctuations and ensure an enduring energy storage supply will be the differentiator in the future. 
Battery storage systems are pivotal in solving intermittency issues  
Battery storage systems play a pivotal role in smoothing out intermittency and extending sun-hours or wind-hours in renewable energy options. 

CRU International, the business intelligence provider for global metals, mining and fertiliser industries, projects that 73 GWh of electrochemical energy storage will be installed globally by 2025, up from 15 GWh in 2020. 

Transmission grids are generally robust enough to sustain 10 % - 20% of the overall power supply from renewable sources. Asserts Jern, "However, as this proportion rises, storage options will become essential supplements for grid stability and frequency management.'' 



Australia is a prime example of how battery storage solutions are transforming the energy landscape. Australia's National Electricity Market (NEM) is transitioning from a centralised coal-fired generation system to a diverse mix of renewable sources of energy. The increase in renewables, and their comparatively lower cost of generation, is accelerating the retirement of ageing coal-fired plants. 

The Australian Energy Market Operator (AEMO) forecasts the further withdrawal of ~14GW of coal-fired generation by 2040, to be replaced by >26GW of new utility-scale renewables in the NEM, in addition to behind the meter PV (e.g., solar installed by homeowners)2. 

The move to renewables creates a need for grid frequency control and stabilisation, a role previously filled by coal base loaders (coal is used to fuel 'baseload' power stations, which can provide reliable and continuous power output). 

AEMO forecasts that a further 6 to 19 GW of green dispatchable generation such as batteries and other forms of storage would be required to support the increased renewables rollout. Such flexible storage capacity can be activated to supplement the supply even when solar and wind power is absent, or when  there is a sudden concentration in demand.

There has been a progressive increase in battery development in the NEM, commencing with the first utility-scale battery for the Hornsdale wind farm in South Australia in 2017. By 2020, five battery projects were developed, and 11 other battery projects were announced nationwide. 

"The Wandoan South Battery Project is one of the first battery projects financed by commercial banks in the Asia Pacific region", Jern explains. "This demonstrates the increasing relevance of utility scale batteries and other forms of carbon-friendly storage to support wind and solar power as fossil fuel generation is wound down." 

Asian countries are seizing opportunities for upping investments in battery storage 

The rest of Asia is not far behind. Says Rajiv, "Emerging technologies like smart grids and energy storage innovations ease the integration of renewable energy into power networks within Asia.''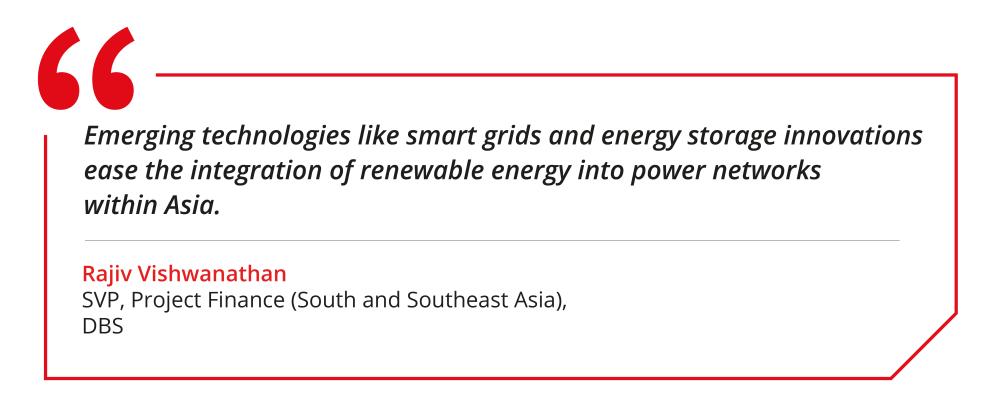 So far, the mainstay is lithium-ion battery systems and, much like solar and wind energy, the cost continues to decline year-on-year. Battery storage is approximately 75% less expensive than it was ten years ago and is projected to be less than half of today's price by the end of the decade3.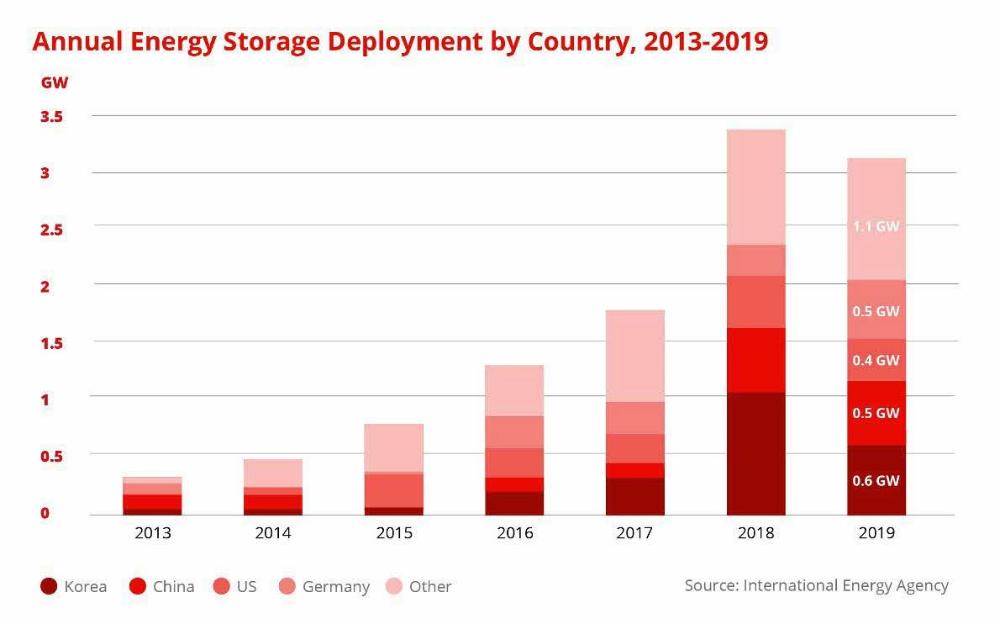 Here are some examples of Asian projects pioneering the battery energy storage system (BESS): 
A project in Thailand is integrating utility-scale wind power generation with battery energy storage4.  
In Singapore, the Energy Market Authority has developed a utility-scale energy storage system, which maintains a reliable source of power supply when solar installations are affected by weather changes, including piercing humidity and transient bouts of rain5. 
In India, the government has issued tenders for projects that combine different power generation sources with batteries and other storage solutions with at least 51% of the generation from solar and wind. This structure aims to provide round-the-clock power at a certain minimum capacity and demonstrates a clear plan to progress towards stable power with renewables as the backbone.
Similarly, in Indonesia, Perusahaan Listrik Negara, which distributes and generates most of the country's electrical power, issued tenders for projects that combine solar power with battery storage solutions.
 
Typical Revenue Models for Storage Projects
 
There are several revenue models for standalone storage projects given that they depend on the type of services provided. From a risk mitigation standpoint, developers and lenders typically seek long-term offtake agreements for each service. Says Rajiv, "The strength of a project's revenue model and risk mitigation is key to an effective financing solution." 
Some of the revenue models are:
The project company receives a fixed capacity payment on a per unit basis for maintaining availability: an obligation to be ready to run (charge or discharge energy to the grid) when called on by the grid operator, or the buyer of the service. This carries the lowest risk for cash flow certainty. 
The storage project on an availability basis may be used to provide ancillary balancing services for a fixed price per unit. Such a model carries a volume risk for ancillary services but provides the opportunity to potentially capture higher prices in return for such services. 
A variant of the above model includes the "right" to sell to the utility all the stored energy and ancillary services at a fixed price annually. This model also carries an element of volume risk.  Hence requires thorough due diligence on technical aspects and views on the volume of the project. 
Lastly, a storage project may be used to provide power to meet peak demand on a merchant basis and save on fees otherwise charged for peak electricity consumption from the grid. The resulting savings are shared with the project.
 
Battery storage is an evolving technology requiring robust project financing strategies
 
Says Rajiv, "DBS is also one of the few banks with hands-on experience on energy storage projects with a thorough understanding of the complex considerations for such projects." 

Let's evaluate some of these considerations.  

Firstly, shortfalls in operational performance could lead to heavy non-performance penalties. Robust performance tests at technical completion will help to provide some degree of assurance over the operation of the battery. Thus, an important consideration here is the track record of suppliers and warranties. 

Next, capacity degradation in battery storage in the form of efficiency loss and depth of discharge over time is a key technology risk and could require significant maintenance cost outlays over the life of the battery to maintain performance levels. The frequency of use and charging/dispatch patterns are key determinants in the degradation rate over time, and the setting of usage parameters should be a key consideration in developing the project design and during the contracting stage. Typically, financiers will also look for performance guarantees or capacity maintenance agreements under which the service provider refreshes the battery units with new cells to maintain capacity at minimum, albeit decreasing, levels over time. 

The cost of such ongoing maintenance and degradation in output would have to be incorporated in cash flow models. 

Third, the cost of disposal and recycling of the old cells should be factored into the model and can be apportioned or reserved over time as part of site remediation costs.

Lastly, as the predominant battery technology in deployment are lithium-ion batteries, fire is a key risk that requires attention at the project design stage, including mitigation during construction and commissioning. A comprehensive insurance cover should be an area of attention in the contracting stage, and appropriately cost in the financial modelling. 
 
DBS leads the way in renewable energy projects in Asia-Pacific

Across Asia, DBS has showcased its capabilities in nurturing energy innovation, executing project financing for power and renewables and creating links to low-cost, clean, and climate-friendly energy sources. The bank's capabilities span a range of technologies in renewables, including on and offshore wind, hybrids (comprising on-grid solar, wind and off-grid solar) and geothermal.

Here are two path-breaking battery storage projects. 
DBS is the Mandated Lead Arranger and Modelling Bank for Vena Energy's 100MW/150MWh Wandoan South Battery Project, Australia's first-ever project financing of a utility-scale battery project. This transaction demonstrates DBS's ability to support key clients as they expand their strategic footprint. Vena Energy is a leading renewable energy developer, and DBS has supported them in projects across India, Taiwan, and Australia. The 100MW / 150MWh capacity project will be Queensland's largest battery solution, capable of powering up to 52,000 Australian homes.
DBS is a Mandated Lead Arranger in Greenko's bridge-to-bond facility to support the financing of a 1,200 MW integrated renewable energy storage project. At such scale, this is India's first-of-its-kind flexible energy storage project and will pave the way for a significant market opportunity as sovereign off-takers contemplate more of such bids. With integration with solar and wind capacity, the storage project can provide fixed power and on-demand schedulable peak power, and it can cater to the state's specific requirements. This transaction augments DBS' ability to comprehend a novel technology in India and within the renewables sector and provide an innovative financing solution. 
In addition, DBS also acted as the financial advisor to a leading European renewable energy player in structuring the sponsor's bid for a solar plus battery storage project in Indonesia. It is also the trusted financial advisor to a renewable player in India to develop a bankable structure and procure financing terms to finance a fully renewable project under the "round-the-clock" energy storage bid in India. 

Please visit DBS's Project Finance page to learn more about the top technologies transforming energy and innovations in project financing.

References 
http://www.eref-europe.org/wp-content/uploads/2019/09/Horizon_Europe_RES_Assocation_Joint-Amendments.pdf