DBS Digital Exchange
DBS Digital Exchange is backed by leading Asian financial services group, DBS Bank, which has decades of extensive experience in capital markets and providing secure custodial services.

DDEx operates members-only exchanges, where it offers participants

 
(including accredited investors, financial  institutions and family offices) access to digital assets that are security tokens and cryptocurrencies. 
Redefining Capital Markets
Digital assets are poised to be the future of tomorrow's digital economy and, as such, has the potential to bring about revolutionary changes to many conventional financial solutions and products. DDEx serves as a platform for participants to gain exposure to the ever-growing digital economy. With DDEx, DBS is now enabling institutional and accredited investors to tap into a fully integrated tokenisation, trading and custody ecosystem for digital assets. 
DDEx also provides an ecosystem where issuers can gain access to an alternative form of fundraising by tapping onto our Security Token platform through offerings of security tokens and secondary trading of digital assets to raise capital efficiently through the digitisation of their securities and assets. This provides issuers with access to new avenues of fundraising and issuance of structured investment instruments.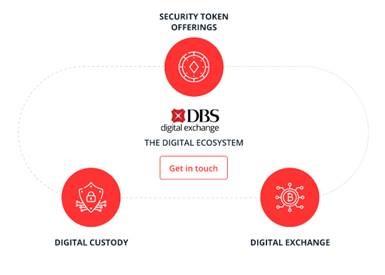 Find the DBS Digital Exchange Privacy Policy here.
We have detected a number of suspicious domains that have been redirecting users to the DBS Digital Exchange website. These domains are not affiliated to DBS or the DBS Digital Exchange. The official DBS Digital Exchange URL is https://www.dbs.com.sg/corporate/solutions/capital-markets/dbs-digital-exchange and the official DBS Digital Exchange member login URL is https://ddex.dbs.com/. Official DBS websites will always contain https://www.dbs.com.sg in the URL.
We would like to encourage everyone to remain vigilant against links and attachments sent through emails, SMS or posted online on social media sites, as they may lead to phishing pages or install malware onto your device without your permission. Please note that DBS Digital Exchange will never send any SMS with clickable links. Should you require any clarification, please reach out directly to the DBS Digital Exchange team at [email protected]