A Guide to Mobile Payment Apps & Wallets in Singapore
This article was produced in partnership with Curatedition.
Gone are the days when you needed a large tote to stash all your things, from your keys, personal organiser and phone, to cash, credit cards and cheque book. In this digital age, you can confidently head out with just your smartphone (and maybe a favourite lippie) in your pocket. After all, your mobile device can do just about anything, be it scanning documents on the go, booking a cab, tracking your workout, counting calories, snapping selfies, or giving you directions to the nearest coffee bar or cafe.
But when it comes to banking and handling money matters, you may not be making the most of your gadget. We show you the cool things you probably didn't know your phone can do through mobile payment apps and mobile wallets!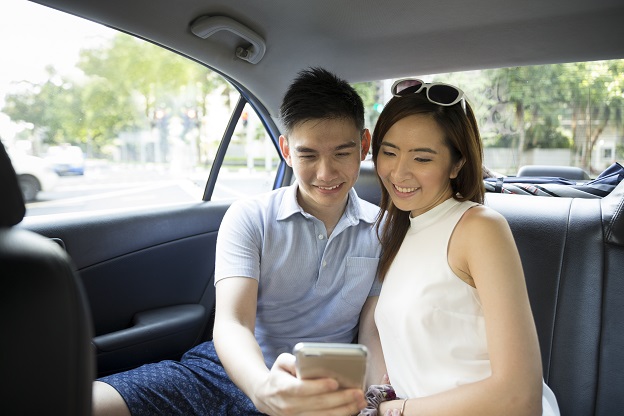 What is a mobile wallet and how does it work?
A mobile wallet is a virtual wallet that stores payment information on your mobile device or digitally. It's a convenient way to make payments using your mobile phone. Forgot to bring cash? No problem, you can easily pay with just your phone.
Whether you're putting in an online delivery order for your favourite avocado on toast for lunch, splitting the cost of a gift with a friend, paying for that dream vacation to New Zealand with your best friends, or clearing a monthly bill, your phone works like your mobile wallet and can help you make quick digital payments on the go - all you have to do is download easy-to-use mobile payment apps. So why wait till you get home to do your banking on the computer when you can make instant mobile payments, in Singapore or abroad!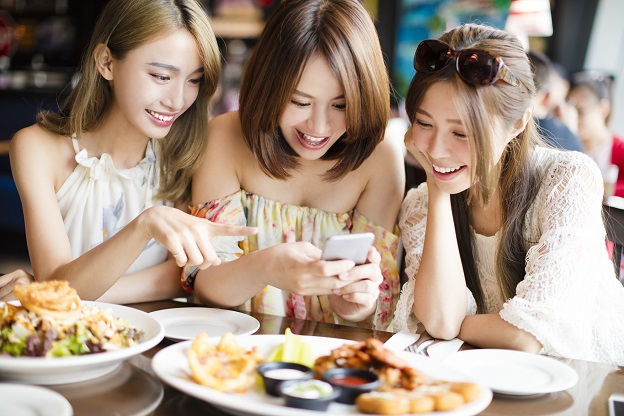 Ways to use mobile payment apps
Enjoy the convenience of mobile payments: Scan and pay island-wide
Running out of cash used to be a problem, but not anymore. With your mobile wallet, you don't have to hunt down an ATM or dig for loose change to buy a hot cup of macchiato or a refreshing ice-cold frappe. Today, more and more merchants, cafes and bistros around Singapore accept contactless mobile payments so you can pay for your purchase using your device.
Just scan the merchant's QR code using a mobile banking app like DBS digibank or DBS PayLah! enter the amount to pay, and you're done. Or, if you're in a cab and realise you've forgotten your wallet, there's no need to turn back. You can pay for your ComfortDelGro cab, Grab or Gojek ride with the same mobile payment app, even make mobile credit card payments.
Make instant transfers on your smartphone
Going Dutch on a date or splitting the cost of the arts festival opening night tickets? Now you can make instant payment transfers on your smartphone, and not worry about getting the bank account numbers right. To send money, all you need is the recipient's mobile number or NRIC/FIN that has been registered for PayNow.
And if you're headed for a party and still don't know what to get for your host, you won't go wrong with the gift of a virtual red packet. When you send an eAngbao via DBS PayLah! your recipient will also receive a visual of a red packet. How's that for eco-friendly convenience?
Request for Split bills with friends through your mobile app
Finally got a reservation at that hot new farm-to-table restaurant you and your friends have been meaning to try? It's common practice for one person to foot the bill first, and split it with everyone later. Your turn this time? Ask your pals to pay you their share using DBS PayLah! To make it simpler for them, the DBS mobile payment app can generate a QR code or payment link that can be shared via a text or Whatsapp message.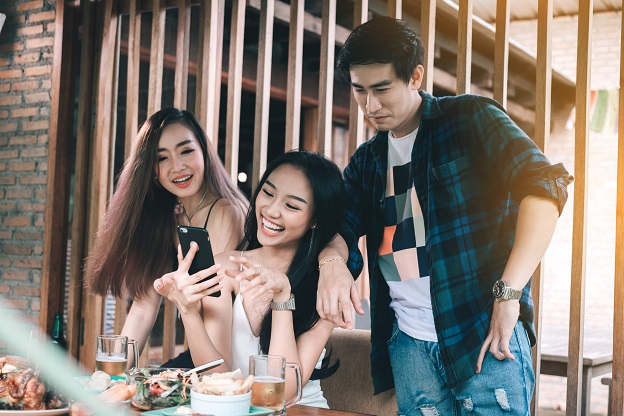 Benefits of mobile payments – More play, less work!
With so much to do and see these days, you wish you had more time to get on with your bucket list of experiences.
Save big and enjoy cashbacks from your mobile payments
Whether you're a frequent flyer who loves off-grid adventures or exploring exotic cultures and destinations, or a social butterfly who loves hanging out with friends catching the latest outdoor movie screenings and concerts in the park, or go café-hopping to add to your IG stories of great dessert finds, you probably know you can save quite a lot of money by using the right credit cards to earn you reward points or cashback benefits.
If you've been holding out on a new card because of the hassle to apply, now you have no more excuse. Yes, you can simply do it on your smartphone – you won't even need to open a fresh page on your internet browser.
And if you're excited about the next blockbuster hitting the screens, go ahead and skip the box office queue when buying tickets with your phone, and get discounts off tickets and snack combos at Golden Village.
Get your food fast
It's lunchtime, and your tummy is grumbling. Luckily, you won't have to endure the long lines at your favourite café for a quick salad and sandwich, or ramen restaurant. Instead, whip your phone out and order and pay for your food on the eatery's app. Which probably means you might be able to squeeze in a quick errand like picking up that dress or suit from the dry cleaners before you collect your food. You get to tick your daily checklist in less time!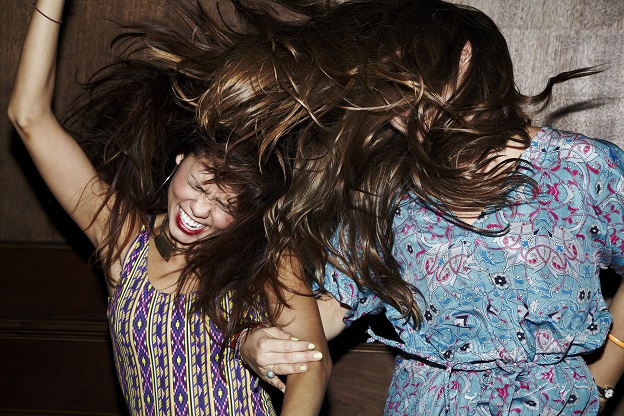 Start using Mobile Wallets – Secure, Fast and Easy!
Keeping your wallets secured!
When it comes to settling personal matters like paying bills and buying stocks and investments, you'd want the transactions done swiftly and securely. Mobile payment apps with enhanced security features make this possible. Don't forget to follow these mobile wallet security tips to protect yourself too.
Insure yourself just before you travel
Whether you're going off on a big adventure or a quick weekend getaway, with all the pre-trip planning and packing you have to do before a holiday, buying travel insurance to cover your next adventure abroad might have slipped your mind till the very last minute. Don't panic; you can purchase a travel insurance plan through the DBS PayLah! app just before your departure with a few quick taps on the mobile wallet app. It only takes a few minutes.
Pay bills anytime, anywhere
If you find it hard tracking your bill payments, clearing them as soon as you get them will help prevent them from lapsing and incurring late interest charges. Use your mobile wallet app to settle your phone bills, fitness club membership fees, insurance premiums, and more, even as you're on the move.
Here's a hack: Did you know you can simply scan the barcode of the bill* or the face of your credit card (for credit card bills) with your mobile to capture the billing details instead of keying them in? What's more, you won't need the physical token when completing simple transactions on your mobile, like checking the account balance, with the enhanced digital token.
*Service is available for top billing organisations in DBS digibank.
Don't have DBS PayLah!? Download now!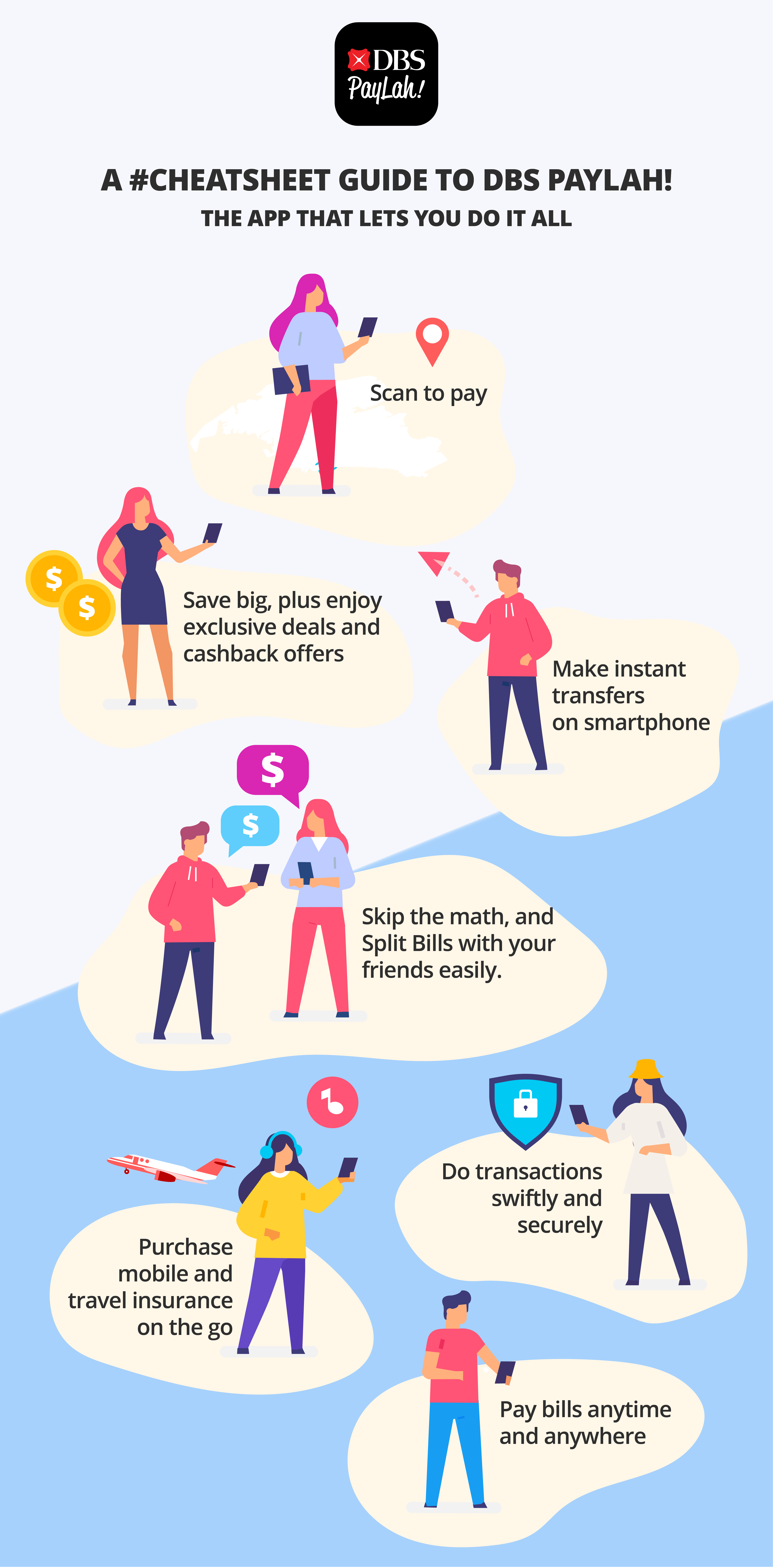 Check out how you can live more bank less: