What's important when caring for someone with dementia
The passage of time can be an ordeal. And time, as they say, waits for no one.
Unfortunately, how we age is beyond our control. And no matter how much we want to think it away or wish away the unforeseen, we have little control over dementia and when it may affect us – either through a loved one or even ourselves.
One of life's biggest challenges is taking on the responsibility of caring for our parents or family members when they can no longer look after themselves. But what are the signs, and where do you get help for dementia in Singapore? Is this something you can talk about and where can you find a dementia-friendly community in the city-state?
How common is dementia in Singapore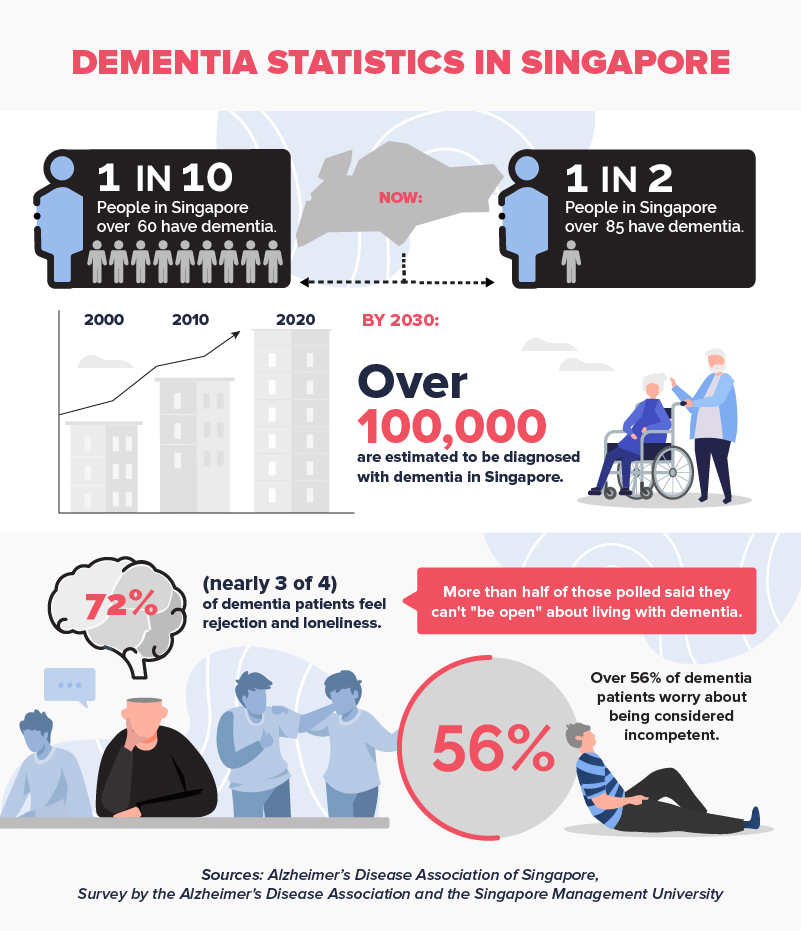 Do you know that almost half of the dementia cases in Singapore are Vascular Dementia?
The good news is, you can lower your risk of vascular dementia by making healthy lifestyle choices such as: staying physically active, eating healthily, staying mentally active, being socially engaged and taking control of your health. Learn more at http://www.dementia.gov.sg/
How do you care for elderly with dementia in Singapore?
In Singapore, the 5Cs (condo, cash, credit card, club membership, car) is well known as a formula for success. But for most patients suffering with dementia or any sort of mentally debilitating illness, the 5 Cs we need to know and practice around them are: Compassion, Care, Consistency, Control and Composure.
Practically, the 5 Cs can be shown by openly displaying compassion and showing care and kindness. Be consistent in how you deal with patients and don't take their needs for granted. The last two Cs – control and composure – can be the hardest. To be in control when you are emotionally drained and dealing with your own emotions can be extremely difficult. Being composed (or calm) during these times is something that you must remind yourself to be around dementia patients.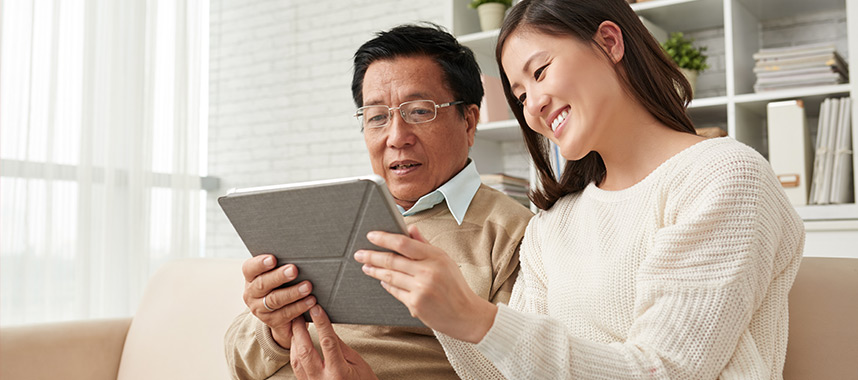 In stressful times, we often forget how best to deal with such issues, but here are some handy hints in developing a plan for your loved ones as they – and you – deal with this illness.
Lasting Power of Attorney (LPA)
A Lasting Power of Attorney, or LPA, as it is known, allows anyone above 21 to plan their affairs in the event of mental incapacitation – whether it's permanent or temporary.

In Singapore, the Mental Capacity Act allows anyone to appoint one or more persons to make these decisions on their behalf. This can be due to a stroke, dementia or even an accident to the head. To get an LPA, you must be mentally sound at the time of the application and submit your documents to the Office of the Public Guardian.

But the question is when do you do it? Some may be resistant and in denial over this – especially since it is likely that these legal documents will undergo revisions in later years when circumstances change. A joint decision is probably best in this case, and when everyone is in the right frame of mind.


Safety begins at home
As the average age of the household rises, you might want to consider making a few changes around the house. Additional grab bars to help them up or sit down, non-slip bathroom tiles/strips, ramps or even an alarm button should they require immediate assistance.

For those with parents in HDB flats, apply for the Enhancement for Active Seniors (EASE) subsidy programme which helps to retrofit flats. The best part is that up to 95% of the costs can be subsidised, depending on the type of flat they have.


Lease Buy Back Scheme (LBS)
For families that may need a bit of extra money, one option would be the Lease Buyback Scheme (LBS), in which elderly flat owners of 5-room or smaller flats can choose to sell the tail-end of their lease back to HDB.

Certain restrictions apply, so do take note of those. For example, the flat must have at least 20 years of lease left to be sold back to HDB, and the gross monthly household income mustn't exceed S$14,000. Part of the sale proceeds will be used to top up your parents' CPF Retirement Account.


Start savings early
There are numerous news articles about how the cost of living and medical expenses are going to rise in the future, and as we get older, these become more real to us.

Insurance is one way to ensure there will be enough to care for our parents. Health or term life policies can help ease the burden of care. This purchase and the related monthly or annual payments could prevent the sudden onset of fees and hospital charges in a life-changing event.

Insurance allows patients to bounce back, and also helps prevent disruption to our parents' (and our) current lifestyle patterns, including daily living expenses, tuition, and other family expenses.


Pioneer Generation, Merdeka Generation, and other subsidies
For those of us born before 1950 who are fortunate enough to witness Singapore's transformation from a malaria-infested backwater into a gleaming centre of commerce, innovation and industry, there is the Pioneer Generation package. It offers a range of benefits including subsidies on medical care, regular top-ups to Medisave accounts, and premium subsidies for the MediShield Life insurance scheme.

Singapore's Ministry of Health has introduced a new Home Caregiving Grant to defray the costs of caring for persons with permanent moderate disabilities. If you need help with at least three of these activities - washing, dressing, feeding, toileting, walking or moving around and transferring from a bed to chair or wheelchair – this grant helps with the cost of care.

For those born between 1950 and 1959, the government's Merdeka Generation package is there to defray the cost of ageing as well. There are increased outpatient subsidies for chronic conditions and health screenings are capped at just S$2. Eligible citizens will also receive an additional 5% premium top up on your Medishield Life Subsidies, and it will double upon them reaching age 75. For more information, click here.
More resources to help you