Tap into effortless banking with your DBS digibank app
In the hustle and bustle of life, it's nearly impossible to be on top of everything. Missing payments, getting a shock from your bill, having to keep a lookout for an irregular transaction or wondering when your salary is in your account can be inconvenient and costly.
But that's a thing of the past. With the new update to your digibank app, tap your way into personalised insights that help you understand your finances, predictive and assistive cues that make banking simpler, and easy, one-tap solutions that make banking effortless.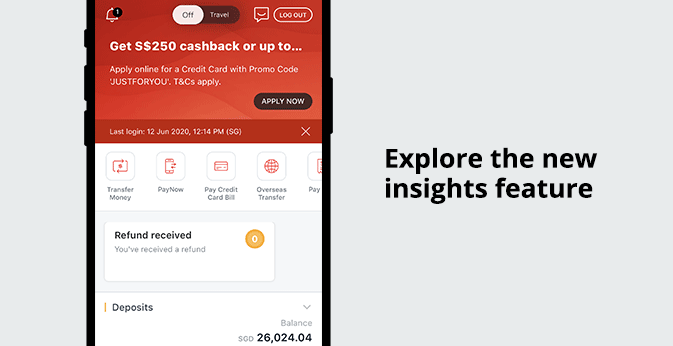 Here are 4 ways the updated DBS digibank app can simplify your life:
1. Forget about manually tracking and checking: Get notifications on upcoming bill payments
When this comes in handy: If you find yourself scrambling to pay bills before deadlines to avoid late fees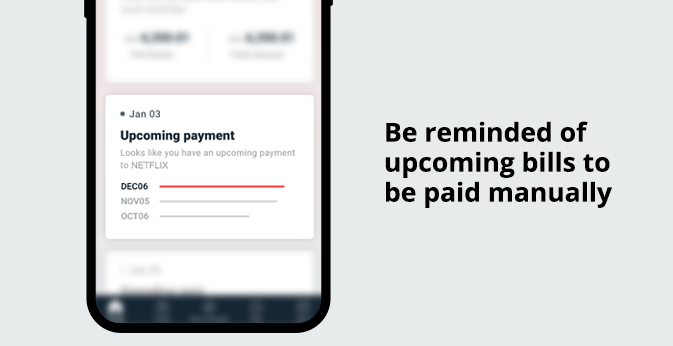 It's happened to most of us: Having to pay late fees on bills because you did not have enough time to go through what needs to be paid. And you keep telling yourself you'll take the time to do so, but that day never comes because there are other things to take care of. Oh, and your landlord is on your heels for missing rent payment too.
The new Insights feature updates you on your upcoming activities to give you a peace of mind. From auto-bill payment notification to payment reminder and upcoming spending prompts, you'll know when a bill has been paid, when a transfer is due and when there is a credit into your account, you can stay on top of things easily – there's no need to keep tabs on these manually anymore.
2. Surprises are a thing of the past: Be informed of account irregularities early
When this comes in handy: If there's an irregularity in spending which could be overlooked due to the longer-than-usual list of transactions in a month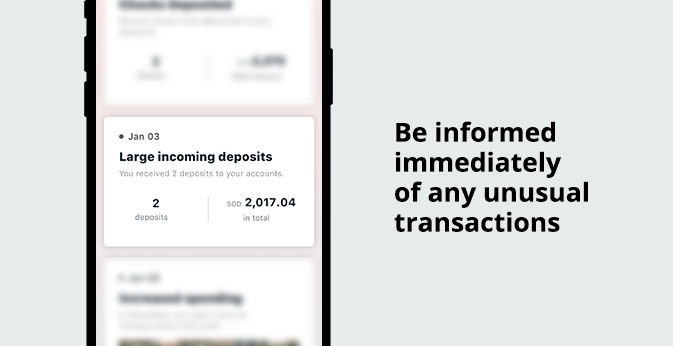 You've been in the position when the bill comes as a surprise, there's a GIRO deduction of a wrong amount, or if you've completely forgotten you've paid a bill and ended up double paying it. This usually throws one into a panic, trying to figure out what – and how (!) – it happened.
Such surprises can be a thing of the past now, with transaction irregularities being highlighted early so you can be fully aware of what is going on with your transactions – just like your trustworthy personal assistant who is on top of everything.
3. Less procrastination, more action: Get simple, actionable insights on your spending habits
When it comes in handy: When you want to track and gain better insight to your spending - and maximise savings at the same time


What better way to get a complete picture of your spending habits than through your banking app? With the latest features we've introduced, you can do that so easily.

Spent too much on the latest gadgets? Or have a habit of splurging whenever payday comes along? We hear you - your digibank app can now show you your spend habits even if you were unaware of them, so you're empowered to take action and develop good, long-term financial habits.
4. Say hello to intelligent learning: change to adapt to your needs
When this comes in handy: When you'd like to access a feature you use frequently, this saves time and keeps frustration at bay
There's no need to navigate the app if you're performing certain actions frequently, such as making a transfer to your mom or friend for dinner.
Our latest introduction brings you personalised quick links so you can quickly navigate to the functions you use most often. The best part? It learns from your actions and prioritises frequently used ones for your easy access, making it your very own personal banking experience!
With the updated digibank app, you get more time to focus on the things that truly matter. Worry less about late fees or missing your rent payment, spend fewer hours trying to get on top of your bills or wondering when your salary will be credited, and discover ways to save more and make your money work harder for you.

Download the digibank app today or log in to give these features a try – you'll be surprised at how quickly you're getting used to having them around!
Download now to enjoy the new experience