En Bloc 101: What Now?
En bloc occupies a special place in the hearts of property-loving Singaporeans. Everyone knows a relative – or a friend's relative – who became an overnight millionaire when a developer bought their condominium. What should you look out for if your property has been selected for en bloc?
We break it down for you.
What is en bloc?
En bloc refers to the collective sale of property to one buyer. This typically happens when residents of an older property development sell their homes at the same time to the same buyer.
The buyer is usually a property developer, but could also be the government.
What happens if your private property is selected for en bloc?
En bloc sales of private homes can be initiated by residents or an interest development. From start to finish, the entire process might take about 1.5 to 2 years.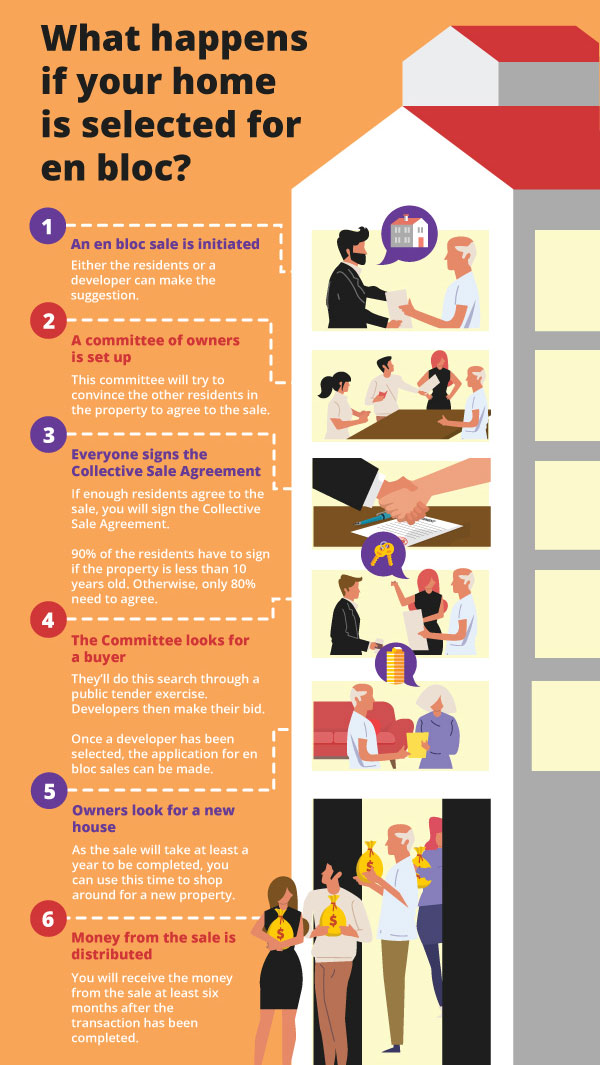 What's next?
Perhaps your property has been selected for en bloc. Your next steps depends on two things: who the buyer is, and whether you intend to buy or rent.
If the government is the buyer
If it is initiated by the government under the Selective En Bloc Redevelopment Scheme (SERS), you will get a generous payout and discounts for buying a new flat with a 99-year lease.
If a property developer is the buyer
You will need to find a new place on your own if the buyer is a property developer. Whether you intend to buy or rent, DBS Property Marketplace can help you work out the sums and find a home that meets your budget and preferences.
If you intend to rent, these 7 tips will help you.
In the scenario where you find the "right" property before your proceeds from the en bloc sale come in, a bridging loan can help you with the down payment. You would only need to repay the bridging loan in full when you receive the proceeds from the en bloc sale.
Find your dream space