Buying Second Hand Car in Singapore
"Should I buy a new or used car?" If you're reading this, you might be looking for reasons (and perhaps tips) on buying a used car. The reality is that car prices in Singapore are the most expensive in the world. Hence, some opt for second-hand cars as it usually makes more financial sense.
Dive into the wonderful world of second-hand cars with these tips on how to buy a used car: You'll first need to suss out the used car valuation for the ride that you want, look for a second-hand car loan with a favourable used car loan interest rate, and of course, know how to check if the vehicle is in good shape.
Know your jargon
One of the first steps to buying a used car is to know your jargon. In the second-hand car buying process, differentiating your PARF from your ARF is key: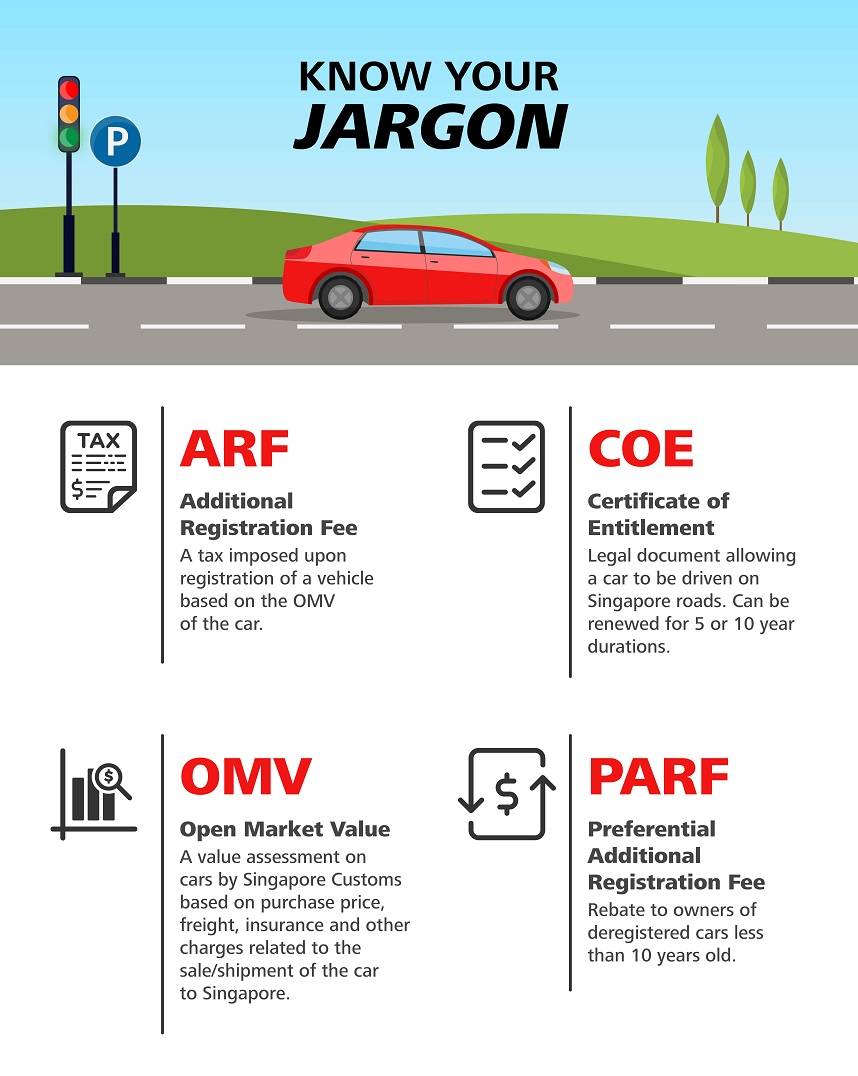 Certificate of Entitlement (COE): Legal document allowing a car to be driven on Singapore roads. Can be renewed for 5- or 10-year durations.
Open Market Value (OMV): Every car has an Open Market Value, which is the price payable when a vehicle is imported into Singapore. It is determined by Singapore Customs based on the car's purchase price, freight, insurance and all other charges related to the sale and shipment of the car to Singapore. The OMV also determines your maximum car loan.
PARF (Preferential Additional Registration Fee): Those keen on second-hand cars will likely be looking at PARF cars which are less than 10 years old. Note that you may have difficulty in securing a loan for a COE car, which have had their COE renewed, and are usually more than 10 years old.
Additional Registration Fee (ARF): Lastly, there's ARF, a tiered tax that you pay when registering a car. It is based on the OMV of the car. All cars in Singapore are subject to ARF.
Wondering what's popular? Check out DBS Car Marketplace today.
Know your used car valuation factors
If browsing through all the makes, models and mileage history are making you blurry eyed, we suggest starting with the numbers. Let's look at some factors that might affect a used car's valuation.
Mileage *Most important!*
Mileage refers to the total distance that a car has clocked, and is an indication of the amount of wear and tear that the car has sustained over time. Mileage is considered high or low relative to the car's age.
A totally new car is of course like a blank slate and has the lowest mileage. With used cars, look for something that has lower mileage (per year) than the average 17,500km clocked by private cars in 2018.
Depreciation
Cars are depreciating assets, which means that their value drops each year and you're unlikely to make a profit from selling your car.
Between new and used cars, new cars tend to depreciate faster than used cars, with the steepest drop in the first year alone.

Note: the deregistration value (also known as "paper value") is the sum of the COE rebate and PARF rebate.
COE
New or used car, you'll still need to pay COE to drive on Singapore roads. Keep the above depreciation formula in mind as well, which is affected by COE. This could determine if specific second-hand cars are more value-for-money than new ones.
Age
It's said that a new car sees the most depreciation in the first four years of its life. However, a car that is too old might need a lot more trips to the car workshop. When buying a used car, a good age is between four to eight years old.
Condition
It goes without saying that the physical condition of the car affects a used car's valuation. Not just how it looks, but also how well it's maintained and how smoothly it drives.
Know your down payment, maximum loan tenure
The maximum amount you can borrow when applying for a second-hand car loan is determined by the Monetary Authority of Singapore, and also dependent on the vehicle's OMV.
| Open Market Value (OMV) | Maximum loan-to-value | Maximum loan tenure |
| --- | --- | --- |
| ≤S$20,000 | 70% | 7 years |
| >S$20,000 | 60% | 7 years |
Source: Monetary Authority of Singapore
Thus, as the overall purchase price is lower, the down payment for second-hand cars tends to be more affordable, and your loan quantum is lower.
Know other costs to consider
Interest rate
In Singapore, used car loan interest rates for second-hand cars are on par with loans for new cars. In fact, used car loans from DBS have no loading fee and the minimum loan is just S$10,000.
Maintenance
This depends on the state of your used car purchase. A cheaper but older, run-down ride with plenty of mileage on it might rack up higher maintenance costs.
Insurance
Good news! Expect to pay lower insurance premiums for used cars in Singapore, mainly because parts for second-hand cars are readily available and easier to replace. However, just like insurance for a new car, factors such as the driver's age, gender, years of driving and experience also matter.
In addition, don't just go for the cheapest insurance plan you see, as there may be exclusions or a lot of excess to pay. For example, used car owners can opt for third-party only (TPO) insurance, but that only covers damages to other people's cars, not yours. Hence, drivers who buy TPO would need to be prepared to scrap their car or pay out of pocket costs.
Know where to buy a second-hand car
In Singapore, you can buy a used car directly from the owners, or from a dealer. Going straight to the seller means you can cut out middlemen fees and commission, but sometimes the deal may be too good to be true. Buying your second-hand car from an accredited dealer with trusted reviews helps protect you against lemons. They also offer a wider range of choices and proper paperwork.
One way to get the best of both worlds is DBS Car Marketplace, which has live listings of used cars from both dealers and direct sellers, and you can also put up your car for sale here in the future.
Know how to finance your used car
Two words: Cash or Loan. The three types of used car loan financing methods are: fixed interest rate financing, in-house financing and balloon scheme financing.
Most drivers opt for fixed interest rate financing directly from a bank. With this type of financing, the interest rate doesn't change during the tenure of the loan. Find out more about the DBS car loan.
In-house financing from the dealership might be viable if you're unable to get a bank loan and/or if the car is too old. However, the interest rate may be higher and could include admin fees.
Balloon scheme financing excludes the Preferential Additional Registration Fee (PARF) of your vehicle, lowering your monthly loan repayments but increasing your used car loan interest rates. There may also be conditions attached and penalties if you change your car halfway.
Know how to check a used car before buying
Now that you've worked out your sums and shortlisted your future dream car, it's time to actually make the purchase. While buying a used car is more affordable than a new one, its condition could determine your future maintenance and servicing costs.
Here are some basic steps to do a car inspection: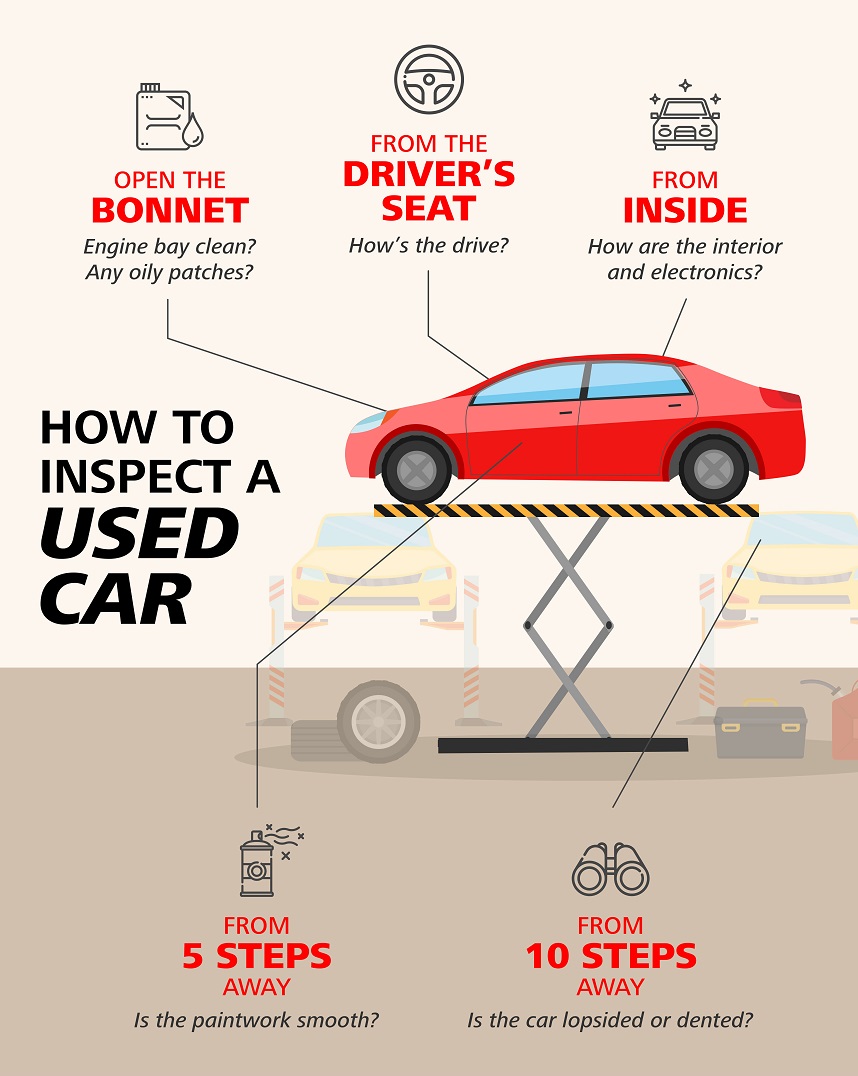 How to inspect a used car
From 10 steps away: Do the body panels look straight? Is the car body leaning to one side? If anything doesn't look right, the car might have been in a prior accident with underlying damage — future repair costs for you! Conversely, if the defect is minor (e.g. dents in the door), you could highlight that to get a discount.

From 5 steps away: Check for missing trim pieces, inspect the paintwork and the rest of the exterior car body. For example, if the paint seems patchy, appears wavy in the light or shows visible scratches, that might indicate a prior accident.

Open the bonnet: Look out for oil leaks below the car and within the engine compartment. One sign is visible oily patches. Run the engine and listen closely for a "choppy" sound. As the engine is the main component powering your future car, repairs to it or to the transmission can cost a lot.

From inside: While a clean and well-maintained interior is nice to have, don't let that distract you from the key features — the seatbelts and electrical features. These are legitimate safety concerns for both yourself and your passengers.

From the driver's seat: Check the air-conditioning and listen closely for any strange noises during acceleration, braking, or turning. When driving, does the car pull away cleanly or are the transmission shifts jerky? A newer car shouldn't feel like you're driving one with its COE renewed.
Although second-hand cars are more affordable, they're still a big-ticket purchase, so do also ask detailed questions and request for additional paperwork. These include the used car's ownership history, maintenance records and modifications. Also enquire if the seller is willing to cover current repairs needed, if the car has been in any accidents, and so on. Refer to the Consumers Association of Singapore's standard and functional evaluation checklist for pre-owned cars that recommends checks by a professional evaluation centre.
Remember, if you're not comfortable with any aspect of the vehicle, don't feel pressured to buy. Take your time to look at other second hand cars before signing on the dotted line.
Happy driving!
Thinking of buying a used car?