Seven ways to heal the world
Singapore is burning up, and not in a good way. In 2020, the Meteorological Service Singapore reported that the annual average temperature in Singapore was 28°C, which is 0.5°C above the long-term average, making it the eighth warmest year here on record.
If we want our children to inherit a habitable earth, it's high time to fight climate change. Here are a few little changes we can make to our lives so we can save the planet.
1. Reduce carbon footprint when travelling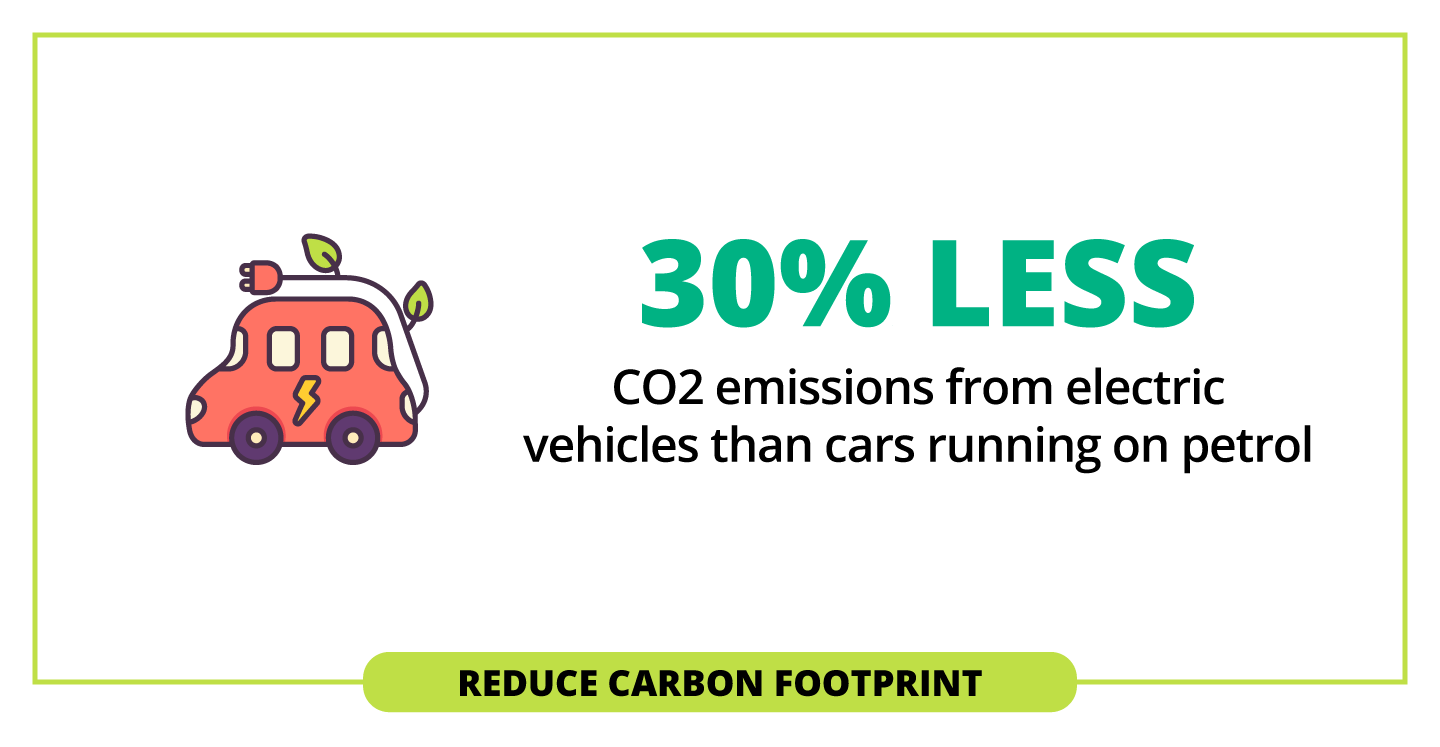 Cutting your carbon footprint can be as easy as hopping on the buses and trains instead of driving. Because buses and trains carry more passengers than cars, that makes them very fuel efficient per traveller.
Another option you can consider is getting an electric vehicle as your mode of transportation. According to research done by the universities of Exeter, Nijmegen - in The Netherlands - and Cambridge, CO2 emissions from electric vehicles are about 30% less than cars running on petrol.
Car-sharing is also a good alternative if you need a vehicle for your daily commute but don't necessarily want to own one. Car-sharing services like BlueSG offers electric vehicles for rental whenever you need one. Pick up your car conveniently at over 380 stations island wide. Enjoy free 1month subscription and 30 minutes rental usage (worth S$18.80) when you sign up for BlueSG Basic Plan with DBS/POSB Card.
2. Turn your house into an eco-friendly home
Households make up 6.6% of Singapore's total emission, based on Singapore's emission profile in 2017. To combat climate change, you can take steps to make your house green to reduce carbon footprint.
While you are renovating your home, you may use our Green Renovation Checklist to identify ways to reduce your carbon footprint.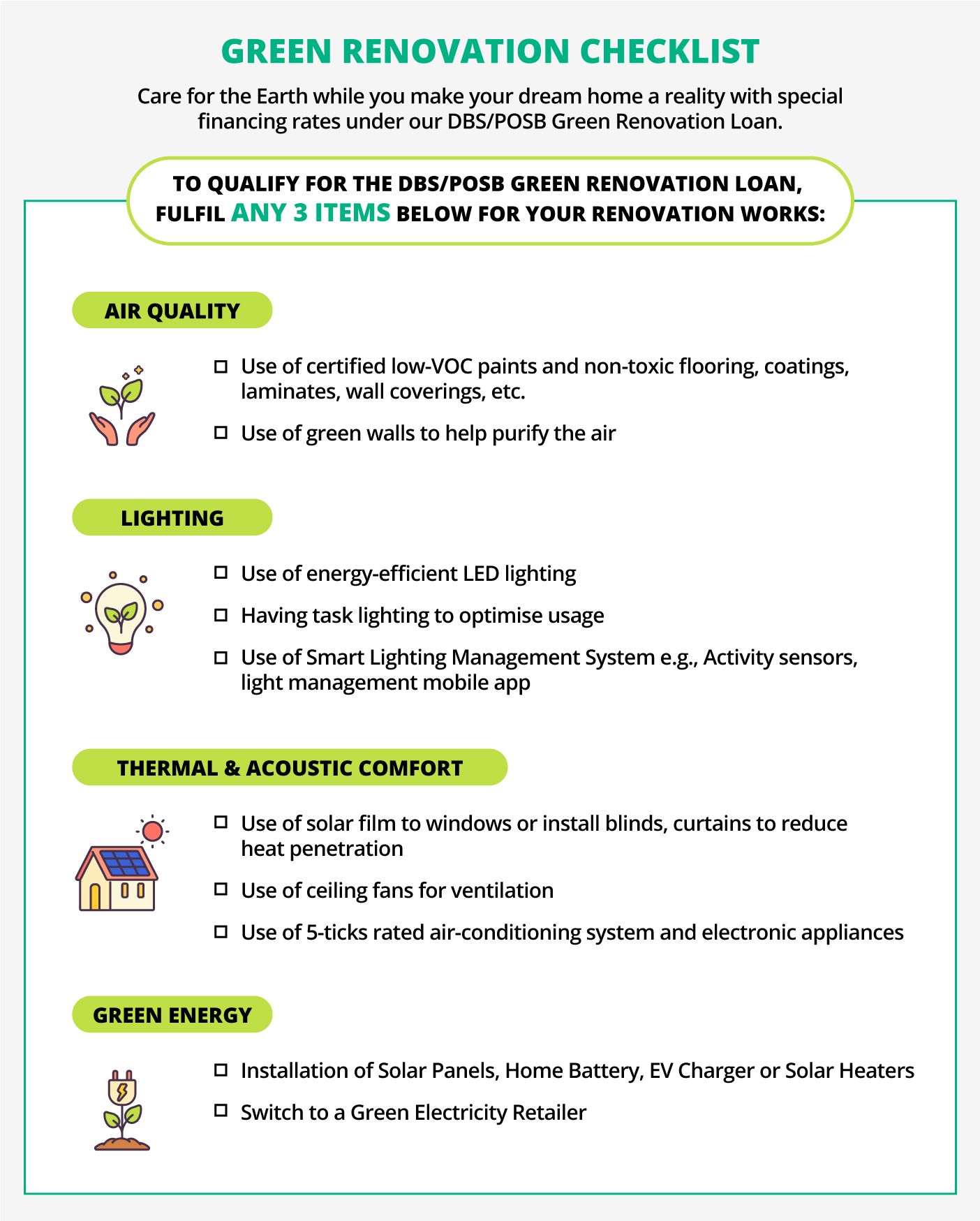 Making your home more sustainable not only helps the environment, it can be financially rewarding too. Besides helping you save on electricity bills, an eco-friendly home may qualify you to enjoy green financing benefits.
If you tick 3 or more checkboxes on the Green Renovation Checklist, you are able to receive special promotional interest rate on your renovation loan under the DBS Green Renovation Loan.
3. Power down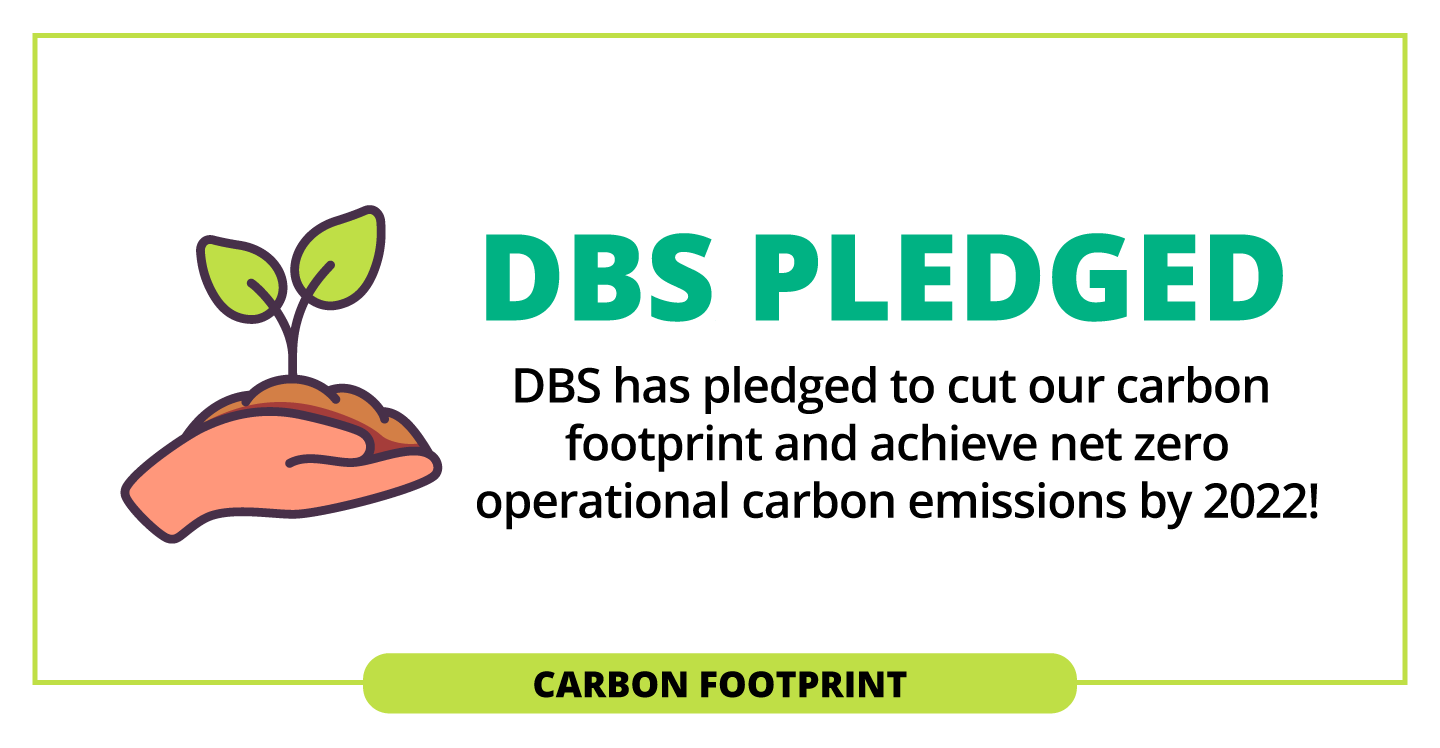 Turn off the power for appliances that are not used. When appliances such as televisions, TV set-up boxes, speakers, and microwave ovens are left on standby, they can unknowingly suck up large amounts of power and account for up to 10% of our electricity bill in Singapore.
And your air-conditioner, try setting your temperature at 25˚C and above to cut up to 1% from your bill.
Bonus tip:
Use the DBS Utilities Marketplace to search, switch, and save conveniently for your utility needs. Go green with eco-friendly green electricity plans and enjoy rebates while doing your part for Mother Earth!
4. Support green
Download the Singapore Environment Council Green Map. This app points you to the green establishments in Singapore so you're supporting the greening effort even as you shop and eat. The Green Map shows you where to recycle, donate unwanted items and where our heritage trees are as well.
5. Reduce, reuse, recycle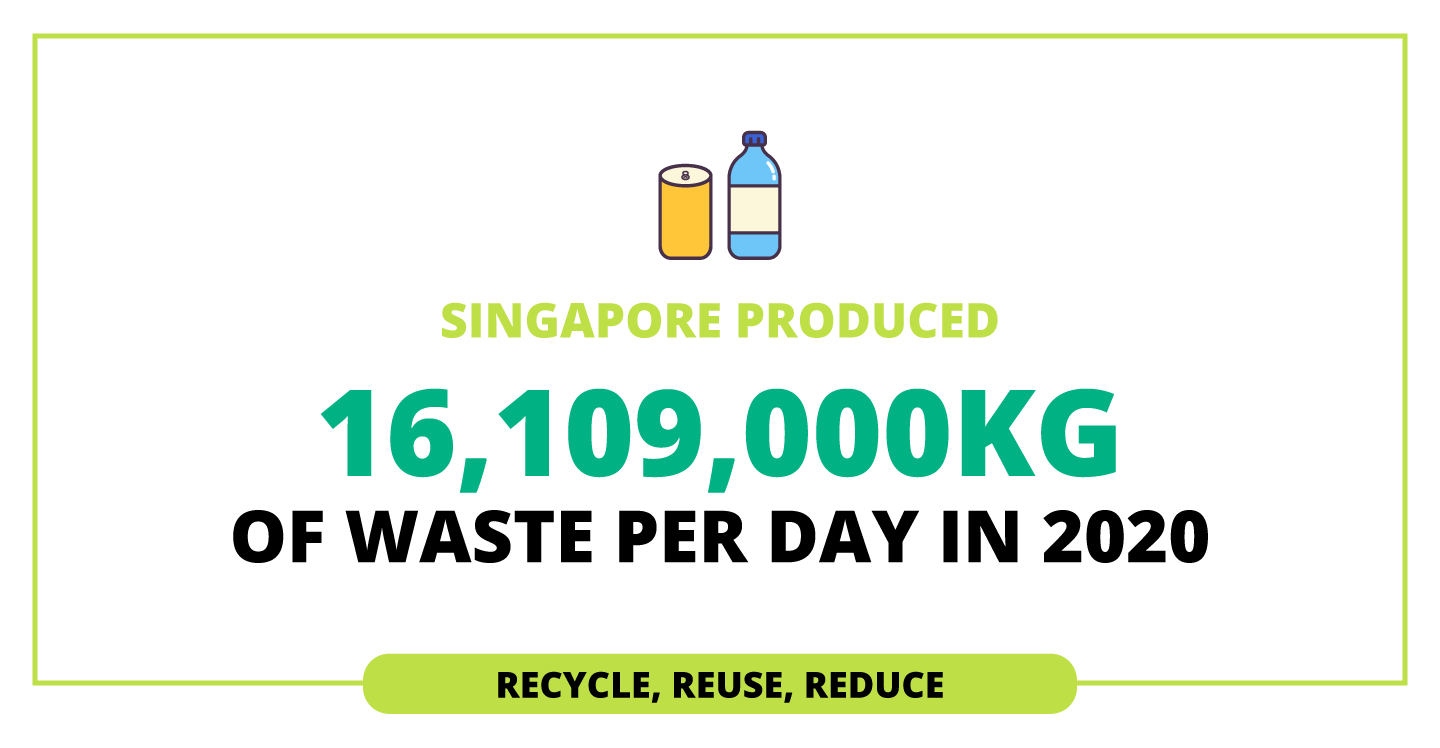 Recycling is an oft-repeated mantra, but recycling rates here are dismal at just one-fifth of the waste generated by households. This, when Singapore produced 16,109,000kg of waste per day in 2020. At this rate, the country's only landfill will run out of space by 2035. Recycling can help us conserve natural resources.
Live Green, Live Fresh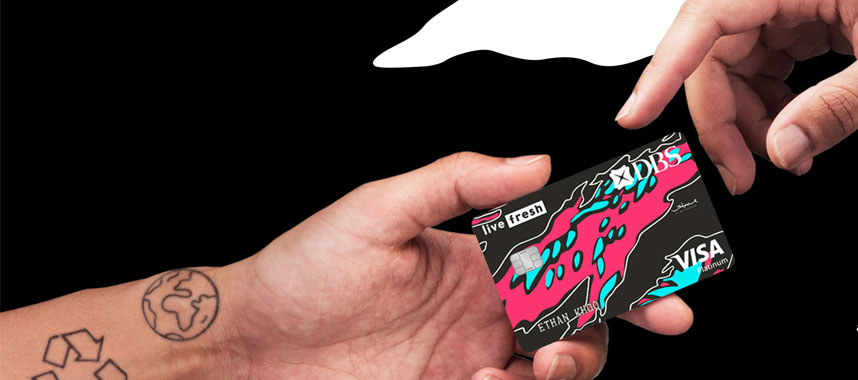 Begin your green journey by taking small actions in your everyday life. For instance, if you need a credit card, choose one that is eco-friendly.
Do you know that DBS Live Fresh Card is Singapore's first eco-friendly credit card that's made from 85.5% recycled plastic? Each card represents approximately 7g of carbon reduction and 3.18g in waste reduction. But it is not just the material used alone that makes it eco-friendly.
DBS Live Fresh Card also gives you up to 5% cashback on online and contactless spend, plus an additional 5% Green Cashback when you dine farm-to-table, shop sustainably or travel carbon-lite at selected Eco-Eateries, Eco-Retailers and Eco-Transport Services that we support.
6. Go digital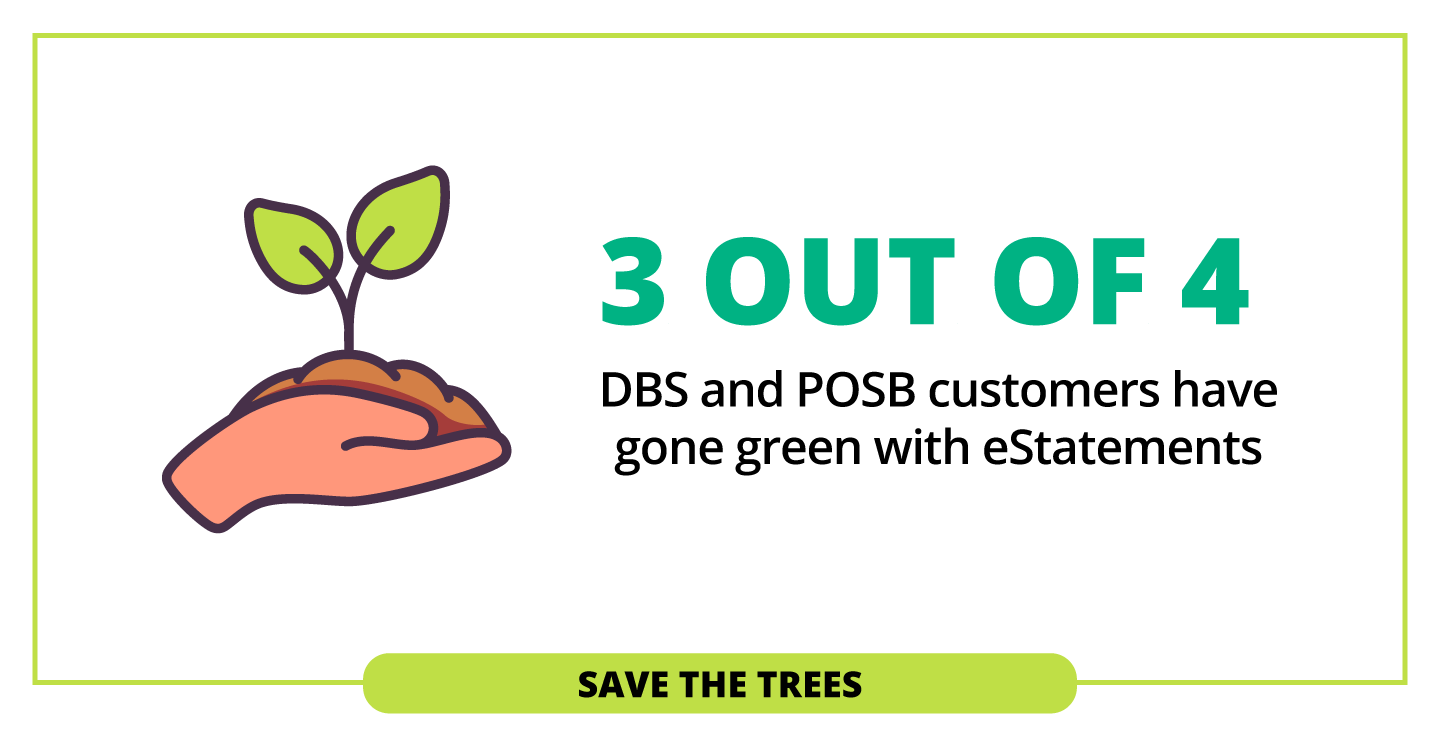 Say your household receives 10 bank and billing statements per month. That would add up to more than 1kg of paper in a year. Switching over to electronic statements would mean averting 26kg of greenhouse gases annually – equivalent to planting a tree.
There are a few ways you can go green with your banking.
Choose eStatements. If you're still receiving paper statements, do your part and join us in protecting the environment by switching to eStatements.
Go cashless. Printing stacks and stacks of money comes with a price tag on our natural resources. PayLah!, PayNow and digibank allow you to transfer money to others without the need for physical cash.
Reduce the use of cheques. Cheques bounce, get lost in transit, and are made of paper. Request for a direct transfer to your account.
Reset your PIN instantly. Need to reset the PIN for your Credit/Debit/ATM card? You can do it yourself instantly anywhere, anytime at your convenience. No more waiting for a physical paper PIN Mailer to be mailed to your address.
7. Invest in a Better Future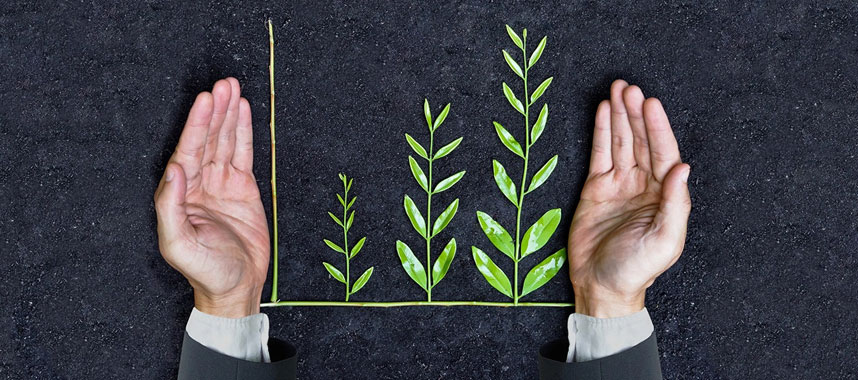 Apart from making a positive impact on the world with your daily choices, you can contribute by investing in companies that work for a sustainable future.
For examples, Ninety One Global Environment Fund and BNP Paribas Global Environment Fund invest in companies in green sectors such as renewable energy, water treatment technology, and waste management.
Ninety One Global Environment Fund
BNP Paribas Global Environment Fund

The Ninety One Global Environment Fund focuses on companies contributing to positive environmental change and favours those operating in services, infrastructures, technologies and resources related to environmental sustainability.

The Fund employs:

Active, high conviction portfolio of 20-40 companies focusing on companies which are contributing to positive environmental change through sustainable decarbonization.
Renewable Energy, Electrification and Resource Efficiency are the key investment themes of the fund.
Geographically diversified to capture best opportunities around the world.
In addition to financial analysis, ESG factors are vigorously reviewed during the bottom-up stock selection process. The team also actively engages with the companies held to monitor and improve their environmental impact.

The BNP Paribas Global Environment lets us invest and support a group of companies that respect the principles of social responsibility, environmental responsibility and corporate governance.

The Fund employs:

Active, high conviction portfolio of 50 to 65 companies focusing on Energy Efficiency, Sustainable Food, Waste Management/Pollution Control, and Water Infrastructure & Technologies
Bottom-up, research-intensive: Emphasis on strong fundamentals, growth potential and also taking into account of ESG factors.
Applies a quarterly thematic overlay, to incorporate macro views as part of the portfolio construction process.
To find out more about other green investing funds, head over to Funds Search. Under the 'All Geographies/Theme' field, select Theme New Energy or Theme Sustainable to find out what other green investing funds you can invest in.
If everyone takes little steps in the right direction, we can go a long way in ensuring a more sustainable future. Let's start today.