Planning for financial freedom with NAV Planner
What does financial freedom look like to you? Take a peek at your future and turn your dreams into real action plans with the Map Your Money feature.
Check out the rest of the guides below, and let's get better at money – together.
How to get started
STEP 1:
Log in to digibank and look for the Plan tab.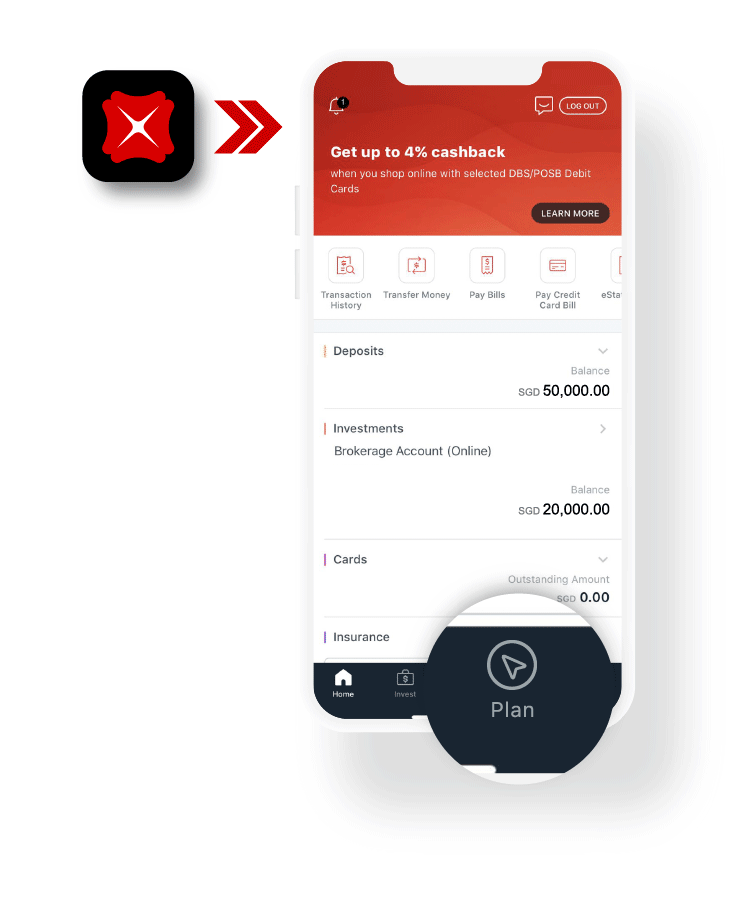 STEP 2:
Scroll down and look for Map Your Money.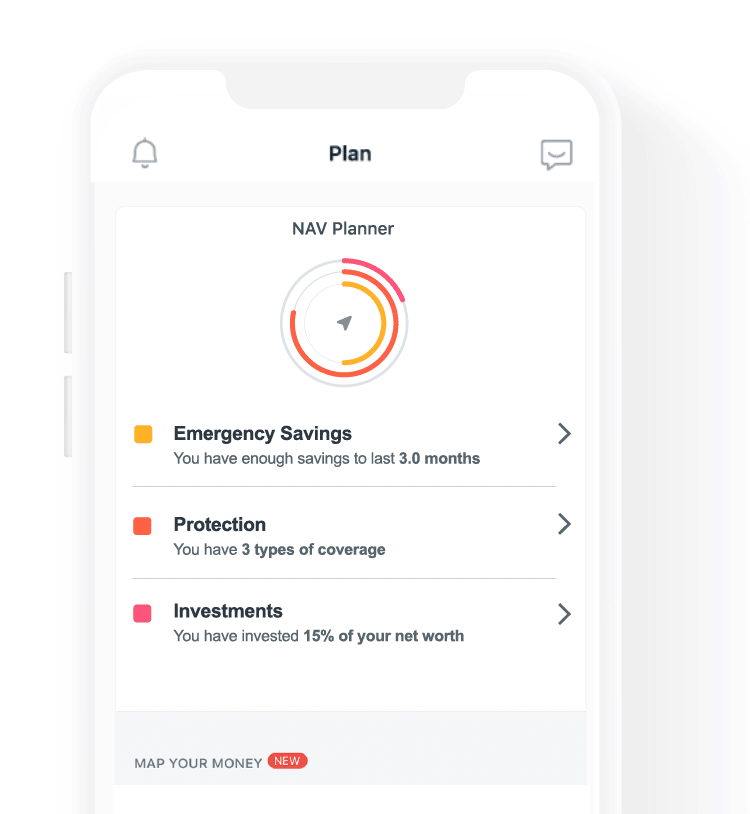 How to track your future cashflow with Map Your Money
The cashflow projection chart is split into 2 stages:
Before financial freedom – you're accumulating wealth
After financial freedom – you're drawing down your accumulated wealth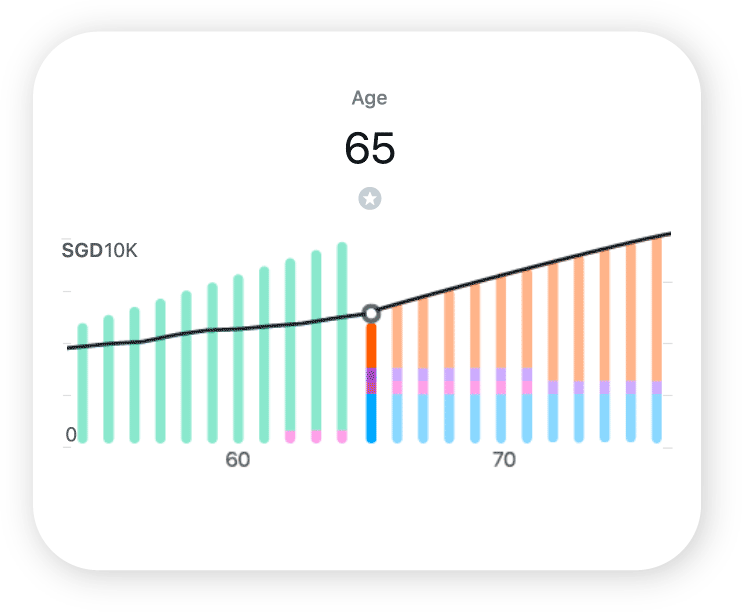 The coloured bars indicate
your sources of cash
This could include salary and rental income, and when you hit the respective ages, CPF and SRS payouts.
Salary and rental income
CPF payout
Cash
SRS payout
Investments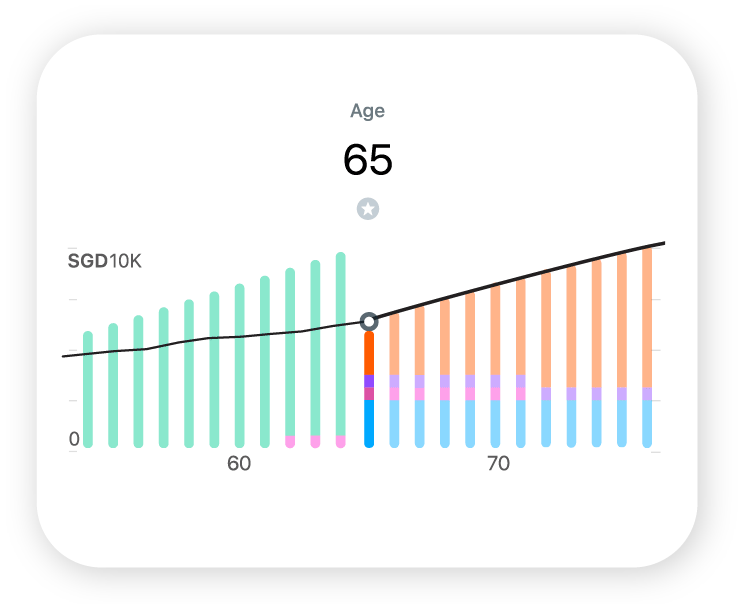 The black line indicates
what you will spend
This is projected based on 2 things: what we know about your current spending habits, and your monthly expenses after retirement.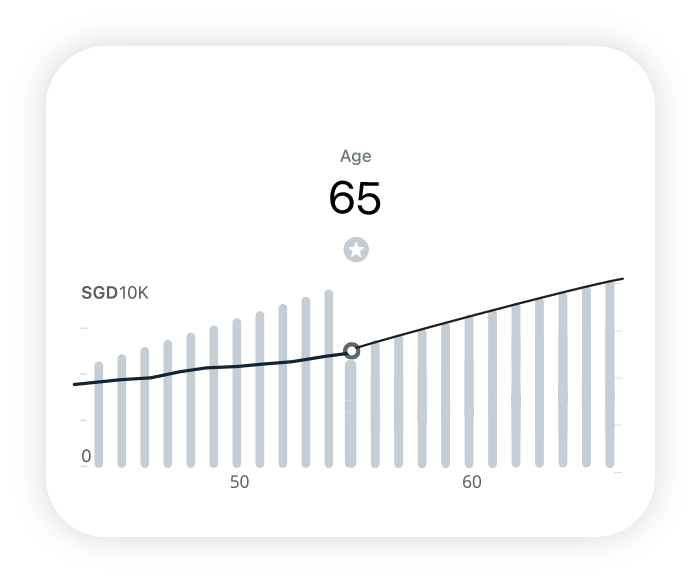 The icons indicate the
goals you have
Whether you are paying for your wedding or funding your kids' further studies, goals have direct impact on your cashflow and assets projection.
After you create a goal, an icon is added to your chart on the year you plan to achieve it.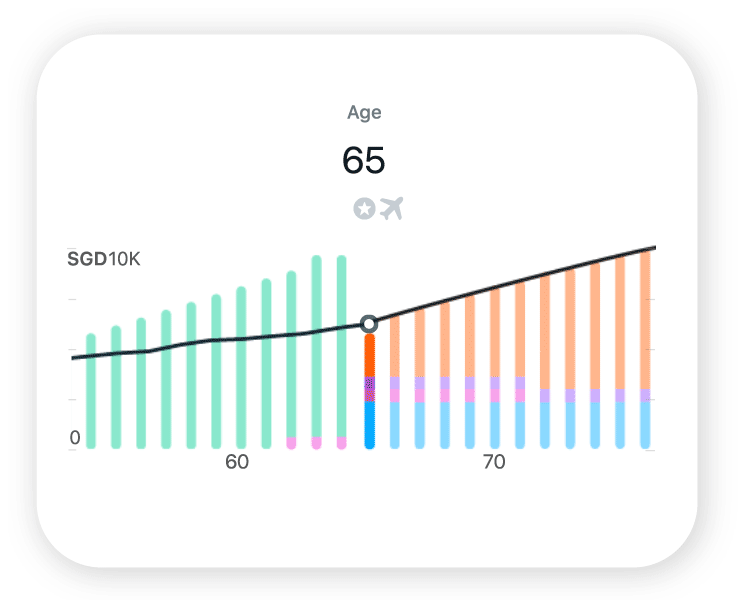 You might be slightly off-track if:
1. The line turns red
If you see a gap between the red line and the bars, it indicates a shortfall. A shortfall refers to the difference between what you will have and what you will spend.
2. Goal icons turn red
If you see a red goal icon, this means you might not have enough savings to meet your goals.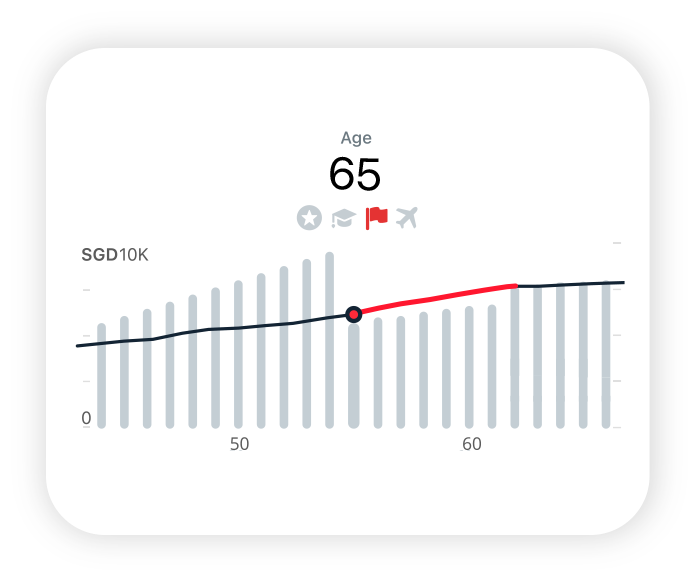 How to get better at money
A good retirement gameplan looks like this: It saves enough for your dream retirement lifestyle, considers inflation, and makes good use of time.
1. Make your savings grow faster
Savings is the safest but slowest route. Make it grow faster with cashback bonus schemes, or interest rate bonuses that are earned by taking your transactions into account.
2. Get insured
Most insurance provides some simple protection (through riders) so that minor incidents will not derail your retirement planning.
Browse through protection plans, and health insurance plans if you want coverage for your life, assets, income, or if you're concerned about total and permanent disability / critical illness.
But if your main objective is income for retirement, endowment policies and investment-linked policies (ILPs) can help you with that.
3. Invest
but only after you have 3 months' worth of emergency savings Investing is generally a much faster route over time, if your risk and return are properly managed. Some common vehicles are stocks, bonds, unit trusts, exchange traded funds (ETFs) and regular savings plans (RSPs).
Ready to start?
Speak to the Wealth Planning Manager today for a financial health check and how you can better plan your finances.
Alternatively, check out NAV Planner to analyse your real-time financial health. The best part is, it's fuss-free – we automatically work out your money flows and provide money tips.
Disclaimers and Important Notice
This article is meant for information only and should not be relied upon as financial advice. Before making any decision to buy, sell or hold any investment or insurance product, you should seek advice from a financial adviser regarding its suitability.
You might be interested in