Getting to know REITs
NAV TL;DR

If you don't have time to read through the whole article, you can check out our short version below:
REITs are a cost-effective way for retail investors to diversify their portfolio to include non-residential property holdings
The mandate for Singapore REITs requires 90% of profits to be paid back to investors, making them an attractive dividend investment
Before investing in a REIT, do gauge the quality of its property portfolio, income characteristics, and economic conditions

Financial advisors often highlight the importance of having property investments form part of a diversified portfolio.
For the average investor, owning more than one residential property might not be feasible. In fact, they don't come cheap either, especially in Singapore.
Real estate investment covers a broad spectrum and is much more than just your home or rental property. Thankfully, most of us are able to gain ownership of a wide range of properties both locally and globally through real estate investment trusts (REITs).
When REITs first listed in the US in the 1960s, they provided an avenue for retail investors hold investments in real estate portfolios, which until then, were only available to clients of investment banks.
REITs first made their way to Singapore through the listing of CapitaLand Mall Trust (CMT) - then known as CapitaMall Trust - on the Singapore Exchange (SGX) in 2002. CMT, which owns malls in Singapore like Raffles City and Plaza Singapura, will merge with CapitaLand Commercial Trust later in 2020 to form CapitaLand Integrated Commercial Trust (CICT).
The merger will make CICT the largest Reit in Singapore, and 1 of 6 REITs that form the 30-component Straits Times Index (STI).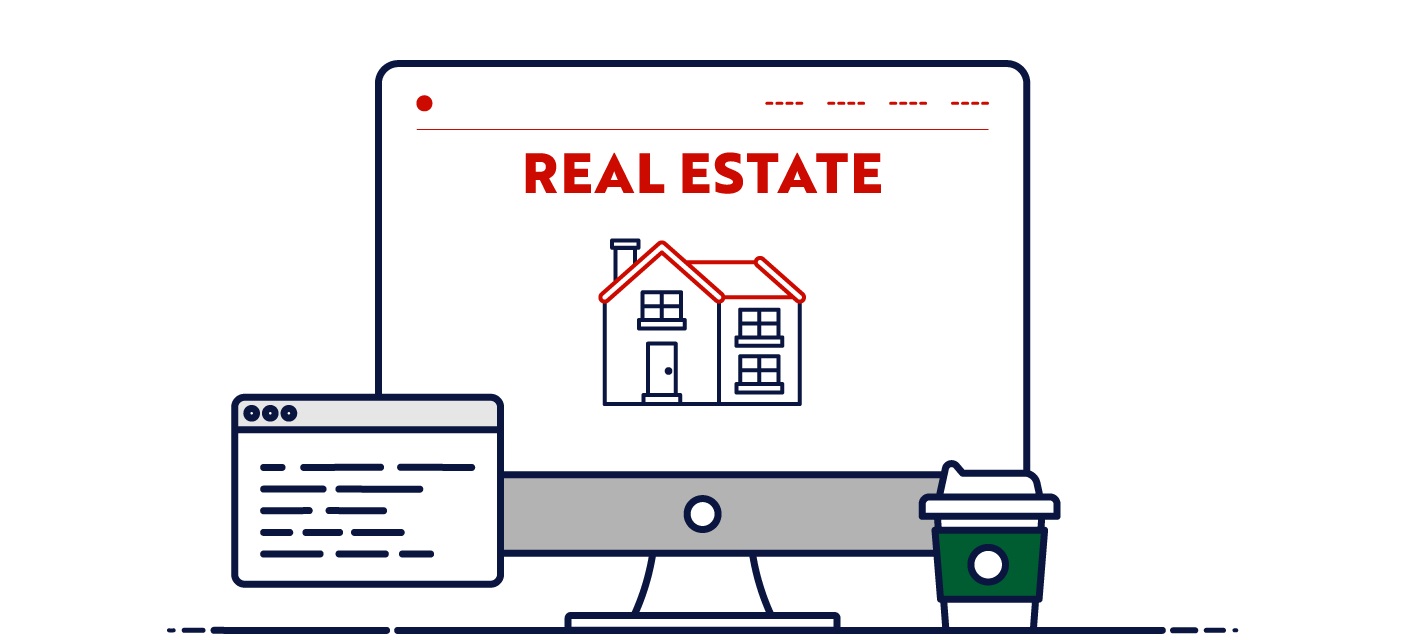 8 things you should know about REITs
1. What are REITs?
They are collective investment schemes that own and invest in income-generating assets across various real estate sectors. Properties in a REIT portfolio may include office buildings, shopping malls, warehouses, hotels and more recently, data centres.
As such, REITs allow retail investors to pool capital to buy into properties that would otherwise be out of their individual reach. Reits listed in Singapore are known as S-REITs.
2. How to buy REITs?
Most REITs trade on public markets, making them highly liquid assets for investment at low costs compared to fully owning a property. Individuals are also able to purchase through unit trusts (UTs) and REIT exchange traded funds (ETFs). If you prefer to buy them on a regular basis, you can do so through a regular savings plan such as DBS Invest-Saver
3. How to qualify as a REIT?
In order for real-estate portfolios to qualify as REITs, they need to meet a number of requirements specific to where they are listed. For instance, REITs in Australia, the US and Singapore could have different requirements on the amount of debt a REIT can hold, the minimum payout to unitholders, as well as the number of mature properties a REIT can have.
4. Cash payouts from REITs
The primary aim of REITs all over the world are identical - to generate a healthy level of income distribution and long-term unit price appreciation for its investors.
Revenue generated by REITs come primarily from rental from tenants. This may come from individuals, small businesses or large corporations who rent premises to conduct their operations.
Income generated from a REIT's assets are distributed to unitholders at regular intervals and it is not uncommon distributions to occur quarterly, which is why they're viewed as an attractive "income investing" options. These distributions are disbursed to investors after fees for REIT management, property management and trusteeship are deducted.
5. Sponsors of REITs
Each REIT also has a sponsor - a parent or a majority unitholder of the trust. In the case of CCT, CapitaLand is its sponsor. Often times, sponsors used to wholly own properties that form a REIT.
By structuring a portfolio of properties into a REIT, sponsors have a platform to sell properties to the trust often at fair or lower-than-market average prices. This, in turn, frees up capital for further investments.
Moreover, the sponsor can provide a pipeline of assets for future acquisition by the REIT. This is why the attractiveness of REITs is also dependent on the strength of its sponsor.
6. REIT rules in Singapore
SGX listing rules for REITs have also kept them attractive: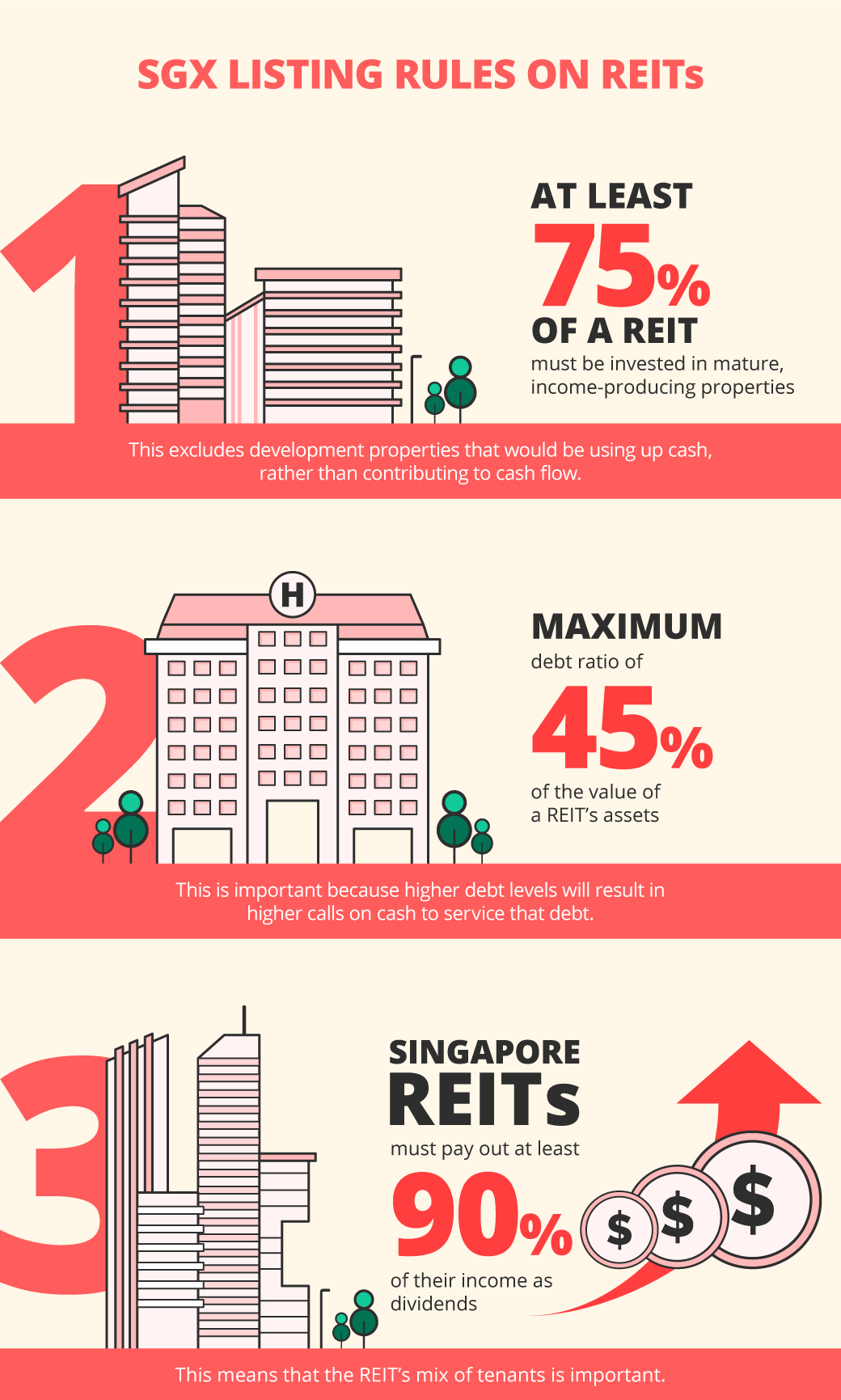 7. What's in it for investors?
While a separate asset class, REITs exhibit characteristics of both stocks and unit trusts.
Investors can benefit from investing in REITs through:
Dividend income: rental income and any earnings from sales of real estate assets
Professional landlord expertise: the day-to-day management is left to professional property managers
Capital gains: when the REIT is sold at a higher price than the purchase price


Globally, REITs are viewed as an attractive "income investing" play as they have consistently delivered strong total returns (unit price appreciation + distributions to unitholders) over the past two decades.
In Singapore, REITs have averaged a dividend yield of between 4 and 6% in recent years, beating the average dividend yield of the STI, government bonds and term deposits.
8. Selecting REITs
In assessing which REITs to park your funds at, you can gauge the quality of the REITs' property portfolios, its income characteristics, and the economic conditions.
Here are 3 questions to help you:
To establish how secure the current income stream is, ask "What is the average term of the leases?"
To discover the demand for a REIT's properties, ask "What is the quality of the properties?", and "Are the properties in a high growing sector and location, or vice versa?"
To check out the competition, ask "What is the supply outlook for competing properties?"


Ready to start?
Speak to a Wealth Planning Manager today for a financial health check, and how you can better plan your finances.
Alternatively, check out NAV Planner to analyse your real-time financial health. The best part is, it's fuss-free – we automatically work out your money flows and provide money tips.
Disclaimers and Important Notice
This article is meant for information only and should not be relied upon as financial advice. Before making any decision to buy, sell or hold any investment or insurance product, you should seek advice from a financial adviser regarding its suitability

All investments come with risks and you can lose money on your investment. Invest only if you understand and can monitor your investment. Diversify your investments and avoid investing a large portion of your money in a single product issuer.
Disclaimer for Investment and Life Insurance Products
You might be interested in