Understanding the S-REITs landscape
NAV TL;DR

If you don't have time to read through the whole article, you can check out our short version below.
S-REITs are popular among retail investors as they offer attractive dividend yields compared to government bonds and fixed deposits
S-REITs can invest in property ranging from single sectors (commercial, healthcare, hospitality, industrial and retail) to a combination of them
You can gain exposure to S-REITs through REIT ETFs but options are limited at the moment

Singapore-listed real estate investment trusts (S-REITs) are a popular way for retail investors to access a myriad of property portfolios without the hassle and high costs of owning physical properties. Here is a quick primer into the S-REIT landscape for you.
An overview
S-REITs are traded in the public market, making them highly liquid. Moreover, they are required to distribute 90% of income earned as dividends to unitholders, an attractive proposition for those in favour of "income investing". Distributions to unitholders are also exempt from tax.
In recent years, most S-REITs have an average dividend yield of between 4% and 6%, making them more attractive than government bonds and term deposits, especially in the low interest rate environment we are currently facing.
Entry costs are often low too, with individuals able to purchase S-REITs through a brokerage with a minimum investment of 1 lot or 100 units. If the unit price of a particular S-REIT is S$2, this means you will be able to invest in a portfolio of income-generating real estate assets for a reasonable S$200 (excluding brokerage fees and tax).
S-REITs have grown in both scale and scope since the listing of CapitaLand Mall Trust (CMT) in Singapore back in 2002. As of June 2020, there are 35 REITs listed on the Singapore Exchange.
Taking up a growing proportion of total stock market capitalisation in Singapore over the years, S-REITs are also forming a larger part of the Straits Times Index (STI). With the inclusion of Mapletree Industrial Trust on the STI from 22 June 2020, 7 S-REITs will make up the STI, the highest ever for the asset class.
Siblings of REITs
Property trusts and stapled securities are siblings of REITs and 8 of them are listed in Singapore.
1. Property Trusts
The primarily differences between REITs and property trusts are that the latter is not required to pay out 90% of income as dividends to unitholders. Property trusts are not subjected to the same debt requirements or asset size limits that REITs have to adhere to. As a result, property trusts do not face the same tax incentives that REITs enjoy.
2. Stapled Securities
Meanwhile, stapled securities are instruments that bundle REITs, property trusts and even property stocks together. Only the REIT component of a stapled security is required to meet REIT listing requirements.
In Singapore, REITs, stapled securities and property trusts typically invest in shopping malls, residential properties, offices, industrial facilities, hospitality and healthcare properties.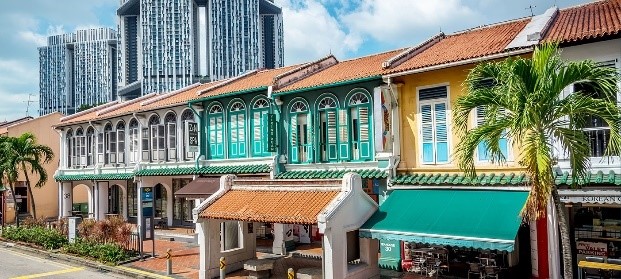 The 5 property sectors
As a whole, REITs, property trusts and stapled securities can be split into the following broad categories:
1. Commercial
Properties held are mostly office buildings regardless of where they are located (i.e. in the central business district or in suburban areas).
2. Healthcare
Trusts that fall into this space own hospitals, specialist medical centres and nursing homes.
3. Hospitality
This is related primarily to portfolios that consist of hotels, serviced residences and in some cases even theme parks.
4. Industrial
Trusts that focus on this sector mostly count warehouses, logistics processing facilities, and more recently, data centres and e-commerce facilities as key components of their portfolio.
5. Retail
Properties included in a Retail portfolio include shopping malls (both urban and suburban), outlet malls and entertainment belts.
Diversified REITs
S-REITs are not restricted to holding just one type of property. A diversified REIT is a real estate investment trust whose portfolio contains more than one type of property or other real estate assets.
In fact, a number of S-REITs including some of the larger ones, have a diversified portfolio.
In recent years, there has been a trend toward REITs merging, with the view of either having a greater depth of properties within a particular real estate sector and/or a more well-rounded portfolio.
The advantages of having an enlarged portfolio include:
A larger asset base might lead to easier access to funds for further expansion
Smaller concentration risk
Higher debt headroom
Distributions could be higher for unitholders
On the other hand, the disadvantages are:
There could be less diversification if the merged entity is concentrated in a single country
The possibility of the ratio of debt increasing
Want more about REITs? Check out the rest of the S-REITs series:
Part 1: Getting to know S-REITs
Part 2: Evaluating REITs
Part 3: 3 practical ways to invest in REITs
Disclaimer for Investment and Life Insurance Products
Ready to start?
Speak to the Wealth Planning Manager today for a financial health check and how you can better plan your finances.
Alternatively, check out NAV Planner to analyse your real-time financial health. The best part is, it's fuss-free – we automatically work out your money flows and provide money tips.
Investing in REITs