How do I choose: Invest-Saver or digiPortfolio?

If you've only got a minute:
To help you get started on your investment journey, DBS developed DBS Invest-Saver and digiPortfolio, which are available on digiBank.
DBS Invest-Saver is a regular savings plan while digiPortfolio is a robo-advisor.
With DBS Invest-Saver, you have a flexible portfolio which you can DIY based on your investment goal, style and risk appetite.
digiPortfolio provides you with ready-made, quarterly rebalanced portfolios that's handled by the DBS Investment Team.

Most of us know that investing ensures present and future long-term financial security for you. But sometimes, you just feel like you aren't ready yet. To help investors like you eliminate this inertia that is stopping you from investing, DBS developed two options to help you start your investment journey: DBS Invest-Saver and digiPortfolio on digiBank.
While both are investment solutions to help you invest conveniently in diversified portfolios, they aren't exactly the same. Here's a cheatsheet to get you started thinking about the key differences between Invest-Saver and digiPortfolio on digiBank.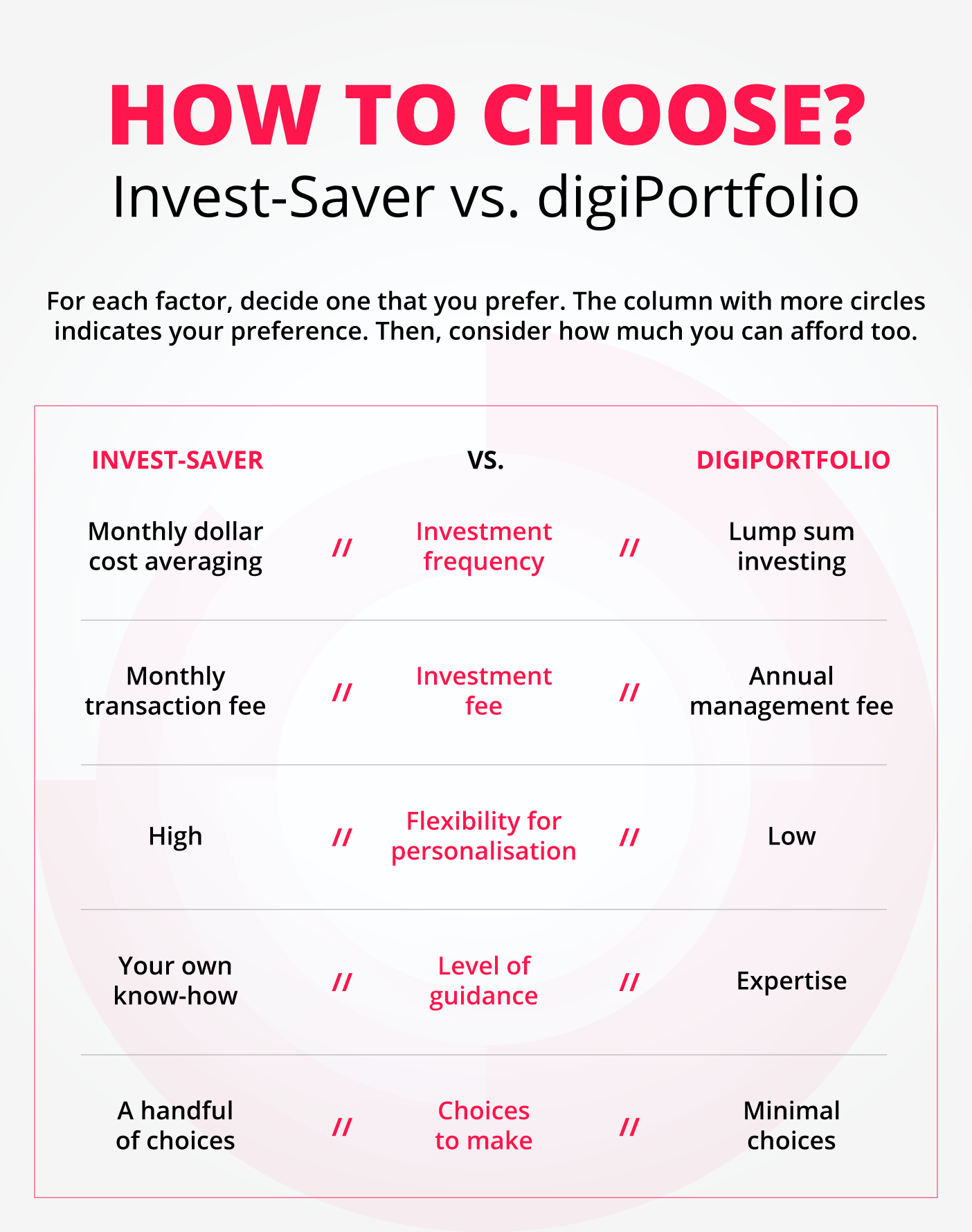 Key differences between Invest-Saver and digiPortfolio on digiBank
1. Investment amount: Monthly dollar cost averaging vs. Lump sum investing
Let's start with the most obvious difference: Investing in a lump sum vs investing in monthly amount.
Invest-Saver is a regular savings plan (RSP) which adopts a dollar cost averaging strategy. It works by having you invest a fixed sum, from S$100 monthly, on repeat. The idea is to help you accumulate your investment steadily and progressively.
Unlike Invest-Saver, digiPortfolio on digiBank isn't an RSP. To invest in digiPortfolio on digiBank, you will need to make lump sum investments. But the lump sum isn't that big of a lump sum anyway. All you need is S$1,000 to get started with a hassle-free, ready-made investment portfolio that offers the perfect match of human expertise and robo-technology. And if you have more cash to set aside for investing, you can do a top-up to your digiPortfolio on digiBank along the way.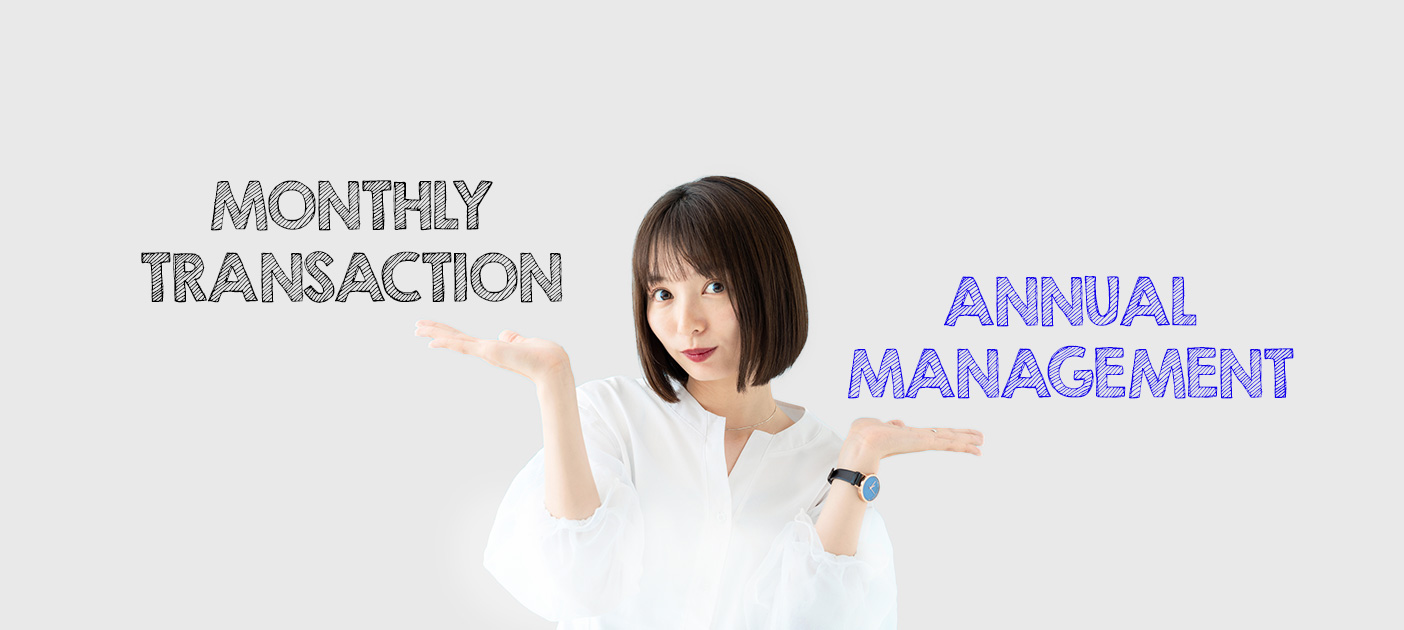 2. Investment fee: Monthly transaction fee vs. Annual management fee
When it comes to investing, the fees you pay on your investments can make a huge difference to your returns. The lower the fees you pay, the more returns you get to keep. In order to help investors retain a greater portion of your returns, both Invest-Saver and digiPortfolio on digiBank only charge a single type of fee.
Invest-Saver
digiPortfolio on digiBank
Type of fee
Transaction fee
Annual management fee
When is it charged?
Every month when ETFs* and/or unit trusts are being bought
Charged on a per annum basis
Fee amount
0.50% per transaction for bond ETFs

0.82% per transaction for equity ETF, REIT ETF or unit trusts
SaveUp Portfolio: 0.25% p.a. of the total amount invested in digiPortfolio on digiBank

All other portfolios: 0.75% p.a. of the total amount invested in digiPortfolio
*ETFs: Exchange-Traded Funds
3. Flexibility for personalisation: High vs. Low
Different individuals are at different life stages when we start investing and we each have our own risk profile. As such, there's no one-size-fits-all portfolio that will cater to every individual. After all, the type of customisation that you are looking for in a portfolio varies depending on your own life stage and risk profile.
That's why you need to have the option to choose the level of customisation you want in a portfolio.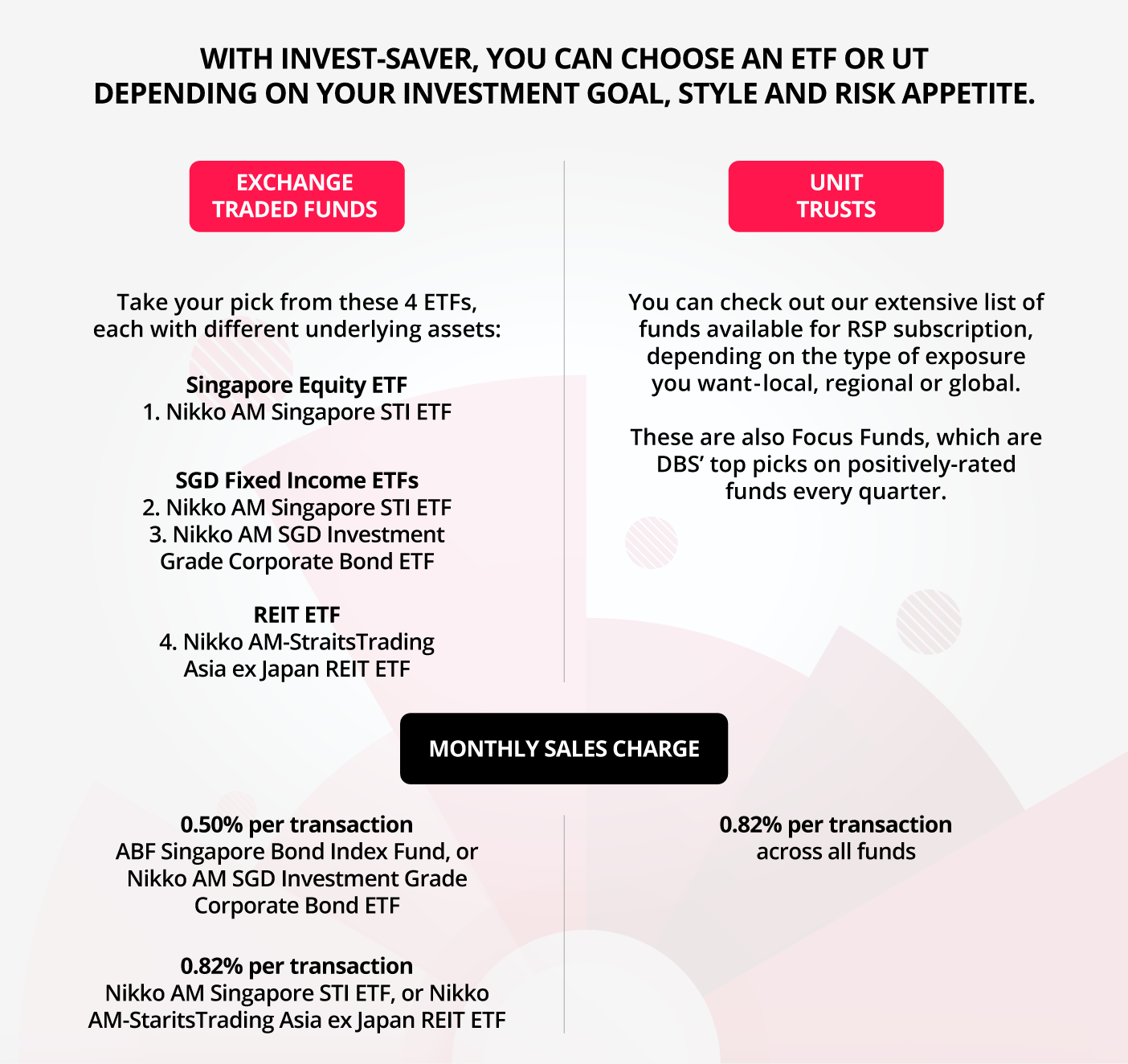 With Invest-Saver, you have a flexible portfolio which you can DIY based on your investment goal, style and risk appetite.
For instance, risk averse individuals can choose to pick up more fixed income ETFs/UTs and REIT-focused ETFs/UTs while those with higher risk appetite can allocate more funds into the Singapore equity ETF or Singapore-focused UTs.
You also have the option of choosing from an extensive list of unit trusts with varying exposure (i.e. local, regional or global) and style.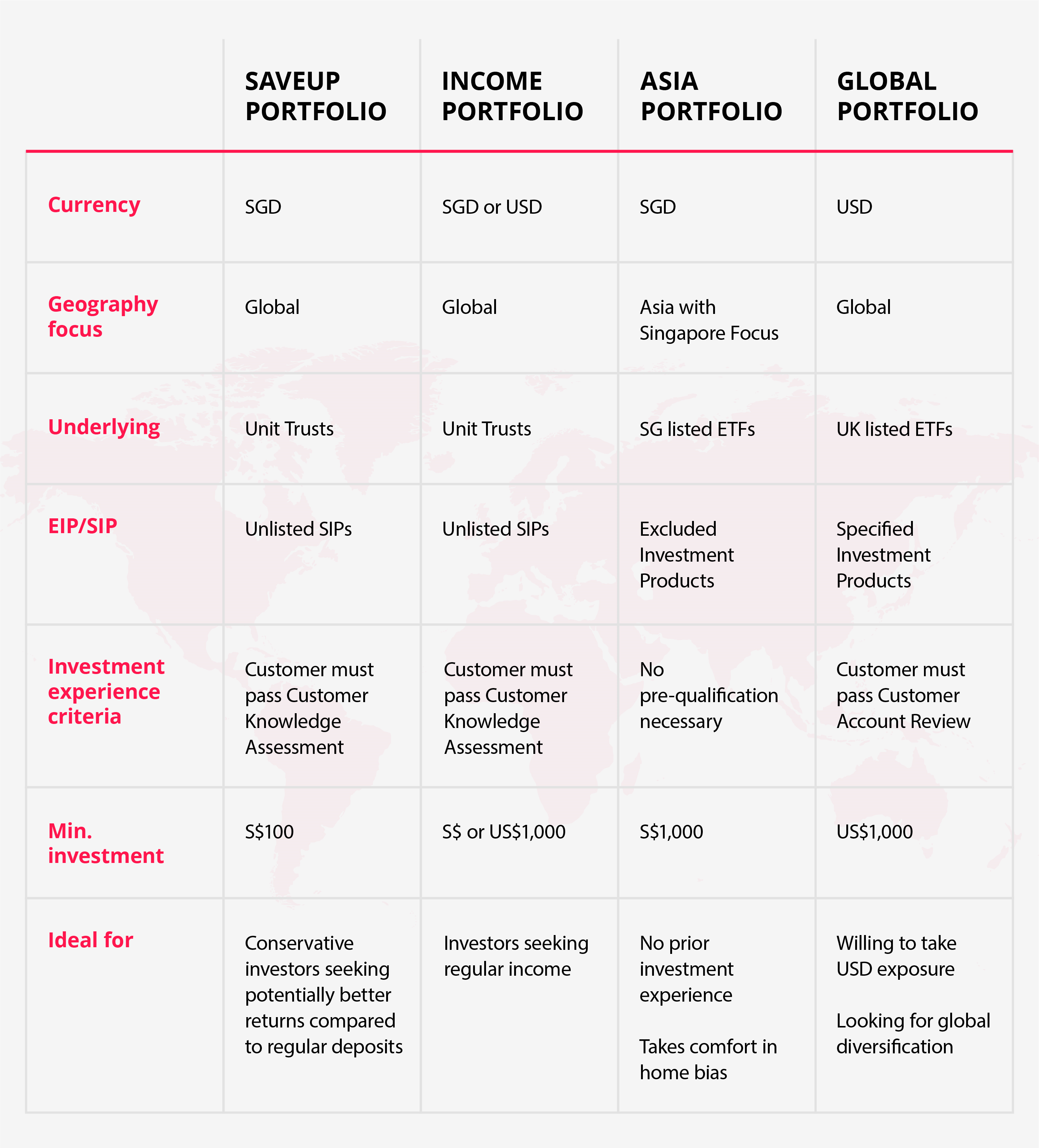 On the other hand, digiPortfolio on digiBank provides you with ready-made, quarterly rebalanced portfolios that's handled by professionals.
All you have to do is to decide your investment objective and risk appetite, and the DBS Investment Team will do the rest of the hard work for you.
Optimise Your Savings: SaveUp Portfolio
Generate Passive Income: Income Portfolio
Grow Your Wealth: Asia Portfolio or Global Portfolio
3 levels of risk/returns: Slow n' steady, Comfy Cruisin', Fast n' Furious (only for Asia Portfolio and Global Portfolio)
4. Level of guidance: Your own know-hows vs. Expertise
Apart from the flexibility, digiPortfolio on digiBank and Invest-Saver also come with different level of guidance. If you are using Invest-Saver, you are essentially building your own portfolio with your own ETF and/or unit trust picks. That's great if you know the know-hows of the stock market.
But if you aren't confident of building your portfolio and prefer to let professionals do it for you, then you have the digiPortfolio on digiBank at your disposal. You will have the full expertise of the DBS Investment Team to help you design, build and maintain your portfolio. Each portfolio consists of quality ETFs/unit trusts that are carefully curated to ensure optimal asset allocation and portfolio resilience.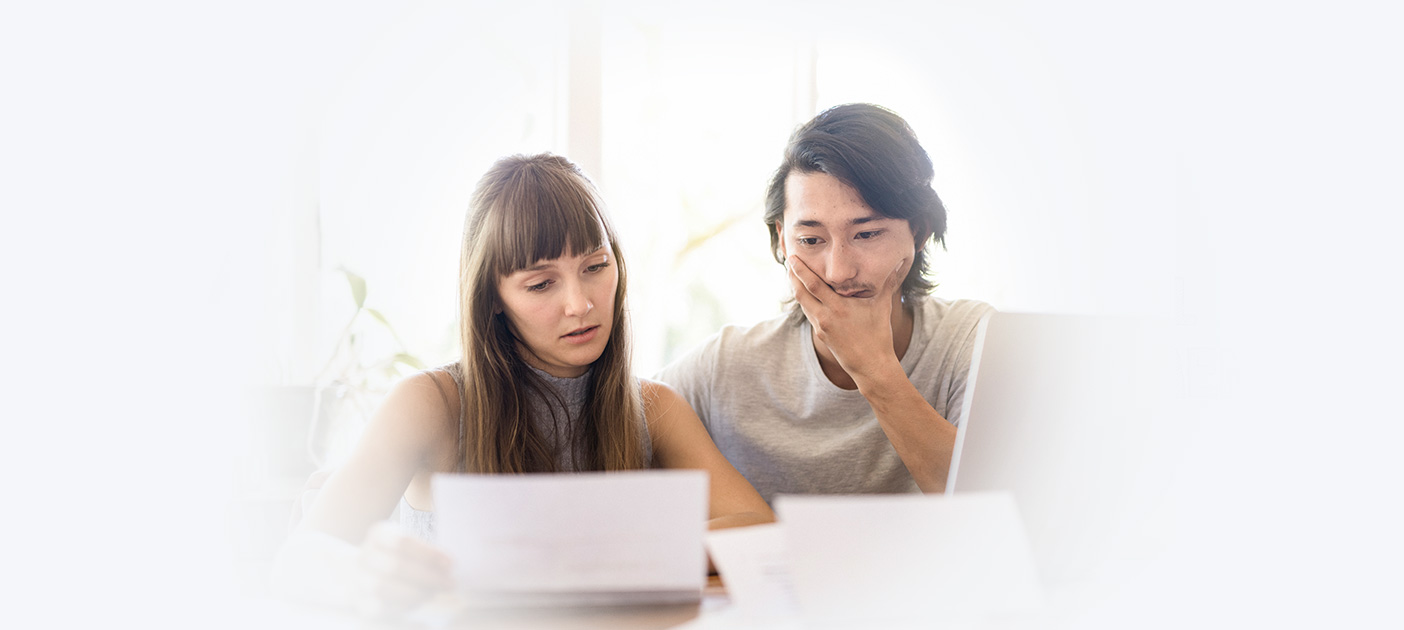 5. Choices to make: Handful vs. Minimal
When you are investing in the stock market, you are bound to make choices. The same choices will have to be made whether you choose to invest with Invest-Saver or digiPortfolio for digiBank. Well, the only difference is the amount of choices you will be making.
To invest with Invest-Saver, you will need to be prepared to make a handful of choices. From which ETF/unit trust to add into your portfolio to the proportion (%) of each ETF/unit trust in your portfolio, you have plenty of choices to make. You will also need to decide on other things such as the risk, asset allocation and the rebalancing strategy.
If you aren't prepared to make so many choices, or if you prefer to make minimal choices, perhaps digiPortfolio on digiBank will better suit your needs. All you have to do is to choose between the Asia or global portfolio and pick the preferred level of risk you are comfortable with investing.
The secret sauce to start investing: Take action today
While it is important to choose the right investment solution to help you kickstart your investment journey, don't let this be a stumbling block for you. After all, if you feel that your choice doesn't suit your changing needs, you can always switch from one solution to another.
Thus, regardless of whether you decide to go with Invest-Saver or digiPortfolio for digiBank, the key is to get your investments started as soon as possible so that you can let your wealth grow with time. So, start your investment journey with DBS Invest-Saver or DBS digiPortfolio on digiBank today!
Investment Tip: Earn higher interest on your investments with a DBS Multiplier Account. Invest-Saver and digiPortfolio are now recognised as eligible transactions for investments, and contribute to your total monthly eligible transactions. Check out how DBS Multiplier makes it easier for you to multiply your money.
Ready to start?
Speak to a Wealth Planning Manager for a financial health check and discuss how you can better plan your finances.
Alternatively, check out NAV Planner to analyse your real-time financial health. The best part is, it's fuss-free – we automatically work out your money flows and provide money tips.
Now, watch your savings grow!
Tell us if this article helps you plan and achieve your financial goals

Disclaimers and Important Notice
This article is meant for information only and should not be relied upon as financial advice. Before making any decision to buy, sell or hold any investment or insurance product, you should seek advice from a financial adviser regarding its suitability.

All investments come with risks and you can lose money on your investment. Invest only if you understand and can monitor your investment. Diversify your investments and avoid investing a large portion of your money in a single product issuer.

This advertisement has not been reviewed by the Monetary Authority of Singapore.
Disclaimer for Investment and Life Insurance Products
You might be interested in