8 low-risk investments to consider

If you've got a minute,
Low-risk investments typically provide you with safe and reliable returns.
Singapore Government Securities, fixed deposits, CPF accounts and savings plans are examples of low-risk investment vehicles.
Diversification across multiple products and asset classes can reduce the level of risk you take.

Low risk investing tends to find favour with risk averse investors who have less appetite for volatility of returns.
With low risk investments, you are more likely to get a better guarantee of both your principal and returns. You also get to enjoy more safety in your investments as well as more visibility when it comes to your investment returns.
That said, there will always be a trade-off. The safety of having more guaranteed returns means investors usually end up having a lower rate of return when compared with higher risk investments. This means they may overlook the danger of outliving their savings due to longevity and inflation.
So, not taking any investment risk poses a risk, because the purchasing power with the same dollar shrinks with time. It is prudent to strike a balance and build a portfolio that can achieve your financial goals while being aligned to your risk profile.
You may use the advanced digital financial tool DBS NAV Planner to help you understand your risk level and be informed of suitable products.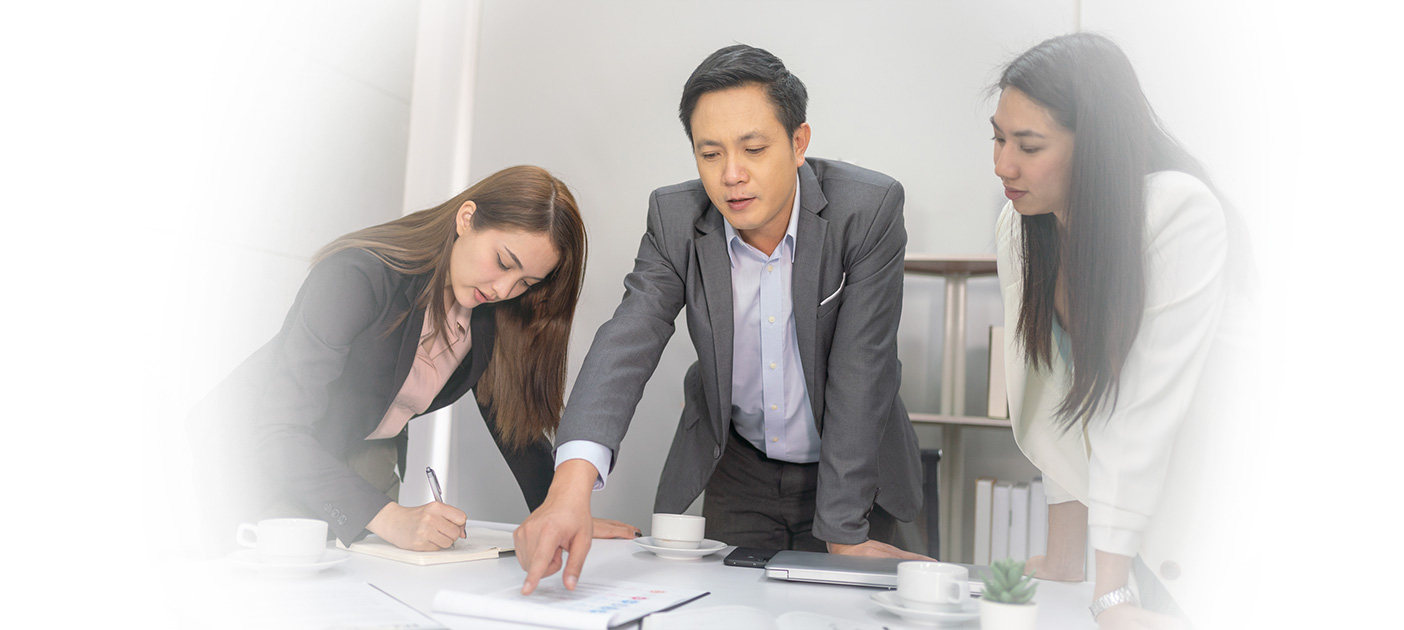 Here are 8 low-risk investment products you can consider investing in.
1. CPF top-ups
A low-risk investment option is to top up your CPF accounts. Your CPF balances are guaranteed by the Singapore Government which offers a minimum return of 2.5% per annum (pa) and an upside of up to 6% pa. The drawback is that you will not be able to withdraw some of your funds until you are 55.
Nonetheless, if you have sufficient funds to set aside some money until retirement, topping-up your CPF is a good way to get risk-free returns on your money. By doing so, you will reap the benefits of the power of compounding over the long-term investment period and enjoy some tax savings too.
Do note that you will earn an additional 1% in interest returns for the first $60,000 of your CPF monies, with up to $20,000 in your CPF Ordinary Account (OA) if you are below age 55. There will be an additional 1% in interest for the first $30,000 in combined CPF savings for those who are 55 and above. You can also receive up to $8,000 in tax reliefs whenever you top up into your CPF account via the Retirement Sum Topping-Up (RSTU) Scheme. In addition, you receive a further $8,000 in tax reliefs when you top up into your family member's CPF account.
2. Singapore Government Treasury Bills
Singapore is one of a handful of countries that have a Triple-A credit rating, which indicates to investors that debt issued by the Singapore government is of a high level of creditworthiness and a strong capacity to repay investors. The Singapore government issues short-term bonds called treasury bills at both 6-month and 1-year durations. These are the shortest tenured Singapore Government Securities (SGS) available. Treasury bills (T-Bills) are issued at a discount to their face value – the price of the T-Bill is lower than its principal which the investor receives at maturity. The maturity date is the time where a debt is due, and all principal or interest is repaid to the creditors. As of 9th September 2021, yields for the 6-month T-Bills and 1-Year T-Bills are 0.33% and 0.35% respectively.
The minimum amount to invest in this product is $1,000 with an admin fee of $2 – the admin fee is waived if you purchase T-Bills through DBS internet banking. You should also be aware that 1-year T-Bills offer higher yields as compared to 6-month T-Bills. Why? Because there is more risk priced into the security due to the increased duration of the tenure. Lastly, T-Bills are useful for investors who want to invest within a very short term – up to a year – without taking much risk.
3. Singapore Government Bonds
There are also longer-term bonds that fall under Singapore Government Securities (SGS) – ranging from 2 to 30 Years. They pay on a fixed semi-annual coupon - every 6 months - starting from the month of issue. These bonds generally have higher yields than the 6-month and 1-Year T-Bills mentioned earlier due to the increased risk taken in view of the longer maturity period.
Rates offered by the Singapore Government Bond across various tenors are as follows: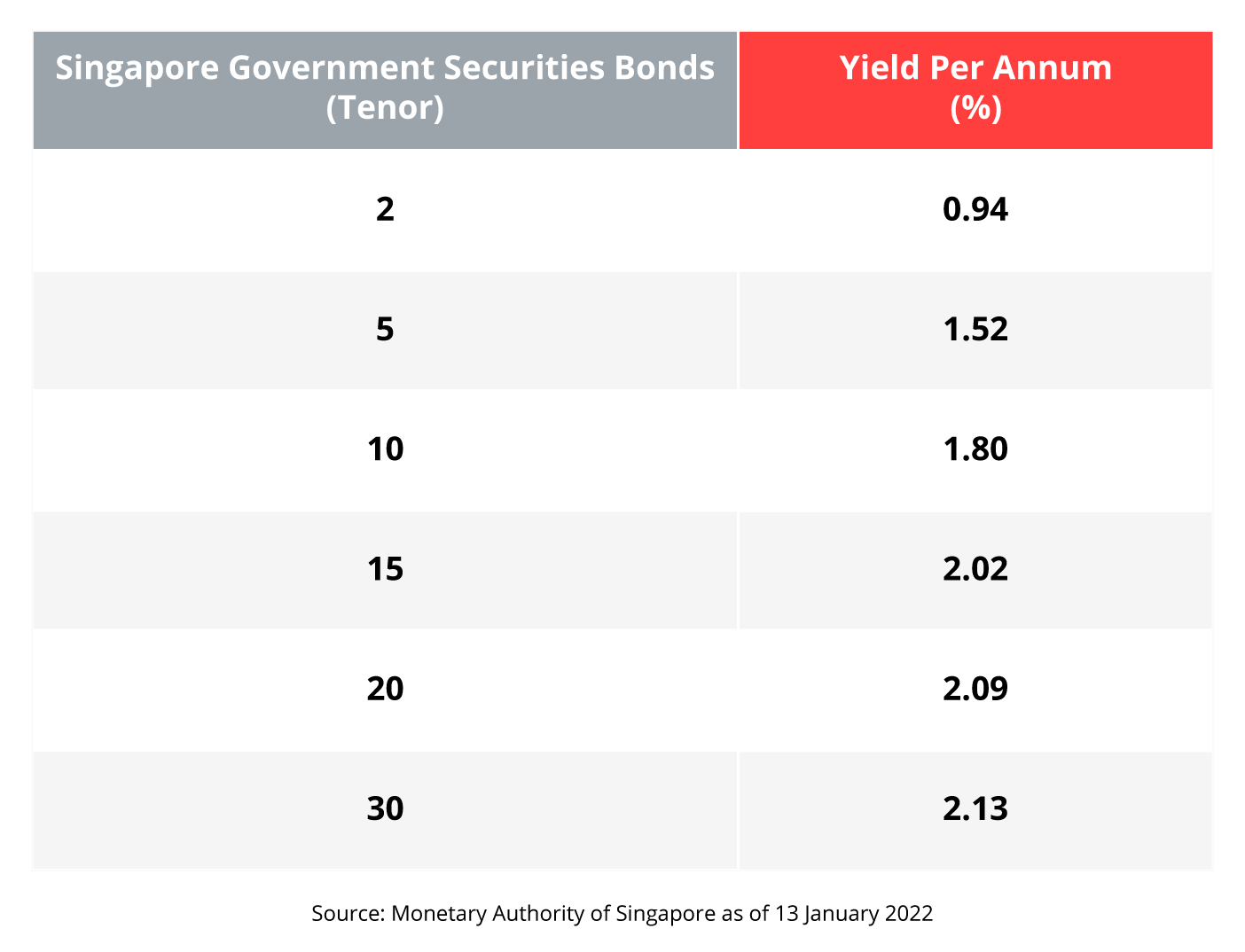 4. Singapore Savings Bonds
Singapore Savings Bonds (SSB) are another safe and stable product offered to individuals by the Singapore Government. The investment period goes up to 10 years. Launched in October 2015, SSBs are targeted at retail investors who want higher interest than bank deposits but are cautious of putting their hard-earned savings at risk.
The bonds pay a step-up interest rate each year, up to the 10th year. In other words, the bonds have a lower yield earlier in its tenor, but progressively pay a higher interest rate or coupon until the bond's maturity date. This means that the longer you save, the higher the return.
Another benefit of investing through SSBs is that there is no penalty for individuals who wish to exit their investment early. This means that if you have unforeseen expenses that exceed your current cash savings, you won't be penalised for cashing in early.
The minimum investment for this particular security is $500, and the maximum individual holding is $200,000. There is also a $2 transaction fee to purchase and exit this product.
5. Fixed Deposits
A fixed deposit account is a type of bank account that pays a fixed amount of interest on a lump sum of money for a certain period. They earn better interest as compared to leaving cash in your savings account. The longer you keep your money locked up, the better the returns. This is because fixed deposit generally yield interest on a periodic compounded interest basis - the annual interest rate divided by the number of compounding periods. It is important to ensure that you have enough cash on hand before opening a fixed deposit account.
Many banks also offer fixed deposit schemes as well as promotional rates. At DBS, the minimum deposit amount is $1,000 with a tenure of 8 months and an interest rate of 0.6% per annum.
Another important thing to note is, deposits with full banks and finance companies in Singapore are covered under the Singapore Deposit Insurance Scheme (SDIC). The SDIC insures the deposits you have with banks, finance companies, and insurance policies with insurance companies. This means that your deposits per bank are insured up to $75,000.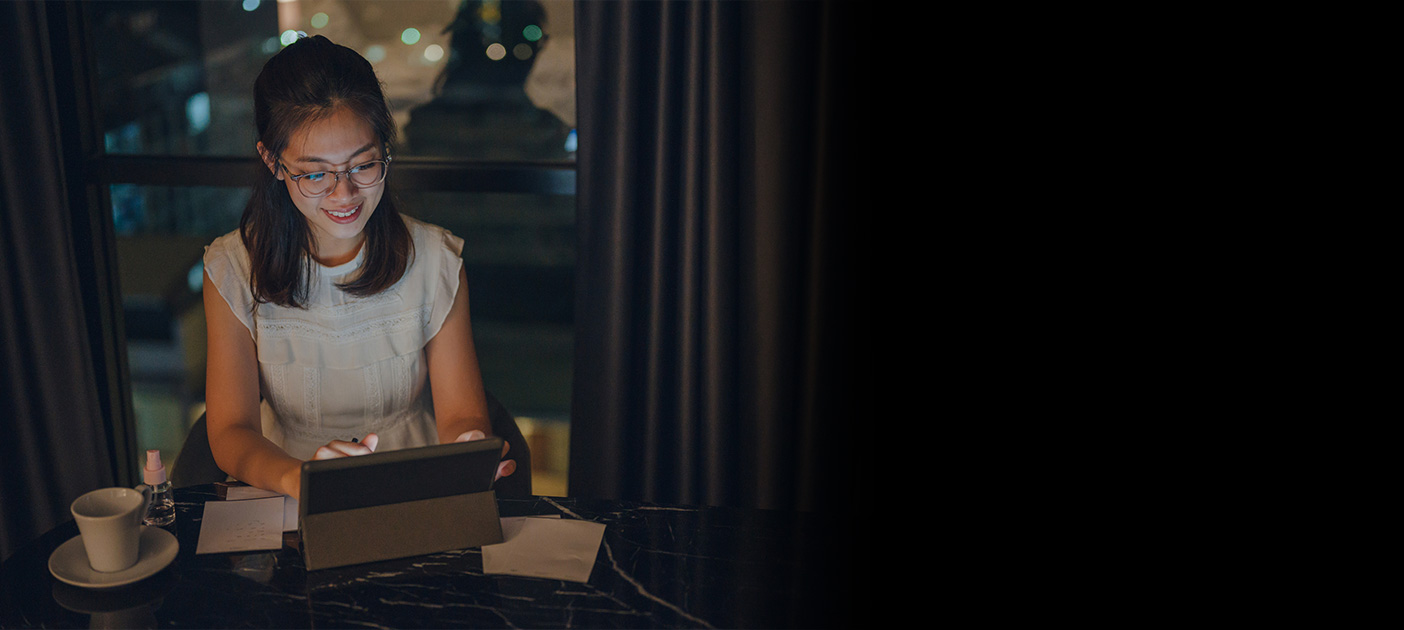 6. Savings Plans
It is prudent to note that savings plans may be insurance or non-insurance plans as they have different features.
Insurance savings plans are offered by insurance companies and they could be sold via banking channels. They may appear similar to fixed deposits where you are required to lock up your monies over a fixed period but the tenure is usually longer than that of fixed deposits. The money will be put into savings and investments funds. A typical savings plan is the Manulife SmartWealth (II) which invests in funds of your choice and has a policy duration of 3, 5 or 10 years. Additionally, insurance savings plans may offer a lumpsum death benefit if something happens to you.
For a bank savings plan (that is non-insurance linked), you may consider the POSB SAYE Account. It has a fixed deposit feature for the first two years that can earn you a 2% per annum interest on your savings.
Such plans are also covered by the SDIC.
7. Exchange Traded Funds
An Exchange Traded Fund (ETF) is an investment fund listed and traded on the stock exchange. It is passively managed by fund managers. This means that fund managers set up these funds to track the performance of stock indices and sectors.
Over the past decade, ETFs have gained popularity from investors globally. The key reason for its popularity is the ability and ease to diversify across different stock markets, sectors, and asset classes. Another benefit of ETFs is its low cost as compared to Unit Trusts.
8. Real Estate Investment Trusts
Wish to own more properties but you do not have enough capital and appetite for high risk? Real Estate Investment Trusts (Reits) could be your next investment solution. They are investment plans that own and invest in a diversified portfolio of properties that generate income. As such, the risk of investing in properties is reduced due to the process of diversification across multiple assets.
Properties in a Reit may include office buildings, shopping malls, warehouses, business parks, hospitals, hotels, and data centres. The real estate assets are professionally managed by property managers. In view of the mandated 90% taxable income to shareholders from Reits, they can be considered a form of recurring passive income for investors and retirees.
In summary
Most of the 8 investment options can give you safe and reliable returns. Nonetheless, it is important to do your due diligence before investing in any investment product including in seemingly low-risk instruments like ETFs and unit trusts as they have different risk levels. In other words, remember to always weigh the consequences before investing in any product.
In the case of CPF top-ups, do ensure that you have enough cash on hand before you put money into your CPF account.
Besides investing in low-risk products, diversification across multiple products and asset classes is another method you can adopt to reduce the amount of risk taken.
Ready to start?
Speak to the Wealth Planning Manager today for a financial health check and how you can better plan your finances.
Need help selecting an investment? Try 'Make Your Money Work Harder' on DBS NAV Planner to receive specific investment picks based on your objectives, risk profile and preferences.
Disclaimers and Important Notice
This article is meant for information only and should not be relied upon as financial advice. Before making any decision to buy, sell or hold any investment or insurance product, you should seek advice from a financial adviser regarding its suitability.

All investments come with risks and you can lose money on your investment. Invest only if you understand and can monitor your investment. Diversify your investments and avoid investing a large portion of your money in a single product issuer.
Disclaimer for Investment and Life Insurance Products