Using DBS Vickers and NAV Planner for stock research

If you've only got a minute:
The DBS Vickers and DBS NAV Planner combination allows you to do view all your CDP investments (regardless of broker), trade, get research and stock analysis on the same platform.
DBS NAV Planner features for investors include: Stock portfolio updates, daily price updates, customisable portfolio dashboard and personalised financial planning insights, among others.
If you're a seasoned investor, the DBS Vickers platform can be a useful add-on to your research and portfolio monitoring arsenal.

While investors previously needed to be super involved in tracking their own trades (read: maintain your own Excel sheet), it's now possible to get all the information in one dashboard.
Imagine having a platform that allows you to:
See all your CDP stock holdings regardless which brokerage you bought them from
Trade directly through the platform, and
Get research and perform stock analysis with the same platform
That's precisely what the DBS Vickers and DBS NAV Planner combination allows you to do.
Whether you're a seasoned investor or a newbie dipping your toes into the stock market, this one-two punch could be just what you need to take your investing to the next level.
Get an all-in-one view of all your CDP stock investments
Keeping track of what's in your Central Depository (CDP) account can be a hassle as it only records your Singapore stock investments and doesn't have 'live' price updates. That's where NAV Planner comes in: Powered by SGFinDex, it gathers all your financial information from banks, CDP, CPF, HDB loans, and IRAS taxes. Yes, all your financial information in one place for the utmost convenience!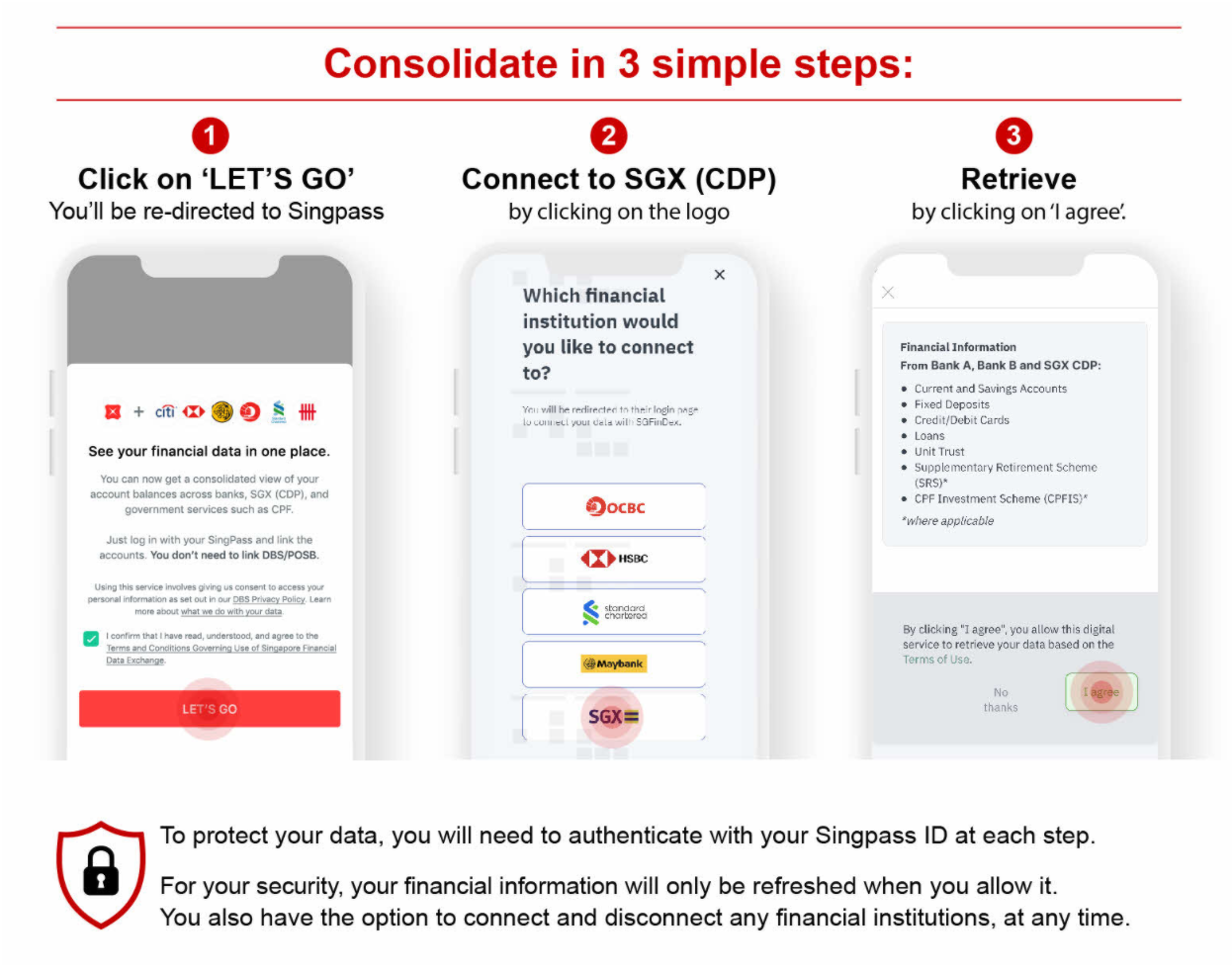 Once connected to SGFinDex, you can view all your investments in NAV Planner, including the holdings found in your CDP account. These are the best 5 functions for a stock investor:
Stock portfolio updates: With each re-link to SGFinDex, all your Singapore stock holdings held in CDP will be updated. Your foreign investment holdings with Vickers will also automatically be synchronised and displayed as part of your invested assets in NAV Planner.

If you sell anything, there's no need to mark it manually as "sold". Again, all you have to do is connect and share your financial information with DBS NAV Planner, and everything will be synced up nicely for your easy viewing and tracking.

Daily price updates: With NAV Planner, you can track the daily movement of your investment portfolio value, including the holdings that you have in CDP if you have connected it to NAV Planner through SGFinDex.

Ability to customise your tracking dashboard: Not all trading platforms allow you to customise the tracking of your overall portfolio for a complete picture. Those that do often require you to manually key in your stock prices and investment data. When linked to CDP, NAV Planner captures all the information for you across all your trading platforms. Up-to-date + accurate information = Better finances.

Keep pulse on your investing firepower: A good rule of thumb is to invest 50% of your net worth after you have got the basic insurance coverage. NAV Planner takes care of all these calculations so you can focus on deciding what to do with the extra funds that you have got sitting idle. It has CPF and SRS assumptions worked in as well, so you get accurate data on how you're growing your wealth.

Get personalised financial planning insights: For instance, if you have liabilities apart from your home loan, consider paying that off instead of investing. Or how to set up a realistic budget with your income and spending preferences.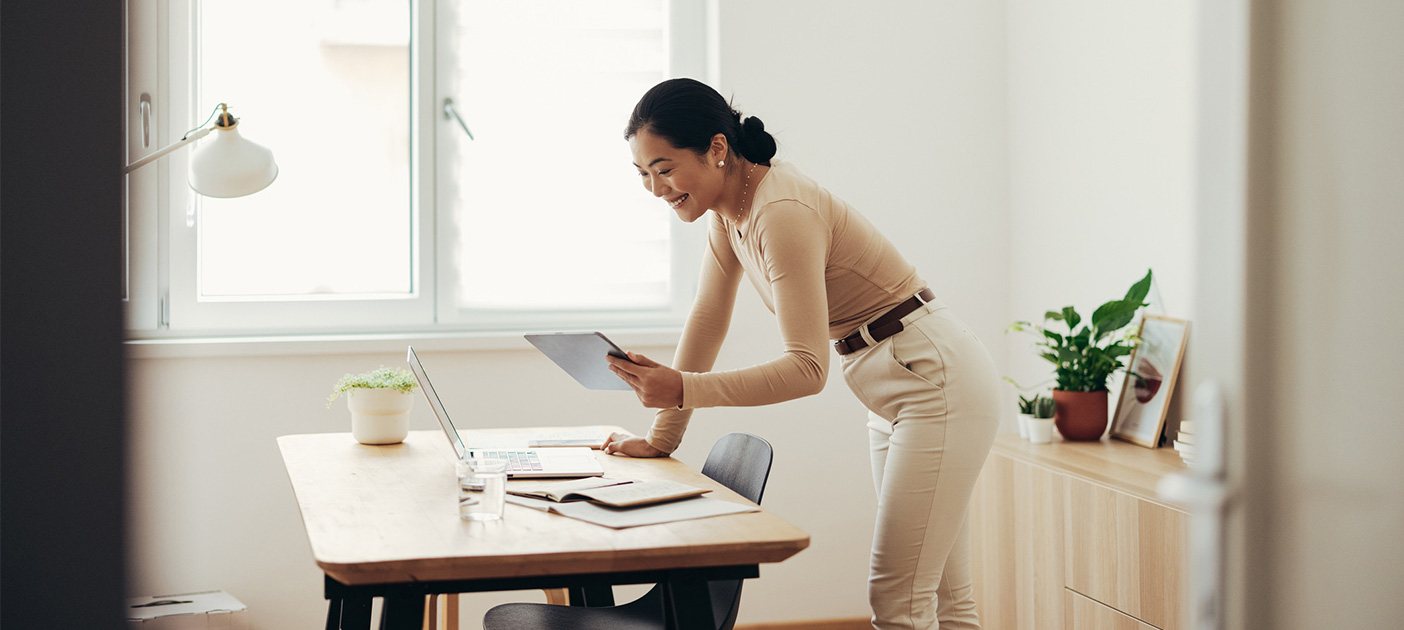 Benefits of investing with DBS Vickers
DBS Vickers is an online trading platform that gives you access to several international markets. You can expand your portfolio and trade across 7 key global markets, namely the U.S., Canada, Hong Kong, Singapore, United Kingdom, Australia and Japan.
It can be a little intimidating if you're just starting out. Stress less with these comprehensive guides which have all the information you need to start trading with DBS Vickers.
You will be guided, step by step, starting from opening an account online, to setting up your Call Levels app in order to receive real-time price tracking alerts, and then managing your trading both online and on while the get go. The user guides will also show you how to navigate the DBS Vickers Online Trading Platform as well as the DBS Vickers mobile app.
Some benefits of using Vickers include: Up to 55% lower trading commissions on online cash upfront trades and quick and fuss-free trading in local and global markets. A DBS multi-currency account allows you to settle trades in multiple foreign currencies, thus allowing you to seize your opportunities whenever and wherever you want.
Upon logging in to the DBS Vickers Online Trading Platform, you will get a quick overview and access to all the tools and features to monitor your stocks, check your account information and also keep a watch on Singapore Market Overview.
On the same page is the Stock Research section. If a particular stock catches your eye, you can trade directly via the Smart Search bar. Once you have looked up your preferred stock, all you have to do is perform 2FA, confirm the Order, and you're good to go. How's that for super-efficient trading?
The overall look-and-feel of the interface is clean and very intuitive, making it easy to navigate and monitor various markets and compare multiple stocks simultaneously. This will certainly help you to manage your trading a lot more efficiently.
Stock research features in DBS Vickers app
If you're a seasoned investor, here's how the DBS Vickers platform can be a useful add-on to your research and portfolio monitoring arsenal.
Tools to compare and analyse stocks
Use Stock Screener to identify stock strategies, customise them according to your preferences, and narrow down stocks that meet your objectives.
Find information like company profiles, news, research reports, financial statements and financial ratios with Stock Search. You'll even get access to current and historical global analyst recommendations, and research reports by DBS Group Research.
Uncover potential stocks with Stock Comparer, with which you can compare stocks in the same sector, within your watchlists, or against other stocks. Simply select from up to 5 parameters to make the comparison – there are over 100 to choose from!
If you are an active stock investor who has accumulated enough commissions in the past months by trading stocks listed on the Singapore Exchange, Advanced Market Data allows you to make real-time detailed comparisons across 4 stocks, view up to 20 levels of Bid and Ask prices and monitor prices on both the buy and sell sides. Even more conveniently: you can perform a buy/sell trade on the same screen.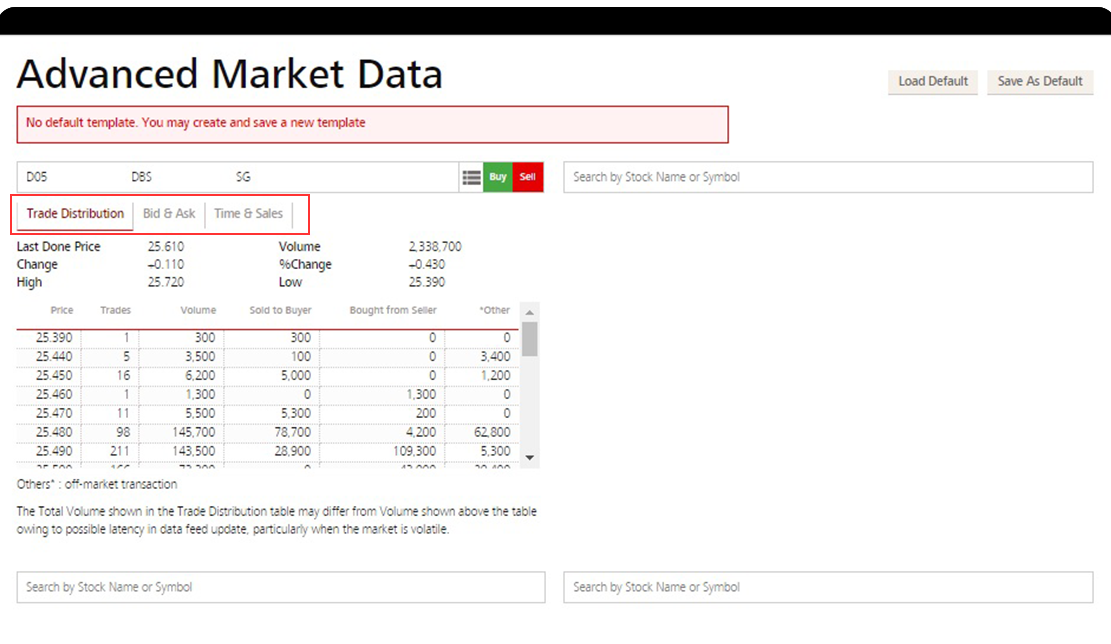 Also for active stock investors is the Transaction Screener, which allows you to spot market opportunities with by identifying major market-moving transactions with real-time accuracy. Gauge market trends by displaying trades of the entire stock market with values of more than $500,000 or $1 million.
Charting tools
Choose from an extensive list of technical indicators in Advanced Charting Features, such as moving average, moving average convergence divergence (MACD), and relative strength index (RSI). The easy-to-use charts make it simpler to navigate the market and monitor real-time movements. You have the option to customise and save your chart templates, giving you essential, personalised information at your fingertips.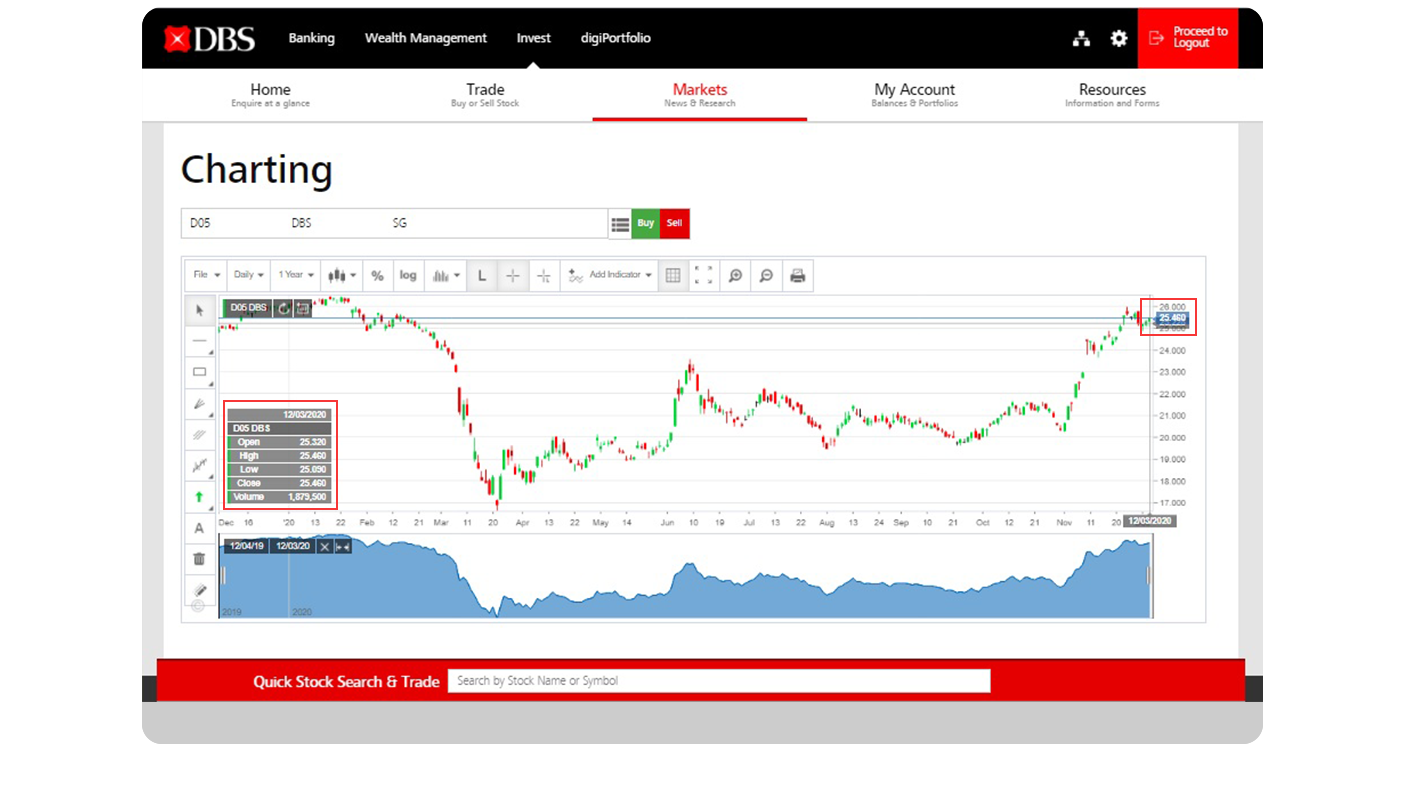 There's no doubt that these features would be an invaluable addition to the tools and insights that are already at your disposal. With DBS's wide network, you get extensive insights and a comprehensive suite of services that have unrivalled convenience and access to capital markets in Singapore and worldwide.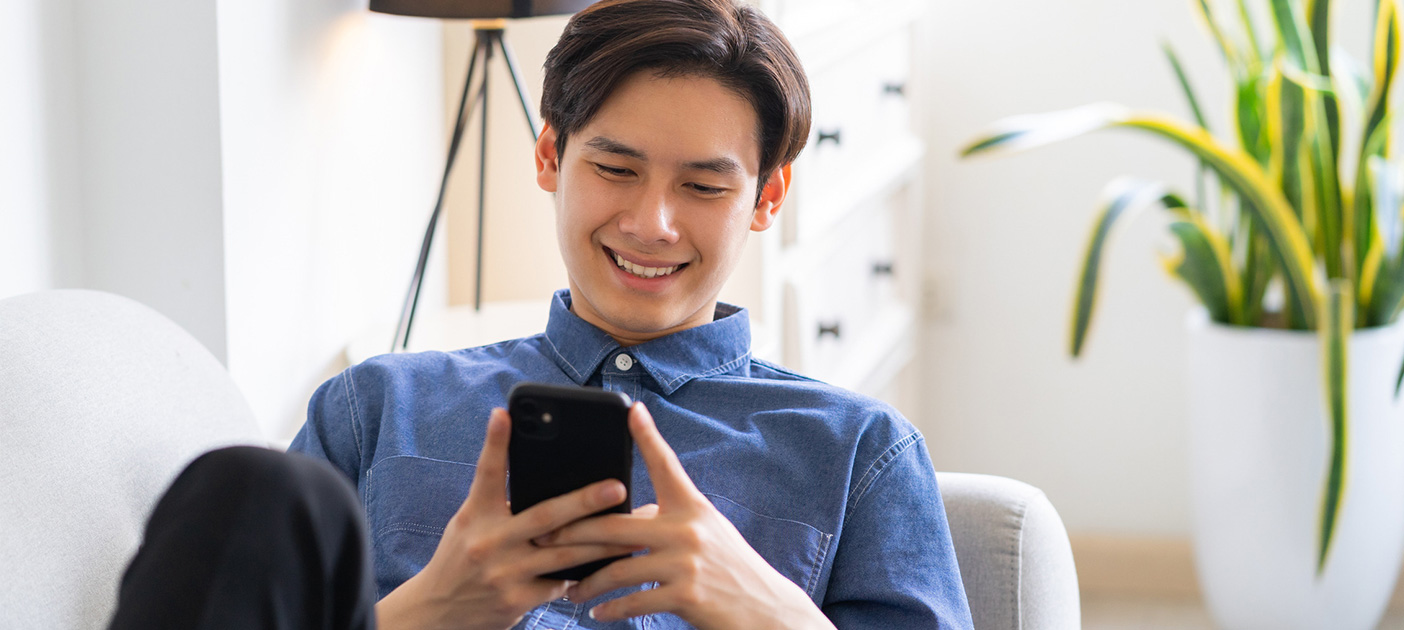 Taking the next step to making better trading decisions
When there are so many things to do in a day, having the convenience to quickly view and plan your finances could make a world of difference.
With DBS Vickers and the DBS NAV Planner, you can achieve better financial wellness and make your money work for you more efficiently. Whether you're old or young, an investor or a financial newbie, nothing should stop you from taking advantage of the opportunities to save, protect and grow your money. Get started with us today.
Find out what DBS NAV Planner can do for you.
Explore the DBS Vickers online trading experience.
Connect your accounts with SGFinDex to track all your finances in one place.
Alternatively, if you'd prefer to speak to a Wealth Planning Manager about your investment decisions, make a no-strings-attached appointment with us today.
Tell us if this article helps you plan and achieve your financial goals

Disclaimers and Important Notice
This article is meant for information only and should not be relied upon as financial advice. Before making any decision to buy, sell or hold any investment or insurance product, you should seek advice from a financial adviser regarding its suitability.
Disclaimer for Investment and Life Insurance Products
You might be interested in