12 night markets and cafes you must visit in Bangkok
This article was produced in partnership with Tripzilla.
Get your wallets and stomachs ready because it's time for some feasting and shopping in Bangkok!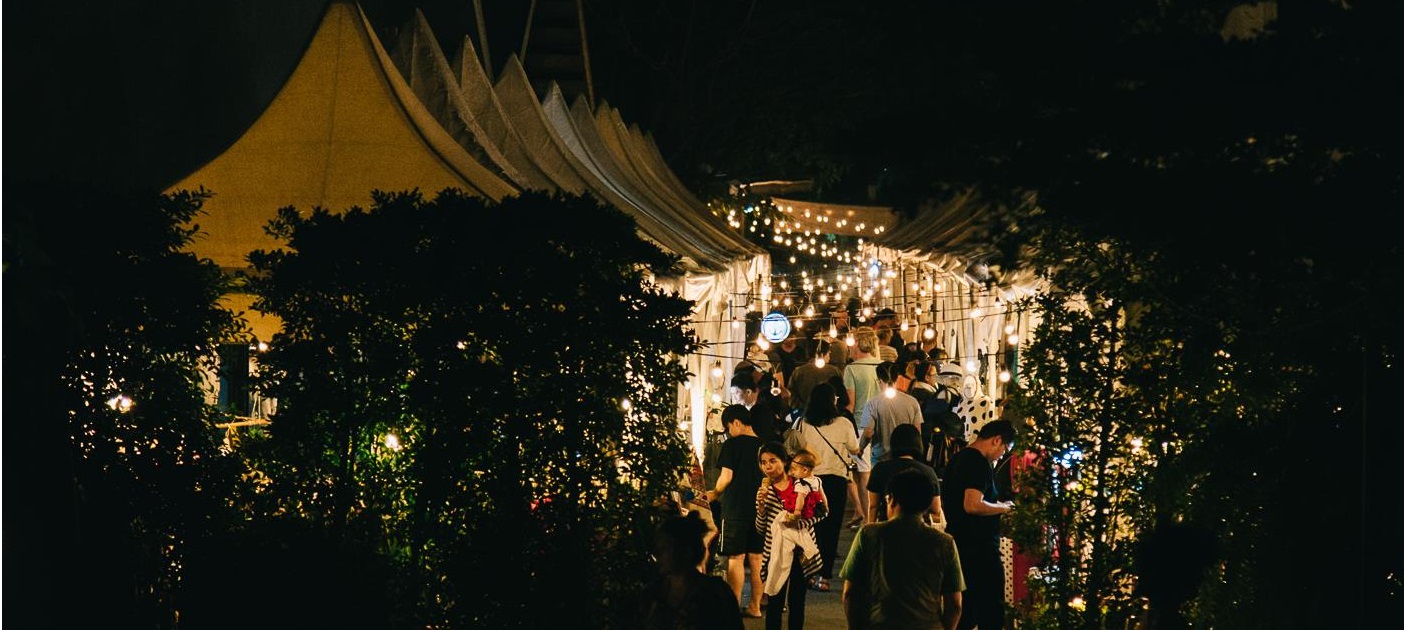 Image credit: The Knack Market
With a plethora of vibrant night markets dotting this sleepless city, Bangkok is indeed a prime place to be when it comes to nabbing solid bargains and sampling delicious food. Maximise your time in Thailand's cosmopolitan capital by indulging in a café-hopping spree during the day and revelling in the awesome carnival-like night market scene once the sun sets.
From Instagram-worthy dishes and picturesque café settings, to the lovely aroma of sizzling skewers and endless offerings of quirky souvenirs, your trip to Bangkok will be incomplete without visiting some of these up-and-coming spots. Instead of trawling the regular haunts, why not venture beyond Artbox and bid hello to fresh, new places? These humble flea markets definitely offer a breath of fresh air from their overly-touristy counterparts.
NIGHT MARKETS:
1. Hua Mum Night Market

Image credit: Hua Mum Night Market
If you wish to go where the locals are, pay the sprawling Hua Mum Night Market a visit. This under-the-radar night market in Lat Phrao happens to be where most locals flock to for its dizzying array of goods from cheap apparel to tantalising street food on-the-go. Aside from yummy traditional delights (read: mouthwatering pandan kueh!), expect to find creative food ideas such as adorable cartoon-shaped buns and intriguing cotton candy designs.
Get lost in the labyrinthine network of over 200 stalls or locate casual bars where you can nosh on some bar grub and unwind with a tipple. Some of them span two floors and provide a superb aerial view for you to better embrace the festive vibes. Even though this particular night market is not situated in the heart of Bangkok's bustling city centre, there is a great mix of gadgets and gizmos, delicious food and unique souvenirs that definitely warrants a visit.
Address: 11 Prasert-Manukitch Rd, Lat Phrao, Bangkok 10230, Thailand
Opening Hours: Daily except Monday, 6pm - 12am
2. Talad Neon

Image credit: Talad Neon
Situated beside the bustling Platinum Mall within Pratunam, Talad Neon is characterized by its funky neon lights that constantly attract a hipster crowd. Selling all things trendy from artisanal chocolates and intriguing drink concoctions to fashionable garments and kitschy household items, meander row by row to avoid missing out on any shops.
Feeling peckish? Dine comfortably at the wooden tables and enjoy tasty snacks and light bites as you let the live band serenade you with melodious tunes. Seafood dishes are popular here so if you are craving for your favourite crustaceans, head on down and feast to your heart's content. You'll be glad to know prices here are indeed wallet-friendly! After an evening of pigging out and hours of retail therapy, treat yourself to an authentic Thai massage at the 2-storey massage parlour. The stunning panoramas of the night market from that vantage point is an absolute plus!
Address: 1087 Khwaeng Makkasan, Khet Ratchathewi, Krung Thep Maha Nakhon 10400, Thailand
Opening Hours: Wednesday - Sunday, 4pm - 12am
3. Indy Market Dao Khanong

Image credit: Indy Market Dao Khanong
In need of a night market that opens on other days besides the weekends? Indy Market at Dao Khanong makes for the perfect weeknight hangout spot. You will not miss this expansive market (over 500 stalls!) courtesy of its decor that boasts countless fairy lights. Dig into some piping hot local Mookata (Thai steamboat-cum-grill) or opt for fuss-free sinful snacks such as deep fried cheese balls and sweet Thai crepes to refuel after a long, arduous day.
Burn those extra calories thereafter by checking out stalls boasting whimsical fashion and colourful accessories. As this night market is more popular among locals than tourists, expect prices to be even more attractive here.
Address: Thanon Suksawat, Khwaeng Chom Thong, Khet Chom Thong, Bangkok 10150, Thailand
Opening Hours: Daily, 4pm - 12am
4. The Knack Market
Image credit: The Knack Market
Reminiscent of the classy 70's era, this quaint night market just across the iconic Chao Phraya River features all things vintage, artsy and creative. From home accessories and decorative antiques to old-fashioned clothing and timeless books, you might feel like you're travelling back in time as you explore the grounds of The Knack Market.
See if you can find any knick-knacks you adore or simply go for some over-the-top desserts that will do wonders to your Instagram feed. This monthly event has also earned the reputation of being a popular local farmers' market, showcasing fresh produce such as herbs, meat, plants and flowers too. If you're all about chilling with some great music, you'll be pleased to note that several indie and acoustic bands do play till late. Sit back, relax and grab a beer (or two) while you're at it.
Address: 41/1-5 The Jam Factory, Charoennakorn Rd., Khlong San
Opening Hours: Last weekend every month, 4pm - 9pm
CAFES:
5. Pooltime Café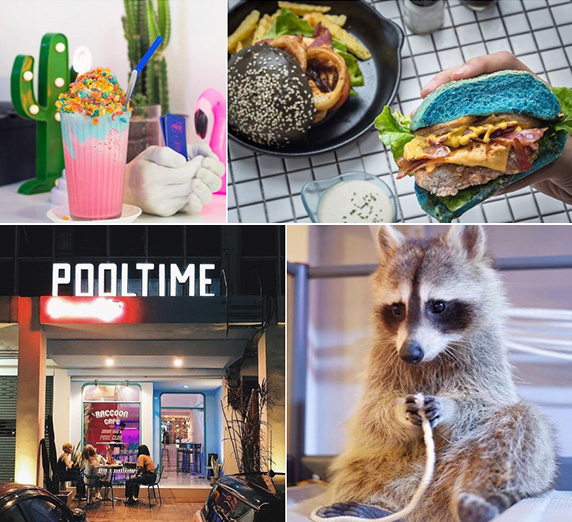 Image credit: Pooltime Café
Everything about this café oozes chill vibes, from the minimal furnishings to the pool-like setting. Neon-coloured chairs scatter the premises while marble-topped tables are arranged in neat rows. Contrary to its name though, there is no actual swimming pool here sadly. There are three main residents that you need to take note of though: Bob, A-po and Yee-poon, your cute raccoon friends!
Hang out in this one-of-a-kind raccoon cafe and tuck into some creative café grub. Think: wacky burgers and uber-colourful milkshakes! Prices are pretty reasonable too, making it a fantastic spot to just laze the afternoon away. Don't forget to snap a couple of shots with the cuddly raccoons before you leave. Photos of this cafe's quirky decor will no doubt amp up your Instagram's aesthetics.
Address: 582 Soi Sukhumvit 63 Road, Between Soi Ekamai 26,28, Wattana, Bangkok, 10110, Thailand
Opening Hours: Tuesday - Thursday, 1pm - 10pm; Friday - Sunday, 1pm - 12am
Your Ultimate Travel Wallet: DBS Visa Debit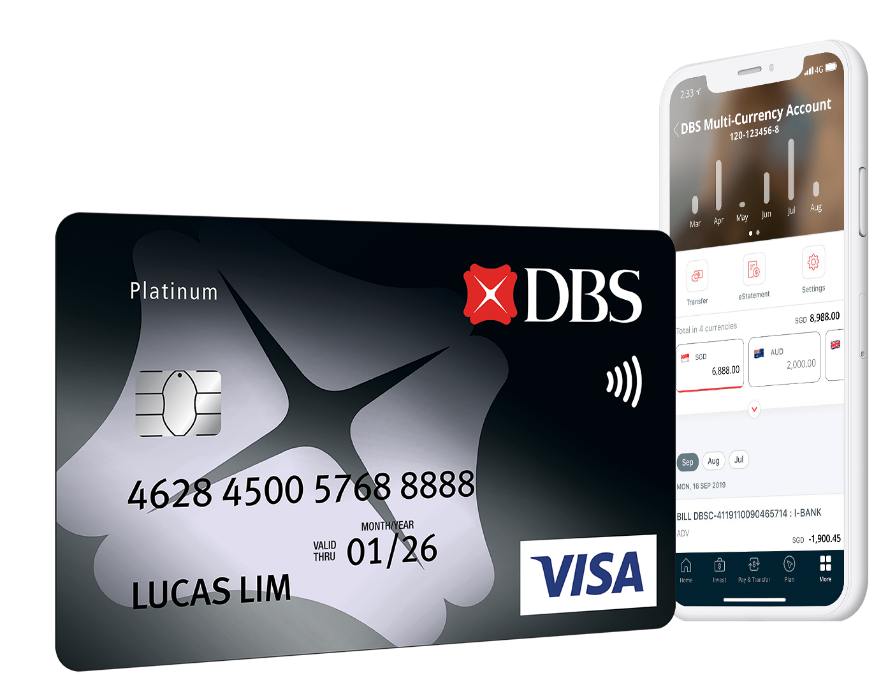 Spent all your cash at the night markets? Finding a good money-changer around your accommodation can be such a hassle, plus the exchange rates might be far from ideal.
Solve this problem simply by using your DBS Visa Debit Card linked to your DBS Multi-Currency Account (MCA).With an MCA, you won't have to pay any foreign exchange fees. Plus, you get to buy currencies when the exchange rates are favourable, and pay directly in that currency using your DBS Visa Debit Card.
We'll show you how it works:
STEP 1: Keep a lookout for the best time to exchange your currency
Keep your eye on the exchange rates of the Thai Baht and wait until its value drops to your preferred rate before exchanging your Singapore Dollar for the Thai Baht via DBS MCA.
Tip: You can set up a FX Rate Alert on the latest DBS/POSB digibank app to get notifications when your preferred rate is met. Simply log in to digibank app > Select 'Transfer' on the menu > FX Rate Alert
On top of the Thai Baht, your MCA account also covers these other foreign currencies: Australian Dollar, British Pound, Canadian Dollar, Euro, Hong Kong Dollar, Japanese Yen, New Zealand Dollar, Norwegian Kroner, Swedish Kroner, and US Dollar.
STEP 2: Transfer funds into your MCA to secure your desired rates
Don't forget to transfer funds into your MCA so as to lock in your desired rates! Your exchange rate will be locked in at the time of Funds Transfer and will not be subject to any future fluctuating market rates.
STEP 3: Whip out your linked DBS Visa Debit Card and you're ready to go!
If you're a new DBS/POSB customer, every new MCA account comes bundled with a complementary DBS Visa Debit Card. With this card, you will be able to make cashless transactions in Thailand on the go. Should you require more cash, you can also withdraw Thai Baht from ATMs* there using your DBS Visa Debit Card.
Sounds convenient, doesn't it? The MCA is applicable in most countries that accept the major foreign currencies, making exploring Bangkok and the rest of the world a breeze!
* Note: ATM charges may apply.
6. Mocking Tales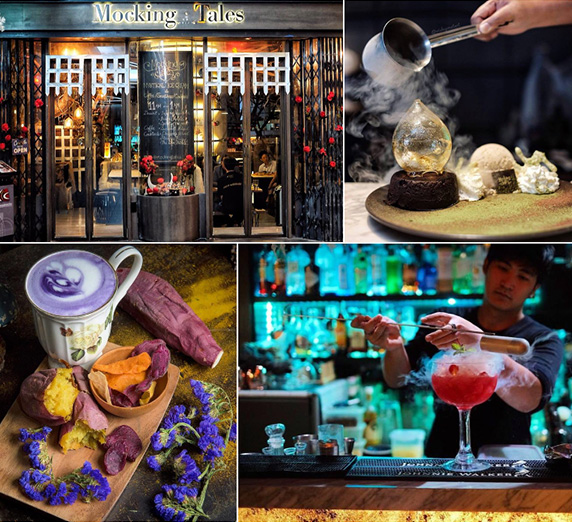 Image credit: Mocking Tales
Not everything is always happily ever after. This enchanting café goes above and beyond to depict all things goblin and witch-related amidst its medieval decor. As you step in, enter a classic fantasy world where mystical spells and magic reign supreme. Saunter around the dimly-lit space and discover fascinating props such as magic potions, spell books and even glittering crystal balls!
The food and beverages served here place exceptional care and effort when it comes to overall presentation and plating. If you're too spoilt for choice, go for the Lord of the Rings-inspired Inferno Mountain: three generous scoops of ice cream topped with brownies and rice krispies inside an upside-down chocolate cone, drizzled with raspberry sauce and flamed with orange liqueur – YUM!
Address: 55 148, G Floor, Maze Thonglor, Soi Thonglor 4 Krung Thep Maha Nakhon 10110, Thailand
Opening Hours: Daily, 11am - 1pm
7. TALES Khaosan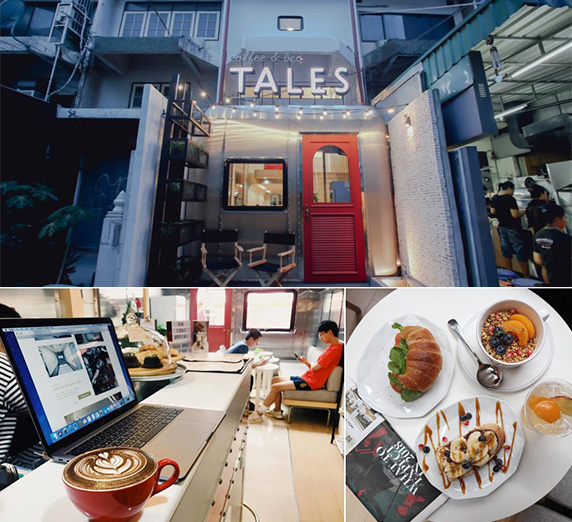 Image credit: TALES Khaosan
Doubling up as a trendy hostel (train cabins for dorms) fitted with a train-themed café, TALES Khaosan is well worth a visit for both backpackers and coffee lovers alike. This new kid on the block, at Bangkok's famous Khaosan Road, takes your café-hopping game up several notches.
Grab a stool and refuel with a solid iced latte (or choose one of their Chiang Rai Bean specialties) and satisfy those hunger pangs with some freshly-baked croissant and other delicious sweet treats.
Address: 88 Chakrabongse Road, Taladyod Phranakorn, Bangkok, Thailand 10200
Opening Hours: Monday - Thursday, 10am - 6pm; Friday - Sunday, 9am - 8pm
8. Café Reverie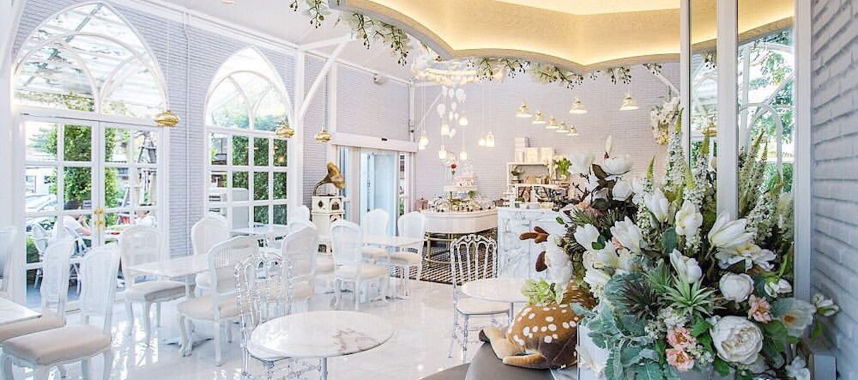 Image credit: Café Reverie
This monochromatic café's clean, white marble setting is definitely eye-catching in so many ways. The hanging chandeliers, gold lamp accents and white flowers also maintain a certain level of classiness that is hard to come by. With a setting like this, do not be surprised if you end up spending hours just soaking in the natural lighting and greenery.
Café Reverie embodies an understated elegance that will allow you to escape the hustle and bustle of the city and indulge in the finer things in life. The decadent desserts are drool-worthy and well worth skipping the gym for. With a slew of French-style pastries, rich cakes and delicious cookies to choose from, be spoilt for choice!
Address: 23/1 Soi Rongrian Phet Thanom, Khwaeng Lat Phrao, Khet Lat Phrao, Krung Thep Maha Nakhon 10230, Thailand
Opening Hours: Daily except Monday, 9am - 7.30pm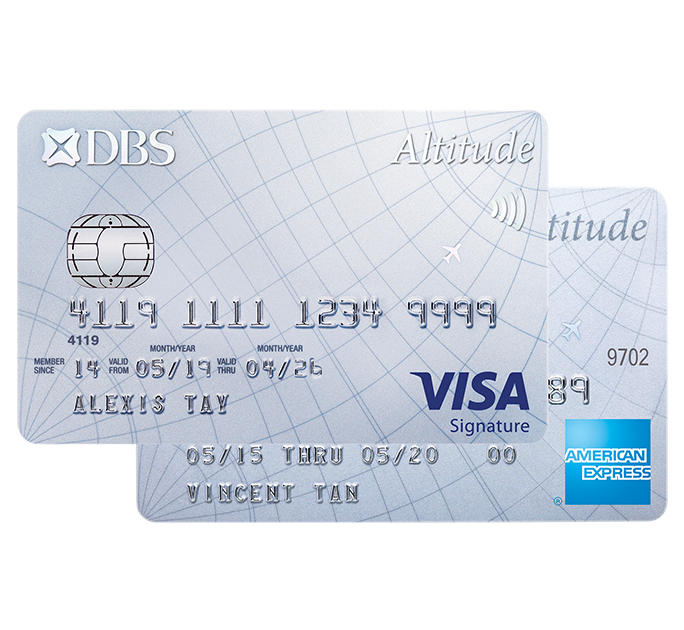 Prefer to earn miles?
Constantly heading back to Bangkok for its affordable food, amazing shopping and bustling cafe + night market scene? Well, if you think you might become a very frequent flyer to Bangkok (or anywhere in the world), why not apply for a DBS Altitude Card? Enjoy 3 miles/S$1 spent on online flight & hotel transactions (capped at S$5,000 per month), 2 miles/S$1 on overseas spending (in foreign currency), and 1.2 miles/S$1 on local spending.
So whenever you spend, you're actually saving up for your next trip! Doesn't that sound like an excellent reason to get yourself a DBS Altitude Card?
9. VIVI The Coffee Place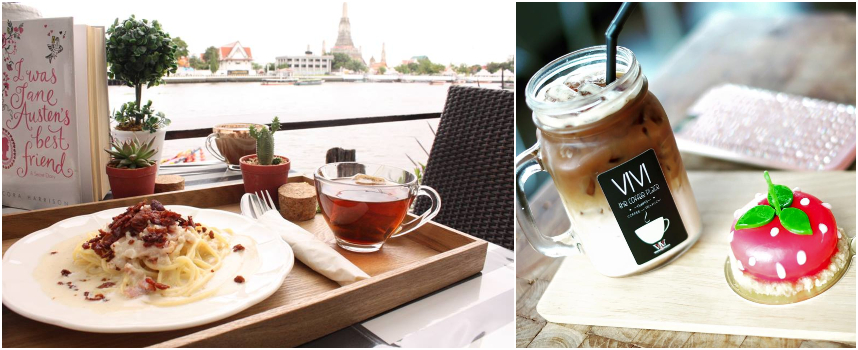 Image credit: VIVI The Coffee Place
This riverfront café gives you unobstructed views of the iconic Wat Arun Temple located across the Chao Phraya river. With cosy wooden accents and a spacious dining area both indoor and outdoor, VIVI The Coffee Place is perfect for you to get comfortable with an iced cold coffee or sip on some warm tea.
The sunset views are extra dreamy so it is best to swing by in the late afternoon and chill by the verandah while soaking in the prime views. Escape the throngs of people and revel in some peace and quiet at this affordable hidden gem. This could be one of the best spots to marvel at the seamless blend of culture and urban life.
Address: 394/29 Maha Rat Rd, Phra Borom Maha Ratchawang, Phra Nakhon, Bangkok 10200, Thailand
Opening Hours: Daily, 10am - 8pm
10. Ici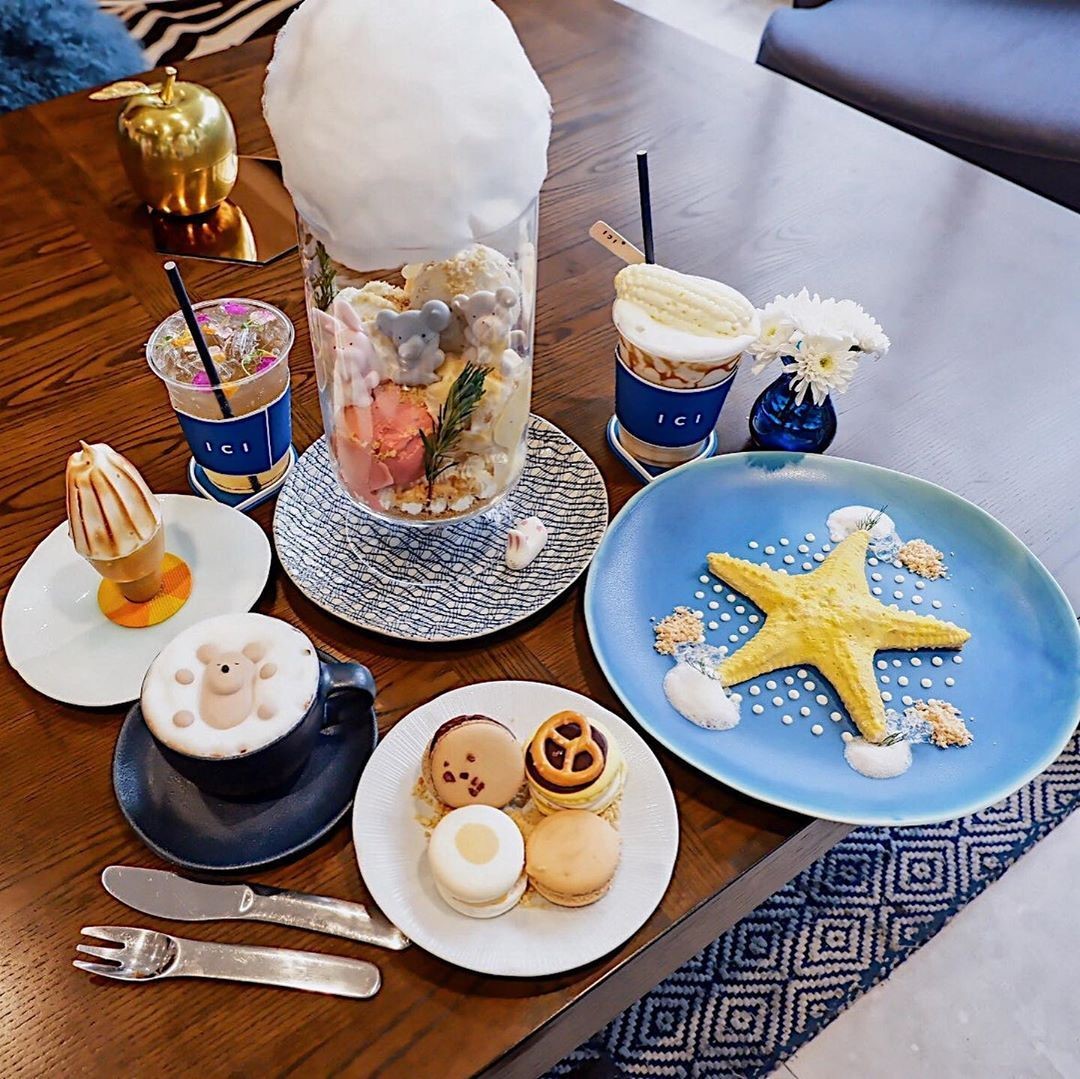 Image credit: Noey Natnaree Triamkedsub
This cafe's sugary creations really takes the art of crafting Instagram-worthy creations to new heights! Forget latte art or galaxy-inspired desserts – here, you'll get hot chocolate with a bear floating belly up in foam, and too-beautiful-to-be-eaten desserts including what resembles a starfish, and an ethereal-looking assembly of sugar animals and ice cream, topped with a wisp of candy floss. Naturally, its decor is equally Insta-worthy too, which looks like a very stylish person's living room.
Address: 24 Soi Sukhumvit 27, Bangkok, Thailand
Opening Hours: Tues - Sun 10am - 6pm
11. Unbirthday Café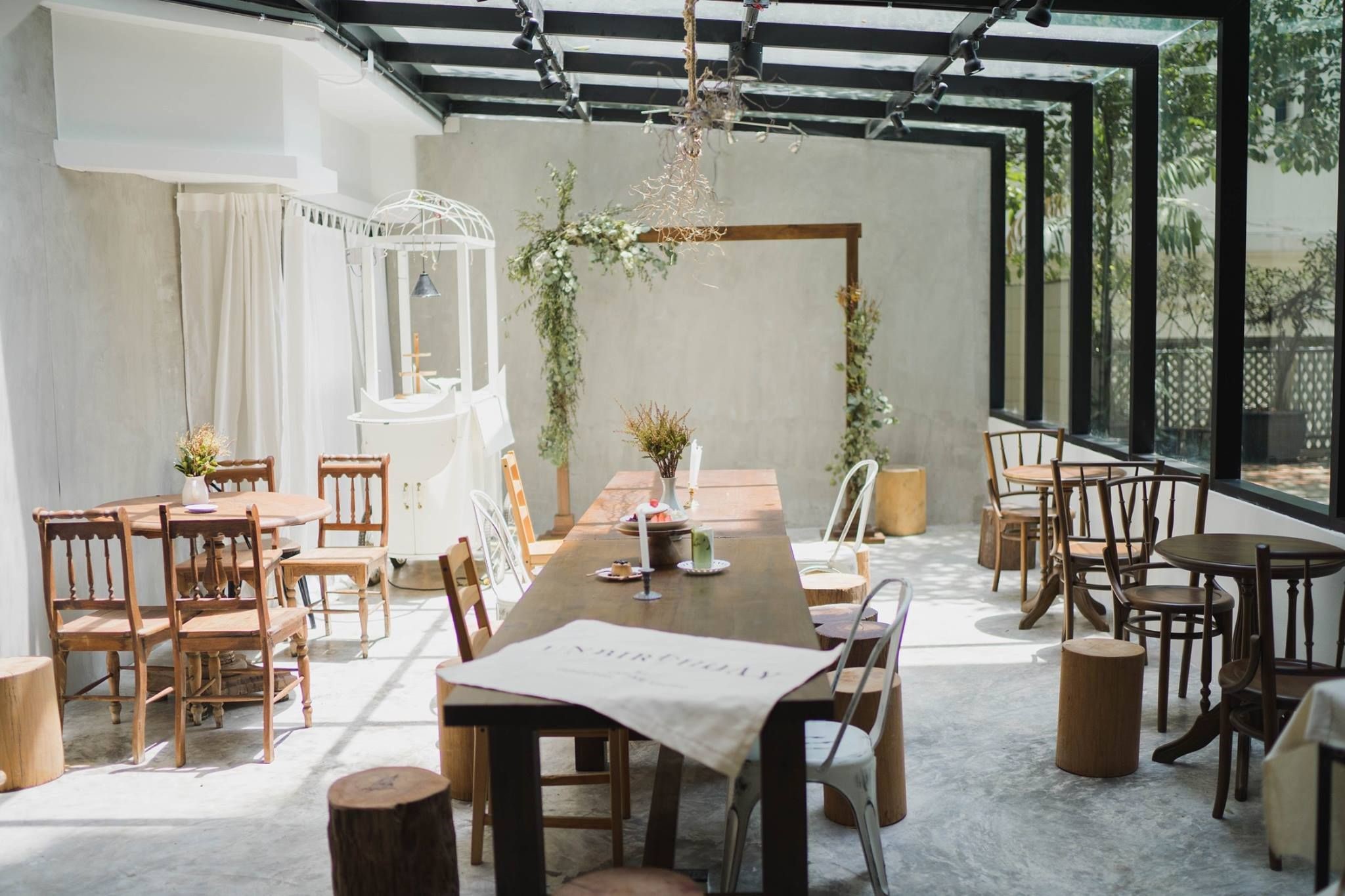 Image credit: Unbirthday Cafe
In a nutshell, Unbirthday Café wants you to enjoy the other 364 days of the year like it's your birthday – how can we say no to that? The light-filled, glasshouse-like space almost looks like you could get married in it (and yes, they do host weddings!), but what many come here for are its delectable range of pastries and beverages.
We've heard their rendition of Red Velvet is one of the best around, as are their pancakes that are generously adorned with fresh fruits.
Address: 14 Sukhumvit, 31 Wattana, Bangkok, Thailand
Opening Hours: Daily, 9am – 7pm
12. Phak Café & Crafts
A multi-concept shop that houses both a cafe, a craft store and a multi-brand store, it won't be too far-fetched to say that you can spend the entire day at Phak Café & Crafts! Unwind with a hot cuppa and a rich crumbly scone, or something more filling but healthy like a smoothie bowl. Its minimal interiors are dominated by cement, the occasional pop of marble and of course, peeks of green from strategically-placed plants – very chic indeed.
Address: 1 Suhumvit 51, Bangkok, Thailand
Opening Hours: Tues-Sun, 8am – 6.30pm
With the café and night market scene constantly evolving to accommodate varying preferences and likes, there is always something new to discover
Grab your pals, pack your bags and get ready to fly to every foodie and shopaholic's haven in Southeast Asia.
Check these out before you travel