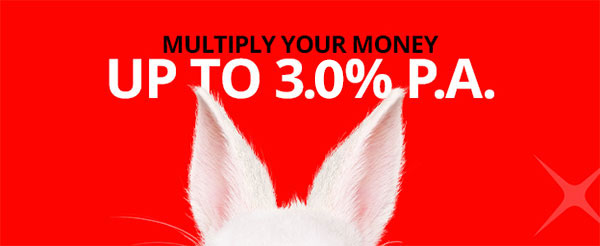 Good news! Now you can enjoy 0.70% - 3.8% p.a. on savings up to $100,000 with the Multiplier Account! Compared to 0.05% p.a. basic savings account interest rate, that's 70X more interest!
How to earn interest rates of up to 3.8% p.a.
Watch your money multiply like bunnies with the DBS Multiplier Account when you do the following with DBS/POSB every month and the eligible transactions add up to S$2,000 or more.

Curious how much interest you could earn?
Calculate your interest rate with the calculator now!
Ready to open an account?
Do it in 5 mins on digibank or click here
Not ready? No worries, take your time to find out more
Deposit Insurance Scheme
Singapore dollar deposits of non-bank depositors and monies and deposits denominated in Singapore dollars under the Supplementary Retirement Scheme are insured by the Singapore Deposit Insurance Corporation, for up to S$75,000 in aggregate per depositor per Scheme member by law. Monies and deposits denominated in Singapore dollars under the CPF Investment Scheme and CPF Retirement Sum Scheme are aggregated and separately insured up to S$75,000 for each depositor per Scheme member. Foreign currency deposits, dual currency investments, structured deposits and other investment products are not insured.

DBS Multiplier Account terms and conditions apply.