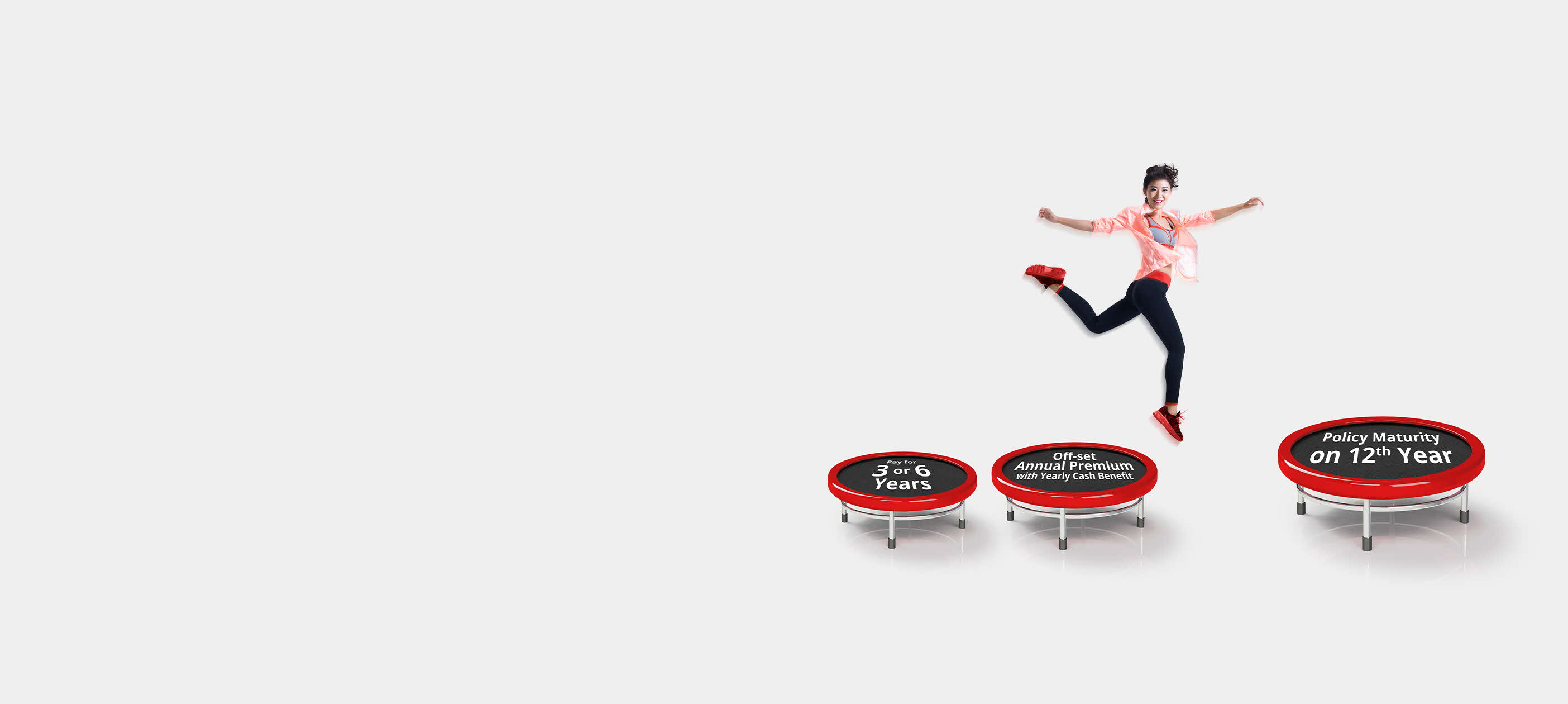 At a Glance

Be covered against Death, Total and Permanent Disability and Terminal Illness

Offset future premiums from end of policy year 3 or 6 with Yearly Guaranteed Cash Benefits

Guaranteed acceptance with no health questions asked
Grow your savings for better returns in 12 years with SavvySpring (II). Start nurturing from S$2,381/year.
 
Features & Benefits
Shortened premium commitment period. Future premiums will be offset using your Yearly Guaranteed Cash Benefits1 from end of 3rd or 6th policy year.
Capital Guaranteed2 upon Maturity. Receive 100% of your capital back upon policy maturity.
Build your own plan. Get started with a minimum annual premium amount of SGD 2,381.
Easy application. Guaranteed acceptance with no health questions asked.
Comprehensive coverage. Be covered against Death, Total and Permanent Disability3 and Terminal Illness4.
Option to change life insured5 – Flexibility to change the life insured to your loved ones
Terms and conditions apply, refer to the Sample Policy Contract for more details.
 
How it Works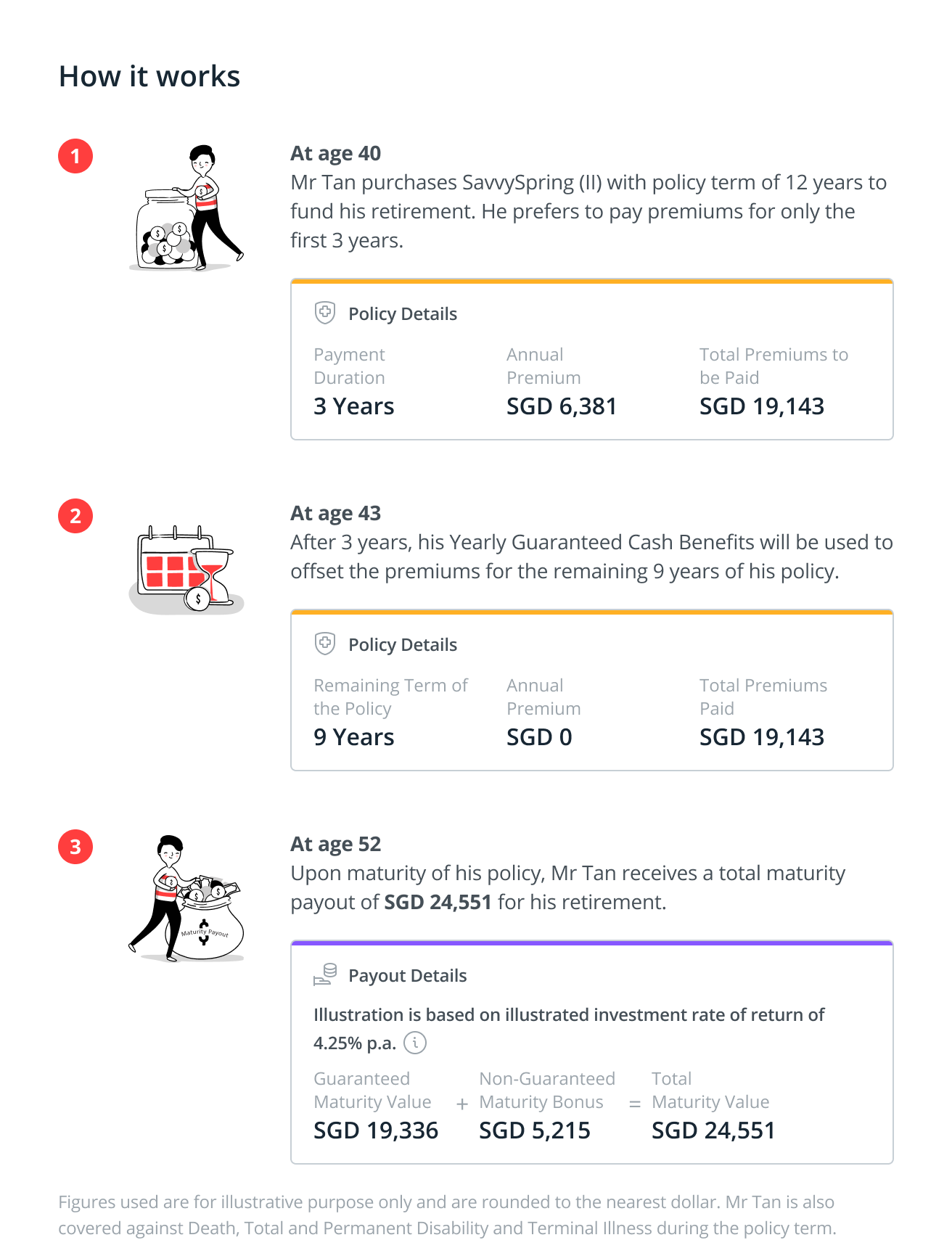 Eligibility Criteria
To apply for SavvySpring (II), you must be:
A Singapore Citizen or Singapore Permanent Resident (PR) who is currently residing and paying tax in Singapore only,
Aged between 18 to 60 years old (age as of last birthday),
A digibank user, and
You are applying for this policy for yourself.
 
How to Apply for SavvySpring (II)
No wait, no hassle. Your details are pre-filled when you apply on digibank.
Chat with our friendly Wealth Planning Managers now. (This chat service is available from 9am to 6pm on Mon to Fri, excluding Public Holidays.)
Alternatively, you may also leave your contact details here and we will get in touch soon.
Navigate money with confidence.
When it comes to managing money, there's no one-size-fits-all plan. That's why we built DBS NAV Planner on DBS digibank: An intuitive digital tool that helps you track, protect and grow your money in a way that works for you. Not just for a day, a month or a year, but as you go through life. This is DBS digibanking.
to access DBS NAV Planner.
POSB Inflation
Protect yourself so that you don't have to worry about unforeseen circumstances, while you deal with inflation. Interested to find out about other ways to cope with inflation?
 
Frequently Asked Questions
---
---
---
---
---
---
 
Footnotes:

1 Your Yearly Guaranteed Cash Benefit will be used to off-set the annual premium of the basic plan once the Yearly Guaranteed Cash Benefits are payable. Should you prefer to utilize your Yearly Guaranteed Cash Benefits in other ways, you may instruct us accordingly via a written notification after the policy has been issued. You may also choose to receive the Yearly Guaranteed Cash Benefits or accumulate them with Manulife at a non-guaranteed interest rate of 3.00% per annum (at the illustrated investment rate of return of 4.25% per annum) or 1.50% per annum (at the illustrated investment rate of return of 3.00% per annum).

2 Not applicable for policies which have been altered. For paid out and off-set premiums options, capital refers to the total premiums paid by policy owner less off the total Yearly Guaranteed Cash Benefits.

3 Total and Permanent Disability (TPD) benefit covers the life insured until the TPD expiry date. Please refer to product summary for more information on TPD expiry date.

4 Terminal Illness (TI) is defined as an illness, which in the opinion of a medical examiner and on agreement of our appointed medical examiner, is likely to lead to death within 12 months from the date of diagnosis. In the event of TI during the policy term, the Death Benefit will be advanced in a lump sum.

5 Please refer to the policy contract for more information.
In Collaboration with Manulife

SavvySpring (II) is issued and underwritten by Manulife (Singapore) Pte. Ltd. ("Manulife") (Reg. No. 198002116D) and distributed by DBS. It is not an obligation of, deposit in or guaranteed by DBS. This advertisement has not been reviewed by the Monetary Authority of Singapore.
Buying a life insurance policy is a long-term commitment. An early termination of the policy usually involves high costs and the surrender values payable may be less than the total premiums paid.
This policy is protected under the Policy Owners' Protection Scheme which is administered by the Singapore Deposit Insurance Corporation ("SDIC"). Coverage for the policy is automatic and no further action is required from you. For more information on the types of benefits that are covered under the scheme as well as the limits of coverage, where applicable, please contact Manulife or visit the Life Insurance Association or SDIC websites (www.lia.org.sg or www.sdic.org.sg).
Information is correct as at 1 July 2021.

DBS Insurance Important Notes
Related Reads
Thank you. Your feedback will help us serve you better.
Was this information useful?
That's great to hear. Anything you'd like to add?
We're sorry to hear that. How can we do better?
Enter only letters, numbers or @!$-(),.