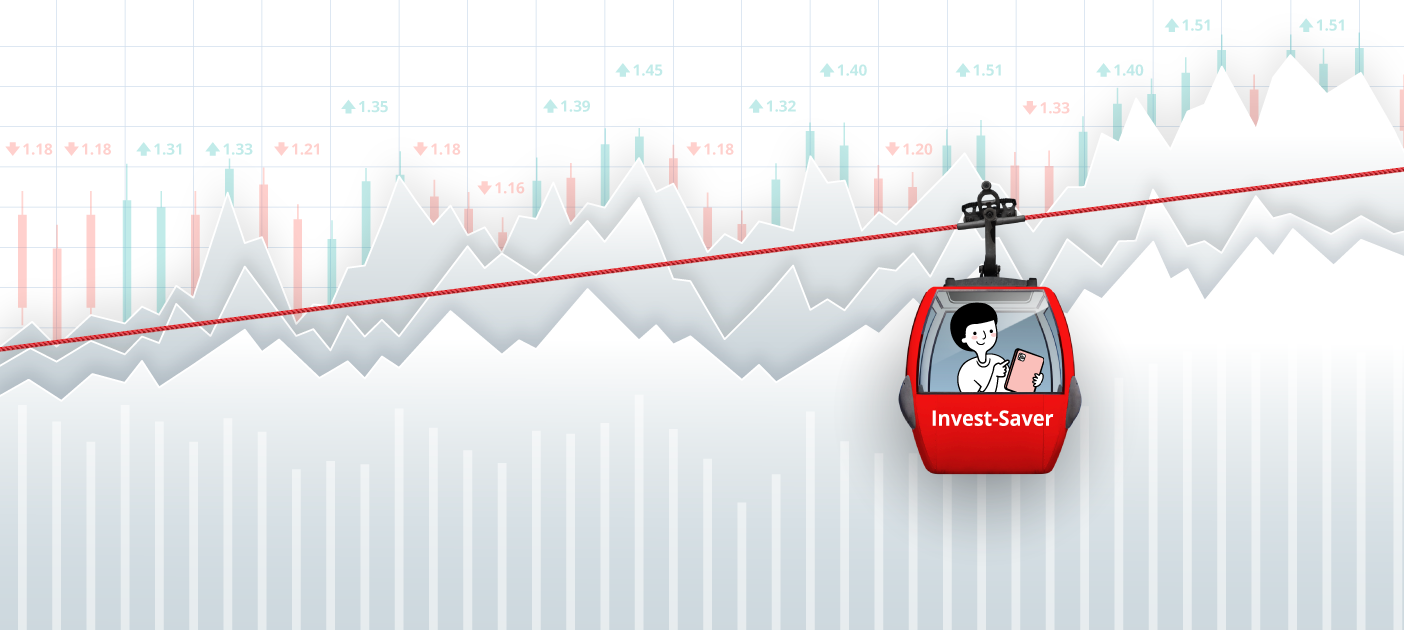 Ride the market steadily ​with Invest-Saver
 
At a Glance

Start affordably, anytime.
No time to study the market? No worries. Invest stress-free from as little as S$100.

No lock-in period.
Top up or redeem your investments as you choose, easily on digibank.

Invest based on your preference.
Choose from digiPortfolioNEW!, ETFs or Unit Trusts ​— whichever suits your needs.
If you're looking to start investing, you might be asking these two questions: What should I buy, and when should I buy it?
With Invest-Saver, you don't have to worry about either one.
 
How does Invest-Saver work?
Invest-Saver is a regular savings plan that lets you invest a fixed sum regularly into your choice of investments, from as little as S$100 a month.
By making fixed investments regularly regardless of the market conditions, you automatically buy more units when prices are low, and fewer units when prices are high.
So over time, the average cost of your investment could potentially be lower versus a one-time, lump sum investment. This is known as dollar cost averaging.
What this means is you don't have to stress over market fluctuations or monitor the market. By simply staying invested, you can potentially lower your average cost and catch opportunities over the long term! ​
First-jobber Alan has been looking for a hassle-free way to invest. He decides to use Invest-Saver, and invest a fixed sum of S$100 a month. Let's say the price of the fund fluctuates over the next 8 months as follows: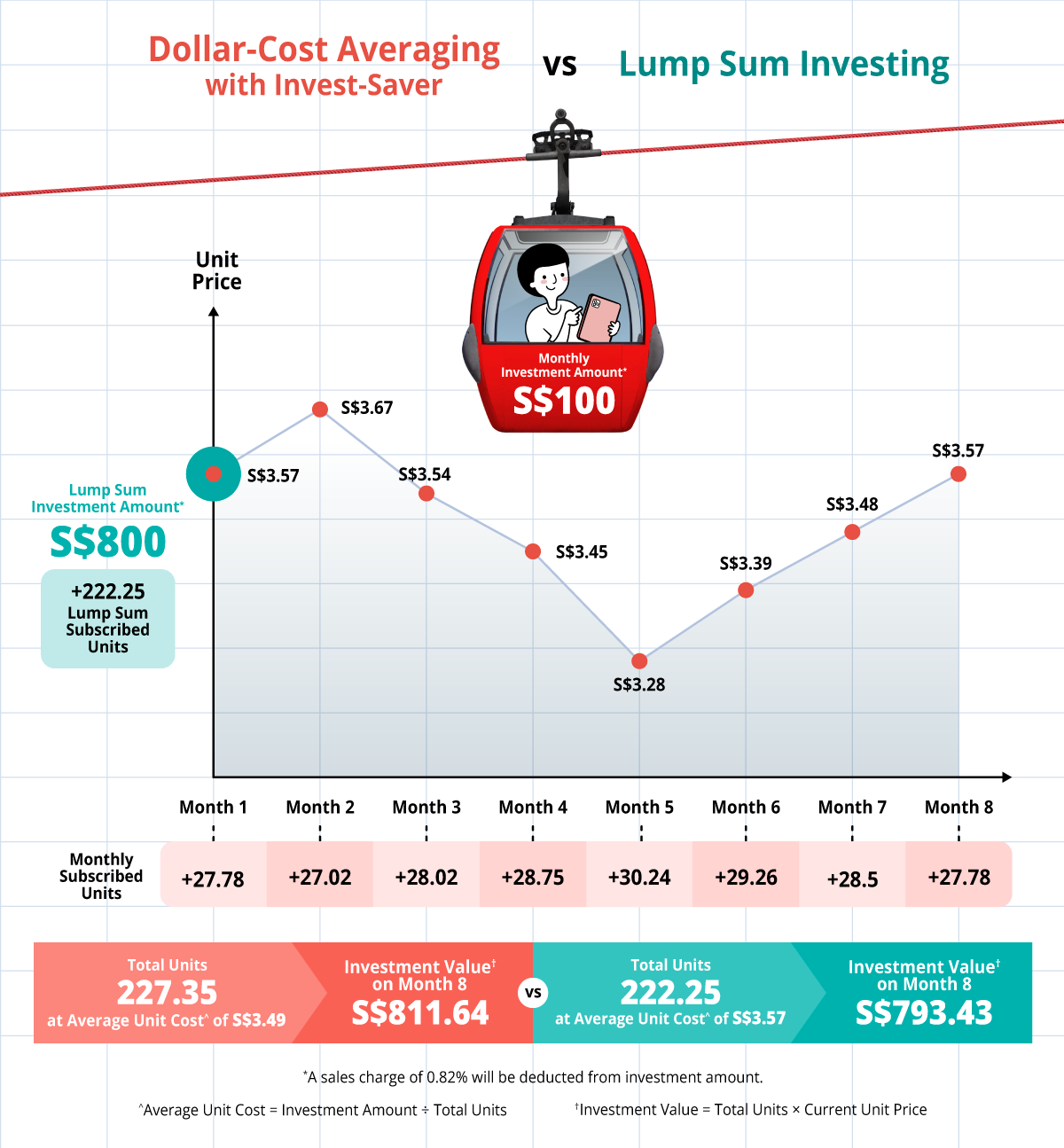 For the same investment amount, Alan may have gotten more units at a lower average cost with an Invest-Saver plan, than if he had invested a lump sum.
 
Choose an investment that suits you
With Invest-Saver, you can choose to invest in diversified products such as digiPortfolioNEW!, ETFs or Unit Trusts.
This makes you less vulnerable to the highs and lows of each asset. For example, if one stock drops, the others can cushion the effect from the fall.
Take your pick based on your investment style, goal and risk appetite.
digiPortfolioNEW!
Key benefits:
Exchange Traded Funds (ETFs)​
Key benefits:​
Unit Trusts (UT)​
Key benefits:​
 
Invest in a few taps​
digiPortfolioNEW!​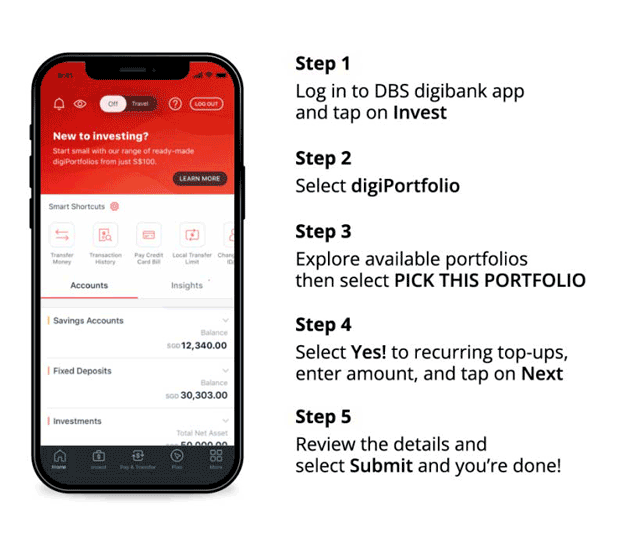 ETFs and Unit Trusts​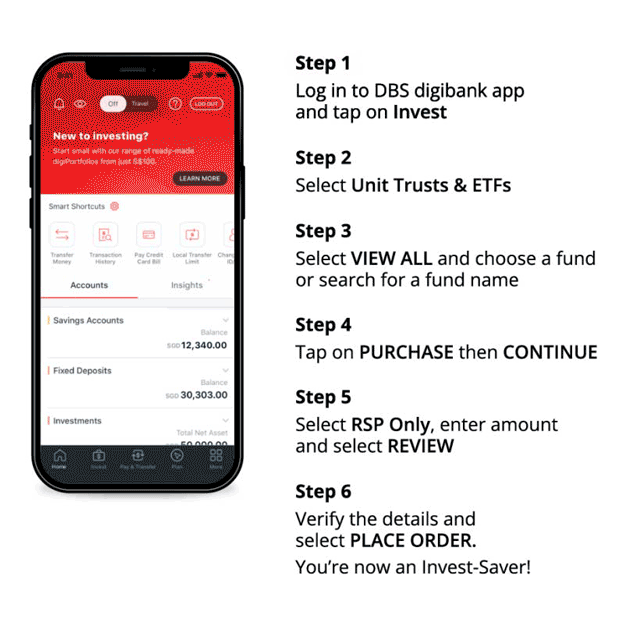 Frequently Asked Questions
Setting up, managing and redeeming Invest-Saver
 
Important information
In all other jurisdictions where the DBS/POSB iBanking website(s) is/are accessible by its residents or entities, it is intended for use by corporate, institutional, professional, wholesale and other qualified investors in accordance with the laws and regulations of such jurisdictions.
The material and information contained herein is for general circulation only and does not have regard to specific objectives, financial and particular needs of any specific investor individual and/or entity (collectively referred to as investor), wherever situated. The material and information contained herein does not constitute an offer, invitation, recommendation or solicitation of any action based upon it and should not be viewed as identifying or suggesting all risks, direct or indirect, that may be associated with any investment decision. Prospective investors should seek advice from a financial adviser regarding the suitability of the product before making a commitment to purchase the product it. In the event that the prospective investor chooses not to seek such advice, he/she/they should carefully consider whether an investment in the said securities is suitable for them in light of their own circumstances and financial resources and entire investment programme.
Disclaimer for Investment and Life Insurance Products
Thank you. Your feedback will help us serve you better.
Was this information useful?
That's great to hear. Anything you'd like to add?
We're sorry to hear that. How can we do better?
Enter only letters, numbers or @!$-(),.