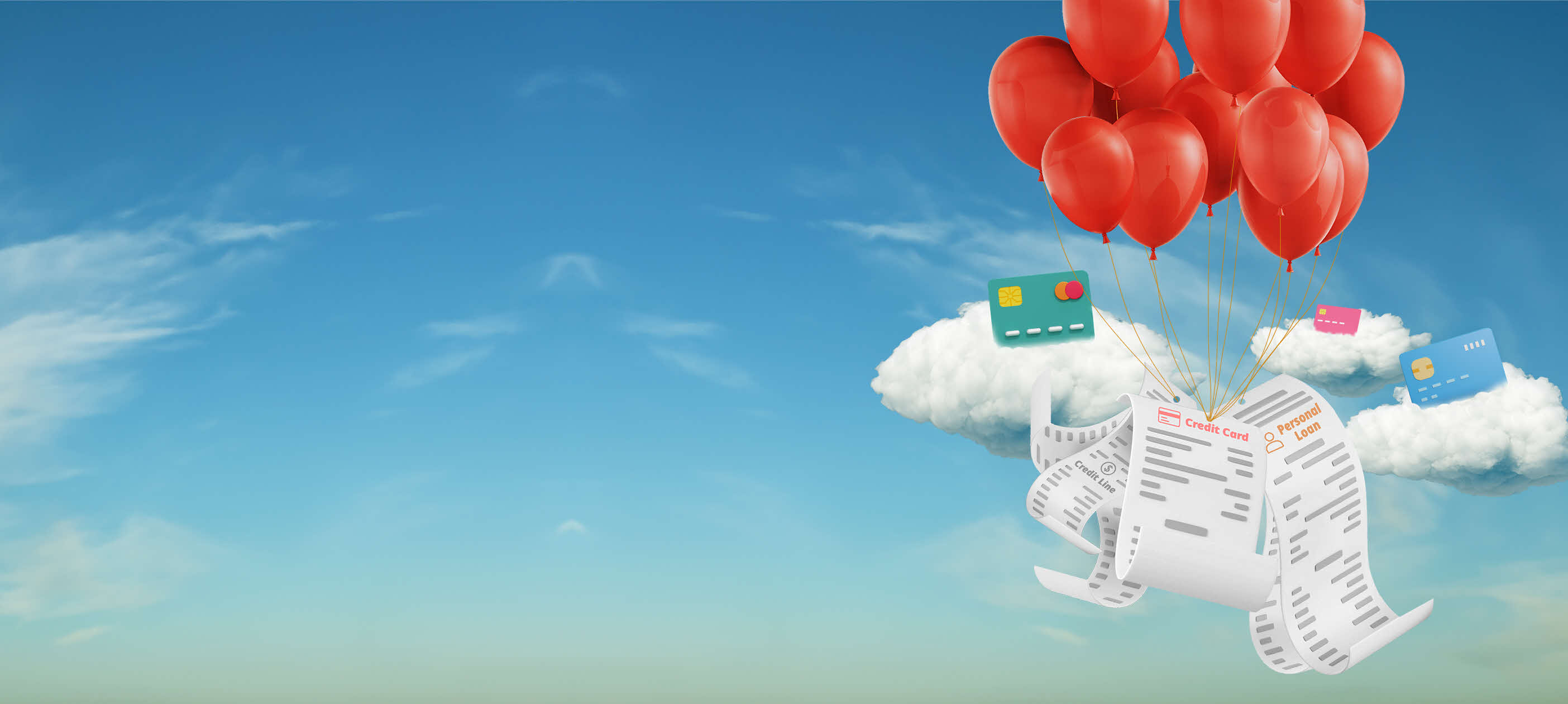 DBS Debt Consolidation Plan
 
At a Glance
# Effective Interest Rate (inclusive of processing fee)
The interest rate offered to you is based on your personal credit profile and may differ from the published rate and the rate offered to other borrowers.
Here's an illustration of how it works: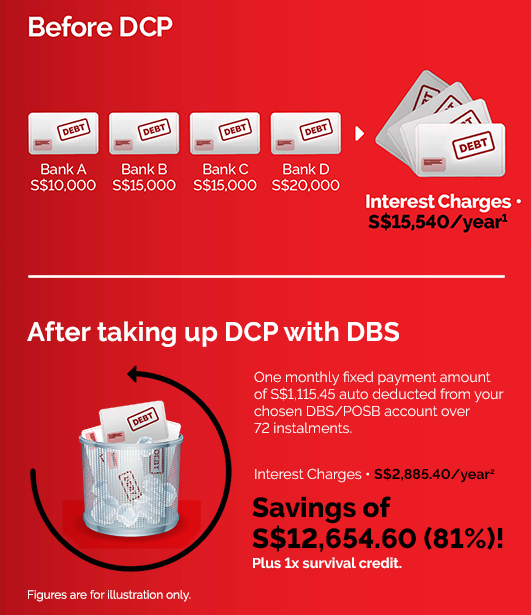 1 Calculated based on 25.9%p.a
2 Calculated based on 4.58%p.a(AIR), 8.22%(EIR)
AIR - Applied Interest Rates EIR - Effective Interest Rates (inclusive of processing fee)
Promotion
 
Eligibility & Fees
Eligibility
Nationality
Singaporean/Permanent Resident
Age
21 - 65 years old
Annual Income
S$30,000 to S$120,000
Balance to Income Ratio (BTI)
≥ 12 times monthly income
Fees
Processing Fee
$99
Early Settlement Fee
5% on the outstanding loan amount at the point of settlement
Late Fee
$90
 
Visa Credit Card
DBS Debt Consolidation Plan comes with a DBS Visa Platinum Credit Card to provide you with a convenient mode of payment for managing your daily essentials.
This card comes with a maximum credit limit of 1x your monthly income.
No annual fee.
Click here to find out more about DBS Card fee and charges.
 
Required Documents
Copy of NRIC (Front and Back) AND
Latest Credit Bureau report3 AND
Income documents (any ONE of the following) AND

Proof of Outstanding Unsecured Facilities Document7 (any ONE of the following)
3 You can obtain a copy of your Credit Bureau report in-person either at CBS office or any SingPost branches, or through www.creditbureau.com.sg with your SingPass. A transactional fee of S$6.42 (inclusive of GST) applies.
4 You can now print your Income Tax Notice of Assessment at myTax Portal with your SingPass or IRAS PIN. The service is free. Log on to https://mytax.iras.gov.sg for more details.
5 Please note that your CPF documents submitted online are only available for up to 7 days from the date of submission.
6 Income documents are not required on condition that your salary is credited via GIRO, to your own Personal POSB/DBS Account for at least 3 consecutive months. The Bank will review, and if necessary, adjust the current combined credit limit of all unsecured accounts based on the latest salary crediting information provided.
7 DBS reserve the rights to reject any of the documents provided.

Applications not accompanied with required documents or with incomplete information will cause a delay in processing
 
Frequently Asked Questions
 
Terms and Conditions
 
How to Apply
Call us at 6878 6887 between 9am – 6pm, Monday to Friday (except Public Holidays)