Nature-based solutions could yield US$4.3T in value by 2030
Strategies that focus on using nature to improve the state of the world are part of the toolkit in transiting to a circular economy.
After 4 years of construction, a drab concrete canal along a section of Sungei Tampines has been given a makeover, and is now a naturalised waterway with greenery.
Rain gardens that help cleanse stormwater run-off, support more native biodiversity and enhance flood protection have been incorporated. Plants grown using soil bio-engineering techniques also help stabilise the soil.
This is just one example of how nature-based solutions and engineered solutions are being integrated to create "green-grey" infrastructure that helps Singapore mitigate and adapt to climate change, said Koh Lian Pin, professor at the National University of Singapore and the director of its Centre for Nature-based Climate Solutions.
Alongside moves to decarbonise the economy through the use of cleaner energy production systems, nature-based solutions are also part of the toolkit in the transition to a circular economy.
Termed "closing the loop" by some, this refers to a production and consumption model where the life cycles of products are extended as long as possible through reuse or recycling.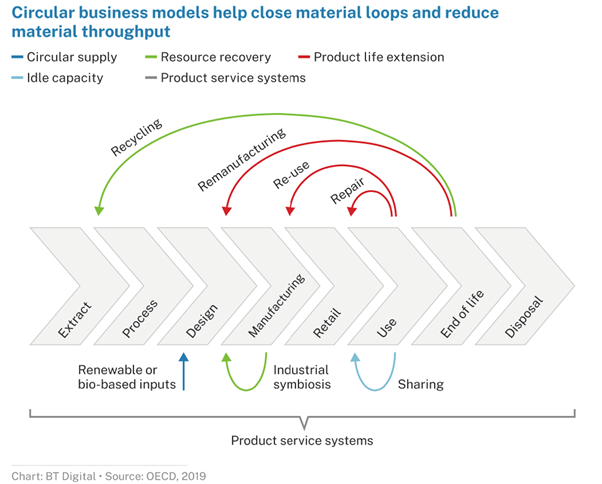 Nature-based solutions are, simply put, about using nature to improve the state of the world. These solutions could provide over one-third of the cost-effective climate mitigation needed to achieve net-zero emissions by 2050, said GenZero, an investment platform dedicated to decarbonisation solutions.
According to a report by state investment firm Temasek in collaboration with the World Economic Forum and strategic economics consultancy AlphaBeta, nature-based opportunities across 3 systems — food, land, and ocean; infrastructure and the built environment; as well as energy and extractives — could deliver US$4.3 trillion of annual economic value and generate 232 million jobs by 2030 in Asia-Pacific.
Opportunities for nature-based solutions
The phrase "nature-based solutions" may be relatively new, but the concept behind it is not. Humans have been planting trees for centuries to control erosion, for example.
Suvro Sarkar, analyst at DBS Group Research, said that forest and wetlands conservation as well as active afforestation and reforestation still remain key focus areas.
Others include blue carbon projects, which involve harnessing the power of carbon sequestration through algae, mangroves, seagrasses and other plants in coastal areas. Soil carbon and agriculture projects could also help in reducing emissions from soil degradation and food production practices.
But new opportunities have risen in today's modern economy. The development of carbon markets can play a major role in financing these nature-based solutions.
Koh said that governments and businesses are sourcing for nature-based carbon credits mainly from international voluntary carbon markets or from carbon project developers directly.
"Most of these credits derive from forest conservation projects and reforestation projects, which generate carbon emission avoidance credits and carbon dioxide removal credits, respectively," he said.
According to global asset manager BlackRock, there is tremendous growth potential for voluntary carbon markets, as corporates, industries and governments race to meet their net-zero commitments.
The total addressable market for voluntary carbon markets is expected to grow by between 15 and 60 times by 2030.
Based on forecasts from Trove Research, a data and advisory company specialising in climate strategy and carbon markets, the value of carbon offsets will grow from US$2.8 billion in 2021 to US$63 billion in 2030.
It also projected that the carbon credit price has to at least double from US$10 per tonne in 2020 to between US$20 and US$30 per tonne in 2030 in order to incentivise sufficient investment in carbon offset projects for the demand.
Singapore has jumped on this growing market through the launch of Climate Impact X, a carbon exchange jointly established by DBS Bank, Singapore Exchange, Standard Chartered Bank, and Temasek.
Ho Pei Hwa, analyst at DBS Group Research, said that companies developing tools and platforms to make the trading of carbon credits easier and more transparent in the future will be keenly watched.
Circular economy initiatives
Similar to nature-based solutions, reusing and recycling are not new ideas. But the focus now on environmental, social and governance (ESG) considerations has created market opportunities in areas such as product redesign and waste management.
Meghan Sharp, head of Decarbonization Partners — a joint venture between BlackRock and Temasek that invests in decarbonisation solutions — said they are looking at an opportunity in the synthetic leather space, where the material is made out of mushrooms.
Mycellium, which is a part of a fungus from which mushrooms grow, is said to be able to reduce carsbon footprint by 5 times as it is bio-degradable.
Ellen Martin, director of impact and insights at The Circulate Initiative — the non-profit arm of investment management firm Circulate Capital — noted that global players such as PepsiCo and Unilever have committed to having all of their plastic packaging be fully reusable, recyclable or compostable by 2025.
"This in turn creates demand for recycled products and materials and encourages innovations in the waste management space that may not have otherwise been realised," she said.
DBS Group Research said Internet of Things solutions could be used to manage waste collection, whereby devices could be used to sort out waste for efficient recycling.
Artificial intelligence could also be utilised to better predict demand for goods and services, so that companies can better manage their inventory to minimise use of resources or wastage.
It also added that the sharing economy could be digitalised through the development of mobile applications that promote the donation of used items, as well as the repairing and recycling of electronic items.
An emerging technology-based approach to the circular economy model is the development of carbon capture, utilisation and storage (CCUS) capabilities.
CCUS is a collective term that refers to a range of solutions that essentially allow carbon dioxide, produced through the burning of fossil fuels, to either be stored underground or converted into other useful substances, thereby preventing it from reaching the Earth's atmosphere.
According to Ho, CCUS is one of the most cost-effective solutions available for the large-scale reduction of emissions.
Currently, about 40 million tonnes of carbon is captured each year. However, CCUS deployment must increase by about 140 times for the amount of carbon captured to reach 5.6 Gigatonnes, said the Global CCS Institute. This amount would account for a fifth of emissions reductions needed by 2050.
Due to Singapore's limited land space, Sarkar pointed out that the use of waste-to-energy plants and CCUS could be key tools in carbon recycling.
The issues inhibiting the scaling of CCUS are down to costs and uncertainties around its performance. While the technology has been around for decades, it is still considered immature, and the cost to capture and store post-combustion emissions remain very high, said Ho.
"This needs to be resolved through incentivising and ramping up research and development in this field and implementing carbon taxes worldwide. Higher prices of carbon compliance could act as a tipping point towards reaching economies of scale for CCUS technologies," said Ho.
Making that transition
According to a 2021 survey conducted by the Organisation of Economic Co-operation and Development (OECD), 51 per cent of a sample of 51 cities and regions from 21 OECD countries do not yet have a circular economy initiative, though they are planning to.
Only 12 per cent indicated that they did not have plans to develop one, while the remaining 37 per cent already have programmes in place.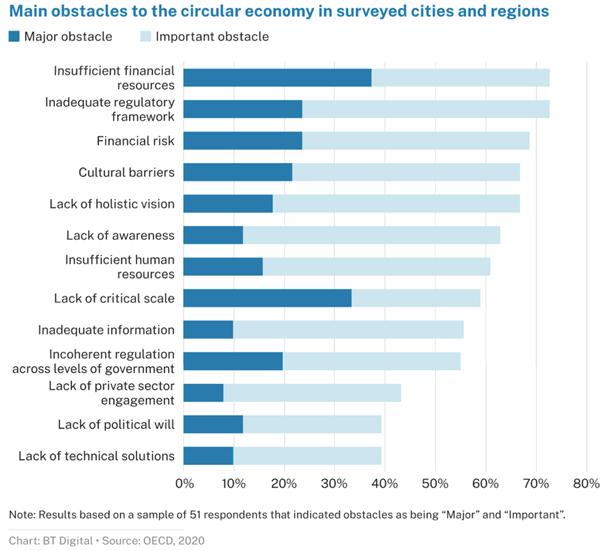 Some of the biggest obstacles cited by respondents to transiting to a circular economy include the lack of financing, financial risks, and an inadequate regulatory framework.
"Focusing on a more sustainable way of living has never been more urgent, with global temperatures on the rise, more frequent occurrences of extreme weather events and more," said DBS Group Research. "In our view, a circular economy can alleviate the challenges that come about with global warming, though significant progress is still needed."
However, moving from a linear economy to a circular one requires a transformation of global supply chains, and this cannot be accomplished in isolation, said Martin.
While companies are working with suppliers to pilot new materials and production methods, governments can support the growth of circular solutions and influence the way businesses operate through enabling policies such as regulations defining recycled-content requirements, she said.
"Policymakers also have the opportunity to facilitate more private investments into the circular economy by introducing financing mechanisms that reduce or share risk," added Martin.
She also suggested companies can start their transition with small steps before advancing to more significant business model shifts.
"From a product development perspective, companies can look at replacing hard-to-recycle materials such as multi-layer plastic film with more sustainable alternatives. This in turn ensures that end-products can be reintroduced into the economy and are kept out of landfills," she added.
On top of the long-term challenge of mitigating climate change, governments are also tackling other more-present problems, such as supply chain disruptions, energy security concerns and inflation woes. Koh said many will have to reconcile and, in some cases, triage these competing priorities.
"However, there are opportunities to leverage science and technology to help inform government and business decisions on which solutions to prioritise, where to target our actions and how to execute them for maximum benefit while minimising trade-offs," he said.