Powering the hydrogen economy of the future
Green hydrogen has been dubbed the renewable energy source to watch, especially as nations race to reach net-zero emissions by 2050. But despite the hydrogen economy's huge potential in Asia-Pacific, challenges remain when it comes to structuring and securing financing for hydrogen projects. To date, there has been no debt financing provided for projects on standalone basis.
Hydrogen energy is universally recognised as a game-changer for the renewables market, with several Asia-Pacific countries such as Australia, Japan and South Korea already investing heavily in pilot projects of hydrogen infrastructure and technology. While expensive to produce and transport, hydrogen is expected to pay off exponentially in the near future due to how versatile it is and how wide-ranging its applications are. 
Hydrogen boasts many advantages: it is in abundant supply, it's environmentally friendly (its main byproduct is water), it's a high-value and energy-dense fuel, and it enhances energy security by reducing reliance on fossil-fuel-supplying countries. These benefits drive hydrogen towards becoming the energy source of the future.
However, around 95 per cent of hydrogen that is currently produced is grey hydrogen, which is not carbon-emissions-free. To truly move the needle in meeting global net-zero targets by 2050, green hydrogen needs to be prioritised — and governments and project financiers have a critical role to play in making that a reality.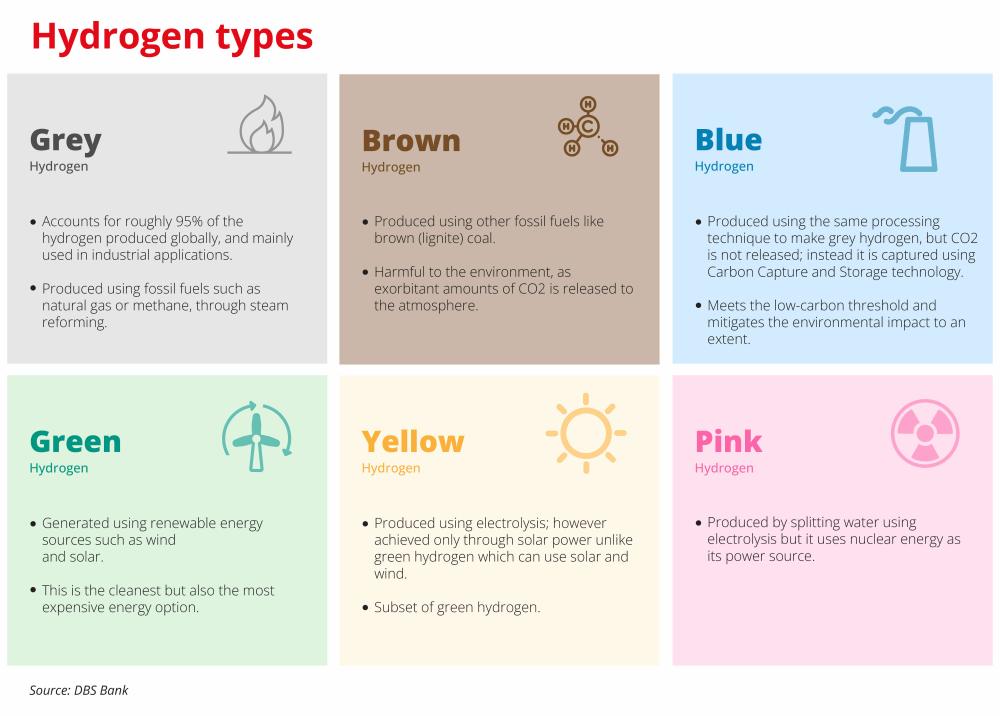 The hydrogen economy
Hydrogen is predominantly used as a feedstock for petrochemicals and fertilisers. However,  with the transition to green hydrogen already beginning to take hold in Asia-Pacific, the hydrogen economy is gearing up for rapid expansion. 
First-movers in the hydrogen economy are expecting exponential growth in hydrogen energy use over the next decade — hydrogen offers a low-carbon supplement to natural gas for heating and electricity generation; it can be used as fuel for light and heavy vehicles as well as a cleaner alternative to coke for steel production, thereby revolutionising energy transition.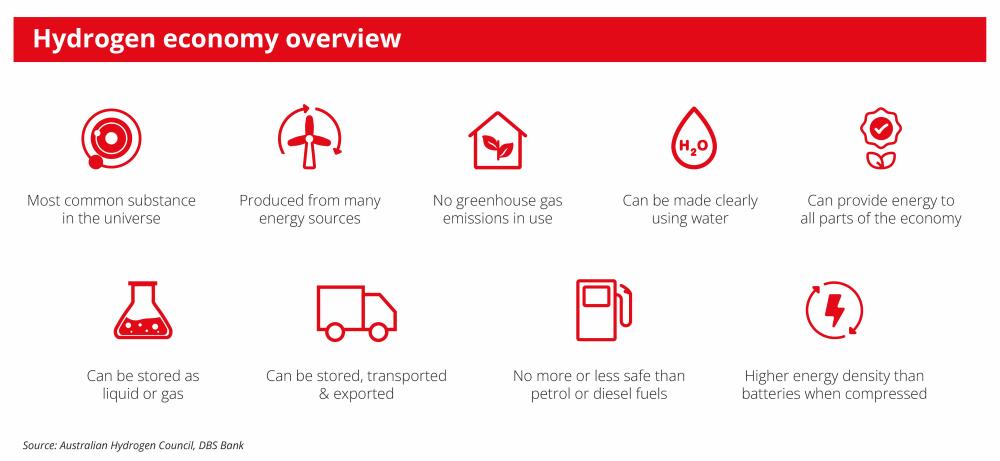 Suvro Sarkar, Senior Vice President of Group Research at DBS, pegs the total value of planned hydrogen projects around the world at USD 500 billion, with an expected 10 million tonnes of low-carbon hydrogen produced per annum by 2030.
"Within Asia-Pacific, Australia, South Korea and Japan could be considered first-movers, but China could quickly emerge as a hydrogen powerhouse, currently accounting for one-third of the world's hydrogen production," shares Suvro. "Over in India, Reliance Industries has committed to set up 'giga-factories' to produce electrolysers and fuel cells for the green hydrogen economy, with aims to aggressively push towards lowering the cost of hydrogen to USD 1 per kilogramme by 2030."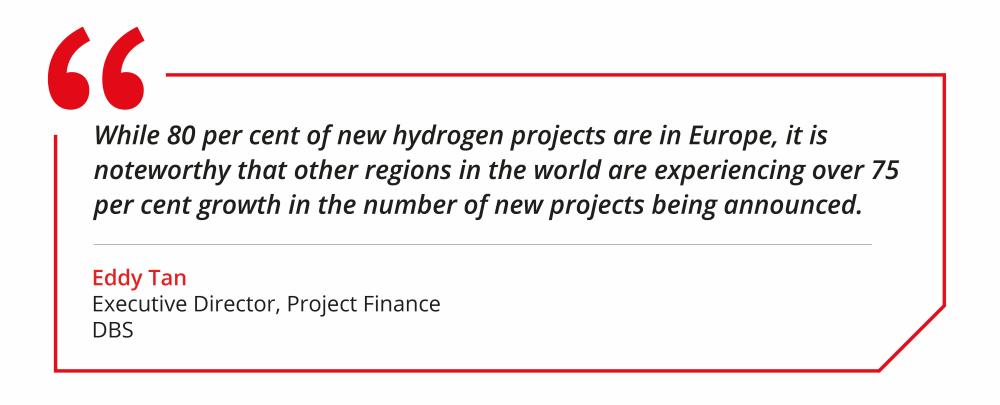 So why is green hydrogen project financing so challenging?
Green hydrogen production is expensive. The primary method now is electrolysis, which requires an electrolyser, a significant capital expense. As things stand, producing green hydrogen costs three to five times the amount required to produce grey hydrogen. To illustrate, green hydrogen production using PEM electrolysis costs up to USD 4 per kilogramme in the U.S., up to USD 4.30 per kilogramme in the Netherlands, and up to USD 5.30 per kilogramme in Japan. 
Hydrogen in general is also difficult to transport and store. As it is much lighter than gasoline, hydrogen must be stored in high-pressure tanks, or in liquid form at cryogenic temperatures. Both methods are costly and lead to a loss of energy. Furthermore, hydrogen is extremely flammable and very risky if not handled properly. 
The current workaround is to use blue hydrogen, which employs carbon capture usage and storage (or CCUS) technology to reduce environmental impact. But because blue hydrogen is still generated using non-renewable energy sources, it does not constitute an ideal solution for the long term.  The transportability of hydrogen can also be improved by converting to ammonia due to its high storage density.  
High production, transportation, storage costs, and murky risk allocation have affected the bankability of hydrogen projects, whether grey, blue or green. There is also a need to develop better hydrogen delivery and storage infrastructure on a national level. So, despite the growing international consensus that hydrogen will play an important role in the future energy mix, developers must consider cost, efficiency, emissions, and the entire hydrogen energy value chain when evaluating the economic viability of projects. 
Building a path to more commercial financing for green hydrogen projects
Hydrogen as a substitute for fossil fuels needs to demonstrate its commercial attractiveness.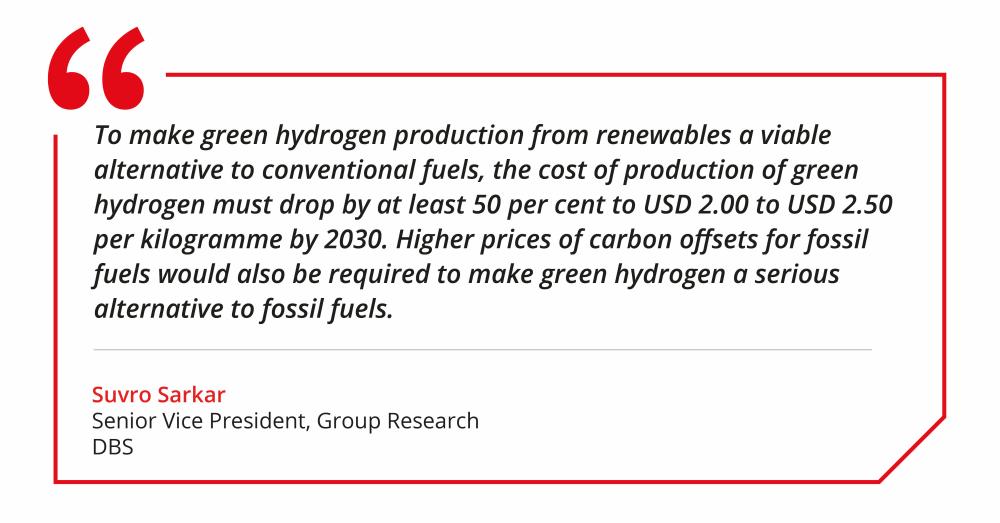 "Given the experience the world has had with renewable energy sources, where costs have fallen much faster than expected, a 50 - 80 per cent cost reduction for hydrogen production is not an improbable target," Eddy says. "Cost reduction strategies that will make the most impact involve reducing the capital costs of the electrolyser system over time; improving the energy efficiency for converting electricity to hydrogen over a wide range of operating conditions; and lengthening the operational life of the electrolyser cell stacks, among others."
Past experience with renewables such as solar and wind energy projects has shown that cost reduction is a compounding process — the levelised cost of energy (LCOE) of solar has dropped by close to 85 per cent over the past decade, while the LCOE of onshore and offshore wind has dropped by over 60 per cent over the same period. This is due to a reduction in initial capital and energy production costs, combined with bigger-scale deployments – a repeat of this cost reduction is required for hydrogen now. 
New developments in fuel cell technology are also promising in relation to the transportation and application of green hydrogen. In fact, over 10,000 hydrogen refuelling stations will be built and up to 4.5 million fuel cell electric vehicles (FCEVs) are expected to hit the road by 2030, led by Asia. 
While the initial production costs of green hydrogen may be heavy, government support is essential to push the agenda and scalability of hydrogen projects. For example, the Australian Government has been facilitating the development of demonstration and piloting hydrogen projects through various initiatives. Such initiatives, amongst others, include the implementation of a National Hydrogen Strategy and the provision of funding to support these projects. Governments and financiers should also consider the long-term profitability of projects through the lens of the entire hydrogen value chain, from short-term early scale-up to long-term diversification and planned development of the hydrogen economy. 
As for governments and regulators, imposing higher prices for carbon offsets or raising carbon taxes for fossil fuels are key to making green hydrogen a serious alternative to conventional energy sources. The carrot, however, is just as important as the stick in accelerating the green economy. China, for instance, is actively incentivising low-carbon, clean hydrogen production with its 'Ten Cities, Thousand Vehicles' programme, which will dispense subsidies of up to RMB 1.7 billion over the next five years.
Powering Asia-Pacific's green hydrogen economy
Pioneering business models from key players in the green hydrogen economy such as Bloom Energy, Plug Power, Linde and Beijing Sinohytec are proving the financial viability of green hydrogen projects. And as the green hydrogen ecosystem matures in Asia-Pacific, the first-mover advantage will become increasingly clear. While new-age hydrogen plays are not profitable yet, the high price-to-sales ratio can be pegged against strong growth prospects — Bloomberg consensus forecast average growth rates for revenue for three-year, five-year and 10-year (where available) horizons are expected to achieve 30 to 40 per cent CAGR over the next 10 years. 
 
As green hydrogen gains traction in the global effort to reduce carbon emissions, early market leaders will play a pivotal role in unlocking new, high-value opportunities in the global hydrogen value chain. Download our comprehensive Hydrogen Energy report, or contact our Project Finance team to discover more on project financing and renewable energy.