Live more, Bank less
This year marks DBS' 50th anniversary. Launched in 1968 as the Development Bank of Singapore, with the goal of financing Singapore's fledgling industries and growing new ones, DBS is today fast transforming itself into a 26,000-strong start-up, serving Singaporeans and others around the region with digital innovation at its core.
Indeed, banking has changed tremendously in the past five decades. What do you remember of your local bank when you were growing up? Take this quiz to find out how banking with DBS has evolved.
Question 1
In 1972, DBS set up its first branch in Jurong. To better serve factory workers in the area, a team of two staff set up desk at shipyards and factories to _____________?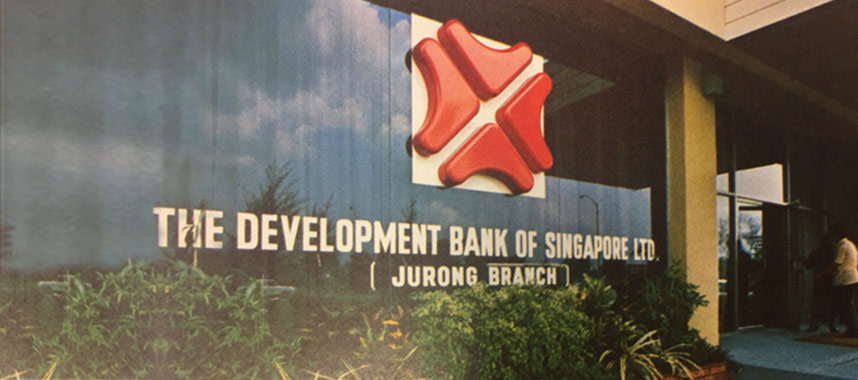 Question 2
Today, convenience means 24-hour banking services available right at your fingertips. But back in 1975, DBS made banking more convenient by being the first to introduce _______. What service was it?
Question 3
DBS broke new ground in 1980 by introducing the first interest-bearing current account in Singapore. What was it called?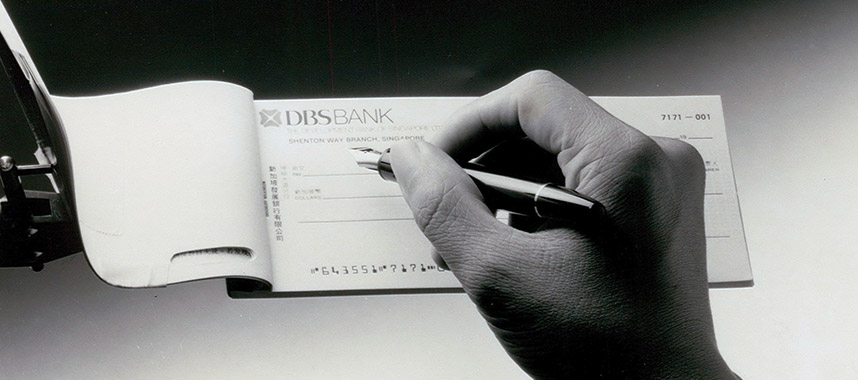 Question 4
In 1986, a service which allowed customers to perform a range of routine banking transactions without visiting the branch was introduced. What service was it?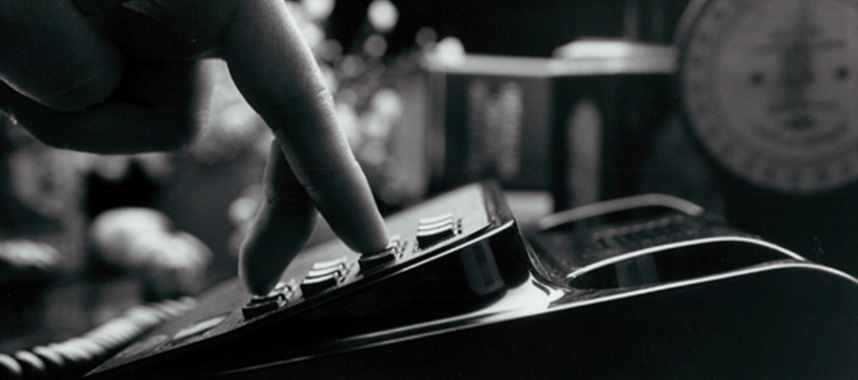 Question 5
Which year did DBS launch funds transfer on Internet banking?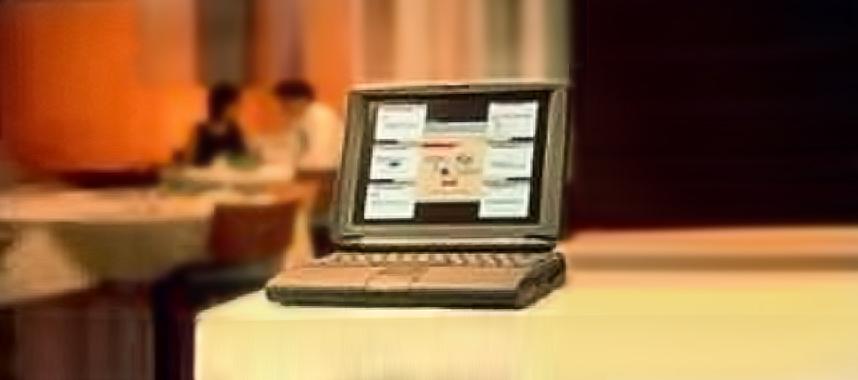 Question 6
Before paying with your mobile phone became a norm, DBS pioneered secure contactless payments using NFC technology and introduced it in 2012. What was it called?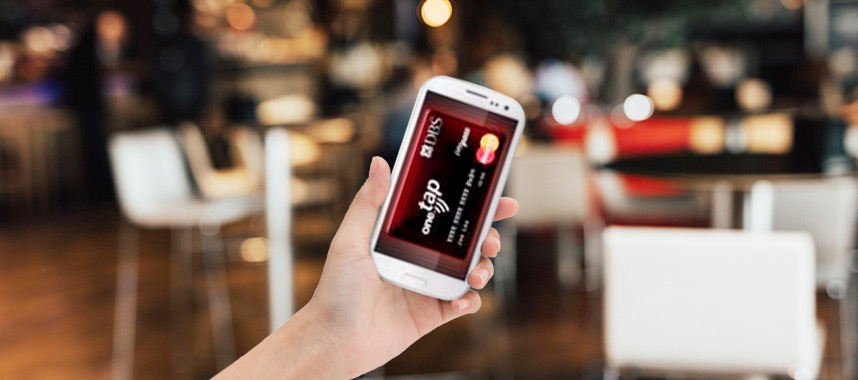 Question 7
A new way of banking was introduced in 2016. Paperless and signatureless, it pulled together an entire suite of innovative technologies to bring customers a whole new way of banking. What was this?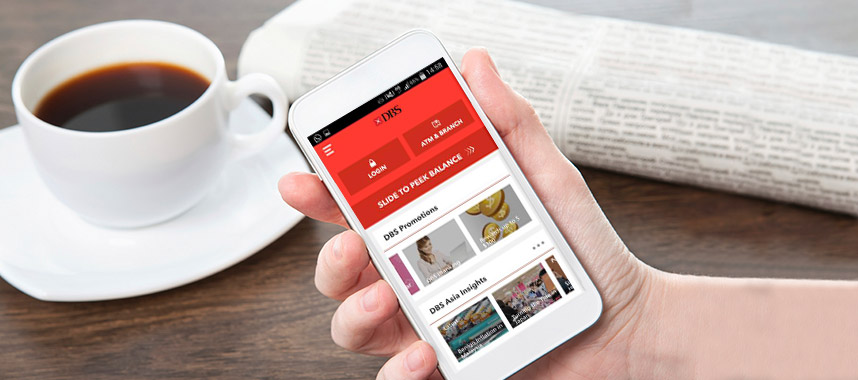 Journeying with you
Banking has evolved tremendously through the years, and DBS has always aimed to provide you with services that meet your needs. Today, banking with DBS is more accessible than ever. The growth of smartphones usage has meant that every phone can be transformed into a branch, allowing for easy and convenient access to banking services. Here's a look at the direction of banking in Singapore.
Cashless payments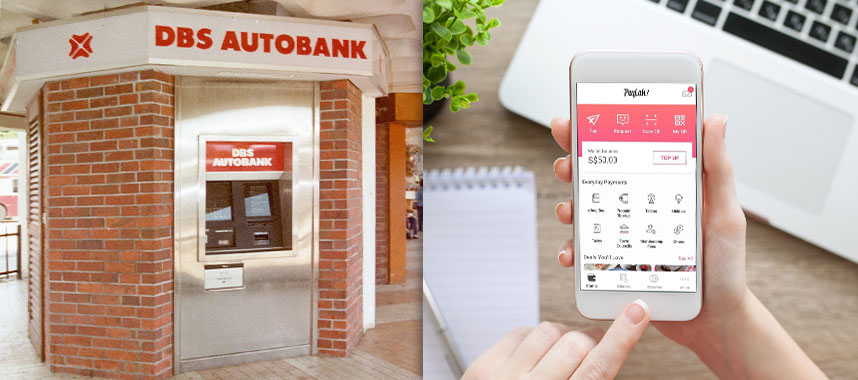 Remember the days when your savings passbook was the key to your bank account? Then came the ATM card which allowed you to skip the branch queues and make account withdrawals and deposits right from your neighbourhood. While passbooks and ATM cards haven't become completely obsolete, the arrival of banking apps on our smartphones, like DBS digibank, means that you're now able to do a whole lot more, with greater ease, and from anywhere you wish.
We're also carrying a lot less cash these days. With the ability to make purchases with a swipe of a credit card, a wave of a smartphone, or scan of a QR code, going "cashless" might be literally keeping our wallets lighter. Most importantly, all transactions are secure, as we make cashless banking safer and more convenient for you.
See also: Send or receive money from anyone with just a mobile number
Paperless processes
We're trying to cut down on our environmental impact as well. From digital-only accounts, to monthly e-statements, we're making our earth a bit greener for everyone, while improving efficiency.
Through digibank, you can easily access over 150 banking services. Perform an overseas remittance, start an investment, apply for insurance and credit cards, change your PIN codes or even open a new account, all on your mobile phone.
See also: Go green with your banking
Getting more done
Have a banking need while at the malls? Make a trip to a Digital Lobby (enhanced self-service banking lobby) to make use of the Virtual Teller Machines (VTMs), a smart upgrade from ATMs that allows for more transactions to be performed.
Our Virtual Assistant and Help & Support portal are also ready to help you get answers to your queries fast.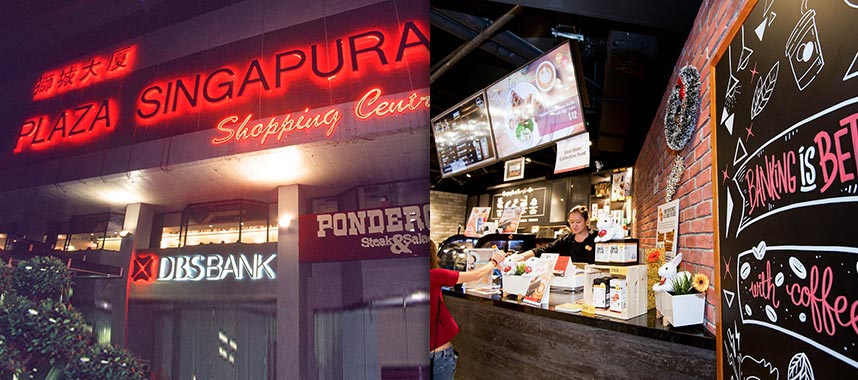 Even how you bank has evolved – where once you might have to meet a bank staff at the branch, these days you'll be able to find out more about our banking services over an iced latte at DBS-Bettr Barista Branch at Plaza Singapura. The Bettr Barista Coffee Academy is also a social enterprise, providing training and job opportunities to disadvantaged youths and women, so you can do good and help them by getting a cuppa on non-banking trips to the store.
Embracing rapid changes in technology, we focus on providing the best for you, the environment and the society. We've been at it for over 50 years, and we look forward to serving you as your Digital Bank of Singapore, your familiar DBS.
Question 1
With a team of 12, and a deadline of three weeks to get ready, the first DBS branch opened in Jurong in 1972, routinely welcoming "fishmongers and stallholders". Read more
Question 2
Taking customer convenience up a notch, we took the lead in extending banking hours on Saturday way back in 1975. The first three branches to offer Saturday afternoon banking were Katong, Toa Payoh and Orchard Road.
Question 3
DBS Autosave was the first interest-bearing current account in Singapore when it launched in 1980. It was unheard of then, that a customer could enjoy checking facilities and earn interest, all with just one account!
Question 4
In 1986, DBS launched DBS Autophone. While there were no mobile phones back then, most households would have a landline telephone. With DBS Autophone, customers were able to conveniently do their banking without visiting a branch.
Question 5
DBS became the first bank in the region to launch comprehensive Internet banking in 1997, before the new millennium. Services offered included bill payments and online loan applications.
Question 6
DBS One.Tap was launched in 2012, and we were the first Singapore bank to introduce this convenient service. DBS PayLah! was launched in 2014, a mobile wallet that could do so much more.
Question 7
You should be familiar with digibank by now. You can easily complete many important tasks through the digibank app, including opening a new account, applying for new credit cards and even getting a loan.
What we stand for