Buying a house in Singapore: A Guide for Couples
To most young Singaporean couples, it's BTO first and ring later. Finding that perfect "small space" is crucial to building the family life you desire. How can you buy a house in Singapore without going broke?
This checklist will help to guide you on your journey to purchasing your first house in Singapore. We promise that it'll save you from buyer's remorse and give you more time for the other things that matter – your career, planning that awesome proposal, browsing for interior design ideas.
1. What can you buy – types of property and eligibility
There are 3 types of properties that you can buy in Singapore:
1. Public housing: HDB flats
These can be purchased new from HDB, or on the resale market. Whether it's a new or resale HDB flat, the same eligibility rules apply:

If you're purchasing with your spouse, you'll have to be at least 21 years old.
If you're purchasing with other family members (parents or siblings), or children under your legal custody (in cases where you're widowed or divorced), you'll also need to be at least 21 years old.
If you're widowed or orphaned and intend to purchase a flat by yourself, the 21 year old rule also applies.
If you're single (not married or divorced with no children) and intending to purchase it by yourself – you'll have to be at a minimum age of 35 years old before being able to purchase your first HDB.

Hybrid of public-private housing: Executive condominiums (ECs)
These can be purchased new from the developer, or on the resale market. Eligibility rules differ depending on whether you're buying a new EC or a resale EC.

For a new EC:

If purchasing with your spouse or other family members, you'll have to be at least 21 years old
If you're single (not married or divorced with no children) and intending to purchase it by yourself – you'll have to be at least 35 years old.
If you're widowed or orphaned and intending to purchase it by yourself: you'll have to be at least 21 years old.

To purchase a resale EC:

You'll simply need to be at least 21 years old.

Private property: From private condos to apartments and landed houses.
Regardless of your marital status, you'll simply need to be at a minimum age of 21 years old to purchase a private property.
In Singapore, most people get a HDB flat as their first home, and then switch to a bigger unit later as the family grows. There are many government subsidies and grants which cover build-to-order (BTO) flats, resale flats and ECs. There are even subsidies if you choose a flat within 4km of your parents' or future in-law's place.
But if your heart is set on private properties you will have to weigh out the pros and cons: it usually comes with a higher price tag however it also comes alongside with better marketability and facilities:
Condominiums have facilities such as swimming pools, gyms and BBQ pits. Some even have their own coffee cafes (with good beans!), facial and massage spas, and hair salons.
No citizenship restrictions: can be sold to Singaporeans, PRs, and non-Singaporeans
No ethnic quota: can be sold to any buyer of any ethnicity
No minimum occupancy period (MOP): you can rent it out or sell it at any time. Just remember that there is seller's stamp duty if you sell it before owning your private property for 4 years.
No resale levy
2. Budget the cost of a house in Singapore and how much you can afford comfortably
Unless you've got a pot of gold or received a huge inheritance from some long-lost relative, you'll need a home loan. And if you're like most people, that's probably a 30-year home loan. It's a long-term financial commitment and you will want something that you can afford comfortably.
One way to keep within the budget is to get an estimate of the amount of loan that the banks will grant to you. This is based on yours and your spouse's savings, current income and age.
Then, get in-principle approval (IPA) which is a guarantee that the bank (or HDB) will lend you S$X amount when you need it.
Right-sized home = affordable budget = less stress
Pro-tip: You can better plan your finances with the MyHome planning tool. It is a simple tool that can give you a property budget, and helps you assess affordability and potential changes to your monthly cashflow.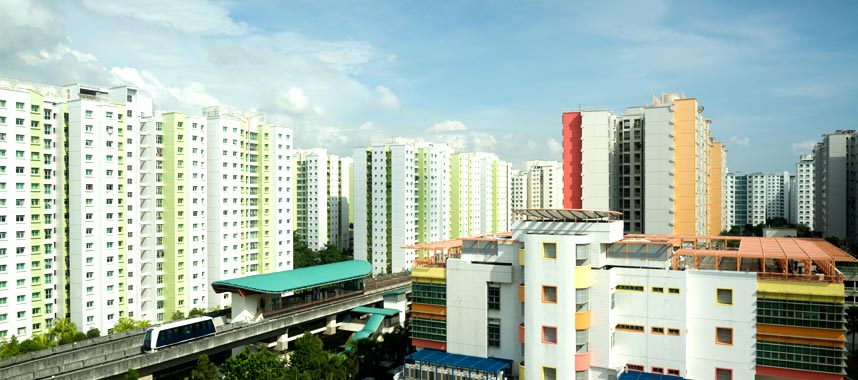 3. Always choose a good location – where should you stay?
Two things determine how good the location of a house is:
Commuting time and how near it is to your workplace
Studies show that our stress levels increase with a longer commute. And adding just 20 minutes to our daily commute (10 MRT stations) pummels our job satisfaction as much as a hypothetical 19% pay cut would1.
Accessibility by public transport
Living near an MRT station is extremely convenient. You save on waiting time and transportation costs, plus there are heartland malls a hop and skip away.

However, such properties tend to be more expensive. Properties located near MRT stations cost more, especially if it's within 1km of an MRT station. The actual MRT line also affects home prices. For instance, properties along the East-West line are typically more expensive compared to the North-South line. This is because it's much nearer to the CBD, which translates to a shorter work commute for most people.
Pro Tip: Looking for your ideal house can be much simpler with Property Marketplace. It allows you to search for your desired resale flat in Singapore with a range of filters, including the distance from major transportation hubs.
4. Factor in these additional fees depending on the type of property
One thing that often slips buyers' minds is the whole range of fees and charges that apply. If you're getting a BTO or flat directly from HDB, watch out for these:
Property valuation reports,
Buyer stamp duty fees,
Property taxes,
Home or fire insurance fees.
And if you're thinking about resale flats, add these to your list of costs:
Property agent commissions,
Fee to process the option to purchase (OTP)
Higher renovation costs.
Pro-tip: Work out your budget based on how much you can afford to repay each month. If you have sufficient cash, consider using that instead of your CPF to earn higher interest rates (2.5% p.a.).
5. Study the loans from HDB and banks
Most people immediately think of HDB loans when buying a BTO or EC directly from HDB. However, don't rule out bank loans immediately! Bank loans are not always more expensive than HDB loans. That's because HDB's rate is always 0.1% plus the CPF-Ordinary Account rate.
So, do your research on the numerous loan options in the market – it can save you thousands! (And don't forget about the current promos too!)
Here's what your research should cover:
Differences in rates
Charges for early repayment
Interest rate type (Fixed rate or floating rate)
Loan tenure
Extras such as free legal and valuation subsidies, and in-built home loan insurance
By making the right choice, you can reduce the interest that you will be paying. And then you can move on to the next thing on a new homebuyer's list: renovations!
Pro-tip: Before you and your loved one start to hunt for a suitable home, get a loan estimate and IPA first! Why? Because you've to consider other important expenses such as: insurance, daily expenses, the occasional splurge, and wedding expenses. It's painful to fall in love with a property, only to find out you'll struggle to afford it. So, get the loan estimate and IPA early, and save yourself the heartache and time spent on properties that aren't affordable.
Sources:
1 Business Insider US. 'Adding 20 minutes to your commute time could lead to dangerous consequences' by Tanza Loudenback. Published 23 October 2017.
https://www.businessinsider.sg/commuting-work-job-satisfaction-2017-10/
Looking for a property?