Didn't graduate with a finance degree? No sweat.
Brought to you by
DBS NAV Planner
So you're a fresh graduate and you're ready to embark on the next chapter of your life. All those lectures and exams have brought you to this very moment. The training wheels are off. The world is your oyster… right?
Unfortunately, the oyster's not looking too fresh at the moment. In the wake of Covid-19, we are now facing a technical recession and securing employment today may not be that simple. But stay hopeful, keep trying, and make the best of this time to equip yourself with skills that will help set you up for future success – not just professionally, but financially as well.
In the meantime, let me – DBS NAV Planner – impart some important financial tips you don't learn in the classroom. It might seem like a lot to take in, but don't worry – I'll walk you through every step of the way. Consider it a graduation gift.
Levelling up in the world
Now the first step to becoming a working adult is, well – finding work. And while the job market may not be ideal these days, it's not impossible to navigate your way into the working world.
There are ways to increase your hireability, such as upskilling yourself with SkillsFuture, or signing up for government support measures like the SGUnited Traineeships Programme.
Even if you don't get a full-time job immediately, don't sweat it. Who said work had to mean full-time employment anyway? Pick up a side hustle. Turn your hobbies into income-generators. Not only do you get a chance to do the things you enjoy, you can also start making some adult money.
And with adult money, comes my next tip.
Give yourself an allowance
Congratulations on landing your first job! With your first step up the career ladder, your expected income will most likely be a major step up from the amount you've been getting in allowance until now. But remember this: with great spending power comes great financial responsibility.
Just because you'll be making more, doesn't necessarily mean you should be spending more. Sure, your daily expenses will rise – especially since you'll no longer have access to those sweet student deals and EZ-Link concession passes – but you still have the power to control where your money goes.
While it's perfectly fine to treat yourself every now and then – you should still have a life, after all – you don't need to book a ride everywhere, splurge on an expensive brunch every weekend, or go on an online shopping spree every time you see the word 'SALE' in your inbox. Start building healthy financial habits early by sticking to the basic principle of saving: spend less than you earn.
A simple way to ensure that you don't overspend is to set up a fixed monthly target for your shopping, transport and dining expenses. To help you stay within budget, simply use my 'Money In, Money Out' feature, which automatically tracks all your spending, breaks it down into categories, and informs you when you've exceeded your budget or when your expenses are higher than the average spend of Singaporeans. That way you'll know if your swanky gym membership is setting you back more than it should, so you can find alternatives to help you save more.
Track your income and spending with DBS NAV Planner's Money In & Out feature
Photo: DBS
Together, we'll learn the areas in which you can cut back your expenses, and slowly – but surely – we'll grow your savings. Which brings me to my next point.
Work hard, save smart
Managing your cashflow is only part of the equation when it comes to being financially prudent. Having a healthy amount of savings is also crucial, so you'll always have a safety net to fall back on should things go south. That safety net should contain about 3 to 6 months of your salary – more, if you have dependants or if you work as a freelancer – to cover your living expenses in the event of any future emergencies, like a global pandemic or an economic crisis.
We want to build up your emergency savings as soon as possible, which is why it's important to also think about how you're saving. You're an adult now, so it's time you upgrade from your childhood savings accounts to ones that give you a bigger bang for your buck. By setting up a new DBS Multiplier Account for example, you can up earn up to 3.8% in annual interest compared to an average of 0.05% in most savings accounts.
Getting the most interest out of your Multiplier Account is just a matter of crediting your salary to that account and transacting with DBS through credit card spend, home loan instalments, investments or insurance – things you can expect to do in the near future anyway. Now I don't have a finance degree – because I exist in an app – but you don't need one to see that's just the smarter way to save.
If you're worried that you'll be too busy to manage multiple accounts, don't be. I, DBS NAV Planner, will help you keep an eye on all your hard-earned cash, even the ones in other bank accounts and your Central Provident Fund (CPF), so you can get a bird's eye view of all your finances at a touch of a button.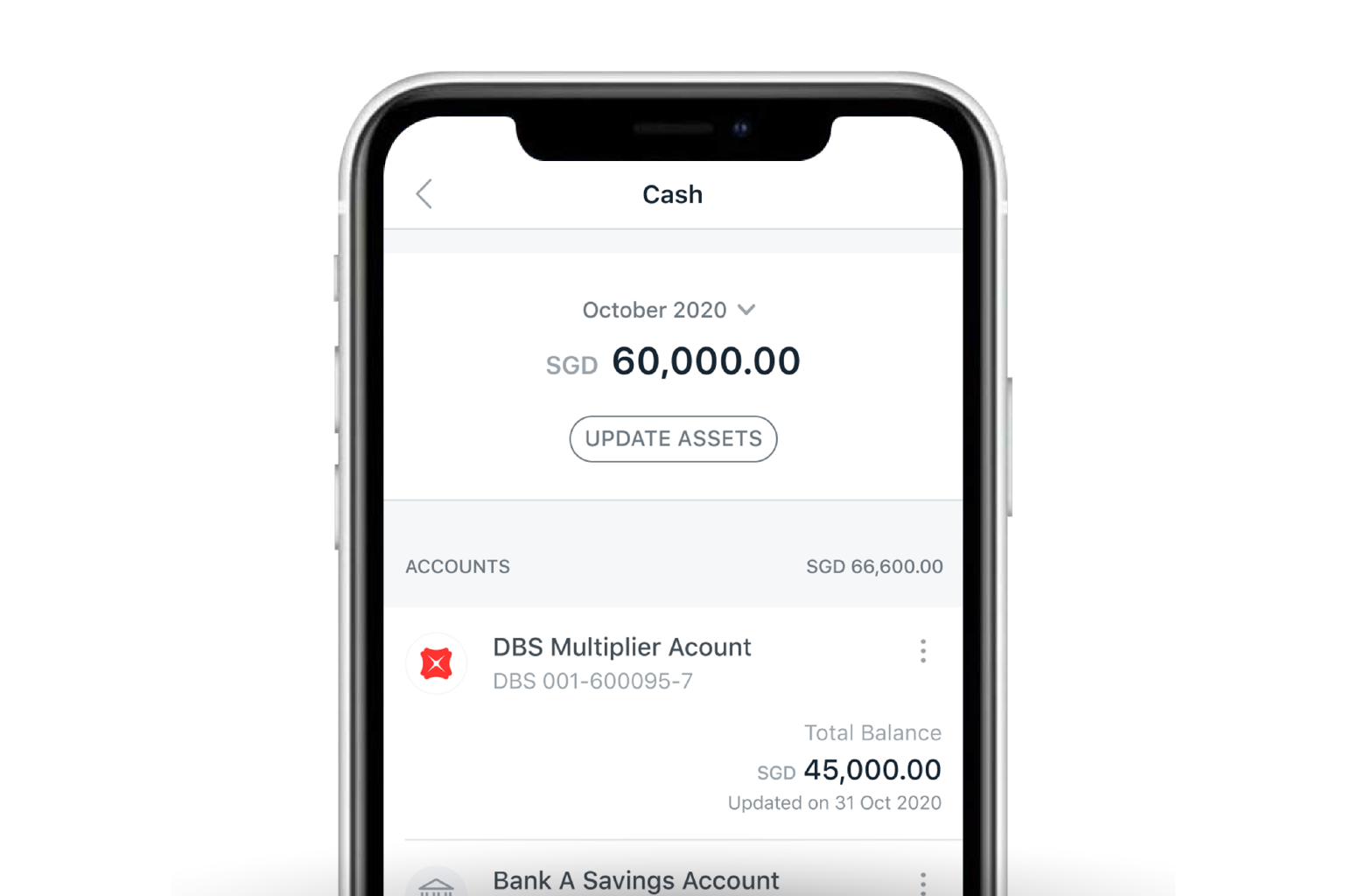 See all your finances at a glance with DBS NAV Planner
Photo: DBS
Now that you've become smarter with your savings, we need to start thinking about how you can protect it.
Protect your hard-earned cash
Having a healthy amount of savings is like having a financial speedboat that's carrying you towards your financial goals. But even the flashiest speedboats need some life-jackets. That, my friend, is your insurance. Because the last thing you want is to have all your hard work wiped out by an accident or any unexpected circumstances.
You might think that insurance isn't that important since you're young, but it's exactly because you're young that you should start thinking about insurance. Getting coverage early not only allows you to enjoy lower premiums, it gives you the financial peace of mind to focus on your long-term goals. But that doesn't mean you should just get any kind of insurance out there.
A survey taken from The Burrow shows that one in two respondents regret rushing into their first insurance purchase*. Yes, getting insured is crucial – but what's even more important is getting the right type of insurance that's properly suited to your needs and lifestyle.
With all the insurance policies available out there, it can get overwhelming trying to figure out the right types of insurance you'll need. But as always, you have me, DBS NAV Planner, to make it easy for you.
I'll help you identify the types of protection you need based on your age, income, liabilities and number of dependants. By working out the details, I'll ensure that you and your loved ones are covered no matter what happens. Best of all, with me helping you understand your protection needs, you won't ever have to worry about over or underspending on insurance.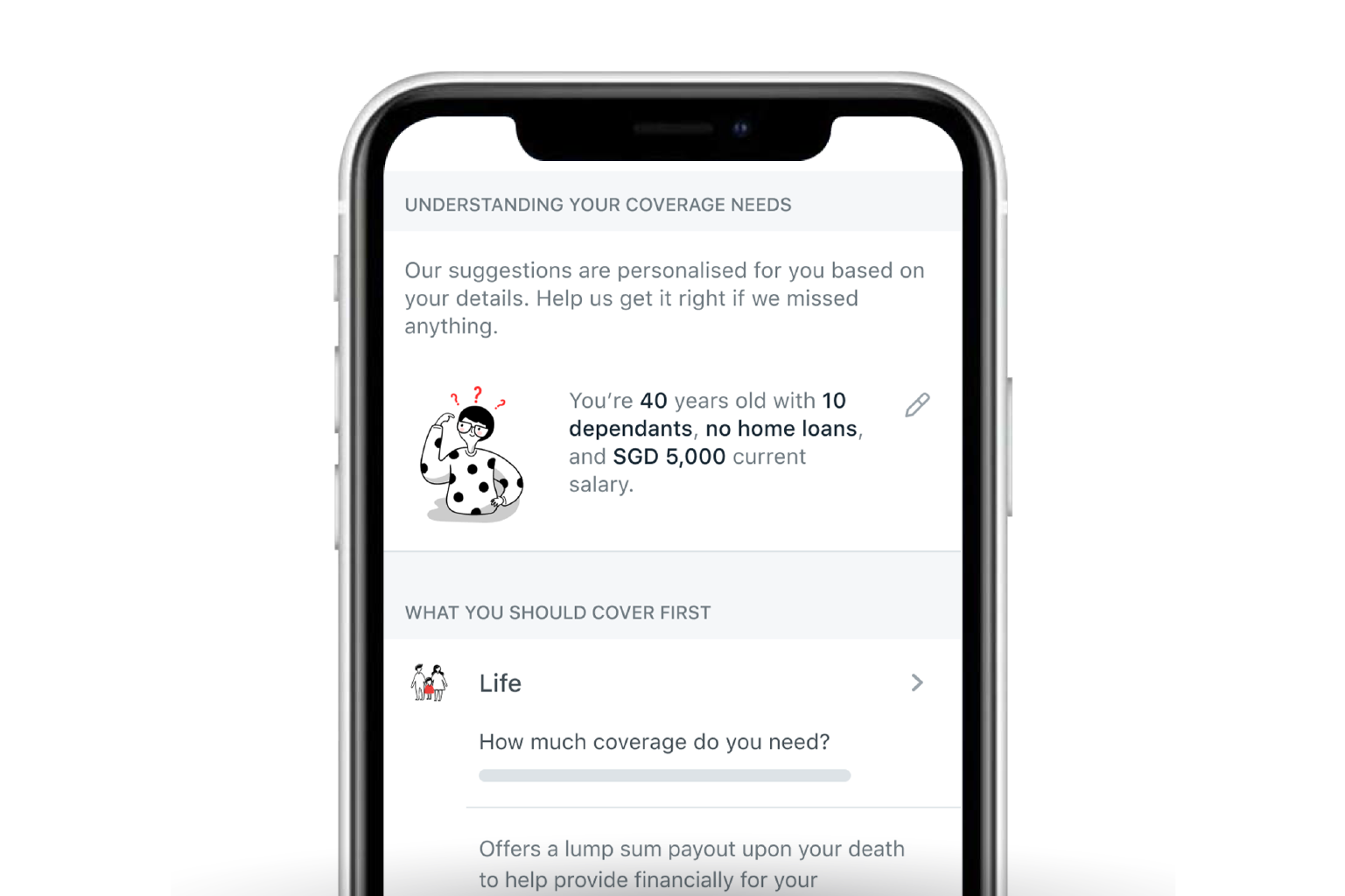 With DBS NAV Planner, you'll no longer have to worry about over or underspending on insurance
Photo: DBS
Grow your assets effortlessly
An essential financial skill you should learn as soon as possible is how to make your money work for you. Especially when you have one of the biggest advantages in the investment world: time.
Investing might seem daunting if you have little or no knowledge of investment products. But you can count on me to help you find low-risk, proven ways to start investing.
For example, with just S$100 a month, you can kick-start your investment portfolio with a DBS Invest-Saver plan. It is essentially a regular savings plan that grows your money by gradually investing in low-cost Exchange Traded Funds and Unit Trusts. It helps you reap the rewards of compound interest – which is basically a snowball effect of earning interest on top of interest, on top of interest, on top of… you get the picture.
If you have a larger appetite for investing, you can tap into DBS digiPortfolio, which utilises a combination of intelligent robo-algorithms and human smarts to help you invest effortlessly and confidently. You won't have to consistently monitor the market or learn complex investment strategies. Just leave it to our trustworthy experts at DBS to manage and grow your investments for you.
By starting early and leveraging on the power of compounding, setting yourself up for retirement becomes even easier. As you get better at making your money work harder for you, you can progressively upgrade your knowledge of various financial instruments while monitoring and adjusting your investments easily with me, DBS NAV Planner.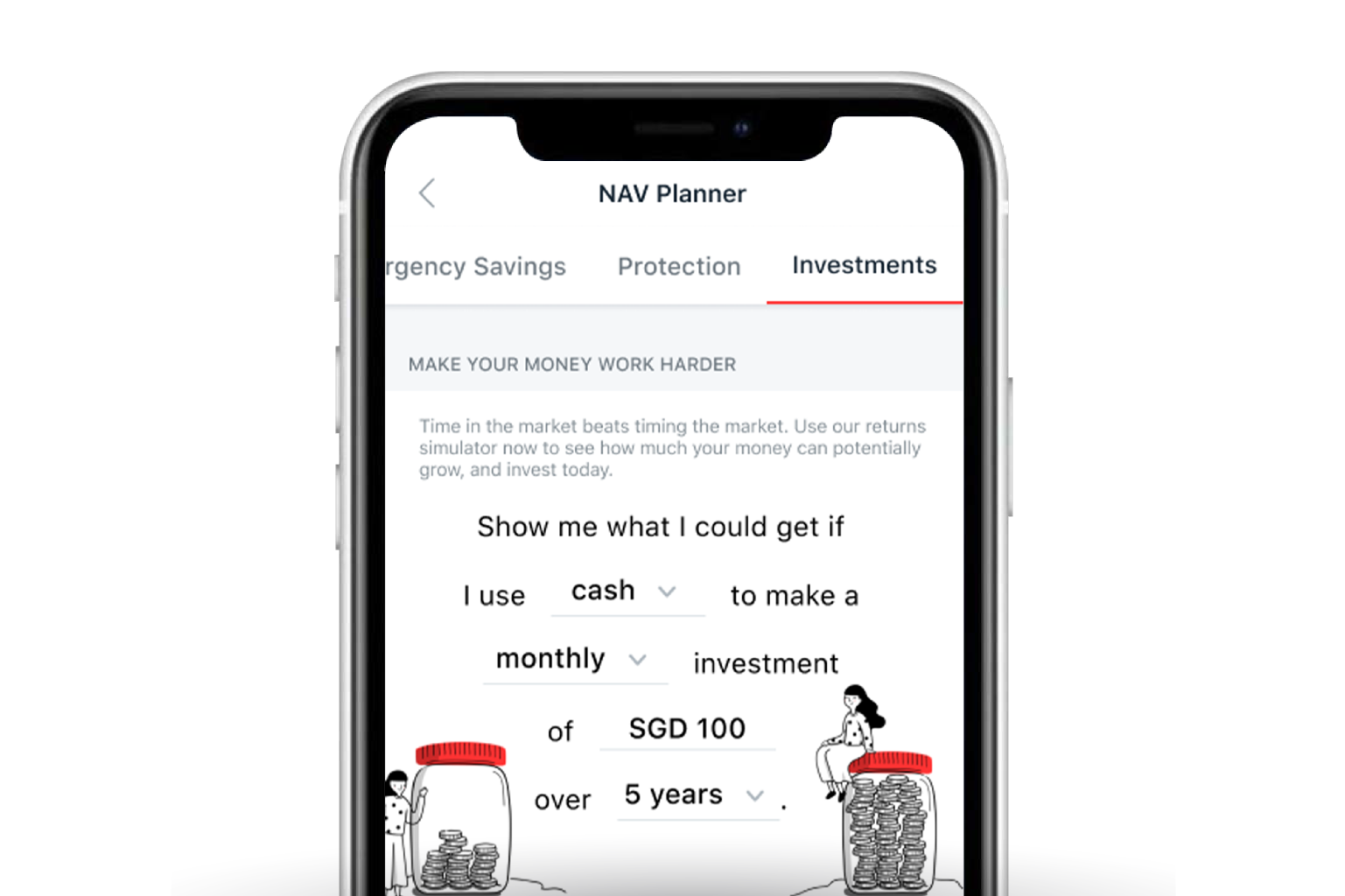 Explore investment options to make your money work harder for you on DBS NAV Planner
Photo: DBS
This is DBS digibanking
Navigating the financial world as a young adult may seem intimidating but you can rest easy and count on me, DBS NAV Planner, to always look out for you and help you make informed financial decisions – even if you haven't started your financial journey with DBS yet.
Another perk of having me, Singapore's smartest financial planning tool, as your guide is that apart from being able to give you quick advice, I'm also digital – so I'm always just a few taps away. Just fire me up in the "Plan" tab of your digibank app whenever you need me and I'll be ready to guide you towards all your financial goals.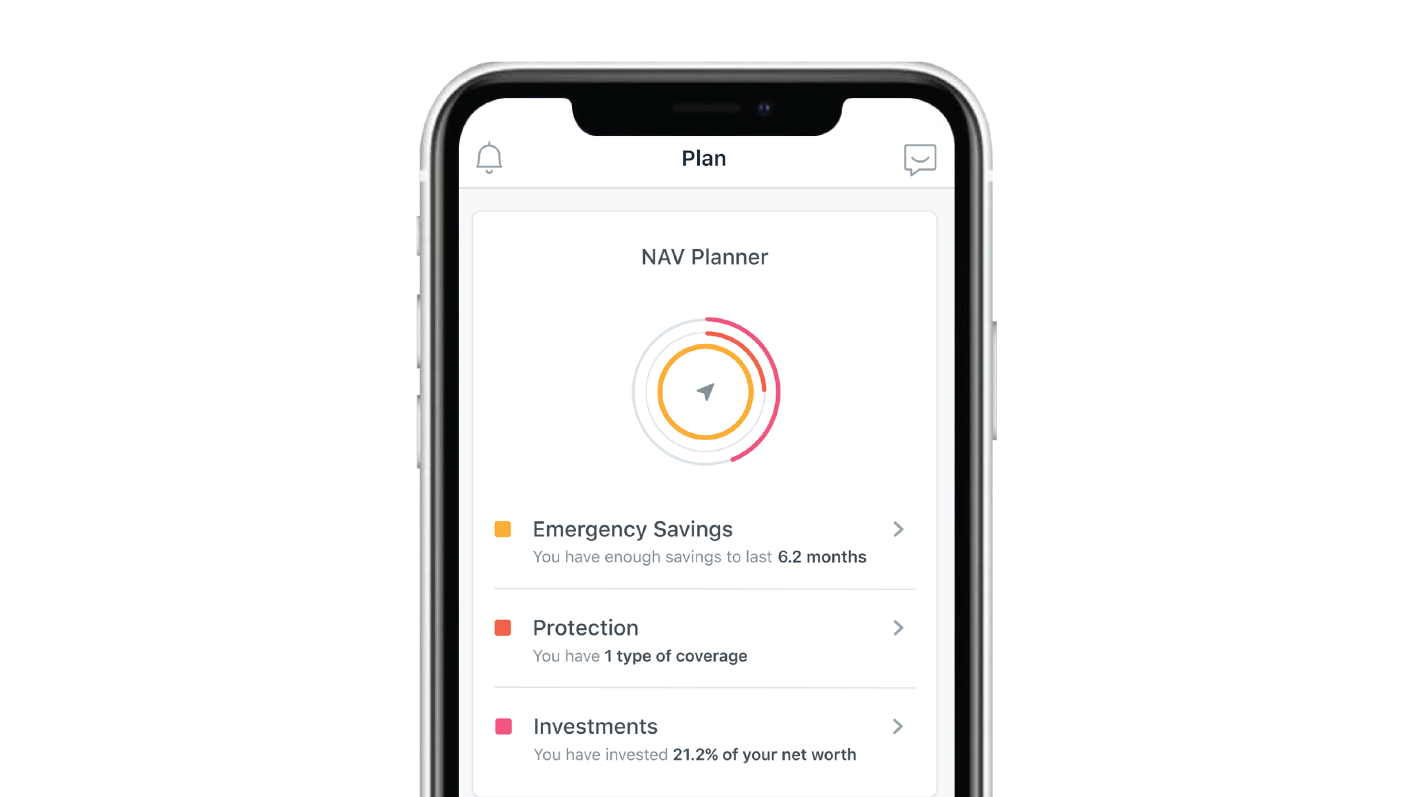 Photo: DBS
Now go forth and conquer the world, young padawan. May the financial force be with you.
Brought to you by DBS NAV Planner
*Source: The Burrow, a personal finance community by DBS (Oct 2020 Survey)
Ready to start?
Speak to the Wealth Planning Manager today for a financial health check and how you can better plan your finances.
Alternatively, check out NAV Planner to analyse your real-time financial health. The best part is, it's fuss-free – we automatically work out your money flows and provide money tips.
Disclaimers and Important Notice
This article is meant for information only and should not be relied upon as financial advice. Before making any decision to buy, sell or hold any investment or insurance product, you should seek advice from a financial adviser regarding its suitability.
You might be interested in